Why Neurologists, Psychiatrists & More Trust mbg's brain guard+ Supplement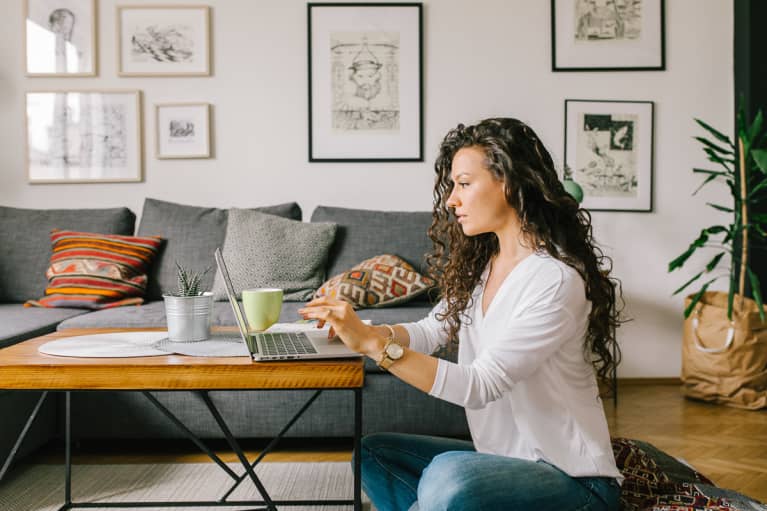 Our editors have independently chosen the products listed on this page. If you purchase something mentioned in this article, we may
earn a small commission
.
When it comes to longevity, caring for your brain is top priority—and evidence shows that the sooner you start caring for your brain with intention, the better. Small, consistent actions to nurture your cognitive function and performance can have a profound effect on your memory, recall, executive function, and overall brain health. The thing is, most people don't consider their brain health until later in life.
At mbg, we're challenging people of all ages to maximize their cognitive health and longevity potential by implementing brain-healthy lifestyle habits, foods, and supplements in their daily routines. In the supplement arena, no neuronutrients are more effective at delivering a boost of brainpower than nootropics.
In the dietary supplement space, nootropics are ingredients that help the central nervous system operate at its very best (we're talking peak performance, here!). These unique compounds (which include neuronutrients, phytonutrients, botanicals, and bioactives) support cognitive function, neurological well-being, and brain longevity in a number of ways.
Each of these brain-boosting ingredients imparts unique nootropic mechanisms and actions in our body and brain. There are countless supplements on the market that include these ingredients, each designed to promote brain health in different ways.
However, not every brain health supplement includes scientifically backed (i.e., by clinical research trials) nootropic ingredients in efficacious doses and forms that deliver proactive support to promote brain longevity for all ages. Enter: brain guard+.
We know that the time to think about your longevity and nurture your cognitive well-being is—well, now! Whether you're 20 or 80, brain guard+ was designed for you. This innovative formula includes premium and patented nootropic ingredients (i.e., citicoline as Cognizin®, kanna as Zembrin®, and resveratrol as Veri-te™) clinically shown to promote cognitive flexibility, improve memory, increase processing speed, bolster neurotransmitter production, and increase cerebral blood flow to enhance mental clarity.*
Whether your goal is to elevate executive functioning, improve neuroplasticity, promote recall of memories, or combat occasional brain fog, mbg's brain guard+ can help you achieve your brain health goals today, tomorrow, and down the road.* But don't just take our word for it—leading cognitive health experts agree that this nootropic formula yields incredible results for brain health and longevity.
See what board-certified neurologists, longevity dietitians, award-winning neuroscientists, and nutritional psychiatrists have to say about the brain guard+ formula and the cognitive support its nootropic trio of citicoline, kanna, and resveratrol delivers to enhance neuronal function, brain health, and mental performance throughout the life span.*
"Neuronutrients in brain guard+ are working hard for you and your brain."
"Clean foods, movement, meditation, and spending time in nature are critical for brain nutrition, regeneration, and longevity. As part of my integrative approach to neurology, I also value smart, holistic formulas that nourish and support brain function and elevate cognitive potential, regardless of stage in life. That's why mbg's brain guard+ excites me. From helping with memory to supporting executive function and mental clarity to improving stress resilience—the neuronutrients in brain guard+ are working hard for you and your brain."*
—Ilene Ruhoy, M.D., Ph.D., board-certified neurologist & environmental toxicologist
"Citicoline has impressive efficacy to nourish and promote our brain and executive function."
"As a scientist, I have engaged in many clinical research trials on nutritional bioactives to determine their brain health potential. Leading mbg's brain guard+ formula, you'll find the powerhouse neuronutrient citicoline as Cognizin®, which boasts a robust body of published scientific evidence. This nootropic has impressive efficacy to nourish and promote our brain and executive function by supporting the structure and function of our neurons, neurotransmitter levels, and diverse cognitive metrics spanning brain energy, attention, memory, and cognitive performance."*
—Eri Nakazaki, Ph.D., lead R&D researcher at Kirin Central Research Institute
"Unique trio of neuroprotective ingredients with clinical research demonstrating effectiveness."
"As a doctor and professional chef, my career marries nutritional psychiatry and culinary arts rooted in current nutrition science. So does my life philosophy and approach to health! Merging nutrition and psychiatry, I have a keen interest in targeted ingredients rooted in science that benefit both body and brain. mindbodygreen's brain guard+ embodies this unique intersection with a unique trio of neuroprotective ingredients with clinical research demonstrating their effectiveness across multiple domains of cognitive health, function, and performance."*
—Uma Naidoo, M.D., nutritional psychiatrist, chef & bestselling author of This Is Your Brain On Food
"This formula is remarkably effective for brain protection."
"When I think of longevity-essential organs in the body, the brain is at the top of that list. Your brain needs good nutrition. A brain-centric diet with loads of plants, healthy fats like omega-3s, and quality protein is essential. But to even further enhance cognitive vitality with targeted nutrients and phytonutrients, I recommend brain guard+. With citicoline for attention and memory, kanna for cognitive flexibility and calm, and resveratrol for cerebral blood flow and antioxidant support, this formula is remarkably effective for brain protection."*
—Ella Davar, R.D., CDN, longevity dietitian & health counselor
"Clinically efficacious formula targeting neuroprotection and healthy cognitive aging."
"Preserving cognitive health throughout our lifetime is a key component to overall wellness, and the earlier the better. This brain guard+ formula by mindbodygreen combines three powerful, science-rooted bioactives (citicoline, kanna, and resveratrol) to support multiple domains of cognitive and mental health. After all, who doesn't want to maintain or even improve their brain health? I find that with our busy schedules and overstimulated minds, we can all benefit from clinically efficacious formulas targeting neuroprotection and healthy cognitive aging!"*
—Milene Brownlow, Ph.D., neuroscientist & cognitive health scientist
"Elevates executive function and enhances cognitive flexibility."
"Evidence-based botanicals with nootropic actions are one of my specialties as a naturopathic health care practitioner. One of the most exciting botanicals in the cognitive arena is the South African succulent Sceletium tortuosum (aka kanna). Featured in brain guard+, this clinically researched and patented Zembrin® extract promotes mental agility and calm—at the same time. Through its impact on serotonin levels, brain waves, and neurocircuitry, this unique plant extract helps reduce reactivity to stress, elevate executive function, and enhance cognitive flexibility."*
—Jeremy Appleton, N.D., director of scientific and medical affairs at PLT Health Solutions
"brain guard+ has greatly improved my cognitive performance and ability to cut through stress."
"As a full-time editor juggling graduate school and a small business, my brain is constantly taking in information, and I often find myself battling brain fog by the afternoon. Even though I'm still in my early 20s, I want to protect, preserve, and even sharpen my cognitive function and be a lifelong learner! Enter brain guard+. Adding this clean and research-backed formula to my daily routine has greatly improved my cognitive performance and ability to cut through stress. It makes me feel aligned and able to tackle a full day of productivity (minus the afternoon fog)."*
—India Edwards, mbg updates editor