The Best Products For Low Porosity Hair: Shampoos, Masks, Serums & More

Beauty & Health Editor
By Jamie Schneider
Beauty & Health Editor
Jamie Schneider is the Beauty Editor at mindbodygreen. She has a B.A. in Organizational Studies and English from the University of Michigan, and her work has appeared in Coveteur, The Chill Times, and Wyld Skincare.
Image by Kerasilk / Pattern / Ceremonia / mbg Creative
August 2, 2023
We carefully vet all products and services featured on mindbodygreen using our
commerce guidelines.
Our selections are never influenced by the commissions earned from our links.
The best low porosity hair products of 2023
Finding your ideal hair care routine involves way more work than labeling your locks straight, wavy, curly, or coily. As us beauty gals know, strands are so nuanced! There is truly a world of possibilities in hair care!
For starters, hair texture exists on a spectrum from 2a to 4c, and once you I.D. your own, you then have to assess your hair's density (i.e., the number of strands on your scalp) and your hair porosity. Folks with low porosity hair will need an entirely different product lineup than those with high porosity hair—which brings me to this handy little buying guide below.
Understanding low porosity hair
Before diving into products, it helps to know what low porosity hair actually means. "Hair porosity describes how the hair's cuticle absorbs and holds on to moisture in its pores—hence, the term porosity," says hairstylist Miko Branch, co-founder of hair care brand Miss Jessie's.
Low porosity hair is not very porous at all, which means it may have trouble absorbing moisture.
"The outer layer of the hair strand is called the cuticle layer," hairstylist Danielle Malary of Lumiere Vive Salon reminds us. "The cuticle layer is made of little tiny cuticles that lie slightly over one another. When the hair has low porosity, the cuticles are packed so tightly onto each other, it makes it very difficult for moisture or water to penetrate the strand. Typically, those with kinky curls tend to have low porosity hair."
High porosity hair, on the other hand, has much sparser cuticles, so water flows in and out of the hair with ease. So it doesn't have trouble absorbing moisture—but it may find it difficult to hold on to that hydration.
It can be difficult to decipher which camp you fall into (especially because porosity exists on a spectrum). Take this quick quiz here to figure out whether you have high, low, or medium porosity hair.
If you wind up with a low porosity result, congrats! You've made it to the right place. Now let's get your locks all moisturized and healthy with the best low porosity hair products.
The best low porosity hair products of 2023
Best hair oil: Mielle Organics Rosemary Mint Scalp & Hair Strengthening Oil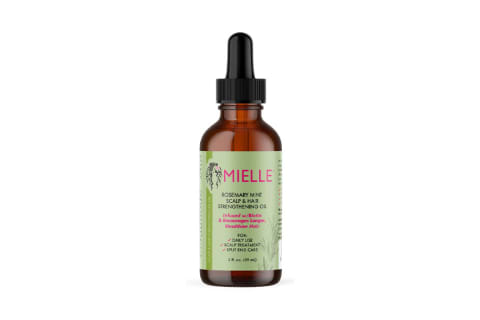 This bestselling oil also includes mint to further stimulate the scalp, as well as biotin to strengthen hair follicles. It has an invigorating, spa-grade scent, and we'd be remiss not to mention the budget-friendly price tag.
Best shampoo: Shea Moisture Low Porosity Weightless Hydrating Shampoo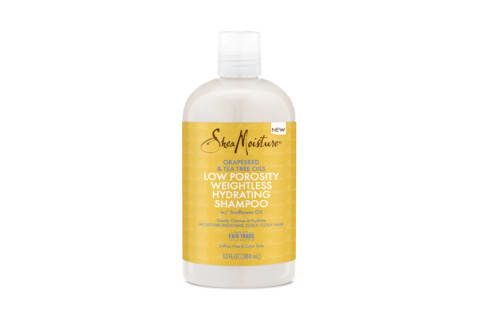 You can't go wrong with a shampoo made specifically for low porosity strands. See, because the cuticles are so tightly packed, products don't easily absorb into the hair. As a result, you might deal with buildup sitting atop the strands. That said, a good clarifying shampoo is a must.
This Shea Moisture number is ideal, with tea tree oil to dissolve debris and grapeseed and sunflower oils to deeply hydrate. It perfectly toes the line between purifying and hydrating, so your tresses are left fresh and clean yet never parched dry.
Best styler: Kerasilk Liquid Cuticle Filler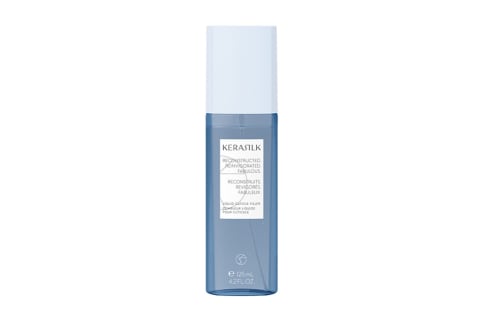 According to stylist and globally acclaimed hair expert Joel Warren, brainchild of NYC-based The Salon Project, those with low porosity hair should use lightweight stylers, like mousse or sprays, to help control the strands without contributing to buildup on top. Enter, this lightweight, heat-activated spray with smoothing, shine-enhancing properties.
Now, you may be wary of a product with a name like "Cuticle Filler," since low porosity hair already has tightly packed cuticles. However, you can use this styler to immediately lock in water post-rinse. "Use a mist spray bottle during product application, and then apply a layer of protection like a keratin-infused sealer," Malary says. So long as the strands actually drink up water, this spray styler works like a charm for sealing in moisture.
Best conditioner: Pattern Medium Conditioner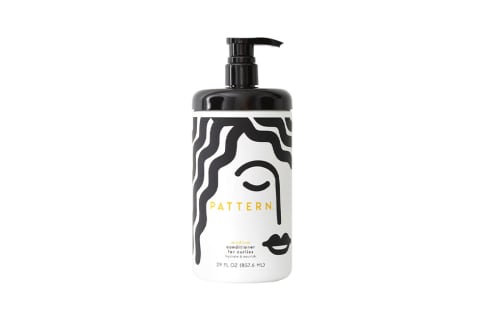 Conditioners are a tricky feat for those with low porosity hair. You want a cream that delivers enough moisture, but you don't want it too thick that it weighs down the strands. This Pattern confection is the perfect medium, for lack of a better word. With jojoba oil, olive oil, and aloe, it provides hydration and slip in between the cuticles, but the slightly thinner consistency means it won't ever weigh down curls.
That perfect medium happens to be a common theme from customer reviews. Countless users swear the confection remains intensely moisturizing without leaving hair greasy. "I have 3a/b low to medium porosity hair, and this leaves my hair so soft and hydrated," one Sephora reviewer writes. Leave it to curl queen Tracee Ellis Ross to create the absolute prize conditioner.
Best hair mask: California Naturals Hair Masque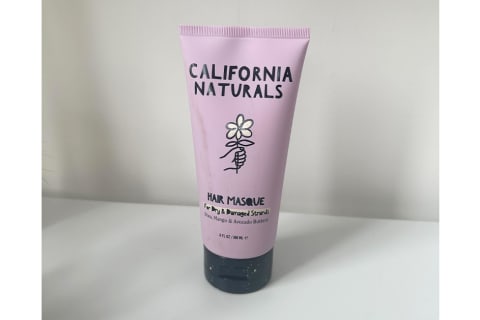 Image by Jamie Schneider / mbg beauty editor / mbg Creative
Those with low porosity hair can use thicker creams; they just need to be smart about it. "Since you're only using conditioner sparingly, use a moisturizing masque once a week," Warren suggests. But rather than relying on heavy oils or silicones that easily build up on the hair strand, look for moisturizing butters and humectants that provide slip in between the cuticles.
This lovely water-based mask swaps silicones for mango, shea, and avocado butters, and it features glycerin and panthenol to usher water into the strands. Apply it in the shower, and let the heat and steam from the spray open up the cuticles while it sits. Trust, your locks will never look softer.
Best hair serum: adwoa beauty Blue Tansy Treatment Serum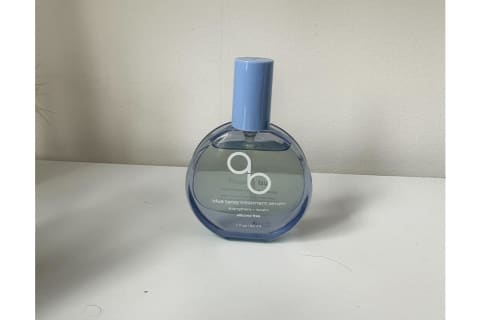 Image by Jamie Schneider / mbg beauty editor / mbg Creative
For low porosity hair, lightweight oils are sublime. This adwoa beauty number contains argan oil, grapeseed oil, and blue tansy flower oil, all of which are known for their quick absorption rate. Translation: They seep into the hair shaft upon application rather than coating the surface of the strands and making them appear slick.
As its name suggests, this formula has a light, serum-like consistency; still, you may want to use it sparingly throughout the ends to avoid buildup.
Best leave-in conditioner: Ceremonia Guava Hydrating Leave-In Conditioner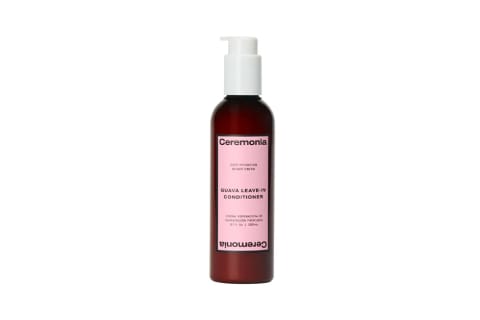 "I like a light leave-in conditioner to help with hair health," says Warren. Look for creamy, silicone-free confections with plenty of humectants to draw water into the strands. This water-based leave-in from Ceremonia features glycerin and aloe for that very purpose, plus agave and guava fruit extract to shield hair from free radical damage.
It also contains avocado oil, which is practically the MVP for soft, shiny strands: "Avocado oil helps to smooth the cuticle down to create instant light reflection even for the most damaged of hair," trichologist and founder of Colour Collective Kerry Yates once told mbg. Just know that a little goes a long way with this leave-in, so feel free to comb it through your low porosity locks sparingly.
Best shampoo and conditioner combo: Briogeo Banana + Coconut Nourishing Shampoo + Conditioner Duo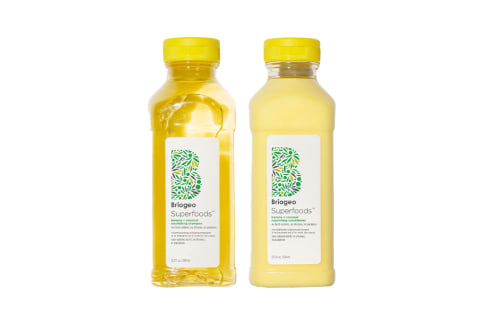 A nutrient-rich banana coconut smoothie for your strands. This shampoo-conditioner duo is made with dry hair types in mind, so you know it really delivers on the moisture. Specifically, bananas also have antimicrobial properties2 that can help people with dry, flaky scalps. Bananas are also rich in silica, a natural molecule that closely resembles silicone—so it can provide that same glorious slip without causing buildup.
You honestly can't go wrong with any of Briogeo's hair-healthy offerings, but I do love these fun fruit- and veggie-infused sets. The bottles themselves even look like cold-pressed juice containers. How can you resist?
Best scalp scrub: Arkive Headcare The Crown Scalp Scrub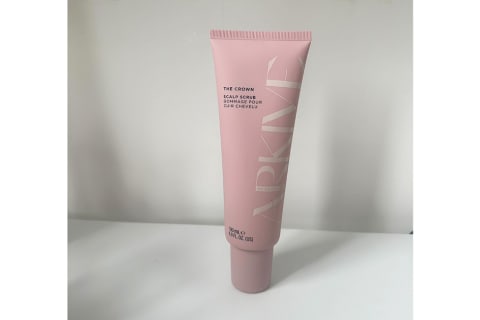 Image by Jamie Schneider / mbg beauty editor / mbg
With low porosity hair, it's oh-so-important to make sure your hair products aren't sitting on top of the hair shaft. A good clarifying shampoo is a godsend, but you could also fold in a proper scalp scrub if you please. I personally swear by Arkive's scalp-healthy range, including this glorious blend of nourishing oils, fruit enzymes (from pineapple), and menthol. The enzymes chemically exfoliate up top, while the ultrafine granules manually lift debris, so it's like a two-for-one deal for removing buildup.
But don't mistake that exfoliating power for a harsh scrubbing experience. No, this formula remains super gentle on your scalp—the lightweight, creamy consistency practically melts into your skin upon application. Grab a scalp brush to work it through those follicles, and you're golden.
Best curl cream: Miss Jessie's Pillow Soft Curls Cream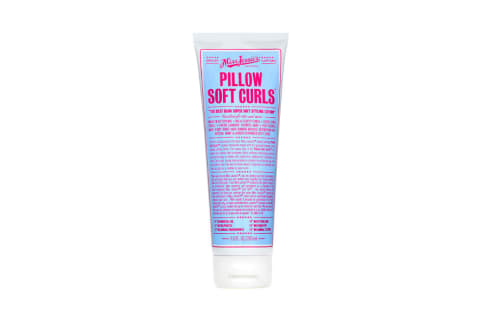 Curls already need a ton of moisture, but those with low porosity ​​strands especially need to prioritize hydration. This is the lightest weight styler from Miss Jessie's, so it moisturizes and provides soft hold without making curls appear limp.
Just know that this curl cream does contain protein, and low porosity strands tend to be protein sensitive—that's not to say you can't use anything with hydrolyzed keratin, but simply keep a tally of how many protein-rich products you layer on.
mbg beauty director Alexandra Engler specifically loves this formula for lift, weightless hold, and hydration. "The formula sinks into hair, provides just enough hold—while also giving me the volume and lightness I crave. (Since my hair is a blend of waves and curls, it looks best when the hair feels airy and effortless—too-tight curls can read crunchy.) It also stays hydrated, largely thanks to the blend of plant extracts and oils, like safflower, avocado, and wheat germ oil," she says. "A not-so-inconsequential bonus? When hair is hydrated, it better reflects light. Read: My curls are shiny, too."
Best gel: Crown Affair The Finishing Gel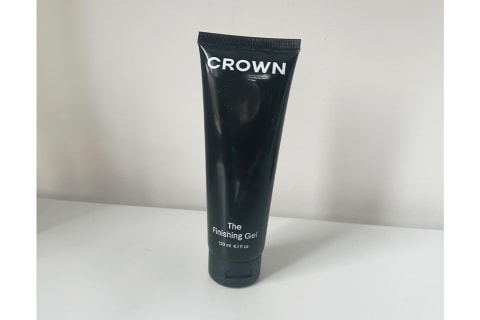 Image by Jamie Schneider / mbg beauty editor / mbg Creative
As the brand states, "This is not your traditional gel." With a light, buildable hold and water-based formula, it feels more like a hydrating leave-in than a standard styling gel. Personally, my strands lap up the jojoba- and tsubaki-infused formula. I can also attest to its light-as-air hold—thanks to the unique gel-cream consistency, it helps my waves maintain their shape and keeps them touchably soft.
A bonus? It's fabulous for slicked-back styles, smoothing down flyaways with ease, minus the crunch or flaking that tends to come with traditional gels.
Best refresher: Nuele Hydrating Detangler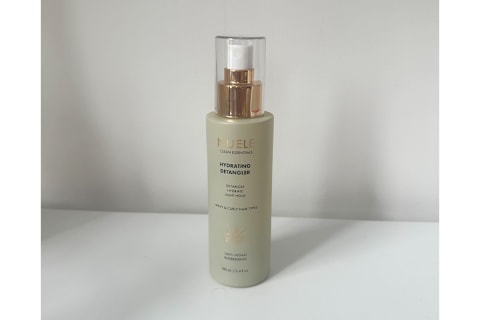 Image by Jamie Schneider / mbg beauty editor / mbg Creative
"Low porosity hair tends to tangle," says Warren. That said, a detangler is a great product to have in your hair care arsenal—especially this water-based Nuele number, which contains aloe, glycerin, and wasabi and ginger extracts to infuse the strands with hydration and antioxidants.
It's arguably the most lightweight product Nuele offers (their scalp serum, while divine, happens to be quite thick), and you can use it daily on wet or dry hair. For those with low porosity strands, I recommend re-wetting your locks with a spray bottle before raking the detangler through your lengths.
Comparing the best low porosity hair products 
How we chose 
Lightweight formulas: Moisture is imperative for low porosity strands but so is consistency. We made sure each product thoroughly hydrates without weighing down strands and contributing to buildup.
Water-based products: "I find that water-based products with butters, lightweight oils, glycerins, and honey work really well to provide moisture and slip in between those cuticles," Malary tells us. Aside from the actual hair oils on this list, each product is water-based and chock-full of humectants.
Price: Glorious hair care products for every budget. You'll find a range of price points among this list; yet you can rest assured each formula comes highly recommended for its top-tier quality.
Variety: Shampoos, masks, serums, and curl creams galore. You'll be sure to find your next hair care hero in this list.
Extra low porosity hair tips 
So, you have your go-to products, but actually using them is a whole other venture. Try these expert methods below:
Try hot oil treatments: The DIY venture is just like its name suggests: All you need is a slightly warmed oil to coat and "mend" dry hair. The theory is that the heat helps open the hair cuticles and lets the oil penetrate deeper, a feat low porosity strands tend to struggle with. Curious about how hot oil treatments work? Read our full guide here.
Mist and seal: Because low porosity strands have a harder time absorbing moisture, you'll want to provide as much water as you can. Consider spray bottles your BFFs in between styling steps. Wet your lengths, then lock in the moisture with your leave-in or styling cream. Mist and seal—get it?
Use steam: "Use heat and steam when the conditioner or treatments are sitting in the hair; the heat will open the cuticle, making it easier for the water and moisture to seep in," says Malary.
FAQ
What are signs of low porosity hair?

"If you have low porosity hair, it usually means the cuticle is tightly closed," says Warren. Because the cuticles are packed so tightly onto each other, it makes it very difficult for water or moisturizing hair products to penetrate the strands.

That said, you'll typically see buildup faster. It also takes low porosity hair longer to dry after getting wet, as it holds water in (assuming you can get that water to absorb). This hair type doesn't typically deal with frizz as much since water in the air doesn't affect the cuticle as drastically.
Does low porosity hair need protein?

Every hair type needs protein. Your hair is made up of protein—about 95% of it, in fact, comprises the protein keratin. However, those with low porosity hair are more likely to experience protein overload. "Too much of a good thing can leave the protein-moisture balance out of whack," notes Branch. Considering low porosity hair already has a hard time holding on to moisture, it's easy for protein to make up a much bigger slice of the pie. As a result, your hair may be even more brittle and breakage-prone.

See here for our full guide to protein treatments and what to do if you've gone overboard.
How can I moisturize low porosity hair?

To moisturize low porosity hair, you'll want to effectively open up the cuticles so water can seep through. This is where heat and steam come into play: "The heat will open the cuticle, making it easier for the water and moisture to seep in," says Malary.

Even warm water can speed things along. "To help keep your hair moisturized, use warm water, which will help the treatment penetrate the cuticle," notes Warren. Just don't forget to seal in that moisture with a nourishing hair product (like one of the leave-in treatments or creams above!).
The takeaway
At the end of the day, yes, you can slather on any cream or gel you please. But if you want to find the best products for your healthiest mane, you do need to dabble in some self-education. Consider these products above the créme de la créme for low porosity locks.

Jamie Schneider
Beauty & Health Editor
Jamie Schneider is the Beauty Editor at mindbodygreen. She has a B.A. in Organizational Studies and English from the University of Michigan, and her work has appeared in Coveteur, The Chill Times, and more. In her role at mbg, she reports on everything from the top beauty industry trends, to the gut-skin connection and the microbiome, to the latest expert makeup hacks. She currently lives in Brooklyn, New York.