Close Banner
Advertisement
This ad is displayed using third party content and we do not control its accessibility features.
Our Full Guide To Protein Treatments For Hair, Plus The Best Products To Use

Beauty & Health Editor
By Jamie Schneider
Beauty & Health Editor
Jamie Schneider is the Beauty Editor at mindbodygreen. She has a B.A. in Organizational Studies and English from the University of Michigan, and her work has appeared in Coveteur, The Chill Times, and Wyld Skincare.
We carefully vet all products and services featured on mindbodygreen using our
commerce guidelines.
Our selections are never influenced by the commissions earned from our links.
If you've ever seen the words keratin, bond-building, or repairing stamped on your hair care labels, guess what? You probably have a protein treatment on your hands! These products are beloved for fortifying hair at the structural level, as the protein-infused ingredients can shimmy their way into the hair bonds and repair them from the inside-out (hello, salon-quality strands), but it's crucial you use them correctly. Overdo it on the protein, and you may wind up with hair that's even more brittle and strawlike (don't worry; we'll explain).
If you're dealing with desperately dry, damaged hair, don't fret: This expert-backed guide will help your tresses spring right back to life.
Benefits of protein treatments for hair:
1.
Repair damage & prevent breakage.
Fun fact: Your hair is actually made up of protein—about 95% of it, in fact, comprises the protein keratin. It's quite literally what gives hair its structure. But those amino acid chains can become broken over time—by heat styling, chemical processing, and other physical stressors (harsh brushing, too-tight hairstyles, and the like). That's where protein-infused products come in: These can help reconstruct those broken bonds, thus leading to stronger, smoother, and more defined strands.
"We can't recreate the exact protein that is in our hair [with topicals], but synthetic and naturally sourced proteins can repair and stand in place like a Band-Aid," explains NYC-based hairstylist Matt Newman. As you coat the strands with these bond-building ingredients (buzzwords include keratin, biotin, hydrolyzed quinoa, amino acids, bond-building, or silk protein), you protect them from further breakage and strengthen their ability to withstand those aforementioned stressors.
"Topical protein treatments such as keratin or bond-strengthening shampoos revitalize hair and promote stronger hair strands," adds hairstylist Miko Branch, co-founder of hair care brand Miss Jessie's. "Adding protein to hair is a terrific way to restore and nourish hair follicles, fostering hair health by protecting tresses and helping to prevent breakage.
"A good protein treatment can aid in the repair of severely damaged hair, hair growth, and the penetration and healing of a dry, flaky scalp," says celebrity hairstylist Annagjid "Kee" Taylor. See, a major key to encouraging hair growth is protecting the length you already have, and having breakage-prone strands can make those hair growth goals nearly impossible. By strengthening and rebuilding those amino acid chains, protein treatments can protect the hair from damage and keep it healthy—and as a general rule, healthy hair grows way faster.
3.
Enhance hair appearance.
And when you strengthen the structure of those hair bonds, your strands appear shinier and softer, to boot. Not to mention, you can manage split ends (no, you cannot technically "mend" split ends, but protein treatments are great for sealing down the cuticle and preventing those splits from making their appearance).
How to know if your hair needs protein.
If your hair doesn't have enough protein, it can appear dry, brittle, and strawlike. A lack of protein also affects the strands' elasticity, so Newman recommends what he calls the "stretch test."
Take a strand of hair from your brush and tug it gently: "It should have a little bit of stretch, and it should resist your tug," he says.
If the hair instantly snaps in half somewhere in the middle, that's a sign your strands may need more protein. "At a perfect, balanced state, hair should have a mild elasticity, and it should be able to be detangled properly without breaking," he adds.
One important caveat: Yes, protein treatments can work wonders for brittle, damaged hair, but it is possible to overdo it, which (sigh) also results in brittle, strawlike strands. See, your hair has a delicate protein-moisture balance: "Your hair still requires a proper combination of moisture (which allows it to expand without breaking) and protein (which strengthens hair from the inside out)," says Taylor. "Overtreatment with protein can cause hair to lose elasticity, making it dry and brittle." It's a concept called "protein overload," and here's what to do about it, if you think you may have gone overboard.
How to use protein treatments.
You can find bond-building ingredients in a host of hair care products—shampoos and conditioners, leave-ins, and the like—but protein treatments will typically come in mask form, as they have a higher concentration of protein-infused ingredients to really repair those hair bonds. That said, they shouldn't be part of your everyday hair care routine, but here's how to fold one into your repertoire:
Apply your product of choice (our recs, below) on damp hair from root to tip, working the product in with your fingertips or a wide-toothed comb.
"Next, I recommend putting your hair up into a bun or clip and wrapping your hair in a shower cap (if the product requires this step, but it's not necessary)," says celebrity hairstylist Andrew Fitzsimons. Taylor seconds the advice: "Some treatments do not require a covering, so carefully read the label," she says.
To help open up the cuticle and let the nutrients seep in (especially if you have low porosity hair), both Taylor and Fitzsimons suggest using heat to your advantage. Either let the shower steam do its thing, or use a blow dryer to evenly distribute the heat around your hair. Just remember to use a low heat setting and move the dryer in circular motions around your heat to avoid scorching, says Taylor.
After the allotted minutes are up, remove the cover (if using) and rinse out the treatment thoroughly. "You may need to shampoo and condition your hair after this treatment, depending on the product's instructions," says Taylor—again, it's important to read your labels.
How often should you use them?
Like pretty much all matters of hair care, your curl pattern, porosity (aka your hair's ability to absorb and hold on to moisture), and styling habits can all affect how much protein you should include in your routine.
For example, someone who uses hot tools on the regular might need to add more protein, as consistent heat styling can break down hair bonds and damage the cuticles. Additionally, "If you're one to wear your hair in a ponytail or high bun often, it's likely that your hair will experience breakage," notes Taylor, which may require more protein to help fill the gaps in the hair shafts. On the other hand, water evaporates rather quickly from high porosity hair, which means you may need to focus more on moisture than protein. Get to know your hair's unique complexities—we cannot stress it enough! (And here's a quick hair porosity test, if you're curious.)
Generally speaking, though: "It is safe to use a protein treatment weekly for the first month of using it," notes Fitzsimons. "After that first month, I wouldn't recommend using it more than once or twice a month, as adding too much protein in your hair can leave it feeling brittle and susceptible to breakage." If you'd like to break the schedule down further, catch Taylor's timeline below:
For low to medium porosity hair, use a protein treatment once a month and a moisturizing mask one to three times a month.
For high porosity hair, use a protein treatment one to two times a month and a moisturizing mask one to two times a month.
For damaged hair of any porosity, use a protein treatment two to three times a month and a moisturizing mask one to two times a month.
Best products.
Here, the protein treatments we adore right now.
Olaplex No.8 Bond Intense Moisture Mask
We dare you to find a beauty editor or expert who doesn't sing the praises of Olaplex. With the brand's patented bond-building technology, this treatment helps strengthen fragile strands and replenish the hair's structure. Call it the starter pack for severely damaged locks—your hair will look and feel gloriously silky.
No.8 Bond Intense Moisture Mask, Olaplex ($28)
Olaplex
Briogeo Don't Despair Repair Rice Water Protein + Moisture Strengthening Treatment
Briogeo
Odele Moisture Mask
Technically a moisturizing mask, although it does include hydrolyzed rice protein and hydrolyzed quinoa (another known naturally sourced protein). Read your labels, folks! That said, this treatment delivers much-needed hydration—thanks to glycerin, argan oil, and jojoba oil—while also aiding breakage and strengthening strands.
Moisture Mask, Odele ($12.99)
Odele
K18 Biomimetic Hairscience Leave-in Molecular Repair Hair Mask
Powered by the brand's K18Peptide, a unique amino acid sequence that's just the right size to reach the innermost layers of hair, this treatment will leave your locks impossibly soft and shiny. Just know that it functions as a leave-in, not a mask: After you step out of the shower, apply a dime-size amount of the formula from root to tip, and let it sit for four minutes to activate. Don't rinse it out—simply style your hair as usual.
Leave-in Molecular Repair Hair Mask, K18 Biomimetic Hairscience ($75)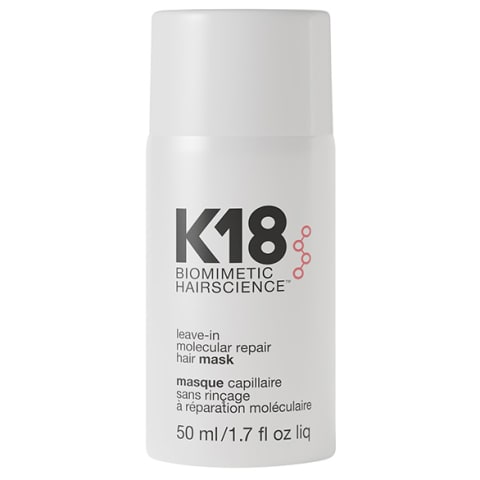 K18 Biomimetic Hairscience
Kristin Ess Hair Strand Strengthening Reconstructive Moisture Mask
Hydrolyzed pea protein, hydrolyzed keratin, and hydrolyzed silk make up the brand's proprietary Zip Up technology to, yes, "zip-up" gaps in the hair structure. Not to mention, there's shea butter, panthenol, and coconut oil for intense moisture.
Strand Strengthening Reconstructive Moisture Mask, Kristin Ess Hair ($14)
Kristin Ess
The takeaway.
Protein treatments are beloved for strengthening hair bonds, repairing breakage, and enhancing hair's smoothness and shine. Just make sure you're using these products correctly and keeping your hair type, porosity, and styling habits in mind—protein products work wonders, but remember, it's easy to get too much of a good thing.

Jamie Schneider
Beauty & Health Editor
Jamie Schneider is the Beauty Editor at mindbodygreen. She has a B.A. in Organizational Studies and English from the University of Michigan, and her work has appeared in Coveteur, The Chill Times, and more. In her role at mbg, she reports on everything from the top beauty industry trends, to the gut-skin connection and the microbiome, to the latest expert makeup hacks. She currently lives in Brooklyn, New York.