Frizzy Hair Or Flaky Scalp? This Natural Remedy Will Hydrate, Tame & Repair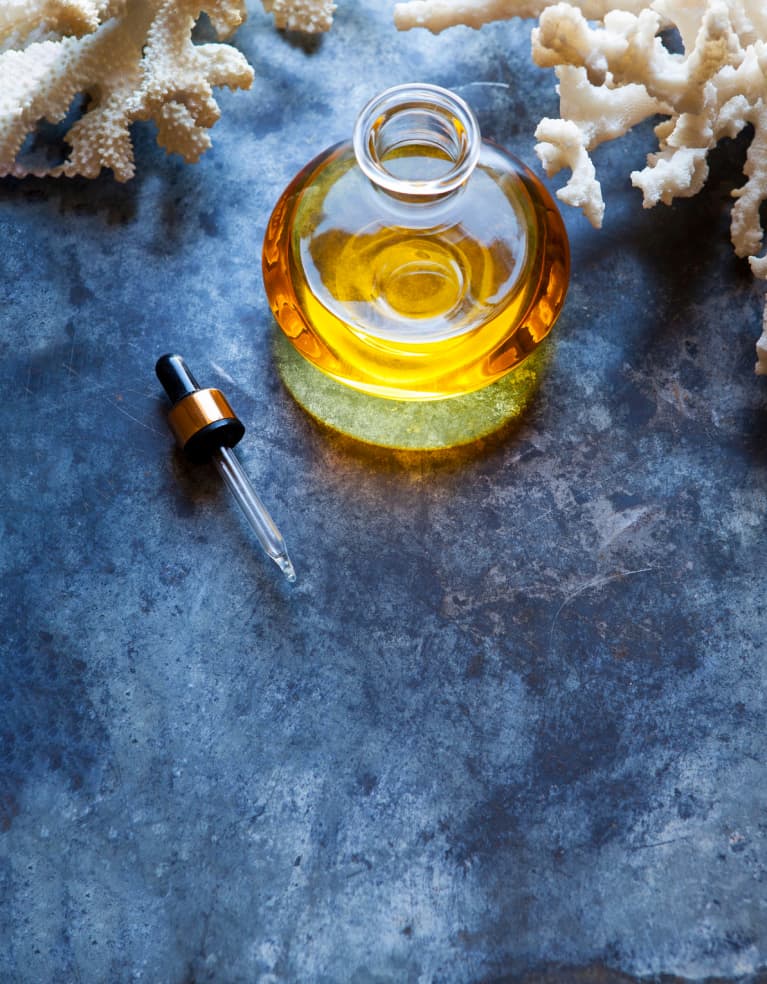 Our editors have independently chosen the products listed on this page. If you purchase something mentioned in this article, we may
earn a small commission
.
Attaining and maintaining gorgeous, shiny hair—or at least finding a natural way to sufficiently hydrate parched strands and banish that itchy scalp—is probably somewhere on just about everyone's list of beauty aspirations. But since your real life to-do list is likely a mile long, a fast and easy solution would be nice. Unfortunately, many shampoo and conditioner combos just don't cut it—at least not on their own. Luckily, there's an affordable trick. Enter: argan oil.
This liquid gold is derived from the kernel fruits of argan trees in Morocco, where it has been used as a natural topical and internal remedy for thousands of years. What makes it so beneficial? Studies show that 99 percent of argan oil is made up of triglycerides, or essential fatty acids, which have been shown to decrease skin inflammation and irritation. The remaining 1 percent is a powerful combo of botanical compounds, like antioxidant vitamin E. All of which is to say, argan oil is basically a hair hydrating hero.
Benefits of argan oil for hair.
When applied to skin and hair, even a few drops of argan oil can work wonders. "It's great for many conditions, especially dry, damaged hair because its trove of fatty acids lock moisture into the hair follicle," says Bindiya Gandhi, M.D., an American Board Family Medicine physician and mbg Collective member.
And let's face it, avoiding split ends and frizz is tough when everything from blow drying and straightening to drying wet hair with a towel can cause damage. Thankfully, argan oil nourishes the entire strand from root to tip.
People also rave about argan oil's ability to increase hair growth, but at this point, no research can definitively back up those claims. It has been proved, however, that a daily scalp massage can stimulate hair follicles and increase hair growth and thickness. And since compounds in argan oil reduce hair loss and breakage, the combo may just be ideal for improving the thickness and texture of hair.
The fatty acids also help decrease any inflammation in the scalp due to dryness and may reduce hair loss associated with scalp irritation and inflammation, explains Gandhi, which is great news for those who suffer from dandruff or scalp burn. Basically, argan oil is an all-in-one solution to your hair woes—it tames frizz, hydrates skin on the scalp, and repairs damage from everyday styling.
How to use argan oil for hair and scalp health.
1.
As a natural heat shield and split end treatment.
Since it's light and rich, argan oil can be used daily. "I use it on the ends of my hair to protect from heat styling damage," explains Gandhi. Instead of spraying a chemically laden product before straightening, blow drying, or curling, try applying a bit of argan oil. The protective oleic and linoleic fatty acids will coat strands, preventing the outer layer, or cuticle, from lifting—all of which lead to split or broken ends. Even if you're not styling, adding a touch of argan oil to wet hair is great for hydration and shine, as the oil has been shown to slow the loss of moisture.
Try it: Pump a dime-size amount of argan oil into your palm, rub your hands together, and pull them through the bottom 2 inches of your hair. Adjust for length and texture.
2.
As a soothing hair mask for an itchy, flaky scalp.
For a dry, sunburned, or flaky scalp, try a weekly leave-in argan oil conditioning treatment. "Argan oil is full of antioxidants and vitamins A, C, and E, so it's great topically on skin," says Gandhi. This DIY hair mask kills two birds with one stone—it deeply hydrates your scalp and conditions hair in the process. It will leave your locks feeling silky, smooth, and nourished. And don't worry about it getting on your face or neck, as argan oil has wonderful anti-aging properties and can be safely used to alleviate skin conditions like eczema, psoriasis, and even acne.
Try it: Split your hair into two parts like you're making pigtails. Pump a quarter-size amount of argan oil into your palm and rub your hands together. On one side, start from the scalp and massage oil down to the tip of your hair. Add more oil if necessary. Repeat on the other side of your head, then massage and work the oil all over your scalp. Wrap your locks in a top bun, pop on a shower cap, and let that argan oil work its magic for 20 to 30 minutes.
3.
As a conditioner booster for ultra-dry hair.
If you find your hair particularly dry, brittle, or tangled and need a simple fix, try combining a few drops of argan oil with your existing conditioner on a daily basis (or however frequently you wash). It's high volume of fatty acids works to smooth frayed hair cuticles (the outermost part of the hair shaft). Plus, the boost of vitamins will leave locks shiny and nourished.
Try it: Pump the desired amount of conditioner into your palm, then add 3 to 5 drops of argan oil. Apply to your hair as you normally would and allow it to sit for about 5 minutes before rinsing.
What to look for when buying argan oil.
When purchasing argan oil, look for 100 percent organic argan oil without any fillers, water, alcohol, preservatives, or additional chemicals. "And make sure it says 'Made in Morocco,' because that's where it naturally originates," explains Gandhi. It should come in a dark glass bottle, like olive oil or wine, and be kept away from the sun. Don't forget that a little bit goes a long way, so even though it may initially seem like a pricey purchase, it's often worth the money. Plus, you can use it all over your face and body, too, making it an incredibly versatile purchase.
Want to turn your passion for wellbeing into a fulfilling career? Become a Certified Health Coach! Learn more here.