Grow Your Own Medicine: 8 Essential Herbs For Springtime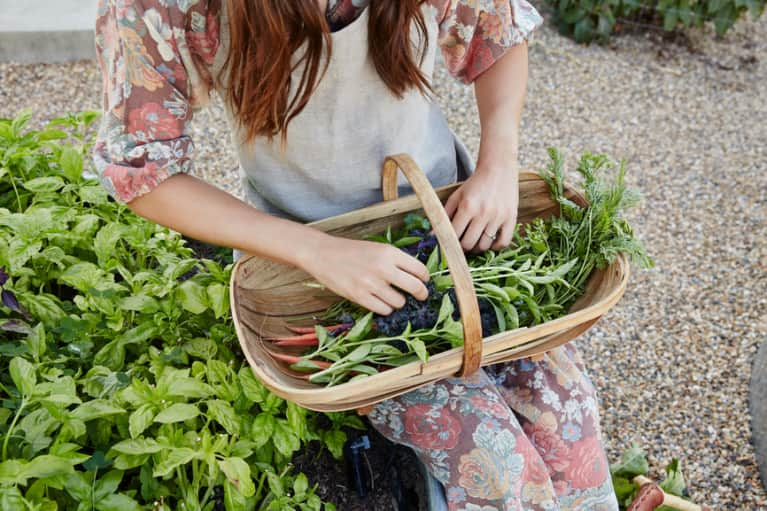 Our editors have independently chosen the products listed on this page. If you purchase something mentioned in this article, we may
earn a small commission
.
It's wonderful to have a year-round herbal pharmacy for beauty, comfort, and health right at your fingertips. Planting in spring is the time to do it.
All of these herbs can be grown in a flower box or in pots on the patio or balcony with a minimum amount of effort. Good sun exposure, a little water, and you can begin harvesting the young leaves in a couple of months.
I recommend making teas and infusions by soaking the leaves or flowers in a pot of hot water for a good 10 minutes then straining into a cup to drink or apply topically right away. Most of the teas can be stored for up to five days in a tightly closed glass container in the fridge. Cut them fresh for adding to food recipes, and dry them for long-term storage and use.
You'll never go back to store-bought herbs again.
The aroma emanating from tulsi (Sanskrit for "the incomparable one") is an intoxicating and refreshing fragrance. Inhaling the aroma first thing in the morning is said to purify the blood. Place the mature shrub near a doorway or window to get the full effect of its rich, spicy scent.
Make an infusion of the leaves for a tea that produces antioxidant protection against free radicals and helps bolster the immune system, purify the blood, and balance the digestive system. Gargle the tea for sore throat relief and to break up mucus from postnasal drip. Chewing the leaves will support healthy gums and prevent mouth ulcers.
Lemon Verbena leaves can be steeped and used as a tea that is extremely relaxing, lowers blood pressure, eases cramps and indigestion, and strengthens the nervous system. Mixed with lavender, the dried flowers and leaves make the most aromatic potpourri imaginable.
3. Mint (spearmint, pineapple mint, chocolate mint, peppermint)
A hot mint tea is good for colds, fever, indigestion, and stomach upset. Chilled tea made from dried leaves makes a great foot soak and face spray for a hot day. Fresh mint leaves can be mixed with fruit salad for a tasty twist.
Thyme is a member of the mint family. Honey from bees that feed on thyme flower nectar is a gourmet delight. Yet, interestingly enough, insects are repelled by thyme. Make a cup of thyme tea, put it in a plant mister, and spray around doorways and windows in summer to repel insects. Thyme strengthens the immune system, so make a tea from the dried or fresh leaves when you feel a cold coming.
The aroma from the growing plant increases brain alertness and counteracts depression and sadness. Put fresh sprigs in a bath or foot soak for detoxification and to reduce swelling; make tea out of dried leaves for mouthwash to kill bad breath. Boil a handful of rosemary in two cups of water for 10 minutes to yield an antiseptic solution for washing bathroom fixtures.
Lavender is a member of the mint family and it's useful for easing stress and calming agitation; it is antimicrobial and antiseptic. Make a sachet of dried flowers to drop into the bath or to tie up in a mesh bag for a lingerie drawer sachet. Put the fresh or dried leaves into a mesh bag and place under your pillow for a calming and restful night's sleep. The weight of your head as it shifts during sleep will release the lavender's aroma.
Sage takes its name from the Latin salvare ("to cure"); there is no part of this plant that cannot be used. The leaves, flowers, and stems all have healing attributes. Use fresh sage for the most efficacy, and make into an infusion. Dab on insect bites, gargle for sore throats and mucus buildup, or drink as a tea for respiratory congestion. Since sage has a powerful antiseptic effect, combining a tablespoon of strong sage tea with your toothpaste will help remove plaque and tone the gums.
German camomile is a member of the sunflower family and has powerful flavonoids which affect the nervous system. Make a tea out of fresh or dried flowers for upset stomach, stress, or insomnia. Camomile also has an effect on the immune system and helps fight off colds and infections. Cold camomile tea is a great eyewash for tired and red eyes. A camomile flower bath is great for relieving skin irritations. Wash your face with unsweetened camomile tea to treat acne or bee stings.