Tired After Eating? What The Feeling Is Telling You & How To Regain Energy

Registered dietitian
By Rachael Ajmera, MS, RD
Registered dietitian
Rachael Ajmera, MS, RD is a registered dietitian and writer based in San Francisco. She holds a master's degree in Clinical Nutrition from New York University and an undergraduate degree in Dietetics.

Expert review by
Lauren Torrisi-Gorra, M.S., RD
Registered Dietitian
Lauren Torrisi-Gorra, MS, RD is a registered dietitian, chef, and writer with a love of science and passion for helping people create life-long healthy habits. She has a bachelor's degree in Communication and Media Studies from Fordham University, a Grand Diplôme in Culinary Arts from the French Culinary Institute, and master's degree in Clinical Nutrition and Dietetics from New York University.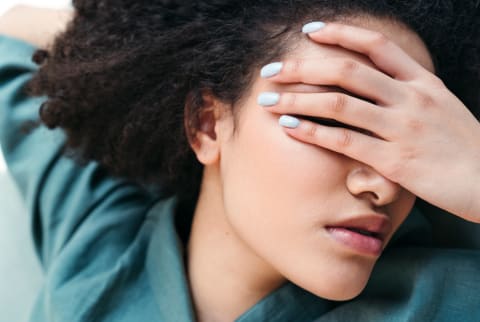 Image by Irina Polonina / Stocksy
August 30, 2023
We carefully vet all products and services featured on mindbodygreen using our
commerce guidelines.
Our selections are never influenced by the commissions earned from our links.
If you find yourself feeling groggy after chowing down on a big meal, you're not alone. In fact, there are plenty of factors that can contribute to post-meal fatigue, and it's a common issue that many experience.
Keep reading for more on why you might feel tired after eating, plus some expert-recommended tips to bump up energy levels.
Why you may feel tired after eating
She explains that the composition and size of your meals might play a role by altering blood sugar levels and certain chemicals in the brain, such as serotonin, which regulates sleep. Other factors might also have an impact, including how much sleep and physical activity you're getting each day.
While it's pretty normal to feel a little tired after eating from time to time, it's probably a good idea to check in with a doctor if you're feeling drained on a daily basis. Functional medicine consultant and weight management expert Emily Doctor, DNP, FNP-BC, points out that fatigue can be a sign of many other serious health issues, including autoimmune conditions, thyroid problems, iron deficiency, anxiety, depression, and sleep disorders.
Doctor also explains that a condition called reactive hypoglycemia could also cause low blood sugar levels1 two to five hours after eating, resulting in fatigue, sweating, and shakiness.
"As always, make sure to advocate for yourself if you feel like you might have any of these medical conditions," says Doctor. A health care professional can rule out any existing health conditions and may even suggest other steps you can take to boost your energy levels.
Summary
Many factors can contribute to postprandial fatigue (feeling tired after eating). Everything from what and how much you eat to physical activity can have an impact. If you feel tired on a daily basis, though, it's best to check with a doctor to see if there is an underlying issue.
Things that can make it worse
There are several factors that could cause you to feel tired after eating. Below, we take a deep dive into a few things that might make post-meal fatigue even worse:
1.
Eating foods rich in tryptophan
Loading up on foods high in tryptophan (a type of amino acid) can cause a dip in energy levels after you eat. Cording explains that tryptophan is used to produce serotonin, "which may play a role in that sleepy, full, blissed-out feeling you get right after some meals."
If you've ever experienced a full-on food coma after Thanksgiving dinner, the tryptophan found in turkey might be to blame. Other common sources include chicken, fish, milk, eggs, seeds, and soybeans.
2.
Not getting enough sleep each night
"Feeling sleepy after a meal can be a sign of excessive daytime sleepiness," explains Nishi Bhopal, M.D., an integrative psychiatrist and sleep doctor. According to Bhopal, this can often occur due to sleep deprivation. She explains that it might also be a result of disruptions in your sleep cycle due to insomnia or other sleep disorders.
3.
Following a high-carb diet
According to Cording, filling up on carbs can lead to an afternoon slump, which is why you might feel tired after eating sugar or sweets.
"When someone eats a very high-carb meal that doesn't have much protein, fat, or fiber to buffer the breakdown of those carbs, they may get a short-lived energy spike as their blood sugar surges2," says Cording. "But then they experience fatigue related to the blood sugar crash that follows."
4.
Not getting enough physical activity
In some cases, feeling sleepy after a meal could be a sign that you're not getting enough physical activity in your routine, according to Bhopal. In fact, physical inactivity is a common cause of fatigue3. Research shows that a sedentary lifestyle can have a huge impact on health and may impair metabolism4, slow circulation, and decrease insulin sensitivity, all of which can contribute to low energy levels.
5.
Eating large or heavy meals
If you find that you're frequently feeling tired after every meal, it might be time to try lightening things up. "Your body has to work pretty hard to digest a large meal and absorb those nutrients, which also leads to a rise in blood sugar," says Cording.
This can then cause blood sugar to plummet, zapping your energy levels in the process. Plus, some research suggests that eating heavy, high-fat meals might also play a role by altering levels of certain hormones involved in fatigue5, including interleukin-1.
How to stop feeling tired after eating
Several strategies can help fend off post-meal fatigue. Here are a few expert-recommended tips to stop feeling tired after you eat:
1.
Stick to balanced meals
3.
Switch up your meal schedule
Cording recommends having several small meals spaced throughout the day rather than a massive meal in a single sitting. Research suggests that this could support better blood sugar control8, keeping energy levels steady during the day. Sticking to a consistent eating schedule is also crucial. In fact, one study found that skipping breakfast could drive up blood sugar levels9 after lunch and negatively impact the body's insulin response.
If you're often experiencing an energy crash after you eat, Cording notes that keeping a log of what you're eating might be beneficial. She explains that it can help you pinpoint the specific foods or eating patterns that affect your energy levels the most, making it easier to determine what changes you should make to your diet or lifestyle.
How to get quick energy
If you feel a food coma coming on, here are a few easy ways to crank up energy levels fast:
Consider squeezing in some movement after your meal, even if it's just for a few minutes. "This helps balance your blood sugar, and if you manage to get outside, the light exposure can also give you an extra energy boost," says Cording.
Even if taking a walk isn't always doable, getting some sunlight after you eat can help. Some studies have found that exposure to light after meals might fend off fatigue and increase alertness. In fact, researchers concluded that bright light exposure after lunch reduced post-meal sleepiness14 and offered a similar set of benefits as taking a short nap.
Food triggers and sample menus
According to Cording, foods that spike blood sugar levels can be common culprits of post-meal fatigue. As a general rule of thumb, she recommends cutting back on refined carbs, ultra-processed foods, and added sugar, all of which can drive up blood sugar. "Some people may also find it helpful to limit high-fat foods to smaller portions," adds Cording.
Foods high in tryptophan—including meat, eggs, dairy products, seeds, peanuts, and soybeans—can also contribute to feelings of fatigue.
However, there's no need to cut these nutrient-dense foods out of your diet altogether. Instead, try moderating your portion sizes and enjoying alongside an assortment of other healthy foods instead.
Foods to limit or avoid:
Fried foods
Chips
Cookies
Frozen meals
White bread
Instant rice or pasta
Sugary breakfast cereals
Candies
Soda
Fast food
Packaged baked goods
Foods to try
If you find that you're constantly feeling tired after eating lunch or dinner, sticking to high-fiber, minimally processed foods is your best bet. Some examples of ingredients to stock up on include:
Fruits
Vegetables
Whole grains
Legumes
Nuts and seeds
Sample menus
Enjoying a variety of nutritious meals as part of a well-rounded diet can help provide you with plenty of energy to power through your day. Here are a few healthy meal ideas to help get you going:
Mushroom and pepper omelet with whole-wheat toast and a banana
Tofu veggie stir-fry with brown rice
Overnight oats with Greek yogurt, berries, and almond butter
Mediterranean chicken and veggie wrap with sweet potato fries
Avocado toast topped with a fried egg and a side of fresh fruit
Garlic butter salmon with herbed quinoa and roasted asparagus
FAQ
Why am I so tired after eating?

Many factors can contribute to feeling tired after you eat, including eating high-carb or heavy meals or consuming foods high in tryptophan, such as animal products. Other factors can also play a role, including a sedentary lifestyle and not getting enough sleep.
How do I stop being tired after eating?

Sticking to a consistent eating schedule, enjoying a balanced diet, and staying active are a few simple ways to boost energy levels after eating. You can also try taking a walk after meals, going outside, or drinking some water for a quick burst of energy.
Is falling asleep after eating a sign of diabetes?

Fatigue after eating can be a symptom of diabetes. However, if you feel tired after eating, it doesn't necessarily mean that you have diabetes, as many other factors can also contribute. Consider consulting with a doctor to rule out diabetes or other health conditions.
The takeaway
Although feeling tired after eating isn't always a cause for concern, it's definitely worth looking into if it's a routine occurrence. For managing occasional fatigue, consider limiting foods high in refined carbs and sugar and trying out some of the tips listed above to increase energy levels after you eat.

Rachael Ajmera, MS, RD
Registered dietitian
Rachael Ajmera, MS, RD is a registered dietitian and writer based in San Francisco. She holds a master's degree in Clinical Nutrition from New York University and an undergraduate degree in Dietetics.
Rachael works as a freelance writer and editor for several health and wellness publications. She is passionate about sharing evidence-based information on nutrition and health and breaking down complex topics into content that is engaging and easy to understand.
When she's not writing, Rachael enjoys experimenting with new recipes in the kitchen, reading, gardening, and spending time with her husband and dogs.