The Best Natural Mineral Sunscreens On The Market Now
Contributing Wellness & Beauty Editor
By Lindsay Kellner
Contributing Wellness & Beauty Editor
Lindsay is a freelance writer and certified yoga instructor based in Brooklyn, NY. She holds a journalism and psychology degree from New York University. Kellner is the co-author of "The Spirit Almanac: A Modern Guide to Ancient Self Care," with mbg Sustainability Editor Emma Loewe.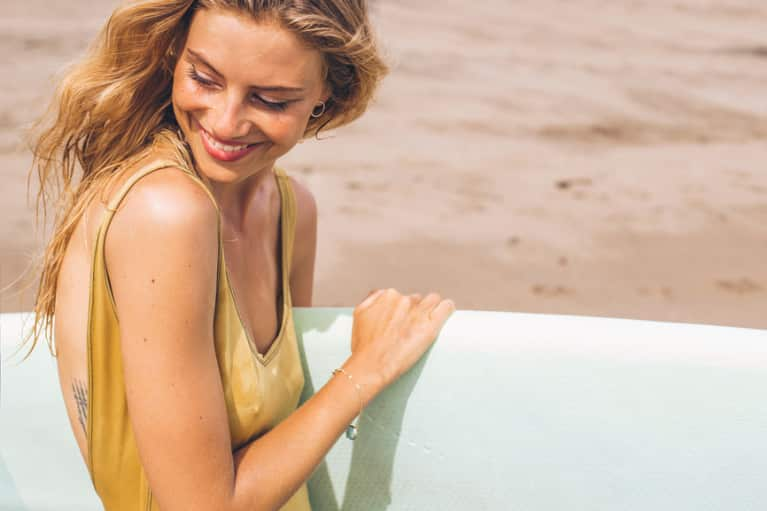 Our editors have independently chosen the products listed on this page. If you purchase something mentioned in this article, we may
earn a small commission
.
In the world of "natural" sunscreen, there's a lot to consider. Organic sunscreen, non-toxic sunscreen, clothes with SPF, the DIY sunscreen you probably should not do, reef-safe sunscreen, SPF and other sunscreen ratings; and, of course, the mineral versus chemical debate. But, if you're looking for sunscreens that provide physical, reef-safe protection for a beach day or outdoor adventure, then your best bet is to opt for mineral sunscreens.
As a beauty editor, the question I'm asked most often is: Can you find me a mineral sunscreen without a white cast and that super sticky feeling? The answer is frustrating—many times it's no. By nature, zinc oxide and titanium dioxide have a hue and a texture that's part of their chemical properties. "Zinc and titanium are white minerals. The smaller the particle size and and the less percentage of the mineral, the less white it will look," noted holistic dermatologist Cybele Fishman, M.D., explaining why most mineral screens have a white cast to some degree. That said, there are a few tinted options below that are far less chalky than others. These are the best mineral sunscreens on the market in 2018:
Raw Elements Eco Form Sunscreen SPF 30 Plus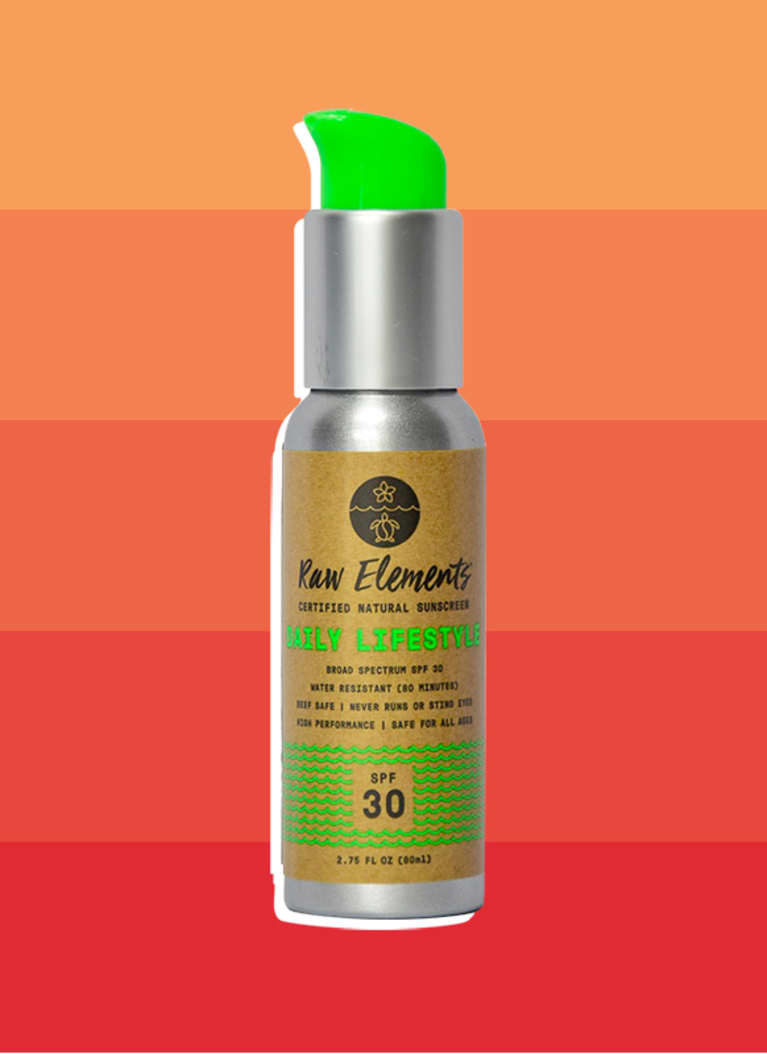 Beloved by surfers and swimmers coast to coast, Raw Elements is gentle enough to use on babies, and always gets the job done. If there was an award for "most eco sunscreen," Raw Elements would win. Their packaging is recycled and each ingredient is cruelty free, non-GMO, reef-safe, organic, and eco-safe. Pro tip: Warm it up in your hands before spreading it on your body for a more even distribution.
Eco Form Sunscreen SPF 30 Plus, Raw Elements, $18
Suntegrity Natural Mineral Sunscreen For Body SPF 30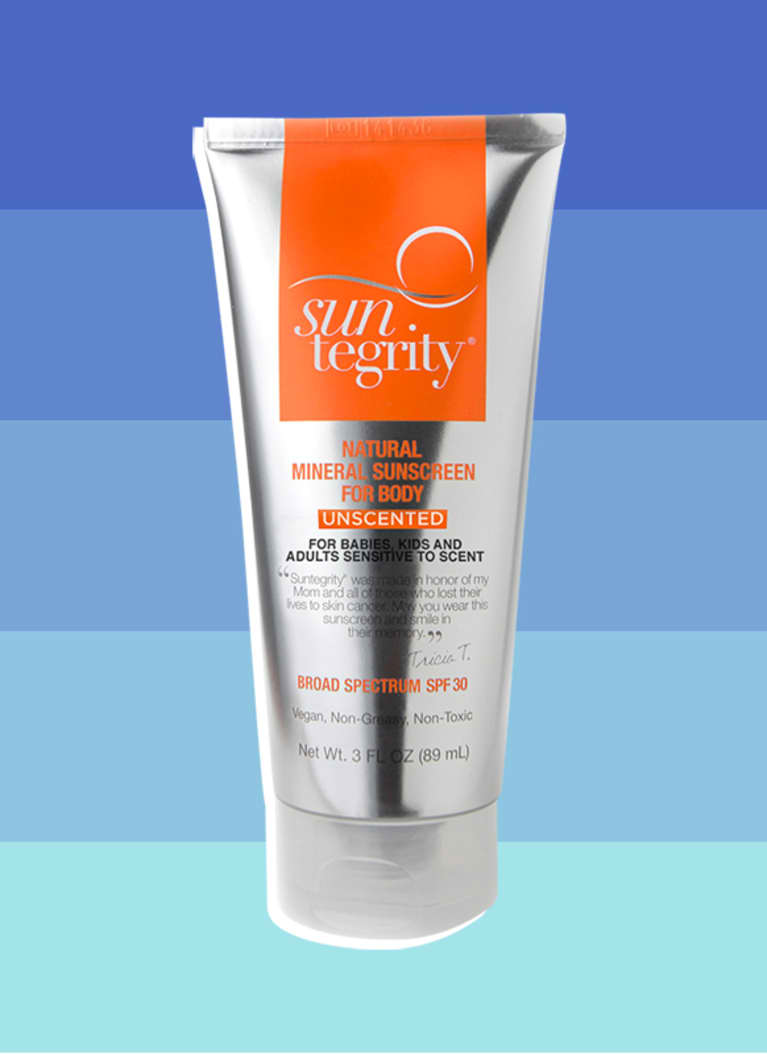 Heavy-duty all-day sun protection calls for the big guns. Sweat and water resistant, approved by the EWG, this formulation is broad spectrum, chemical-free, and 20 percent zinc oxide, making it your new beach-bag essential. It goes on smoothly and quickly, leaving you and your bod protected and white-streak-free in record time.
Natural Mineral Sunscreen For Body SPF 30, Suntegrity, $24
C'est Moi Gentle Mineral Sunscreen Lotion Broad Spectrum SPF 30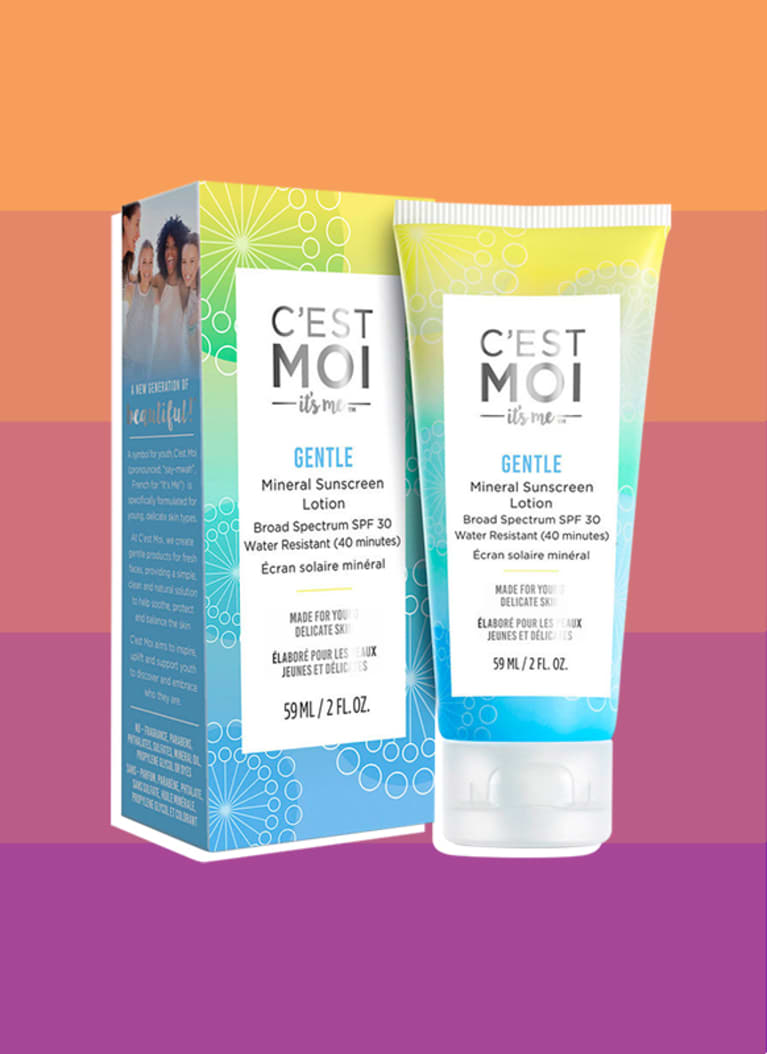 C'est Moi is marketed toward teens and millennials, but works great for all skin types and especially sensitive skin. The label says it's made for "young delicate skin," but that just means it's formulated without the anti-aging actives that are in most daily sunscreens as they can agitate and irritate sensitive skin. The 2-ounce tube is quite small—it'd be perfect for a weekend away or to use on your face—but the $15 price point is digestible.
Gentle Mineral Sunscreen Lotion Broad Spectrum SPF 30, C'est Moi, $15
Unsun Tinted Mineral Sunscreen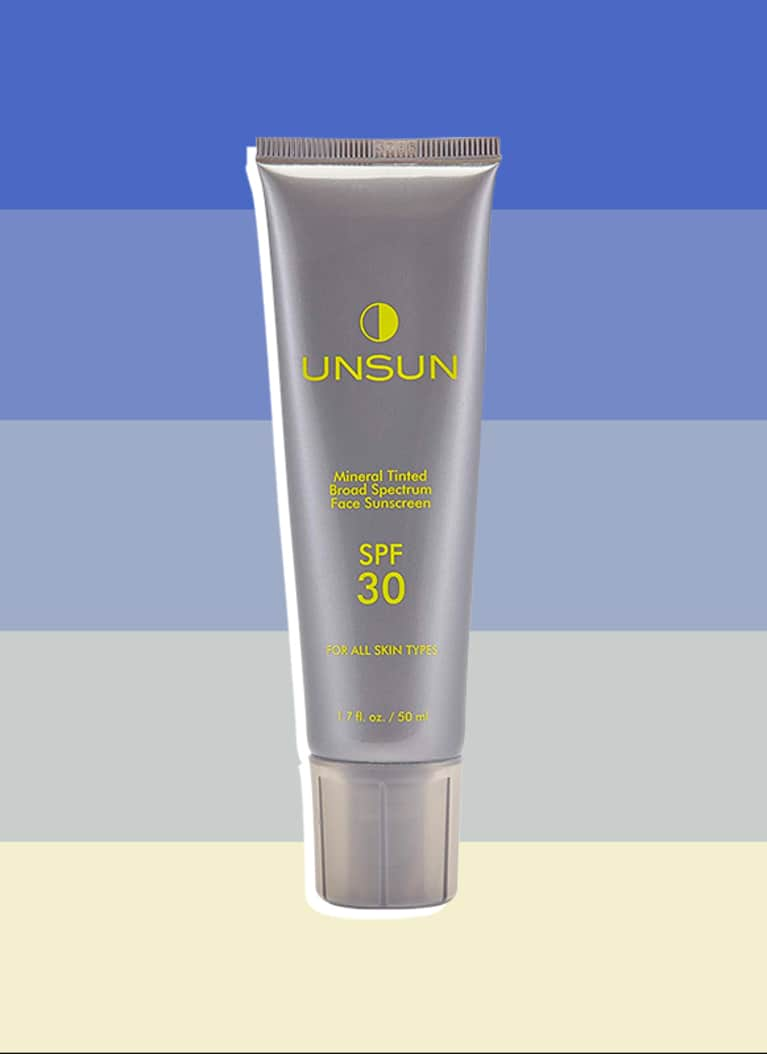 Little known fact: Unsun was started by Frank Ocean's mom, Katonya Breaux, to help solve the white cast issue specifically for women of color. "The desire to protect our skin from the sun should not mean having to wear foundation in order to cover the white and gray film that's present after application," the about page reads. "Tested on tones that range from olive to the darkest of chocolate, unsun meets the challenge." Indeed, you can see on the brand's Instagram page the difference between typical mineral sunscreen and Unsun.
Tinted Mineral Sunscreen, Unsun, $29
All Good Sport Sunscreen Spray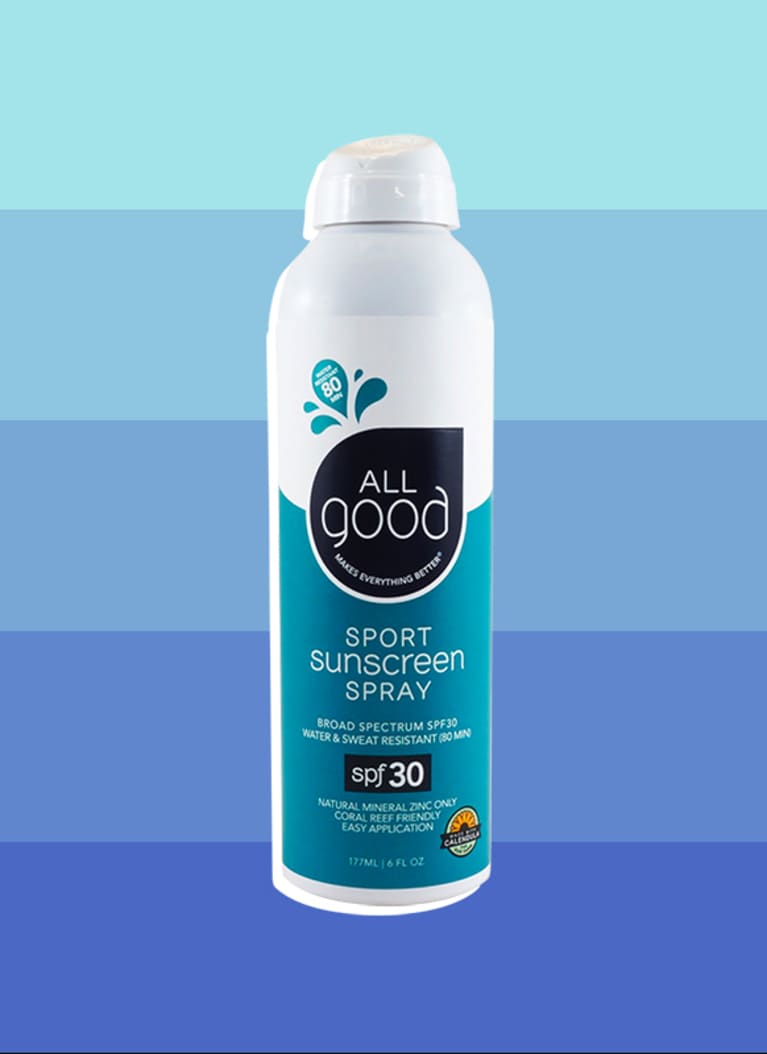 One of the biggest gripes with mineral sunscreen is the amount of time it can take to apply, thanks to the tacky texture. This one by All Good is of the few mineral sunscreen sprays out there that doesn't contain any chemical screens—just non-nano zinc and other emollients to make it long lasting. It cuts application time in half, at least, and you can feel good about using it too. It's GMO-free, vegan, made with organic ingredients where possible, fully recyclable, and reef-friendly.
Sport Sunscreen Spray SPF 30, All Good, $22
Badger Baby Sunscreen Cream SPF 30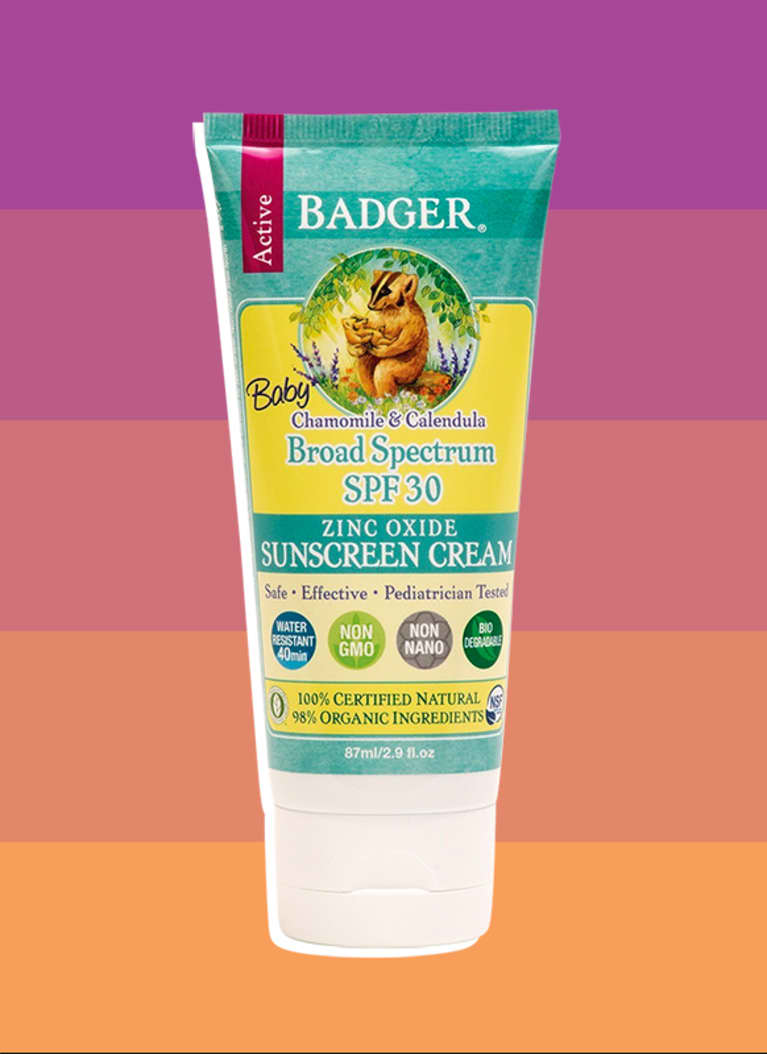 This sunblock is a zinc-based, chemical-free formula that boasts a stellar low rating of 1 from the EWG, meaning that the EWG recognizes most or all ingredients as safe and non-toxic. Organic oils and waxes make for a thick consistency ideal for protecting delicate skin, and the calming scent of calendula and chamomile soothes fussy babies. It does create a subtle white sheen on the skin like almost any zinc-based, water-resistant sunblock, and remains slightly opaque, even when rubbed into the skin. So you may not want to use it on yourself. Bonus: It's biodegradable, reef-safe, and safe for the environment.
Baby Sunscreen Cream SPF 30, Badger, $14
Derma E Natural Mineral Sunscreen Broad Spectrum SPF 30 Body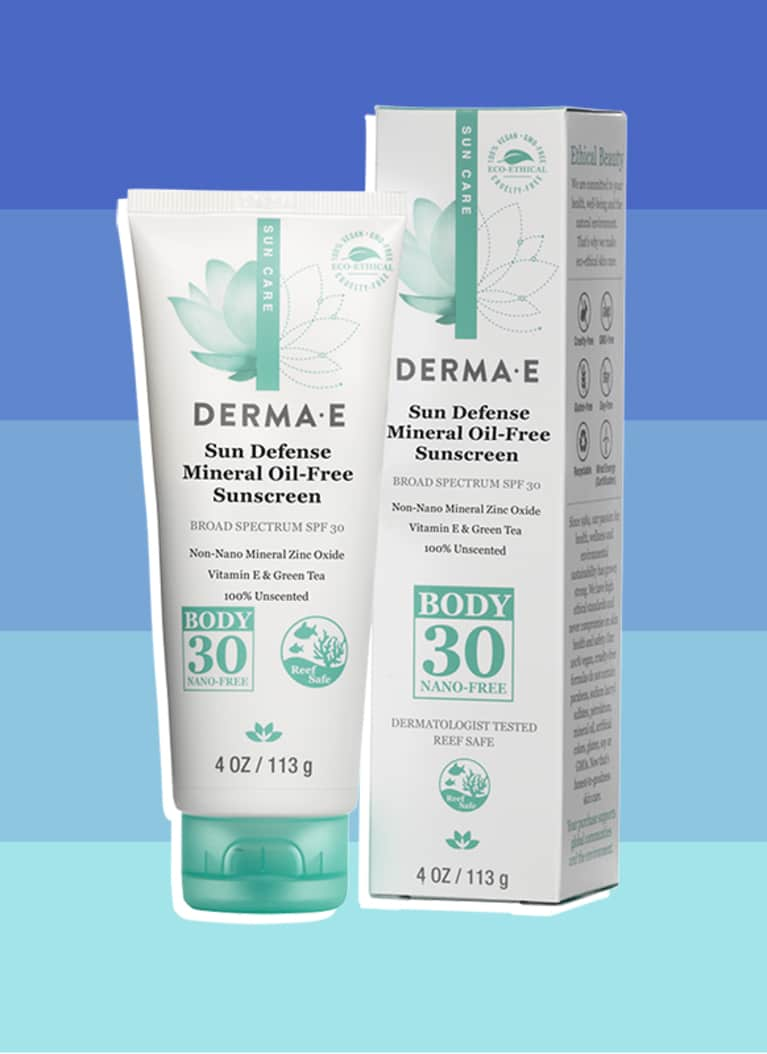 This non-nano, 20 percent zinc oxide blend goes on easily and doesn't leave as "sticky" a white cast as many other high-zinc sunscreens. It's especially great for sensitive skin, it's fragrance free—many enthusiastic reviewers with eczema say Derma E has been a sun protection savior. Fun fact: mbg's co-founder and Chief Brand Officer Colleen Wachob is a huge Derma E fan!
Natural Mineral Sunscreen Broad Spectrum SPF 30 Body, Derma E, $20
Alba Botanica Fragrance-Free Sunscreen Lotion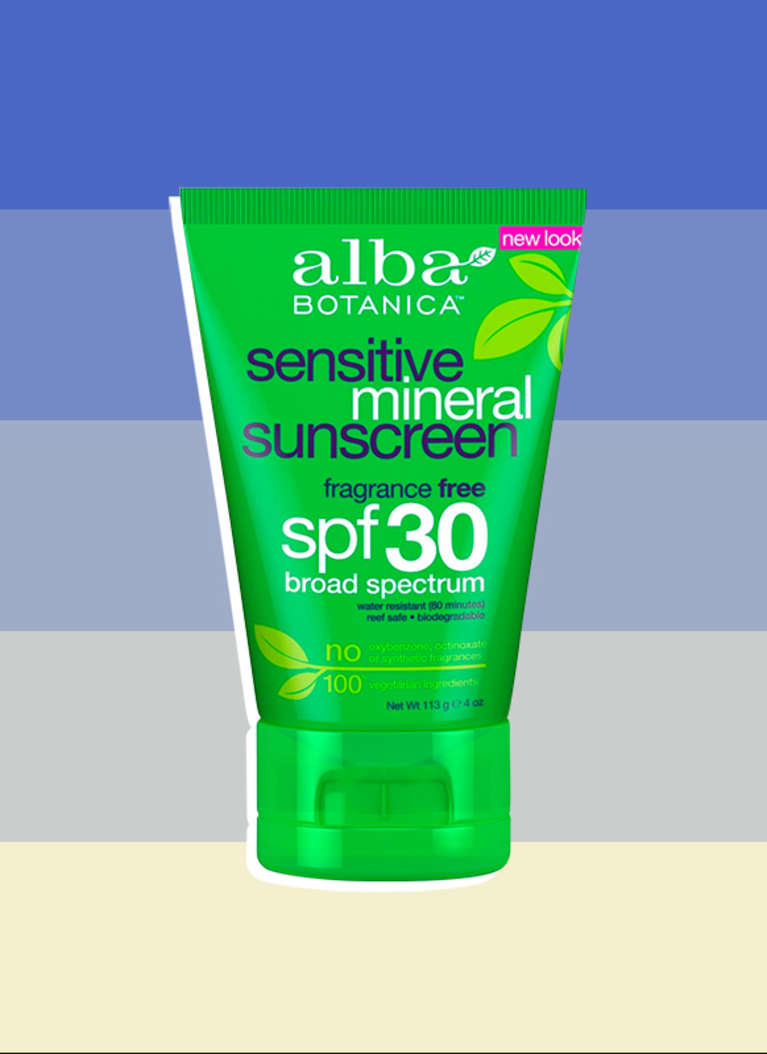 The most affordable of the bunch, Alba Botanica's fragrance-free sunscreen is made with non-nano zinc oxide. Alba has been around since 1979 and has gotten the formula down—it's made without parabens, fragrance, phthalates, formaldehyde and its derivatives, sulfate, aluminum, and of course chemical screens.
Fragrance-Free Sunscreen Lotion, Alba Botanica, $6.49