This Sleep Supplement Works Right Away: Reviewers Share Their Night 1 Experiences

mbg Sustainability + Health Director
By Emma Loewe
mbg Sustainability + Health Director
Emma Loewe is the Senior Sustainability Editor at mindbodygreen and the author of "Return to Nature: The New Science of How Natural Landscapes Restore Us."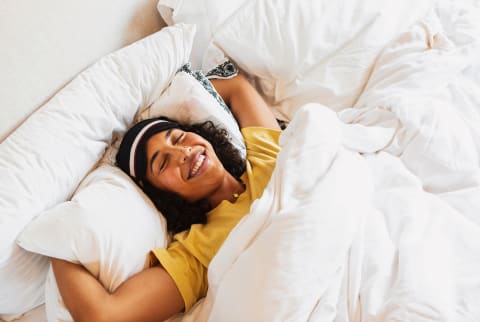 Image by Brilli / Contributor
August 24, 2023
There's a certain amount of anticipation that comes with trying a new sleep supplement. It's easy to be skeptical when you're taking a new product for the first time—especially if you've tried other sleep aids in the past without success.
mindbodygreen's sleep support+ is a unique formula that actually delivers a noticeable improvement in sleep on the very first night, reviewers say. The supplement's fast-acting impact is thanks to three targeted ingredients: magnesium bisglycinate, PharmaGABA®, and jujube.*
The non-hormonal formula works fast, but it doesn't leave any lingering grogginess behind the next morning. Unlike sleep aids like melatonin, sleep support+ is non-hormonal and won't disrupt your natural sleep architecture.
Hundreds of customers have used the bestselling supplement to fall asleep faster, stay asleep longer, and wake up feeling more refreshed. From a retired firefighter looking to get her sleep schedule back on track to an international traveler looking to recover in a new time zone, it's a hit among people from all walks of life. Here's what they have to say about the supplement's impact from night one:*
1.
More effective than others we've tried

"Noticed a difference in sleep quality almost immediately. Magnesium supplements are a regular part of our routine, this one has proven more effective than others we have tried."*
2.
Increased my REM sleep by 400%
"In another effort to see if REM sleep could ever be in the cards for me, I took two capsules of sleep support+ about an hour and a half before bedtime. When I eagerly checked my Oura app the next morning, I found my REM sleep at one hour and 23 minutes (18% of my total sleep)—over four times more than what I was previously clocking! After weeks of not getting more than 20 minutes of REM sleep in one night, it was wild to see my score go up so dramatically."*
"It's so gentle it seems like it isn't doing anything, but after taking it every night for a week or so, I noticed that yes I was staying asleep. And I'm not groggy in the morning."*
4.
Finally found what I was looking for
"The first time I took sleep support+, I slept the entire night through. I immediately thought, 'OK, either I'm really exhausted or there's something else going on here.' So I tried it again the next night. When I slept through the night again—and woke up feeling great—I knew I'd finally found what I was looking for."
5.
I'm loving this product
"I'm in my 60s and my sleep has been interrupted multiple times each night. Since taking sleep support, I've had a much more restful sleep and have only woken once a night. A huge improvement."*
"From my very first night taking this supplement, I saw a big difference in my sleep. I had a much sounder, deeper rest and was able to quickly get back to bed after a couple of wakeups. It was the best sleep experience I'd had in a year or more."*
"This product surpassed my hopes, and certainly my expectations. For me, it works exactly as advertised—I sleep through the night and a bit deeper sleep than I've had the past few years, and yet there's no grogginess at all. I wake up ready to go. Very happy new customer here!"*
8.
I'm ordering my second bottle
"Sleep support+ gave me deeper, longer sleep with no waking in the middle of the night. I used my first bottle, then experimented without it to see if it was truly helpful. I'm now ordering my second bottle as quickly as I can!"*
The takeaway
mindbodygreen's sleep support+ formula is a powerful combination of magnesium bisglycinate, PharmaGABA®, and jujube that gets to work quickly and can help improve sleep from night one. Learn more about the supplement here.*
If you are pregnant, breastfeeding, or taking medications, consult with your doctor before starting a supplement routine. It is always optimal to consult with a health care provider when considering what supplements are right for you.