The Perfect Smoothie To Sip, Based On Your Zodiac Sign
mbg Nutrition & Health Writer
By Eliza Sullivan
mbg Nutrition & Health Writer
Eliza Sullivan is a food writer and SEO editor at mindbodygreen. She writes about food, recipes, and nutrition—among other things. She studied journalism at Boston University.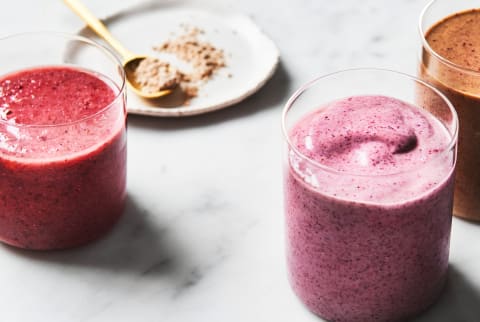 Image by Rochelle Eagle / Contributor
June 21, 2021
Smoothies are the perfect way to start the day with a bang, and tons of nutrients too. We're delving into some of our favorite smoothie recipes—and figuring out which one might be the perfect match, based on your sign. We can never underestimate the influence our star sign has on our daily lives, from details as small as our coffee order to as large as how our year will go.
Aries: Cherry-Almond Recovery Smoothie
Competitive Aries is likely to dive fully into their workout routine, so it makes sense they should be just as dedicated to their post-exercise fuel. This smoothie will support recovery thanks to the antioxidants and anti-inflammatory compounds in cherry juice.
Taurus: Hormone-Balancing Breakfast Smoothie
This smoothie uses all the classics to make a complete, M.D.-approved breakfast—perfect for methodical Taurus. With greens, berries, collagen powder, and your choice of banana or avocado, it's the type of thing you can have for breakfast every morning as part of a consistent routine.
Gemini: Chocolate Avocado Smoothie
Gemini needs their smoothie to be a little bit of everything, and this recipe includes a serving of veggies hidden in a chocolaty flavor, healthy fats for avocado, and even a bit of coffee for energy. It's the perfect balance of fun and functional.
Cancer: Mint Chocolate Smoothie
No Cancer will ever object to a touch of nostalgia, and this inspired smoothie tastes just like the go-to ice cream cones of youth: mint chocolate chip! This nutritious take on the memorable treat features fresh mint and cacao nibs.
Leo: Sangria Smoothie
When it comes to a group, Leo tends to be the life of the party—so their perfect smoothie is one that's reminiscent of a favorite cocktail. But there's more to this mix: Pomegranate juice provides even more antioxidants than the red wine you'll find in classic sangria.
Virgo: The Perfect Green Smoothie
Practical Virgo will love this recipe because it's really more of a formula: You can swap in favorite ingredients or just use what's on hand. Not only that, but green smoothies are a practical way to get a ton of nutrients easily.
Libra: Pineapple and Grapefruit Green Smoothie
This update to a green smoothie adds a bit more fruitiness, making it super fresh and tasty for summer months or for brightening a cold day. It's perfect for the sometimes indecisive, but passionate, Libra—and because there's so much going on, it's never going to be boring.
Scorpio: Spicy Green Smoothie
Scorpio's intensity means this kicked-up version of a green smoothie is their perfect pair. The combo of jalapeño and cilantro lends a spicy, herbaceous flavor. Plus, it contains plenty of nutrients, thanks to the other key ingredients—especially kale.
Sagittarius: Feel-Good Smoothie
Smiley Sagittarius doesn't necessarily need the support of a smoothie to keep them feeling good, but that doesn't mean they'd say no to this gut-supporting smoothie. Packed with tropical fruit, it's the sort of thing that will put a smile on your face and keep you healthy.
Capricorn: Pear Ginger Citrus Smoothie
This smoothie features major healthy staples like citrus, avocado, leafy greens, nuts, and ginger—those might sound like an odd mix, but they actually work really well together. This nutritious blend also functions as a full meal, an efficient choice for put-together Capricorn.
Aquarius: Ginger Peach Smoothie
This smoothie tastes like the ultimate summer treat, perfect for free-spirited Aquarius. Bright ginger complements juicy peaches and sweet banana, and it's got a bit of an extra boost from flaxseeds and yogurt.
Pisces: Stress-Busting Sleep Tonic
Pisces, like other water signs, can sometimes be particularly emotional, so having a stress-fighting smoothie recipe on hand is always helpful. This one can also help you sleep, thanks to chamomile tea—plus cherries and cinnamon add flavor.
There are, of course, a ton of other factors that might influence your "perfect" smoothie match, but that doesn't mean we can't take a few cues from the stars for our snacking selections—in addition to learning a bit more about what our future holds from our weekly horoscope.
Eliza Sullivan
mbg Nutrition & Health Writer
Eliza Sullivan is an SEO Editor at mindbodygreen, where she writes about food, recipes, and nutrition—among other things. She received a B.S. in journalism and B.A. in english literature with honors from Boston University, and she has previously written for Boston Magazine, TheTaste.ie, and SUITCASE magazine.