Why & How You Should Enjoy Pomegranates This Fall, From An RD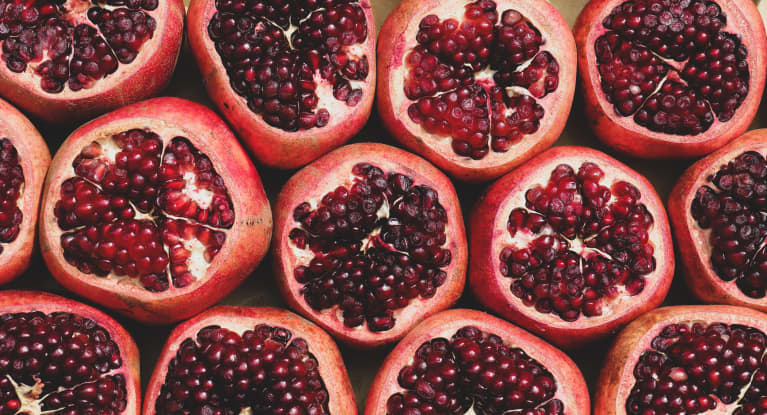 Though the most notorious seasonal fall fruit is probably apples, there's another round red fruit that you should be picking up in stores this season. We've talked about why this unique fruit is a powerhouse for promoting smooth skin, but that's not the only thing it's good for—there's actually lots of reasons to toss some pomegranate seeds into your meals this month (and beyond).
What are the nutritional benefits of pomegranates?
According to registered dietitian Ella Davar, R.D., CDN, pomegranates are powerful because of the variety of nutritional substances they contain. "It contains hydrolyzable tannins, flavonols, anthocyanins, and phenolic and organic acids," she tells mindbodygreen. "These compounds have been studied and related with numerous health benefits against many metabolic conditions and diseases."
In fact, she shares that "According to research studies, the antioxidant potential of pomegranate juice is more than that of red wine and green tea."
But for Davar, there's another benefit that is key: the impact of this fruit on gut health. "One of the most important health-related functions of the pomegranate is their effect on gut microbiota and their potential use as antimicrobial agents," she shares.
How do pomegranate seeds benefit the gut? That's twofold: First, some of those aforementioned compounds are used in metabolic processes by the microbiota of the colon. But pomegranate seeds are also a good source of prebiotic fiber: "Fiber from the seeds contributes to gut health by serving as a prebiotic (food for probiotic, live gut-friendly bacteria) and providing the necessary bulk to keep the bowel movement regular and optimize digestive health," says Davar.
How to make sure you pick the best pomegranate for the benefits.
When it comes to picking the perfect pomegranate, it's all about the color: You want to look for a darker-colored fruit. "The darker the fruit, the higher the amount of anthocyanins present," says Davar. Specifically, you should look for fruits with a deep cherry-red color and avoid ones that have large white portions in the peel color.
"Anthocyanins in the pomegranate play a major role as a functional food component," she explains. "These water-soluble plant pigments belong to the family of flavonoids and are responsible for the color of the fruit and its juice." Because they're what color the fruit is inside the peel, these antioxidants are also present in the juice of the fruit (though you'll miss out on the prebiotics).
How she adds pomegranate to any meal of the day and some recipes to try.
Because of their high water content, pomegranate is best added raw to your favorite dishes. In addition to all the benefits for your health, it adds texture and a burst of flavor to any meal.
For Davar, her favorite use is to basically add the seeds as a topping: "My favorite way to eat it is to sprinkle it on salads, plain yogurt, or oatmeal for an extra pop of color and crunch," she says.
"One of my favorites, Georgian cuisine, boasts a variety of recipes using pomegranates for meat marinades," she shares, "and as an ingredient in meals such as eggplant rolls with walnuts and pomegranate, pomegranate chicken, or roasted pomegranate salmon."
Five of mbg's favorite recipes that use these little superfood jewels:
Many of the seasonal fruits and veggies of the fall season are packed with nutrients—including, luckily, some immune-supporting benefits in foods like pumpkin, sweet potatoes, and beets. If you think you're all pumpkin-ed out, we hear you: But maybe consider trying these pumpkin-powered recipes before you quit it entirely.