Transition Into Spring With This Gut-Friendly Cauliflower Salad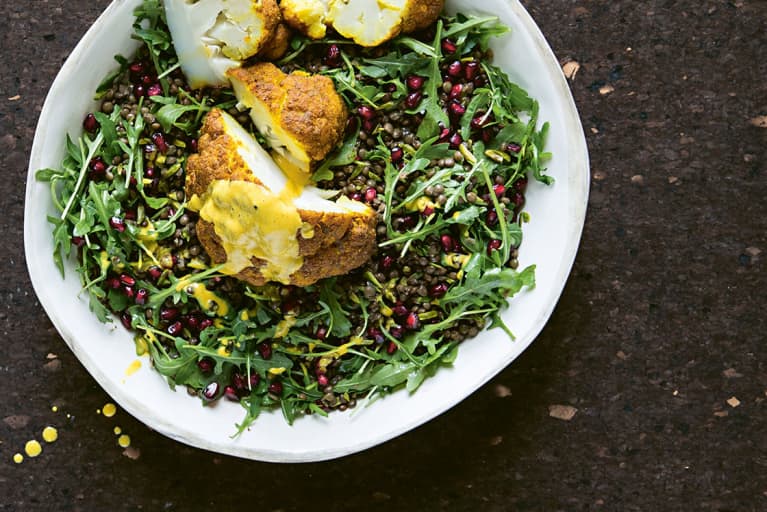 Kat Mead loves inspiring people to cook at home and try new flavors. There's no better way to do this than to create meal-size salads that feature a variety of healthy, yummy ingredients. Kat's style has always been one to challenge the ordinary, and the 60 salad recipes in her aptly named cookbook, Big Salads, do just that. These aren't side salads or your bland appetizer; these salads capitalize on seasonal ingredients and can be customized to your liking.
The cauliflower lentil salad is the perfect way to transition into spring, as it features warm ingredients like roasted cauliflower and lentils, as well as lighter ingredients like arugula, pomegranate seeds, and tahini.
Cauliflower is high in fiber, which helps populate the gut with healthy bacteria, and it also triggers the release of critical immune cells in the stomach to ward off bad bacteria, supporting overall health. This showstopping salad also includes turmeric, a powerful anti-inflammatory ingredient known to boost mood and improve heart health.
This spiced salad will awaken your taste buds, and your belly will thank you.
Cauliflower & Puy Lentils With Tahini & Turmeric
1 large cauliflower
2 tablespoons olive oil
1 teaspoon turmeric
1 teaspoon garlic powder
½ teaspoon ground coriander
½ teaspoon cumin
150 g (5 ounces/ ¾ cup) puy lentils
100 g (3½ ounces) rocket (arugula)
100 g (3½ ounces) pomegranate seeds
50 g (1¾ ounces/ ⅓ cup) nibbed (slivered) pistachios, toasted
1 tablespoon olive oil
4 tablespoons tahini
4 tablespoons olive oil
juice of 2 lemons
6 tablespoons water
1 teaspoon turmeric
½ teaspoon cayenne pepper
sea salt and freshly ground black pepper
Preheat the oven to 425ºF.
Peel the leaves off the cauliflower and use a knife to trim the base so it is flat and can stand upright. Make a paste out of the oil and spices, and rub this all over the outside of the cauliflower. Stand the cauliflower onto a lipped baking sheet lined with baking parchment. Roast in the oven for 1.5 hours, turning the temperature down to 375ºF after the first 20 minutes.
While the cauliflower is roasting, place the puy lentils into a saucepan and cover with cold water. Bring to a boil, then cover with a lid and simmer until they are just cooked, around 25 minutes.
Mix the ingredients for the dressing in a small saucepan, season to taste, and place on a very low heat.
When the lentils are cooked, drain them and tip into a large mixing bowl. Add the rocket (arugula), pomegranate seeds, pistachios, and olive oil, and stir to just coat everything. Transfer to a serving plate and make a space in the middle for the cauliflower to sit. Take the cauliflower out of the oven and place it in the center of the plate. Slice a few wedges to expose the pale insides. For a little extra drama, you could insert a steak knife into the top so your guests can carve wedges for themselves. Serve with the warm tahini dressing on the side.
And do you want to turn your passion for wellbeing into a fulfilling career? Become a Certified Health Coach! Learn more here.