Fall Veggies With Immune-Supporting Benefits & How To Use Them

Registered Dietitian Nutritionist
By Mascha Davis, R.D., MPH
Registered Dietitian Nutritionist
Mascha Davis, MPH, RDN is a registered dietitian nutritionist, humanitarian, and founder of Nomadista Nutrition, a private nutrition practice based in Los Angeles.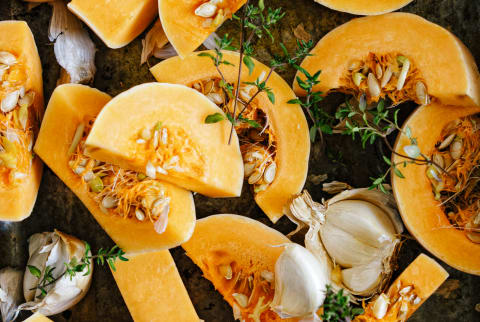 Image by Darren Muir / Stocksy
October 11, 2020
As the weather begins to cool off and the leaves start to change colors, many of us are thinking about trips to pumpkin patches, apple picking, scary movies, and Halloween decorations. This is the perfect time to also be thinking about how you can add more fall produce into your diet. With cold and flu season around the corner, now is the time to start consuming seasonal, nutrient-dense foods that are filled with immune-boosting properties.
Seasonal fall veggies to note.
Below is an overview of some seasonal fall vegetables that are hitting farmers markets and grocery stores. It's ideal to eat seasonal foods because they are picked at the height of ripeness—meaning that they are not only delicious but are also bursting with phytonutrients, vitamins, and minerals that provide a plethora of benefits:
My top six fall veggies and why they are important for your health.
Let's take a deeper dive into my favorites of the season:
This popular seasonal staple is good for more than just carving. Pumpkins contain vitamin A and C, which support eye and immune health1. They are also filled with antioxidants, which help the body fight oxidative stress. The more antioxidants you consume, the better chance your body has of fighting off illness.
This versatile ingredient makes almost any savory dish tastier and also contains alliin, an antibacterial substance. Garlic consumption has also been shown to protect against heart disease2.
Like pumpkins, sweet potatoes are high in beta-carotene, which gets turned into vitamin A in the body. As mentioned above, vitamin A plays an important role in the body's immune response3. Sweet potatoes also contain micronutrients like manganese, copper, and pantothenic acid, all important for immune health and proper enzyme function.
Broccoli is packed with various phytochemicals and antioxidants in addition to vitamins A, C, and E. Pro tip: The less you cook this veggie, the more nutritious it will be.
This leafy green superfood contains immune-boosting vitamins A and C as well as the nutrients folate, magnesium, and iron. As with broccoli, you'll reap most of the benefits by consuming spinach raw or very lightly cooked.
These vibrant root veggies contain a powerful phytonutrient called betalain, which also gives the plant its bright red color. The beetroot and its leafy greens are also great sources of vitamins A, B, and C, which are all important for immune response.
Recipes to make the most of fall produce.
Now that you know what to pick up at the store or farmers market, here are delicious and nutrient-rich recipes to try:
Borscht
The world's most rejuvenating soup filled with fall veggies! This Eastern European staple is one of my favorite foods.
Makes 8 to 10 servings | Prep time: 20 minutes | Cook time: 1 hour, 45 minutes
Ingredients
8 cups water
4 cups low sodium vegetable broth
1 tablespoon extra-virgin olive oil
2 large or 4 small beets, washed and chopped
1 large potato, washed and chopped
1 small onion, peeled and chopped
2 large carrots, peeled and chopped
1 small head of cabbage, washed and cut into thin, 2-inch-long strips
2 tomatoes, washed and finely chopped
1 teaspoon salt
2 teaspoon pepper
2 bay leaves
1 bunch fresh parsley
1 bunch fresh dill
Optional for serving: Organic sour cream or plain yogurt
Optional for serving: Dark rye bread
Method
Bring water and vegetable broth to a boil over high heat in a large, gallon-size pot.
Heat olive oil in a large skillet. Saute beets, potato, carrots and onion for 10 minutes in olive oil.
When the liquid boils, add sauteed root vegetables, cabbage, and tomatoes to the pot.
Add salt, pepper, and bay leaves. Allow liquid to return to a boil, and then reduce the temperature to low. Simmer the borscht for 45 minutes to 1 hour or until the beets and potatoes are soft (easily pierced with a fork).
Cut up 1 bunch of fresh parsley and 1 bunch of fresh dill and add to hot borscht.
Optional: Turn off heat and allow soup to sit for 1 hour, or let it cool to room temperature and refrigerate overnight. This allows the flavors to meld, but the borscht can be eaten immediately after cooking. It tastes even more amazing the next day!
Remove bay leaves and eat the borscht warm with a dollop of organic sour cream or plain yogurt and dark rye bread. Enjoy!
Gluten-Free Pumpkin Pancakes
A tasty, nutrient-packed breakfast for a cool fall day.
Makes: 10 to 12 pancakes | Prep time: 10 minutes | Cook time: 10 minutes
Ingredients
1 cup pumpkin puree
1½ cups almond milk (or milk of choice)
1 egg
2 tablespoons oil of choice (or butter)
½ teaspoon vanilla extract
2 cups gluten-free flour (almond flour, tapioca flour, etc.)
1 tablespoon maple syrup
2 teaspoons gluten-free baking powder
2 teaspoons pumpkin pie spice
¼ teaspoon salt
Method
In a large bowl, mix together pumpkin, milk, egg, oil, vanilla, and maple syrup.
In another bowl mix together flour, baking powder, pumpkin spice, and salt.
Mix together the dry and wet ingredients until combined.
Heat a skillet over medium heat and add oil.
Pour approximately ¼ cup batter onto the skillet for each pancake.
Watch until the batter bubbles, and then flip.
Continue cooking until golden brown on both sides.
With fall produce, the options are endless. Remember that the greater variety of veggies you consume, the better it is for your overall health. So feel free to get creative in the kitchen this fall with all these different options—your body will thank you.

Mascha Davis, R.D., MPH
Registered Dietitian Nutritionist
Mascha Davis, MPH, RDN, is a registered dietitian nutritionist, humanitarian, and founder of Nomadista Nutrition, a private nutrition practice based in Los Angeles. Her writing and expertise has been featured in numerous publications and media outlets including CNN, the Washington Post, ABC News, Men's Health magazine, Refinery29, PopSugar Fitness, Reader's Digest, and many more. In 2016 she gave a TEDx talk about her international humanitarian work. Her nutrition tips and recipes can be found on her Instagram @nomadista_nutrition.