We've all had those days when we wake up feeling stressed, sad, or anxious. When you start off feeling fragile, a breakfast that provides a combination of protein, complex carbs, and healthy fat fuels you to face the day by promoting stable blood sugar and energy. Specific nutrients in foods can also affect our body's stress response and brain function to help support a better mood. As a registered dietitian and health coach, I help people come up with ways to navigate those tough days.
I use this stuff in my own life, by the way. When I was 29 and finding my sea legs after a breakup, this breakfast got me through many a morning when I had to show up for work at the hospital and be a functional adult who could go an hour without crying.
If you're short on time in the morning or need to bring your breakfast to heat and eat at work (been there), you can make this the night before—even make a big batch and portion it out into single-serving containers. It's all about making your life easier and powering up to face the day no matter what side of the bed you woke up on.
So what are the feel-better ingredients?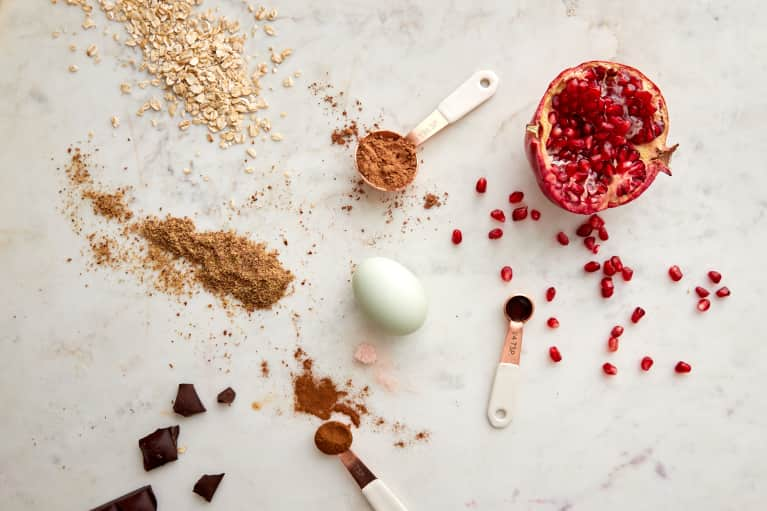 Cooking an egg into oatmeal might sound weird, but hear me out! Aside from lending a rich flavor and fluffy texture, eggs provide satiating protein and fat, as well as tryptophan, which helps balance mood. You definitely want to eat the yolks, too—there's lots of good stuff in there like vitamins A, D, and K, plus choline, an important nutrient for brain function. There are also some omega-3s in there, which help promote a healthy brain.
Chocolate for breakfast is also totally justifiable when you wake up feeling bummed—those cocoa flavanols to help you think clearly and prevent stress from hijacking your day right out of the gate. Chocolate has also been shown to boost your mood. Just keep portions realistic—about an ounce per day max to reap those benefits is all you need. Spread the love through the day and use a light touch here using chocolate as a garnish. The cacao powder used in this recipe delivers a rich flavor so you can enjoy without overdoing it. It also adds an extra gram or two of filling fiber.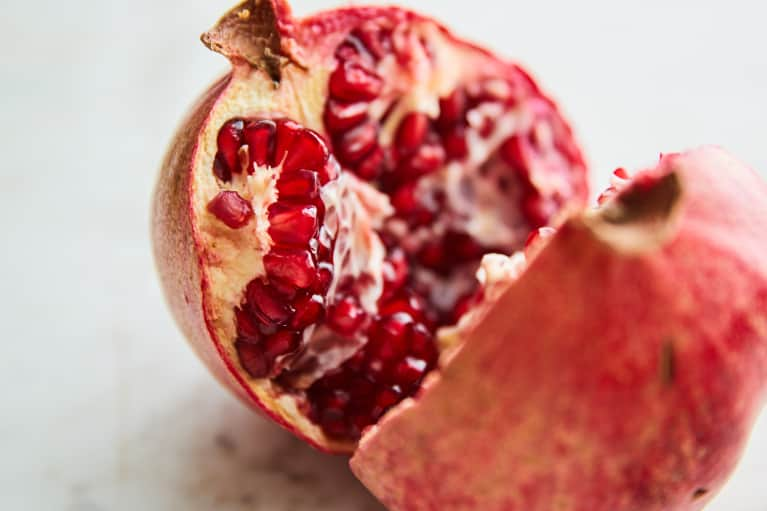 Chocolate Pomegranate Proats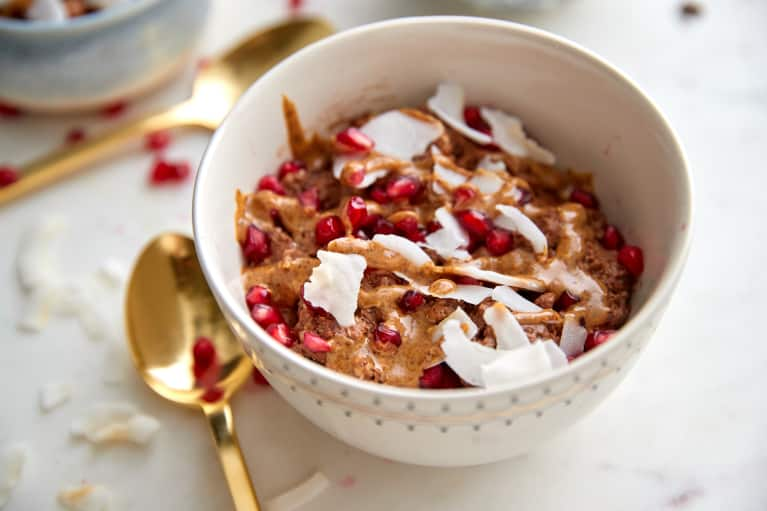 ⅓ cup oats
⅔ cup water
1 tablespoon ground flax
1 tablespoon cacao powder
½ teaspoon cinnamon
Dash of pink Himalayan sea salt
1 egg, beaten
¼ teaspoon vanilla extract
½ cup pomegranate seeds
1 teaspoon dark chocolate chips or cacao nibs
Optional garnishes: nut butter and coconut flakes
Bring water to a boil in a small sauce pot.
Add oats, flax, cacao powder, cinnamon, and sea salt. Stir well and lower heat to medium-low.
Allow to cook for a few minutes, stirring occasionally to prevent sticking, until almost all liquid has been absorbed.
Mix in vanilla and cook another minute before adding the egg.
Stir vigorously for 2 to 3 minutes or until oats are fluffy. Cover and turn off heat. Allow to sit about 5 minutes before pouring into a bowl.
Enjoy warm and topped with pomegranate seeds, dark chocolate chips, and any other desired garnishes such as a drizzle of nut butter or a sprinkle of coconut flakes.