Close Banner
Advertisement
This ad is displayed using third party content and we do not control its accessibility features.
OkCupid Review: Is This The Best Free Dating App? I Tried It To Find Out

Commerce Writer
By Athena Sobhan
Commerce Writer
Athena Sobhan is a freelance writer whose work has been featured at POPSUGAR, BuzzFeed, Refinery29, and EUPHORIA Magazine.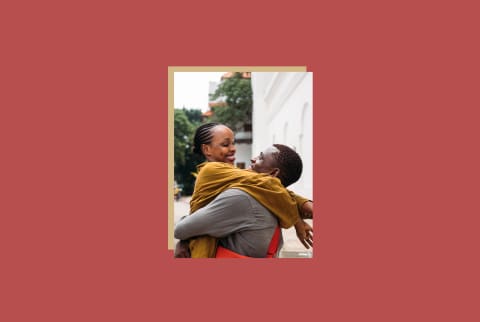 We carefully vet all products and services featured on mindbodygreen using our
commerce guidelines.
Our selections are never influenced by the commissions earned from our links.
Can a detailed questionnaire really bring people closer to their one true love? I tried OkCupid to find out whether the app's comprehensive intake and advanced algorithm would result in better matches than other dating apps I've tested.
If you want an unfiltered, honest OkCupid review, you came to the right place. I'll tell you everything you need to know, whether OkCupid's paid membership is worth it, and expert advice on how to truly be successful on dating apps.
What is OkCupid?
OkCupid sets itself apart from other dating apps with a personalized (and robust) questionnaire meant to provide stronger connections, no matter what you're looking for.
The app's algorithm utilizes the data from your answers to suggest matches based on personal details, interests, and what you're looking for.
Over the years, OkCupid has created an inclusive experience for app users, providing more options than most dating apps for gender, sexuality, and more for users to share their authentic self.
That said, the app interface and user experience does feel outdated compared to others I've tried.
OkCupid at a glance:
Pros:
Large active user base
Website and app for eased use
Robust questionnaire to provide higher quality matches
Expansive features in free version
More inclusive options for gender and sexuality than other apps
Cons:
Outdated app interface
Limited chat options within the app
Limited likes a day with the free option
How OkCupid works
To get started on OkCupid, users can visit the website or download the app on either the Apple App Store or Google Play store.
How to set up your OkCupid profile
Once you've created an account with your email, you'll be prompted to upload your best photos and provide basic information like name, age, gender, sexuality, location, and the type of relationship you're looking for on the app.
The OkCupid questionnaire
Once your profile is complete, you'll need to answer several questions and indicate the answers that you would accept from a potential partner.
Some questions are more light-hearted (i.e. if you like horror movies), while others pertain to value-based topics such as politics.
With each answer you provide, you are able to indicate the answer you would prefer from a partner and whether it's a dealbreaker for you.
Matching on OkCupid
From there, the algorithm provides potential matches. Each one will include a compatibility percentage.
Before swiping left and right, you can expand the user's profile and review which answers matched yours and which didn't.
With the free version of OkCupid, you're limited to the number of likes you can use each day. If desired, you can pay for unlimited likes and SuperLikes (amplifies your profile to a potential match).
Chatting on OkCupid
Once you do match with a person, the chat feature will open up. There are no video or voice chat options within the app, so you would have to exchange phone numbers if you're interested in chatting beyond text.
How much does OkCupid cost?
There are plenty of features available in the free OkCupid membership. Everyone still completes the compatibility questionnaire, and you're able to send and receive (albeit a limited amount of) likes.
Free members can still see other users' full profiles and can message through the app in the same way.
See below for a breakdown of how much OkCupid's paid memberships cost.
OkCupid Basic
One month: $29.99 per month
Three months: $19.99 per month
Six months: $14.99 per month
OkCupid Premium
One month: $39.99 per month
Three months: $26.66 per month
Six months: $19.99 per month
Incognito Option
One month: $19.99 per month
Three months: $14.99 per month
Six months: $9.99 per month
What are OkCupid's premium features?
OkCupid Basic features
OkCupid's Basic paid plan offers unlimited likes, no ads, the option to review all introductions at once, and set specific deal breakers in your preference section when selecting a match.
OkCupid Premium features
The Premium plan includes all the perks of the basic package but also offers the ability to see all likes before you like a person on the app, view all the public questions answered on a profile, and three SuperLikes to use a week.
OkCupid Incognito features
The Incognito option allows you to hide your profile from everyone except the people you like or messaged on the app. Incognito mode can be turned on and off at any time with this option.
OkCupid Cancellation policy.
If the purchase was made on the app, you will have to cancel through your iPhone settings or in the Google Play store.
Is OkCupid worth it?
I find the free version of OkCupid to be comprehensive enough, but I tested OkCupid Premium, too.
Based on my experience with the free and premium options, I think the premium version of OKCupid is not necessary. The algorithm already provides enough options to funnel down your choices without paying for the additional features.
While some users may find it useful to access their likes before matching with someone to streamline the matching process or the SuperLike capabilities, the app maintains its roots as one of the best free dating services available online.
My experience using OkCupid to date
Of all the dating apps, I've had the most success on OkCupid. It's become one of the main dating apps I use, and I've been able to build meaningful connections based on shared beliefs and experiences.
I also like that OkCupid allows me to understand a person before starting a conversation with them, compared to other apps that typically require a ton of small talk before getting to know someone's values and intentions.
That said, high compatibility on paper does not guarantee the person will be your best match. I learned this through trial and error (which, of course, is the best way to learn while dating).
A while back, I matched with a guy that had a 95% compatibility with me and we had an engaging conversation on the app. We had a lot in common and shared similar beliefs so the conversation never felt forced. When we went on our first date in person, I thought it ended up going really well because the conversation felt comfortable and natural. However, he ended up ghosting me after that date.
Reflecting back on that experience, the one thing that was missing between us was the chemistry. While we initially connected over our shared beliefs, the spark just was not there, and that spark is not something that can be determined from a questionnaire.
This taught me that the compatibility scores are just a starting point—but I still appreciate the ability to use them to narrow down my matches. And there's still that sense of excitement of meeting someone new and needing to learn whether you have that chemistry.
Who should try OkCupid?
OkCupid is inclusive to all types of relationships, though. So no matter what you're looking for, the app will match you with people with similar dating intentions. This (plus its large user base) makes it a great choice for just about anyone on the dating scene.
Who should skip OkCupid?
How OkCupid compares to other dating apps
Bumble vs OkCupid
On Bumble, a woman can only start a conversation with a match. From there, a match only has 24 hours to respond and start the conversation.
Hinge vs OkCupid
Tinder vs OKCupid
Eharmony vs OkCupid
If you thought OkCupid's profile setup was in depth, wait until you see eharmony's. The app has an even more detailed intake process, with the same intention of providing better matches for its users.
The main differentiator is eharmony is basically only worth it if you pay for the membership, while OkCupid's free membership is very robust. We've actually written a detailed comparison on these apps, if you want to decide which is right for you.
How to be successful on OkCupid
According to relationship expert Susan Trotter, Ph.D., the key to being successful on OkCupid is by being transparent about what you are looking for in a partner.
"There is nothing wrong with wanting a casual relationship or hookup," she clarifies. "I just recommend that people be honest and open about it from the beginning and OkCupid does a great job of encouraging that."
Dating Coach Lisa A. Holden agrees with the transparency aspect, but also recommends not oversharing on your profile. "Give people enough information about you so that people understand your deal breakers, but don't give so much information so they can nitpick before they even meet you," she suggests.
Holden adds that dating apps should be fun! "Don't get too serious and too specific when you're on the dating apps, keep it light and fun," she says. "The point of the dating apps is to meet as many folks as possible so you can get to know someone and decide if you want to meet and assess your chemistry in-person."
FAQ:
Does OkCupid work without paying?

Yes, the free version includes most of the features that are included in the app, aside from options like viewing all of your matches at once and profile boosts.
Is OkCupid for hookups or relationships?

OkCupid can be used to find both hookups or a serious relationship. There are options to share the type of relationship you're looking for and will match you with others who are looking for the same thing. However, most people on OKCupid are looking for serious relationships.
Is OkCupid for older adults?

OkCupid is great for older adults, especially for those who are not as comfortable using apps. OkCupid's website is still active, which can allow older adults to navigate, creating an easier user experience for them.
How much does OkCupid cost?

Based on the plan chosen, OkCupid can cost between $9.99 and $39.99.
Is it easy to cancel OkCupid?

OkCupid's cancellation process is fairly straightforward. OkCupid's premium options can be canceled through your settings and selecting "Turn off automatic billing."

If the purchase was made on the app, you will have to cancel through the settings section on the iPhone and on the Google Play store.
The takeaway
OkCupid is one of the few dating apps that's touted for promoting transparency, no matter what type of relationship you're looking for. When I tested OkCupid, the app made it easy to narrow down the potential matches, with a wide range of questions and deal breakers. Despite a slightly outdated interface, OkCupid is one the best dating apps I've used.
Meet The Experts
Athena Sobhan
is a freelance writer whose work has been featured at POPSUGAR, BuzzFeed, Refinery29, and EUPHORIA Magazine.