Tinder App Review + How To Build A Good Dating App Profile

By Jennifer Stavros
mbg Contributor
Jennifer Stavros is a freelance culture writer whose work has been featured in Playboy, Business Insider, Cosmopolitan, BBC Travel, and elsewhere.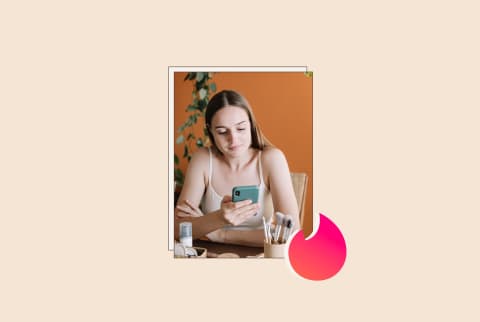 August 22, 2023
We carefully vet all products and services featured on mindbodygreen using our
commerce guidelines.
Our selections are never influenced by the commissions earned from our links.
Commonly known as a dating app for hookups and casual relationships, Tinder is one of the longest-standing dating apps in the world. It launched in 2012 and was later acquired by Match Group, which owns several other dating apps, such as Hinge, OKCupid, The League, and Plenty of Fish. I've used Tinder for years and can confidently say there's way more to it than meets the eye. Scroll on to read my full Tinder review and to gain some insight on how to see more success on dating apps.
How Tinder works
Setting up a Tinder profile is akin to many swipe-based apps. I find the setup most similar to Bumble. To create your profile, you'll first upload photos (up to nine) and add a bio of 500 characters or less. You will then be asked to provide a job title, company, school, location, and sexual orientation.
Not sure which photos to use on your dating app profile? Tinder has a "smart photos" feature. If selected, the app picks out which photos will perform best and displays them first.
In addition to the basic information, you can also add up to five interests, along with your preferred pronouns, height, relationship goals, languages, zodiac sign, education, and family plans. There's an option to display whether you have the COVID vaccine, your personality type, communication style, and love language.
To tell a bit more about your lifestyle, you can fill out more details on pets, drinking habits, smoking, cannabis, workout frequency, dietary preference, how frequently you use social media, and your sleeping habits.
Lastly, you have the ability to link your Instagram or Spotify account. Linking these accounts will not show your user information. For Instagram, it will show a few frames of your most recent posts. If you link Spotify, your profile will display your top artists. You can also choose an "anthem" song from Spotify.
Swiping on Tinder
Once your profile is set up, it's time to see what's out there. Head to the main interface to browse profiles and begin sending out likes. There are a few ways to match with other users. Swiping right will initiate a typical like, while swiping up will send a Super Like. If you're not interested in the person, you can swipe left to move on to the next user. Once you match with someone, either one of you can choose to start the conversation (as opposed to Bumble, where the ball is in the woman's court).
You can curate your experience even further by adjusting location, distance preference, age preference, and global status. There's also an option to "verify" your profile. To do this, you'll need to submit a real-time photo, which the app will use to confirm that you are who you say you are. Verified profiles will have a blue checkmark on them.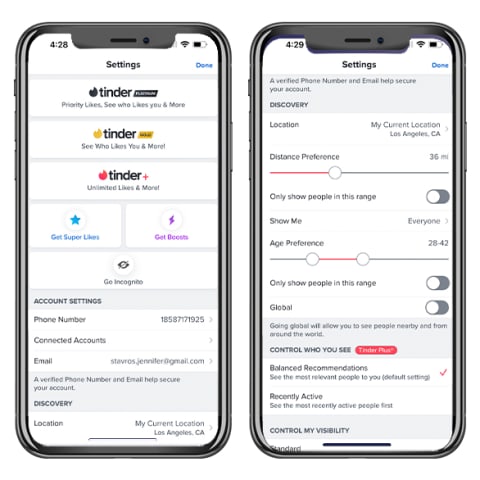 Tinder pros & cons
Pros
Can be used while traveling without paying a premium
Largest user base of any dating app
Available in 197 countries
People are open to casual, long-term dating, and hookups
Ability to see location of your matches
Cons
Majority of users seem to be looking for something casual
Doesn't always weed out people you've previously unmatched or swiped no on
How much does Tinder cost?
Anyone can use Tinder for free, but there are a few premium memberships available, too. Each premium membership can be purchased in either a one-month, six-month, or 12-month subscription. See below for the cost details on each.
One-month subscription: $8
Six-month subscription: $24
12-month subscription: $32
One-month subscription: $24
Six-month subscription: $12.50 per month
12-month subscription: $8 per month
One-month subscription: $30
Six-month subscription: $15 per month
12-month subscription: $10 per month
What are Tinder's premium features?
Tinder's premium features include unlimited likes, the ability to control whether your age and location are visible, incognito mode, an ad-free experience, and unlimited rewinds (the ability to go back to options you might have accidentally swiped left on).
As outlined below, certain premium memberships give you the ability to see who likes you, boost your profile to make it visible to more users, and swipe through users outside of your area.
A few of my favorite premium features are prioritized likes and the ability to message before matching with every Super Like you send. See below for more detail on the perks of each premium membership.
Tinder Plus includes the below perks:
Unlimited likes
Control over whether people can see your age and location
Incognito mode to only see people you've liked
No ads
Unlimited rewinds (the ability to go back to options you might have accidentally swiped left on)
Tinder Gold includes the below perks:
All the perks of Tinder Plus
The ability to see who likes you
One free boost (where your profile is more visible for a short period of time to other users)
Five free Super Likes per week
Tinder Platinum includes the below perks:
All the perks of Tinder Gold
Unlimited Super Likes
Passport settings (the ability to see folks who are not located in your immediate area from all over the world)
Prioritized likes
The ability to message before matching with every Super Like you send
An even higher premium version of Tinder called Tinder Vault has also recently been teased. The new premium service will cost $500 per month or $6,000 per year. This version of Tinder is expected to add another extra premium service similar to Match Group's other dating property, The League.
Cancellation policy
Whether you choose to enroll in a premium membership or not, you can cancel your subscription any time. Android and Apple users can cancel within the "subscriptions" portion of their settings and click "cancel." Your subscription cancellation will not be prorated for previous months. Your membership will stay active through the remaining days.
Is Tinder worth it?
As someone who has spent a lot of time in the online dating world, I'm constantly evaluating which dating apps are worth it. Tinder has given me some great experiences and some not so great. Despite the less-than-stellar experiences, Tinder remains one of my favorite dating apps. I've made some incredible connections over the years—plus, I love being able to use the app when I'm traveling.
My experience using Tinder to date
Again, Tinder gets a lot of grief for being strictly a hookup app. Personally, it's been my personal favorite app for meeting folks casually and even casually with consistency. Granted, I have met a few folks who misled me about their intentions—but this could happen on any dating app.
The most unfortunate experiences I've had on Tinder have been with people who have very opposing political and social views to my own. Because of this, I've started to avoid users who do not list political affiliation on their profile.
I had one on-and-off relationship from Tinder, which lasted for multiple years. He was hyperlocal originally until distance became a factor. I've had several dates and connections since then. Aside from those few people who keep their profiles vague, I've discovered most users on Tinder are pretty "what you see is what you get." Tinder users are generally more upfront about what they want.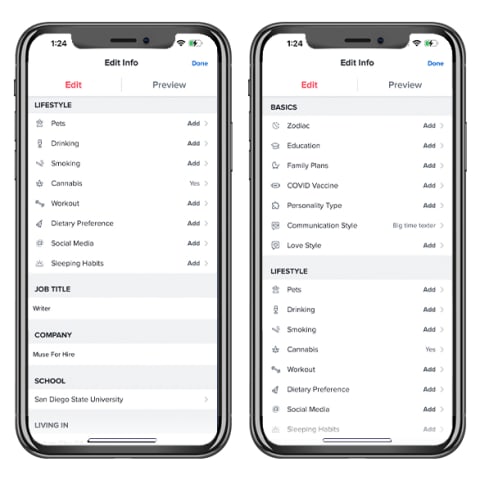 My experience with Tinder travel mode
One of my favorite aspects of Tinder has been the ability to use it while traveling. Most recently, I had some fun conversations while visiting San Francisco—although my trip was too short to coordinate a date. Previously, I swiped and went out with several folks on a different trip in the Pacific Northwest. While some people may be opposed to this form of dating, I've truly enjoyed my casual dating experiences on Tinder. As long as you are both upfront about your intentions and what you are looking for, dating can be a great way to experience a new city while traveling.
If you do date in one area for an extended period of time, it's a little more difficult. You may end up seeing people you've swiped left on multiple times coming back into your matches because you've swiped on so many over time on the app. I personally find higher-quality matches in other cities and locations than in my home city.
Who should try Tinder?
Despite the reputation it's developed, many people have found long-term relationships on the app—including one of our mindbodygreen editors! That said, Tinder is a great option for casual dating and has become my favorite app for getting back out there after a relationship ends. While it can absolutely lead to serious connections, it's really about empowering yourself and enjoying the dating experience as a whole for the totality of everything.
How Tinder compares to other dating apps
Tinder vs. Bumble: Bumble can be fun for women who are dating men and want to take the lead in conversations. This extra layer of effort, although intimidating for some daters to get through initially, can potentially attract more serious daters who truly want to have conversations and connections. Another mindbodygreen tester found better results on Tinder than Bumble and actually got into a committed relationship through the app.*Read our full Bumble review.
Tinder vs. Hinge: Hinge markets itself as being "designed to be deleted." According to licensed counselor Jack Worthy, LMHC, the app is up whenever his clients are talking about serious relationships. "Tinder is for hookups," he says. "Hinge is for relationships." Personally, I've found both apps to be successful for a variety of intentions—but people are generally more upfront about looking for hookups or something more casual on Tinder than on Hinge. *Read our full Hinge review.
Tinder vs. Feeld: Ultimately, this comes down to what you are looking for. Although Tinder has quite a few users who practice open relationships and ethical nonmonogamy, there isn't a direct way to identify whether you subscribe to alternative lifestyles or kink. Feeld can be an exciting alternative for those who might want to experiment a bit, or for couples looking to combine their profiles. I have found couples looking for a partner together on Tinder, but there is no official designation for it on your profile.
How to build a good Tinder profile
If you're taking the time to create a dating app profile, you want it to be one that users will swipe yes on. Licensed relationship and sex therapist Nikquan Lewis gave us her expert opinion on what she believes makes for a solid profile. According to Lewis, your photo gallery and bio each require intention and authenticity. See below for a few expert tips for both sections:
How to build a good photo gallery on Tinder
Your photos are your first impression. If your pictures are cheesy, inappropriate, or just not a good representation of you, users will likely not even continue to your bio. Lewis encourages app users to showcase their personality through pictures by prioritizing these tips:
Smile: Your smile is your best asset, and people want to see it. Smiling can enhance your mood and the moods of others and will help you appear more approachable.
Limit the selfies: Avoid filling your profile up with selfies. Instead, post clear high-quality photos.
Show what you love: Use photos of yourself engaging in a favorite hobby, spending time with family and friends, or cuddling with a pet. Your photo gallery should represent the beginning of a story and leave others wanting to know more.
Step up your photo quality: Utilize a tripod or have a friend take pictures that show your entire face and body.
Get creative: You can upload up to nine pictures in your profile, so be creative! If you want a selfie or two, or photos with friends, do so—but upload them further down in the line of pictures. Your first priority should be photos of yourself showing your entire face, smiling, and being you!
"Avoid posting poor-quality pictures, pictures of scenery, selfies, cutoff pictures, a bunch of pictures with sunglasses, hats, or anything getting in the way of seeing you—and thirst trap pics," Lewis adds.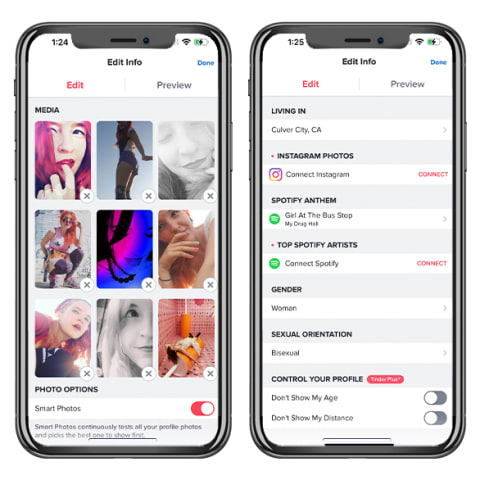 How to write a good Tinder bio
Once you've made that first impression with your pictures, users will move on to your bio. This is where you can really show your personality in a short, succinct way. You will have 500 characters to tell potential matches more about yourself, your interests, and what you're looking for on Tinder.
This is where being clear about your "why" is critical. What is your motivation for joining Tinder? Are you just hoping to expand your social network and meet friends? Looking for someone to chat with to pass the time? Or are you on the app to hook up and have casual sex? Perhaps, you are in search of a committed romantic relationship. Regardless of where you fall, your "why" should dictate what you include in your bio.
A few more tips for your Tinder bio:
Be clear and use punctuation. Make it short and sweet by sharing something interesting that may coincide with your photo gallery but leaves them wanting more.
Link your Instagram account to your Tinder profile to give further access to your personality.
While you'll find a ton of Tinder profiles (including mine) incorporate tips such as the ones above in their profiles, you'll also find several that unapologetically do not. Whatever you decide to do on your own profile, remember it is meant to showcase your personality and how you look. Swipe-based apps rely heavily on photos, but that doesn't mean your bio doesn't matter. Curate carefully and intentionally.
"Red flags related to a person's bio include not having one at all, having one that really isn't saying anything or one that doesn't showcase your personality," Lewis adds. She suggests making your profile "Clear and to the point because people are not taking the same time and effort that dating used to require."
FAQ:
Is Tinder any good for dating?

Yes, Tinder can absolutely be great for dating. You can also meet friends on the app. I've absolutely met and continued connections that didn't end up being a great fit romantically.
Is Tinder for dating or hookups?

In my experience, Tinder is good for both serious dating and for hookups. I know several people who have met their life partners on Tinder. I also know folks who use the app to hook up. On the middle ground, I know several people, including myself, who have used Tinder for casual dating.
What are the disadvantages of Tinder?

As with any dating app, the disadvantages are that there are always going to be people who are not honest or upfront about who they are or what they want. With this in mind, you have to be cautious with who you meet, and be aware that not everyone is honorable. Fortunately, there are ways to report folks if you have safety concerns—and, of course, you can unmatch just as quickly as you matched.
Is Bumble better than Tinder?

This comes down to personal preference and what you are looking for. I prefer Tinder over Bumble because I don't generally like to message first, let alone have a timer for how long I can talk to someone before a match expires.
The takeaway
While I haven't had many long-lasting committed romantic relationships from my time on Tinder, it's actually one of my favorite dating apps. Tinder is hands down the best dating app for traveling. I love the range of experiences I'm able to have on the app and the fact that you can use it for friendships, hookups, casual dating, or something serious. If you are looking for an app that focuses more on commitment, check out our guide to the best dating apps for serious relationships.

Jennifer Stavros
Jennifer Stavros is a freelance culture writer who seeks stories that give folks an opportunity to engage with content that reaches the social core and all of the nuances in between. While not in conventional academic institutions, Jennifer has extensively studied death, history, and sociology to a degree that is respected amongst academics in her areas of study. Her work has been featured in Playboy, Wired, Business Insider, Marie Claire, Cosmopolitan, BBC Travel, and many more. Like her comic alter-ego Ramona Flowers, she has frequently changing hair colors and a regrettable number of evil exes.