Close Banner
Advertisement
This ad is displayed using third party content and we do not control its accessibility features.
An Online Dater's Honest Hinge Review: Is This Dating App Worth Trying?

By Jennifer Stavros
mbg Contributor
Jennifer Stavros is a freelance culture writer whose work has been featured in Playboy, Business Insider, Cosmopolitan, BBC Travel, and elsewhere.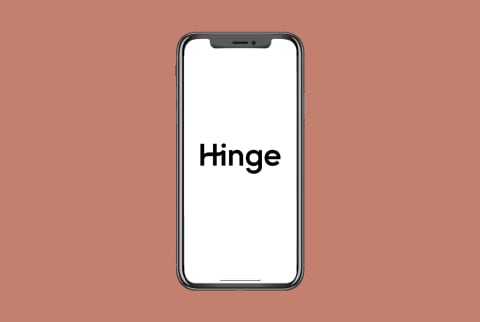 We carefully vet all products and services featured on mindbodygreen using our
commerce guidelines.
Our selections are never influenced by the commissions earned from our links.
Owned by Match Group, Hinge has a user base of primarily Millennials, or folks in their late 20s and 30s to early 40s. Like its parent site, the app is geared toward people who are interested in serious dating experiences. I've personally used the app in my own dating life, and today I'm sharing my full Hinge review. We'll cover everything you need to know in order to decide if this dating app is right for you, plus whether the Hinge premium membership is worth it.
There are reported to be 23 million users on Hinge, with over 800,000 premium users—and, according to licensed counselor Jack Worthy, LMHC, Hinge is the app that comes up when folks are talking about serious relationships: "Tinder is for hookups. Hinge is for relationships."
Licensed relationship and sex therapist, Nikquan Lewis, agrees, but says experiences can vary from person to person. "It has been my clinical experience that a lot of people utilize this specific app to gain meaningful connections," she explains. "I've had clients meet their partners on this app and eventually get married. I've also had clients struggle on this app but that has a lot to do with today's dating pool in general."
Hinge markets itself as the app that's "designed to be deleted." But does this reputation hold up? Keep reading to find out.
How does Hinge work?
Perhaps not quite as serious as Match.com, Hinge is still geared toward people who want to put significant effort into their dating lives. The app has a long list of prompts to build your profile, and daters can choose to interact with each others' photos, videos, or prompt responses to spark a conversation. When creating your profile, you can answer the question prompts with text or audio, which adds another layer of depth versus other apps that are primarily photo-based.
In terms of filters and settings, you'll be able to set location, age, and gender preferences with Hinge's free membership, but you'll need to pay for the premium service to get more specific with parameters such as height, political views, and whether they smoke or drink. With the free membership, you'll still have the ability to display your basic details (sexuality, gender, job, education, religious beliefs, hometown, dating intentions, political affiliation, etc.) and view those of other users.
A perk worth mentioning: some dating apps charge you for looking at locations outside of your home base, but Hinge does not. Meaning, if you're traveling or considering moving to a new city, you can change your location on the app to view people in that particular area. A new city could open up the possibilities to motivate you to change or expand your life—just make sure you're being open and honest with the people you're matching with about where you live and what your intentions are.
Setting up your profile
Setting up a profile is very easy. You'll just need to enter those basic details, select three prompts from the list, and add six photos. You can choose to use videos instead of photos, and can leave certain details blank if you do not wish to share things like where you went to school, whether you have kids, or what your current job is.
Once you have your profile created, you'll be able to look through profiles one by one. If you like someone's photo or a response they've shared to a prompt, you can choose to send them a like or give them a rose (which is essentially the same thing as a Super Like on Tinder, if you're familiar). You have the option to add a comment or response to their photo or prompt, or to simply send the like.
Whichever you decide, your profile (and/or message) will be shown to the user, who will see it in a list of their matches. Matches are put in the order in which they are received, so how soon the user sees your profile will depend on where you fall in the timing of their other matches.
Matching with other users
Once you receive likes or messages from other users, you can review them and decide if you'd like to match and allow them to start the conversation, if you'd like to start it yourself, or if you'd prefer to say no to the like. I'll note that, despite this being a dating app for more serious daters, I've had quite a few "likes" received with no message other than just an emoji or two.
After you match, you can talk as long as you'd like through text-based chat, or video chat if you both agree—and this, in my opinion, is where the magic starts to happen.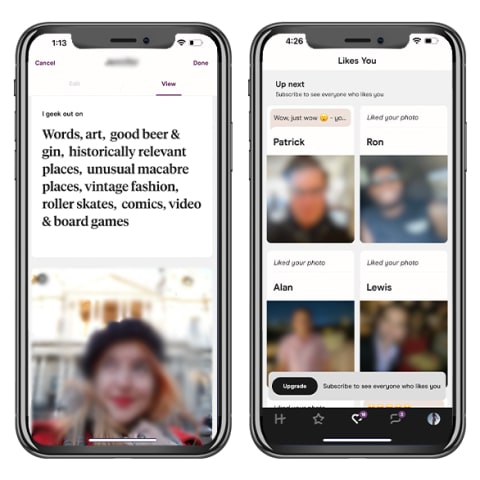 Hinge at a glance:
Pros:
Has many users seeking serious relationships
You can change the location you're looking in without needing to pay
Prompts can be answered with text or audio
Option for video chats
Relatively affordable premium option
Cons:
No background checks, so there are some scammers & fake profiles
Limited options for indicating political beliefs outside main party affiliations
Who should try Hinge?
If you're interested in serious dating and plan to put a bit of effort into your profile, you'll likely enjoy the experience of using Hinge. The app does a great job of offering prompts to spark unique conversation, and it brings profiles to life a bit more than those that are solely photo-based. It's also a great option for people who are traveling or want to see what's out there in a different city. Lastly, anyone who is tired of all text and photo-based app dating will appreciate the option for video calls, voice prompts, and a more in-depth dating experience.
Who should skip Hinge?
On that note, if you're looking for a dating app that's less intentional and more about the quick swipe, you probably won't enjoy Hinge as much. If you don't know what you want out of your dating life or you're looking primarily for a hookup, Hinge isn't the app for you. There may be some people on the app looking for something casual, but unless you're being upfront about this on your profile, you probably will find a lot of people who are on the app for something a bit more serious.
How much does Hinge cost?
Hinge has a free membership option that works well and personally, meets my dating app requirements. There are also two premium options:
Hinge+: Costs $15 per month and includes unlimited likes, seeing who likes you, fine-tuning preferences, and having more ways to discover matches.
HingeX: Costs $25 per month and gives you everything you get with Hinge+, plus the opportunity to move up on the list for potential matches, receive more personalized matches, and be prioritized when you like someone.
Cancellation policy
You can cancel your Hinge subscription at any time. If you choose to sign up for a premium subscription and decide you want to cancel it, you'll have to manually cancel this membership within the app to avoid it from renewing automatically. Once you start the cancellation process, you'll have access to the subscription for the remaining duration of the time period, until it expires. Canceling a subscription will not erase your profile. To do that, you'll have to go into the Settings menu and then select the Account menu in the app. Once in the Account menu, you'll have to follow the instructions there to get things completely erased.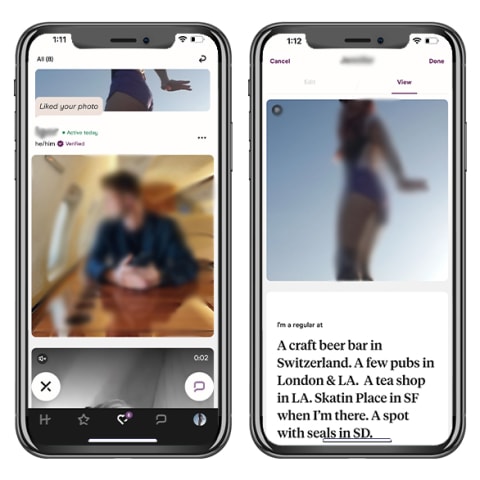 Is Hinge+ worth it?
While I personally find success with the free membership option, I can see why Hinge+ would be beneficial for some. For example, I don't swipe often enough to run out of likes on a normal basis, so the unlimited likes feature is not something I feel the need for. Additionally, I like to have an open mind about my potential matches, so I don't find myself wanting to be able to set a more rigid list of preferences. That said, for people who do want access to more likes, or the ability to set specific preferences such as religion or height, Hinge+ would be worth it.
One thing that does tempt me about Hinge+ is that I tend to go through stacks of matches in my likes section before seeing any that I'm interested in. It would be nice if I could scroll through them more quickly (a feature of Hinge+), rather than needing to go one by one.
My experience using Hinge to date.
I've used Hinge for almost three years now, and my experience has been fairly mixed. I've met some people I thought were good connections, who later ghosted me out of nowhere, or who thought they were ready for a relationship before realizing they actually weren't.
I also matched with several people who, despite hoping for a better connection, just didn't line up in person or in texts. I will say, though, I see a level of maturity in many of my matches on Hinge that I don't see on other dating apps. I've actually been able to remain friends with one former match, even though things didn't work out romantically.
On the other end, there are of course scammers to be wary of, as there would be with any online dating experience. I met one person on Hinge who lied about their location and many other factors—and this experience even caused me to take over a year off from the app.
All that considered, even though I have yet to find a serious relationship on Hinge, it certainly isn't off the table. A friend of mine recently married someone she met on Hinge in her 30s, and I know there are thousands of similar stories from the app.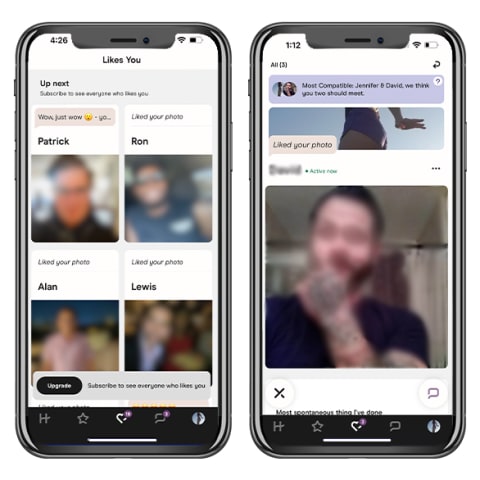 Our commerce editor, Carleigh Ferrante, says Hinge is the app that made her get more serious about dating. She was using other dating apps for years and never found anything that lasted for more than just a few dates. After interviewing countless experts, including behavioral scientist and Hinge's director of relationship science, Logan Ury, on her dating podcast, Ferrante decided to focus her dating energy solely on Hinge—and, once she put a bit more effort into her profile and got more intentional with her swiping, she was shocked by how quickly she met serious contenders on the app (one of which led to her first serious relationship in years).
All that's to say, we found Hinge to be a great option if you're looking for a place to be more intentional with your dating life, and to meet people who are doing the same.
How Hinge compares to other dating apps:
Hinge vs. Bumble
I personally prefer Hinge to Bumble because I do not like the fact that Bumble matches expire in 24 hours if no one messages. On Hinge, you can chat with someone without the pressure of time, and you can choose to message first or allow the other to message first. For women who like to take the lead, however, Bumble can feel particularly empowering.
Hinge vs. Tinder
Less serious daters will enjoy Tinder over Hinge. There is a lower time investment in profile creation on Tinder than on Hinge, and the general vibe seems to be more casual.
Hinge vs. eHarmony
Older or more serious daters may prefer eHarmony over Hinge. Additionally, Hinge's user base feels more geared toward Millennials who may not be as conservative politically as those on eHarmony. Read our full eHarmony review here.
The takeaway
Despite my personal experience not leading to a relationship just yet, Hinge is a great option for serious daters. I have met several quality people on the app, and I know folks who have married their Hinge matches. If you're willing to put yourself out there and put even just a few minutes of thought and effort into curating your profile, Hinge truly is one of the best dating apps for a serious relationship.

Jennifer Stavros
Jennifer Stavros is a freelance culture writer who seeks stories that give folks an opportunity to engage with content that reaches the social core and all of the nuances in between. While not in conventional academic institutions, Jennifer has extensively studied death, history, and sociology to a degree that is respected amongst academics in her areas of study. Her work has been featured in Playboy, Wired, Business Insider, Marie Claire, Cosmopolitan, BBC Travel, and many more. Like her comic alter-ego Ramona Flowers, she has frequently changing hair colors and a regrettable number of evil exes.