Is eharmony Worth Trying In 2023? A Full Review Of The Classic Dating App

By Kathleen Wong
mbg Contributor
Born on the mainland but raised in Hawai'i, Kathleen Wong has bachelor's degrees in both journalism and sociology from NYU, and is currently the Communications Manager for the ACLU of Hawai'i. Covering everything and anything lifestyle, she has bylines in The New York Times, The Cut, Broadly, and more.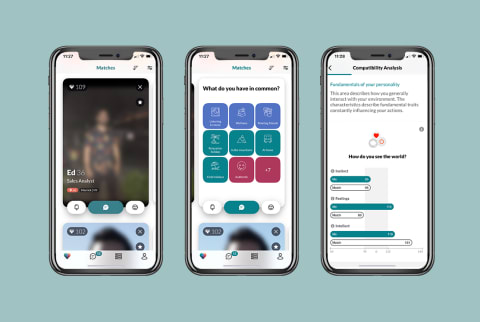 August 21, 2023
We carefully vet all products and services featured on mindbodygreen using our
commerce guidelines.
Our selections are never influenced by the commissions earned from our links.
The dating site eharmony was launched nearly 20 years ago, and at one point felt like the poster child of online dating. (Does anyone else remember those commercials?)
The dating service has always focused on creating long-term relationships with a heavy emphasis on the fine details—as in, "lengthy questionnaires" and long profiles for people to fill out.
In many ways, eharmony stands as the antithesis of Tinder. Some may find this tedious, while others may find it worth the time and effort to meet someone they have good potential with, especially when you consider the benefits of relationships1 to your overall well-being!
Here, an eharmony review, including how the app works, and what real users say about it.
eharmony: An overview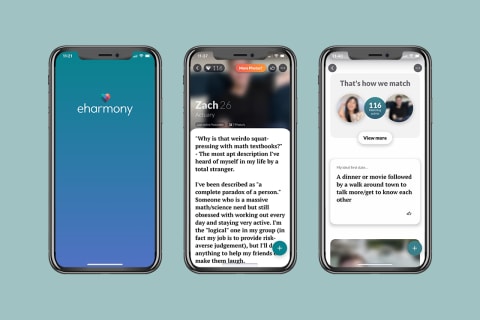 Clinical psychologist Neil Clark Warren, Ph.D., started eharmony in 2003, right before a certain Harvard dropout created Facebook and social media became a thing. It quickly became a popular way for people to make romantic connections based on the site's "Compatibility Matching System," where users take a long quiz and can see how their results align with others.
The site really tries to stand out against Tinder, emphasizing that it's truly designed for serious relationships and claiming over 2 million people "have found love."
In an email, a spokesperson for eharmony told me that over half of all its users are Gen Z or millennials (contrary to what some may assume about this classic dating site), and that 2.3 million messages are sent weekly. It says the platform's demographic is 51% men and 49% women.
In my research, it seems like many people turn to eharmony when they're serious about finding a relationship and are willing to invest the time—given that you can only sign up for months at a time for the premium memberships. It feels like the place to go when you feel tired of the so-called endless options on other apps like Tinder or Hinge and don't want to waste your time.
The site urges you (and sometimes makes you) fill out a very detailed profile, which encourages a level of depth not always found on the simpler swiping apps (though, not everyone actually does this).
Importantly, it's safe to say only the paid membership is worth having–the free version pales in comparison.
Pros:
Very detailed profile
Personality test gives detailed information about potential matches
You see compatibility scores for every potential match
Easy-to-navigate website
Ability to see who viewed your profile and vice versa
Cons:
Not inclusive of different gender and sexual identities (can only specify "man" or "woman" for yourself and who you're interested in)
Takes a long time to set up
Many people still don't have detailed profiles
Some people say there are not many active users
Almost no capability with free membership
How eharmony works
Make sure you have some free time when you start up your eharmony profile because it'll take a while. First-time users have to take the compatibility quiz, which consists of 80 questions and covers topics like your personality type, communication style, and much more.
Questions include things like "Is it important that your belongings are organized properly?" and looking at two images and picking which one you liked better. (Yes, it felt like a Rorschach Inkblot Test.) If you pay for the membership, you also get a personality report based on the test you took with personalized relationship tips.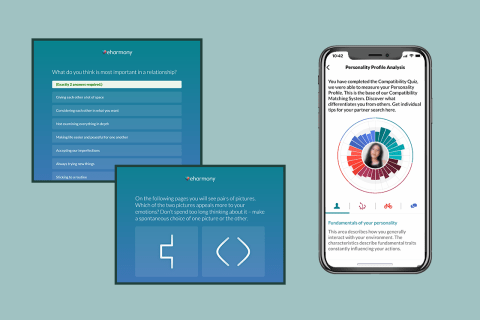 After taking the compatibility quiz, you can build out your profile, which took me at least 20 minutes. You can click from a long list of icons that represent your lifestyle and include interests and hobbies (e.g., art, listening to music, etc.), sports, travel preferences, and more. There are also a bunch of questions and prompts you can write an answer to, like "If I need advice, I'm calling…"
Like other dating services, the app also prompts you to upload photos. And don't think you can skip over this detailed process: In the free version, you have to fill out enough of your profile to even message or see other users.
The website is pretty simple to navigate after that, and you can search for people to match—who are in the preferences you choose. When you visit someone's profile, you get a compatibility score, which represents how your compatibility quiz results align. It was definitely interesting to scan through and see if they're as empathetic as I am, if they're more emotional or logical, or if they are adventurous.
I could see how knowing some of those aspects would make me more or less interested in someone. And if you pay, you can also see people whose profiles you visited and vice versa.
It's important to note: There's a huge difference between the free and paid versions once you get to the stage of seeing other profiles. To actually see your match's photos and send messages, you have to pay for a premium membership. Otherwise, the photos will be blurred, and you'll have very limited messaging capabilities. In other words, there's honestly not much you can do without paying.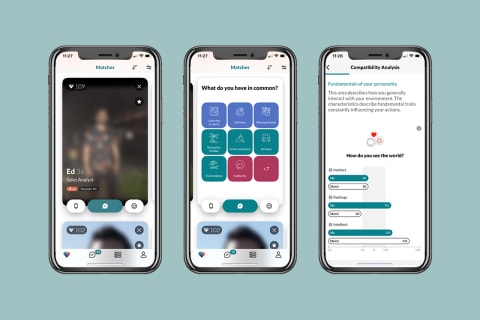 How much does eharmony cost?
The cost of eharmony seems to vary between users, likely based on location, where you are in the sign-up process, and other factors. You can expect to pay somewhere in the range of $12 to $60 per month.
You can only purchase eharmony subscriptions in monthly bundles of 6 months, 12 months, or 24 months. The longer you commit to the dating service, the cheaper per month it is.
As of this writing, the six-month Premium Light membership costs $24/month (this appears to be a sale price; it says it costs $60/month regularly). That comes out to $144 total for the six months, which is the shortest and cheapest overall option. The 24-month Premium Extra membership costs $12/month (regularly $30/month), coming out to $288 total. However, mindbodygreen readers can save 20% on any membership with code MBG20.
Cancellation policy
To end your eharmony membership, you can either cancel your auto-renewal under "Data & settings" or reach out to their Customer Care team. Just uninstalling the app doesn't mean your membership is canceled.
Is eharmony worth it?
eharmony can be worth it if you're willing to financially invest in finding a serious relationship and if other dating app formats are just not working for you.
I was intrigued by the compatibility scores and have never seen that on a dating site. If you want to know more about other users before initiating a conversation with them, then you'll probably like this format.
That said, the cost will not be worth it for many people. If you think about it, even the smallest bundle will end up costing you at least $144 ($360 regularly), and that might be too hefty a price tag for most daters, myself included.
And probably because of that price tag, you shouldn't expect as many potential matches to pick from as you'd get on free apps like Tinder and Hinge. I also feel like many of the users didn't have as detailed profiles as the site would lead you to think.
Is eharmony good for serious relationships?
We attribute this to the comprehensive sign-up process, which is bound to weed out people who are not looking for something serious.
Tips to be more successful in online dating
Our team has interviewed countless experts on how to be more successful in dating. Find some of our favorite advice below:
Date with intention: You'll never find what you want if you don't know what you're looking for. Before diving headfirst into online dating, take a moment to consider your intentions. Do you want a serious relationship? If so, you're in the right place with eharmony.
Keep your intentions top of mind as you begin setting up your profile and evaluating potential matches. This help avoid matching with people who might not align with your dating goals and open up the door for those who will.
Spend time on your profile: Your profile is a representation of you, so make sure to put some thought into it. Take time to build a profile that represents who you are, with clear photos and thoughtful responses to prompts. Share the things that make you you, and give clear openings for people to start a conversation.
Keep an open mind: Sure, you need to know what you want—but you should also be open to the idea that what you want might not look exactly how you expect it to.
Get out on a date: Dating apps are a great way to vet people before going out in real life. That said, don't spend weeks chatting before ever meeting in person. Plan a date sooner rather than later, so you can start building that face-to-face connection.
Take breaks: It's normal to feel burnt out and exhausted by dating, especially if you're an introvert. When you start to feel overwhelmed, take a break. Our advice? Give yourself a set timeframe for when you want to come back to the dating apps, and limit your time spent so you don't get burnt out too easily.
What real users say:
Other dating apps to consider:
Frequently Asked Questions
Does anyone use eharmony anymore?

While there's plenty of competition in the dating app space these days, there are still a good deal of eharmony users out there. Some reviews we read suggest that people were able to find fresh faces on eharmony they hadn't seen on other dating apps. However, other reviewers say they found the pool to be smaller than newer platforms like Bumble, Hinge, and Tinder.
What age group is eharmony for?

Although eharmony has been around for two decades, it's used today by people of all ages. In fact, over half of eharmony users are Gen Z or Millennials.
Why do so many eharmony profiles have no pictures?

Some people are nervous to share their photos for privacy reasons until they know they're comfortable with a match. However, no dating site is completely safe against scammers—if you match with someone without a picture, always ask to see one (or even better, video chat!) before meeting up in person.
How does harmony work without paying?

In short, not very well. Unfortunately, we found the free version of eharmony to be very limited—you can see profiles with the free version, but not your match's photos, and the messaging system is very limited.
The takeaway
Those who are serious about finding a long-term relationship and feel like things are just too casual on Tinder or Bumble may want to consider eharmony—but you'll be paying a price and committing for a long time.
A free membership on this site is basically pointless, so if you do upgrade, at least you know those who you match with are also invested in finding a potential partner.
What sets eharmony apart from apps like Plenty of Fish and Match (we've got a full Match review too, by the way) is the compatibility factor, which takes some of the guesswork and labor out of matching and speaking to lots of people. It was interesting to see how certain qualities match or mismatch with others.
At the same time, though, you may miss out on sparks with people who you aren't considered compatible with. eharmony is definitely a slower, perhaps more intentional dating experience, but if that's what you're looking for, then this might be the dating app for you.
What we've updated since publishing:
4/20/23: We addressed some frequently asked questions about eharmony.

Kathleen Wong
Born on the mainland but raised in Hawai'i, Kathleen Wong recently moved back to the islands after working as a journalist in New York. Covering everything and anything lifestyle, she has bylines in The New York Times, The Cut, Broadly, and more. Wong has bachelor's degrees in both journalism and sociology from NYU, and is currently the Communications Manager for the ACLU of Hawai'i.