Close Banner
Advertisement
This ad is displayed using third party content and we do not control its accessibility features.
An Online Dater's Honest Bumble Review: Is This App Worth Trying?

Contributing writer
By Jamie Sanders
Contributing writer
Jamie Sanders is an LA-based copywriter and blogger with 20+ years of experience in fashion, beauty, and lifestyle.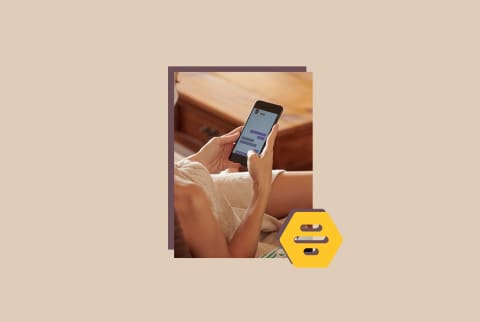 We carefully vet all products and services featured on mindbodygreen using our
commerce guidelines.
Our selections are never influenced by the commissions earned from our links.
Known as the dating app where "women always make the first move," Bumble became one of the fastest growing dating apps due to its unique approach to connecting users. Throughout my years of online dating, I've used the app extensively—lucky for you, I'm an open book when it comes to scrolling and swiping.
My Bumble review covers everything you need to know before making the download—and reveals whether I think my lifetime subscription to Bumble's Premium membership is actually worth the investment.
What is Bumble?
Bumble launched in December 2014. At the end of 2022, there were reported to be 50 million users on the app worldwide (up from 45 million in 2021). Just over 2 million of these users take advantage of Bumble Premium.
While the app is designed for daters of all ages, 72% of them are under 35. The gender ratio is 3:1 (male-female); about 32% of Bumble users are female.
The brand markets itself as a dating app for people who are looking for connection. While this can be (and often is) dating-specific within Bumble's Date mode, the app also has sections for Bumble BFF (seeking new friendships) and Bumble Bizz (for business relationships).
"I appreciate the story of how Bumble was developed and highly recommend it to my clients," says relationship coach and expert Susan Trotter, Ph.D. According to Trotter, the app "tends to attract good-quality people and empower women in the process by requiring them to initiate the conversation."
How to use Bumble
Building a Bumble profile is fairly easy and very intuitive. After signing up, it's time to build out your profile. A maximum of six photos are allowed. There's an option to turn on "Best Photo," in which Bumble will decide which of your photos to feature first. I prefer to choose how I'm presented, so I keep this feature turned off. This is just my preference, though!
"It's essential to show how you're unique and avoid the generic profiles that are quite common on dating sites," says Trotter. She encourages people to present themselves in a positive and confident light.
In addition to filling out an "About Me" section, you can select three prompts to give potential matches more insight into your personality, dating needs, and the like.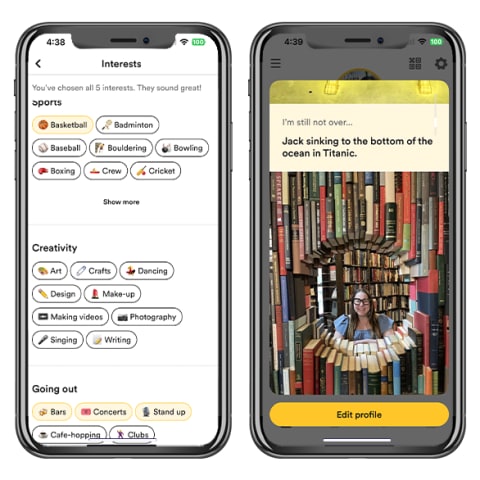 My Bumble prompts:
Swipe right if: you're also on a quest to find the best French fries in LA.
I'm still not over: Jack sinking to the bottom of the ocean in Titanic
Two truths and a lie: 1. I was in a Walmart Christmas commercial. 2. I believe in putting melted cheese on everything. 3. I've been told to wax on, wax off by Mr. Miyagi.
There are also short prompts for differentiators such as height, schooling, whether you drink/smoke/do drugs, what type of relationship you're looking for, if you want kids, your religion, political leanings, and more. Finally, each profile has an "Interests" section, where you can select from a variety of interests, such as basketball, therapy, crafts, bars, and more. The app allows each user to choose up to five of these interests to display on their profile.
How to swipe & match on Bumble
In terms of how to get matches on Bumble, it is very similar to today's traditional swiping method on apps like Tinder or Hinge. When you open the app, you'll land on a person's profile. Swiping right means you like what you see. Swiping left means you don't.
What sets Bumble apart
There are two specific areas that really set Bumble apart from its competitors. The first is, as previously mentioned, women make the first move. In heterosexual matches on Bumble, this is required; men cannot start the conversation. In same-gender matches, either person can start the conversation.
The second way Bumble differs from its counterparts is the timing aspect. On apps like Hinge and Tinder, matches stay forever (or until one person removes the other). On Bumble, the connection has 24 hours to respond to the opening message before the match expires. This establishes a sense of urgency to engage in conversation rather than waiting for weeks or even months.
All the above basic features are included with the free membership version, which means you really are getting a lot without having to pay a dime.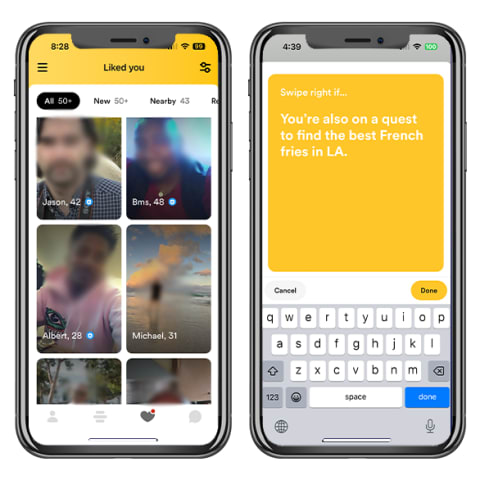 Bumble pros & cons
Pros:
Many free features
Option for video chats
Ability to send photos in chats
Relatively affordable premium option
Big user base
Has many users seeking serious relationships or bigger commitments
Initial matches expire after 24 hours, which encourages quick conversation
App bans men who write offensive messages
Cons:
Even with the option to verify profiles, there could still be scammers
Women have to start the conversation, which might not be preferred
Initial profile section has a limiting word count
Free version doesn't allow backtracking
Free version limits amount of daily right swipes
How much does Bumble cost?
Bumble has a free membership option with many features available to users. There are also multiple paid options:
Bumble Boost: includes unlimited swipes plus the ability to backtrack, extend time on your current matches, one Spotlight per week, and five SuperSwipes per week.
Cost: $9/week, $17/month, $34/three months, $55/six months
Bumble Premium: Includes all of the above plus unlimited Advanced filters, access to your Beeline (where you can see who's swiped on you), and the ability to change your location with travel mode.
Cost: $20/week, $40/month, $77/three months, $230 for lifetime subscription
Is Bumble Premium worth it?
If you decide to upgrade from a free Bumble account to a paid subscription, you unlock a host of interesting features. The one I enjoy most is access to your Beeline, the area displaying all the people who have swiped on you. I appreciate this feature for its timesaving capability. It's nice to be able to swipe left or right on people I already know took the time to swipe on me.
I actually paid for the lifetime Bumble subscription and have seen tremendous value in doing so. In addition to the Beeline access, I like that the premium membership gives me a Spotlight each week. This 30-minute window boosts my profile to active users.
A premium subscription also adds the ability to backtrack and unlimited swipes. When I had the free version, I exhausted my daily swipes fairly quickly, so this feature works well for me.
Cancellation policy
You can cancel your Bumble account at any time. However, if you've paid for a Bumble subscription, deleting your Bumble profile or removing the app from your device does not cancel the subscription. If you've paid for a monthly subscription, you can cancel anytime before the next renewal date and enjoy the benefits until that date passes.
Is Bumble worth it?
Trotter recommends dating apps in general, saying they're "a great way to meet people that you might not otherwise meet in your everyday life." In regards to Bumble specifically, it really is about what you are looking for (and the time you're willing to put into building a unique profile). You'll see options for "not sure yet," "relationship," and more. So, depending on if you want a one-night stand or a full-blown relationship, there are possibilities for you.
Bumble is one of the most popular dating apps, so there will most likely be a significant amount of people to match with in your area. In my experience, it takes a lot of swiping to reach the end of possible matches, both in smaller and larger cities. And since it is one of the more traditional types of dating apps, chatting is hassle-free.
One thing to be wary of on Bumble is scammers and catfishes. Even though you can verify your profile, they still slip through. I do think that it's easy to spot them, though—they tend to have filtered photos, very similar photo setups (like on private planes or in front of a major landmark), empty profiles, and profiles that say "new here." If you know what to look for, it's easy to avoid them and swipe left when they come up.
As far as Bumble Premium goes, I have definitely found value—and have encouraged multiple people to try it. I like that it has different levels of commitment, so if you aren't satisfied, you can cancel with minimum effort.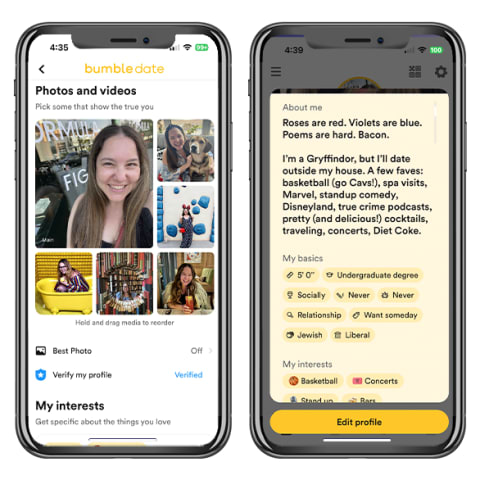 My experience dating on Bumble
I've used Bumble for about eight years. My experience has been mixed but overall positive. I've met and dated people from the app, and I've also had experiences with ghosting—although, in my opinion, the former happens no matter which app you try.
I've had multiple short relationships using Bumble, most of which ended after about three or four months. It was typically because those people either ended up doing the slow fade or because we simply determined we weren't a good match long term. I have had one more serious dating experience using Bumble, with a man I thought I could see a future with. Ultimately, though, it didn't work out.
While I know people have experienced scammers on Bumble, I personally have not. Still, I would caution people to be aware of this with any dating app.
I really enjoy Bumble's Speed Dating feature, which happens every Thursday from 7 to 8 p.m. It allows you the opportunity to have three-minute conversations without seeing each other's photos. At the end of the three minutes, you can see photos and decide whether you want to match. I've had some great chats even in that short amount of time, and I like the way it encourages a different method of communication.
Although I haven't yet found a serious relationship on Bumble, I do still recommend the app.
How dating impacts your longevity
My secret to getting more matches on dating apps
In recent months, I've seen a lot of success matching with men on dating apps (particularly on Bumble). What do I attribute that to? I've spent the time curating my profile and photos, making sure my profile is an accurate representation of me. As you can see from my prompt responses, I made a point to be unique and give potential matches an opening to start a conversation. I also take the time to really look at men's photos and profiles and be more intentional about those that I swipe yes on. By reevaluating the way I'm using Bumble, I've been able to make good connections.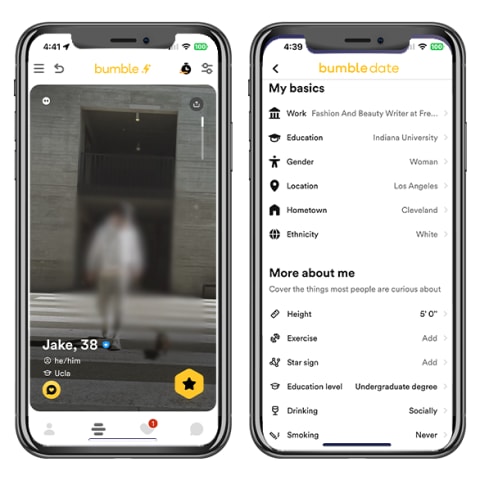 How Bumble compares to other dating apps:
Hinge: Hinge is very similar to Bumble but doesn't have a timed feature, and either person can send the first message. Read our full Hinge review here.
Feeld: If you're interested in less rigid relationship structures, or experiences like ethical non-monogamy or threesomes, this inclusive dating app for both singles and couples may be for you.
Tinder: This app is mainly geared toward less serious daters who tend to be looking for casual hookups or friends with benefits.
FAQ:
Is Bumble a good dating app?

With 50 million users worldwide, Bumble is one of the most popular dating apps. Women who want the opportunity to be in the driver's seat and start conversations will like the app's model. People looking for serious experiences or relationships will enjoy using Bumble.
What are the negatives of Bumble?

Every dating app has potential cons. On Bumble, initial matches expire after 24 hours. While this forces you to be more present and begin a conversation sooner than other apps, it could be a deterrent for people who don't want to use the app daily.
Is Bumble better than Tinder?

In my experience, more Bumble users seem to either be looking for serious relationships or are at least more upfront about what they want than on Tinder. If you want more than a casual hookup, Bumble is a better choice than Tinder.
What age range is Bumble for?

Bumble is designed for all ages 18+. While the median age is around 30, there are many people in their 50s and 60s on the app as well.
Does Bumble work for heterosexual guys?

In short, yes. Since about 32% of Bumble users are female, there is a wide range of options for men seeking women.
The takeaway
While I'm still searching for the right relationship, Bumble is my favorite of any dating app I've tried. I've met a lot of great guys on the app and overall have found they're more serious than the men I meet on Tinder. If you're dipping your toe into the app dating world, Bumble is absolutely worth a try. That said, it can't hurt to be on more than one dating app. Luckily, we've got you covered with our list of the best dating apps of 2023, based on what you're looking for.
Watch Next
Enjoy some of our favorite clips from classes
Watch Next
Enjoy some of our favorite clips from classes
What Is Meditation?
Mindfulness/Spirituality | Light Watkins
Box Breathing
Mindfulness/Spirituality | Gwen Dittmar
What Breathwork Can Address
Mindfulness/Spirituality | Gwen Dittmar
The 8 Limbs of Yoga - What is Asana?
Two Standing Postures to Open Up Tight Hips
How Plants Can Optimize Athletic Performance
What to Eat Before a Workout
How Ayurveda Helps Us Navigate Modern Life
Messages About Love & Relationships
Love & Relationships | Esther Perel
Love Languages
Love & Relationships | Esther Perel
Related Videos (10)
What Is Meditation?
Box Breathing
What Breathwork Can Address
The 8 Limbs of Yoga - What is Asana?
Two Standing Postures to Open Up Tight Hips
How Plants Can Optimize Athletic Performance
What to Eat Before a Workout
How Ayurveda Helps Us Navigate Modern Life
Messages About Love & Relationships
Love Languages
Advertisement
This ad is displayed using third party content and we do not control its accessibility features.
More On This Topic
more Relationships
Advertisement
This ad is displayed using third party content and we do not control its accessibility features.
Advertisement
This ad is displayed using third party content and we do not control its accessibility features.