The One Thing Experts Don't Like About Micellar Water, Explained
Contributing Wellness & Beauty Editor
By Lindsay Kellner
Contributing Wellness & Beauty Editor
Lindsay is a freelance writer and certified yoga instructor based in Brooklyn, NY. She holds a journalism and psychology degree from New York University. Kellner is the co-author of "The Spirit Almanac: A Modern Guide to Ancient Self Care," with mbg Sustainability Editor Emma Loewe.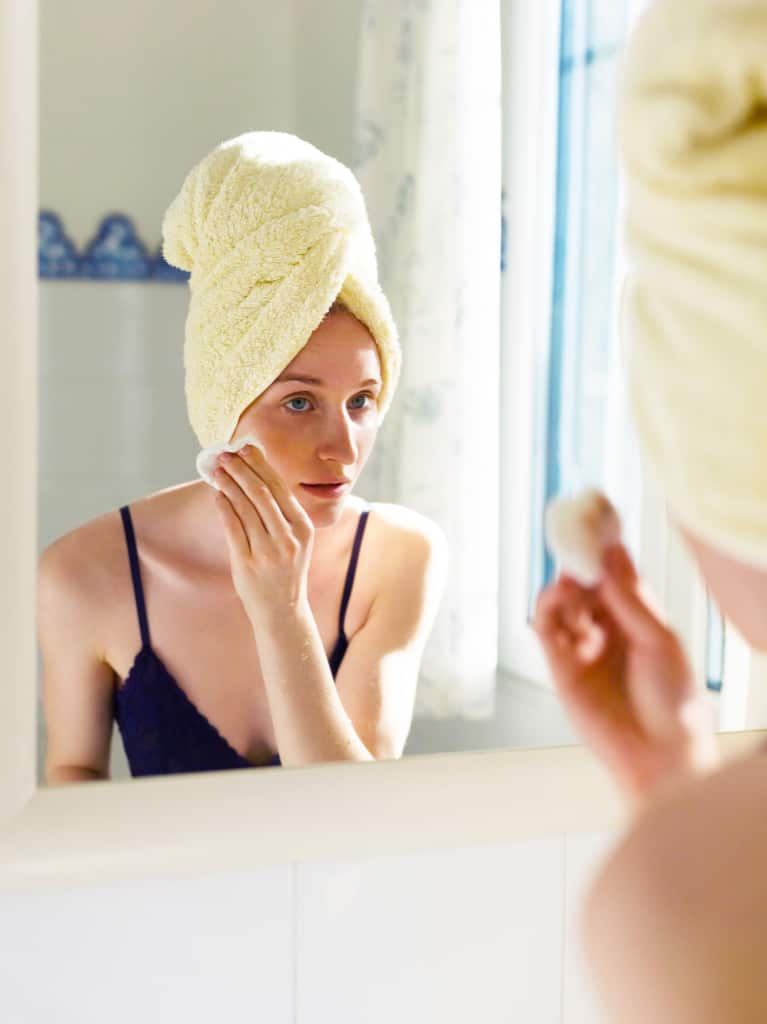 Our editors have independently chosen the products listed on this page. If you purchase something mentioned in this article, we may
earn a small commission
.
Last updated on August 21, 2019
Interest in micellar water has grown enormously in the last five years. It's typically pitched as a one-step wonder for on-the-go scenarios like post-workout washing, easy cleansing while traveling, and in-a-pinch makeup removal after a night out. Micellar water is also lauded among makeup artists, skin care enthusiasts, and is particularly known for its cult-favorite status among the French, where its fandom began.
But what makes micellar water different from other cleansers and from plain old water?
If you're wondering what "micellar" means, it's a fancy chemistry term that stems from the word micelle, which refers to a group of molecules that come together in colloidal solutions like soaps and detergents. "Traditional micellar water is a water and oil suspension," said holistic esthetician, mbg Collective member, and health coach Britta Plug. In theory, this all-in-one product attracts both oil- and water-based grime from your face in one easy swipe.
Is micellar water a skin care essential?
According to the experts, it depends on how you're using it.
"In most cases, using micellar water as a makeup remover when followed by a real cleanser is OK but not as a cleanser alone in most cases," said founder of buzzed-about clear-skin mecca Rescue Spa Danuta Mieloch.
"I think what people like about it is they see the 'dirt' on the cotton ball used to swipe the product over the face," said holistic dermatologist Cybele Fishman, M.D. As satisfying as it is to see real-time cleansing feedback, she recommends oil cleansing or a creamy cleanser to most of her clients and uses them both herself. That said, there is a time and place for a good micellar water—she explained that micellar water is often a better option than many super-foamy, stripping cleansers.
It's also helpful when you're traveling, whether you're a professional makeup artist or simply want to cleanse your face on-the-go. "I always carry it in my kit and sometimes in my own travel bag," said green celebrity makeup artist Katey Denno. "You never know what's in water when you're on a job—the minerals can be drying, and it varies from town to town and country to country."
Dr. Fishman, Plug, and Mieloch all agree that micellar water doesn't cause much harm if you're using a clean, nontoxic option. Conventional micellar formulas are an unnecessary daily skin care step that, in most cases, can be replaced with a product that's less irritating and entirely devoid of surfactants and/or simply more effective at cleansing the skin. If you're a bona fide micellar water lover—don't fret. mbg's experts have come up with a few excellent green swaps.
These are the best clean micellar water alternatives.
"A hydrosol has a hydrophilic part and a hydrophobic part," said Dr. Fishman, "which is what micellar water is essentially," so subbing any hydrosol for micellar water is a simple way to green your routine. When it comes to products, she recommends REN Clean Skincare's Rosa Centifolia 3-in-1 Cleansing Water, a favorite of Denno's, too, and the Whamisa Organic Flowers Cleansing Water as substitutes for micellar waters that have detergents or surfactants in them.
Plug recommends S.W. Basics' Cleanser, which has only three ingredients—rosewater, vegetable glycerin, and tea tree oil, as well as German brand Sante's Refreshing Facial Toner.
In addition to the aforementioned REN Clean Skincare cleansing water, Denno uses Burt's Bees Micellar Cleansing Water. Instead of using cotton balls, give Mother Earth a hug and stick with reusable organic cotton pads.
Like using face oils? Make sure you're not missing this very important skin care step!