Close Banner
Advertisement
This ad is displayed using third party content and we do not control its accessibility features.
This Supplement Addressed My Digestion Issues — & I Now Recommend It To All Of My Clients*

Registered Dietitian & Cookbook Author
By Maggie Michalczyk, R.D.
Registered Dietitian & Cookbook Author
Maggie Michalczyk, R.D., is a registered dietitian with a B.S. in dietetics from Michigan State University. She specializes in seasonal recipes and millennial nutrition for women.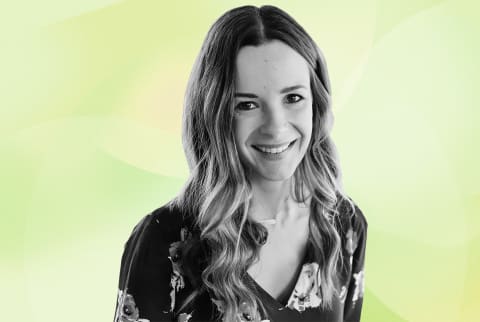 Image by mbg Creative / Contributor
As a dietitian, a high-quality probiotic supplement is one of the first things I encourage my clients and social media followers to add to their nutrition and health routine.* Gut health is definitely a passion of mine. As we continue to learn so much about the gut, and how it's connected to many other pathways in the body that affect our digestion, mood, immune system, and more, I think taking a probiotic every day is a small, attainable way to promote health and to feel your best.*
My mindset around probiotics was further solidified after I experienced an unexpected personal gut issue—and that's when I (had to) discover the targeted option that worked best for me.*
My review of probiotic+.
During a trip to Thailand in early 2019, I got food poisoning—and afterward, my gut balance just wasn't what it used to be. As a health care professional, I think it's probable that the food poisoning incident wiped out a lot of the good bacteria in my gut. I began experiencing gut health needs (incomplete digestion, gas, bloating, irregularity) for months following that trip at random—it was so frustrating to deal with.
Fast-forward to almost six months after the trip, when I began incorporating mindbodygreen's probiotic+. Slowly but surely, with routine use, I noticed my gut health definitely benefited from these four targeted, clinically studied strains.* My personal digestive needs were addressed within just a few weeks of using the supplement consistently.* I was so excited that something was finally working—which improved my mood in and of itself.*
Why I recommend probiotic+ to my clients for bloat and digestion needs.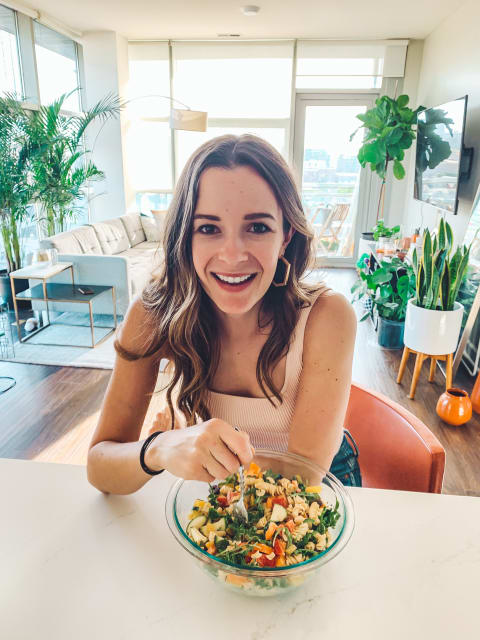 Image by Maggie Michalczyk
As someone who has experienced digestion issues of my own, I totally understand feeling like you're not sure what to do when you feel less than your best. And even if you do start to explore probiotics, it can be very overwhelming to know which ones actually work,* considering all of the different types of probiotics out there.
Because this is the only probiotic blend with this particular combination of four strains of bacteria specifically designed to ease bloating and aid digestion, I trust probiotic+.* Knowing that it's made with research-backed information, high-quality standards, and responsibility at the forefront is also very important to me*—and in line with my nutrition philosophy rooted in evidence-based science.
Taking probiotic+ is one of the simplest ways we can improve how we feel on a daily basis.*
I take mine as part of my morning routine, along with a big glass of water, and feel good knowing that it's helping me keep my digestion on track and giving my gut the good bacteria it needs to keep me healthy.*
If you are pregnant, breastfeeding, or taking medications, consult with your doctor before starting a supplement routine. It is always optimal to consult with a health care provider when considering what supplements are right for you.
Want to turn your passion for wellbeing into a fulfilling career? Become a Certified Health Coach! Learn more here.

Maggie Michalczyk, R.D.
Registered Dietitian & Cookbook Author
Maggie Michalczyk is a Chicago-based registered dietitian specializing in seasonal recipes and millennial nutrition for women. She received a B.S. in dietetics from Michigan State University, and is a regular contributor to numerous health and wellness outlets. Michalczyk shares her attainable wellness tips and seasonal recipes on her blog Once Upon a Pumpkin.

She strives to empower women to love their bodies and have a positive and confident relationship with food. Through her love of cooking and baking she aims to help her community further their knowledge of the foods that make them feel good and see that food is so much more than calories in and calories out. When she's not whipping something up in the kitchen, she is exploring the food scene in Chicago and abroad with her husband.