8 Warming Instant Pot Dinner Recipes We Love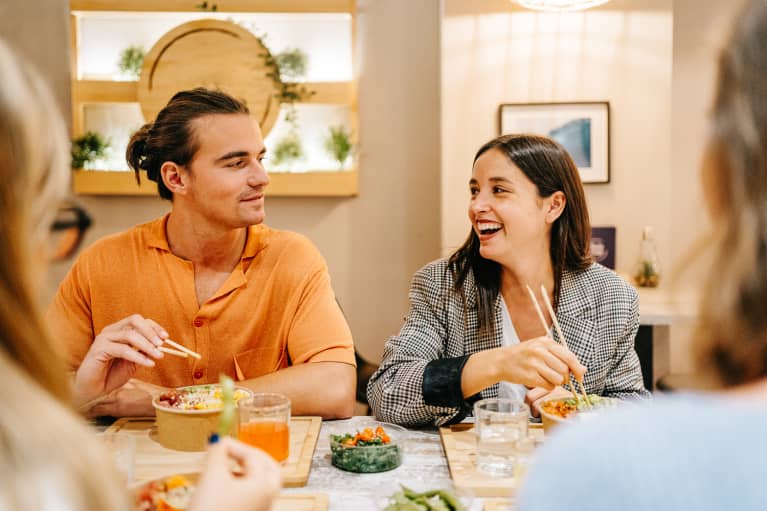 The Instant Pot is the kitchen trend that just keeps on giving. Since it hit the market, it's become a relatively common kitchen item, and fans swear by its ability to cut down on cook times and ease the stress of meals. It's also something of a powerhouse for efficient healthy cooking because it makes things like big batches of bone broth a breeze.
Cooking dinner on a busy weeknight is a perfect time to reach for the popular appliance. And with this mix of plant-based and protein-filled dishes, you'll have plenty of inspiration for healthy, delicious meals:
1. Simple Steamed Salmon Fillets
While this isn't necessarily a One Pot situation, it simplifies the protein prep—and that means you have time to make an awesome kale salad or bowl of grains and veggies to form a bed for these gorgeous salmon fillets. Learning to work with frozen seafood is a great skill for helping keep food waste down: Freezing the fish increases its shelf life. Simply place the frozen salmon, lemon slices, salt, pepper, and liquid in the Instant Pot and let it cook.
Find the recipe here.
2. Savory Multigrain Porridge
Oatmeal may not be what jumps to mind for a dinner, but this porridge isn't made with oats: It features a rice-and-multigrain blend. But this savory take on a breakfast dish makes for a super-satisfying (and budget-friendly) weeknight dinner, especially when topped with flavorful sauces like sambal oelek or Sriracha.
Find the recipe here.
3. Nightshade-Free Turkey Curry Chili
White chilis are in a class all their own, but this dish goes a step further and cuts all nightshades from the recipe. Nightshades are a family of produce that includes tomatoes, potatoes, eggplants, bell peppers, and some spices and herbs. Though many people can enjoy them without issue, they can cause inflammation for others. This turkey chili is full of flavor from nutrient-rich sources: carrots, sweet potatoes, cumin, curry powder, and mushrooms.
Find the recipe here.
4. Greek Spaghetti With Meat Sauce
Sure, spaghetti is a classic dinner, but this version blends the Italian staple with Greek flavors. And thanks to the Instant Pot, the sauce develops a deep flavor, without hours of cooking. To really make this dish spectacular, top it with aged myzithra, a cheese produced on the Greek island of Crete.
Find the recipe here.
5. Butternut Squash Curry
Like a good pasta sauce, a rich curry takes time—something that the Instant Pot can expedite. This plant-based curry is packed with flavor that begins with red Thai curry paste, accented with fresh ginger and garlic. Packed with nutrients from spinach and butternut squash, and topped with bright notes from pomegranate and fresh cilantro, it's a complete meal in one Instant Pot.
Find the recipe here.
6. Vietnamese Beef "Noodle" Soup
The Instant Pot offers an awesome opportunity for soup because it can make great broths in less time, and break down proteins so they're tender and delicious. This dish is inspired by pho, a traditional Vietnamese noodle dish—but with zoodles instead of noodles. It's packed with flavors from spices (like cinnamon, coriander, clove, and star anise) and some fresh jalapeño on top.
Find the recipe here.
While we're talking soup, what's better than good ole chicken noodle? It's a classic for a reason. This soup, just like the beef dish above, uses zoodles instead of noodles to cut down on carbs. But otherwise, the ingredients include the usual suspects: chicken stock, chopped onion, diced carrots, sliced celery, chicken breast, and poultry seasoning.
Find the recipe here.
8. Toasted Pearl Couscous With Butternut Squash, Kidney Beans & Feta
This hearty vegetarian dish features pantry staples like couscous and kidney beans, along with nice fresh ingredients like butternut squash and feta cheese, with lemon juice and dill. It usually takes a while to cook some of these hearty ingredients, but the Instant Pot takes care of the whole dish in less than an hour—prep and all. The key technique is toasting the couscous before cooking it, which brings out superb nuttiness.
Find the recipe here.
Low-lift dinners are weekday heroes: They make nights after long days of work or school a little more manageable. There are multiple options to try—whether you have an Instant Pot or just a sheet pan to put it all together.