Yes, You Can Thaw Salmon In An Instant Pot — Here's How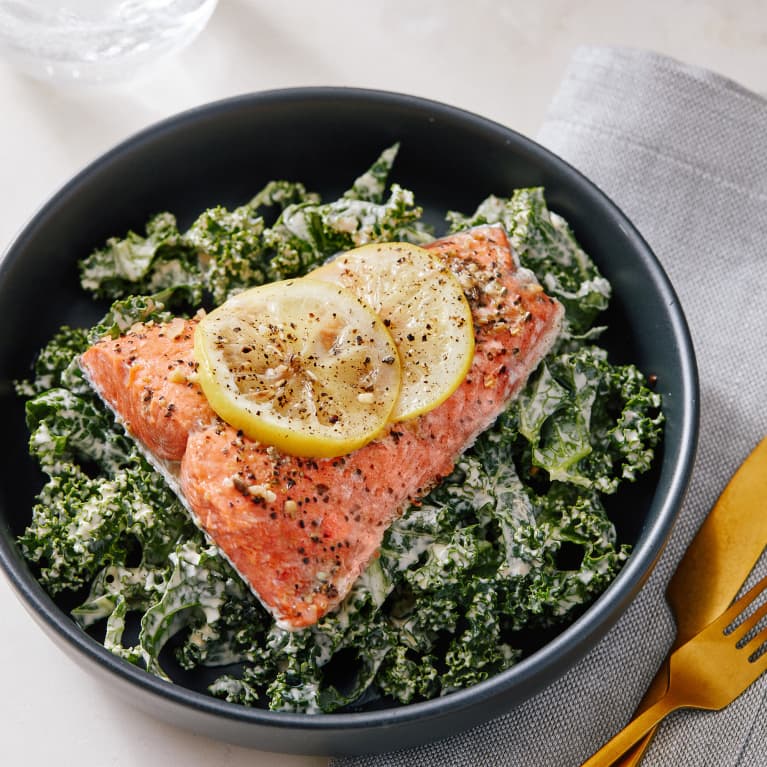 Our editors have independently chosen the products listed on this page. If you purchase something mentioned in this article, we may
earn a small commission
.
You might be thinking, "How is it possible to cook frozen salmon fillets in an Instant Pot?" And no wonder! The fillets can be overcooked in a flash, or they can break apart easily when the pressure is released. However, there is a way to make sure your salmon is cooked to perfection, all with the ease of placing it in an Instant Pot. No need to sacrifice a healthy dinner and your busy schedule any longer.
The timing below is for medium-rare to medium salmon fillets. If you prefer your salmon more well done, add 1 minute to the timing for either the "Max" or the "high" setting. And be sure to note: The size of these salmon fillets (6 ounces each) is very important in terms of the timing as well. Now, even the busiest of chefs can get their fill of omega-3s in this quick and healthy dinner recipe!
Simple Steamed Salmon Fillets
1 cup water or dry white wine of any sort
Two frozen 6‑ounce skin‑on salmon fillets
4 paper‑thin fresh lemon slices, seeds removed
½ teaspoon ground black pepper
¼ teaspoon table salt
Pour the water or wine into a 6‑quart Instant Pot. Set the pot's rack (with the handles up) or a large, open vegetable steamer inside the pot. Set the fillets skin-side down on the rack or in the steamer, arranging them so they overlap as little as possible (do not stack them). Set two barely overlapping lemon slices on each fillet. Sprinkle the fish and lemon slices evenly with the pepper and salt. Lock the lid onto the cooker.
Set the machine for "Pressure Cook." Set the level for "Max." Set the timer for 5 minutes with the "Keep Warm" setting off. If necessary, press "Start."
Use the quick‑release method to bring the pot's pressure back to normal. Unlatch the lid and open the cooker. Use a metal spatula to transfer the fillets one by one to serving plates.
For an 8-quart Instant Pot, you must use 1½ cups of water or white wine. You can also use three frozen 6-ounce fillets. (Four would be too many and begin to stack on top of one another.)
You can add lots more flavor by sprinkling ½ teaspoon dried seasoning blend on each fillet before adding the lemon slices.
If you've got frozen 8-ounce fillets, cook them at MAX for 6 minutes or at HIGH for 7 minutes, followed by a quick release.
These salmon fillets are great over riced cauliflower or on top of a kale Caesar salad!
Recipe Excerpted from From Freezer to Instant Pot Copyright © 2019 by Bruce Weinstein and Mark Scarbrough. Used with permission of Little, Brown and Company, New York. All rights reserved.