Close Banner
Advertisement
This ad is displayed using third party content and we do not control its accessibility features.
We Found The Best Eye Creams That *Actually* Reduce Dark Circles

Beauty & Health Editor
By Jamie Schneider
Beauty & Health Editor
Jamie Schneider is the Beauty Editor at mindbodygreen. She has a B.A. in Organizational Studies and English from the University of Michigan, and her work has appeared in Coveteur, The Chill Times, and Wyld Skincare.
If you've never complained of shadows under your eyes, consider yourself lucky (and please tell me your secrets). For the rest of us waking up with discolored half-moons: Hi, welcome, we're here to help.
Dark circles are finicky little skin woes, as not all shadows come from a lack of sleep (but more on that later). The good news, however, is that a swipe of eye cream can do a lot of heavy lifting—you'll just have to select the right formula for your own root cause.
And that's where we come in! I've tested hundreds—yes, hundreds—of eye creams to find the ones that actually minimize my stubborn dark circles. Plus, many of my picks have color-correcting properties that immediately neutralize discoloration. Ahead, find the ones that made the cut.
A quick look at the best eye creams for dark circles
How we tested the best eye creams for dark circles
The mindbodygreen beauty team rigorously tested the hyaluronic acid serums on this list, and judged them on the following criteria.
Texture: A smooth, silky texture is a must. We made sure to include formulas that glide effortlessly on the skin, whether it boasts a gel, cream, or whipped consistency.
Pigment: Some eye creams contain light-reflecting pigments that neutralize discoloration and provide an immediate brightening effect—sort of like a color-corrector you can use pre-concealer. It's not a need-to-have, but formulas with extra pigment receive bonus points in our book.
Wearability: You might layer on concealer (and definitely sunscreen—right?) after you apply your eye cream. We made sure to find options that didn't pill or feel tacky underneath subsequent products.
Additional benefits: Since this is a list of eye creams for dark circles, brightening formulas take the cake. That said, we also looked for formulas with additional benefits, like de-puffing, smoothing, and plumping.
Why you should trust us
As mindbodygreen's beauty editor, I have tested hundreds (yes, really hundreds) of eye creams. I also have stubborn shadows underneath my eyes thanks to genetics, so it's very difficult for me to erase them with eye creams alone. I personally find success with plumping formulas that thicken the skin and make my blood vessels less apparent (thus minimizing the discoloration), and I've worked tirelessly to find the formulas that actually put in the work.
Best Overall
Ourself HA+ Replenishing Eye Serum
scroll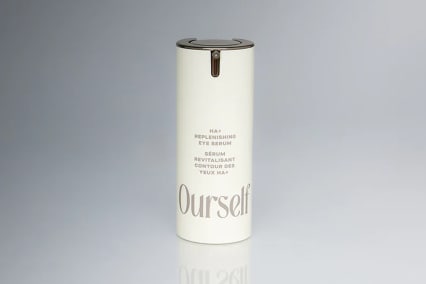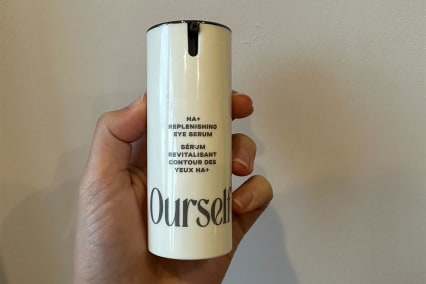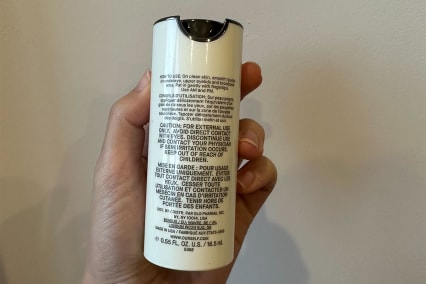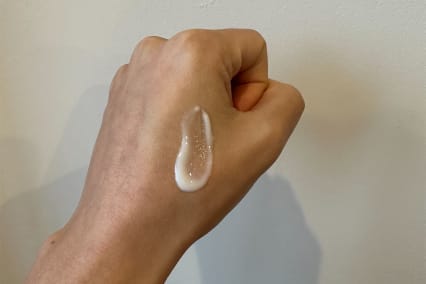 I'll say it upfront: This eye serum is pricey. But, oh, is it worth the investment. I never believed an eye product could do that much to treat my dark circles until I tried this formula. My shadows exist because the skin underneath my eyes is naturally super, super thin (so the underlying blood vessels easily show through). This serum, with its innovative skin-plumping technology, actually makes the skin appear plumper over time. And thicker skin equals less shadows.
Our beauty director Alexandra Engler wholeheartedly agrees: "I've gone through one bottle of this, and am already at my second," she tells me. "The brand and products are expensive, but the powerful technology and delivery system make it worth the investment if you have the means."
Texture: 4

This is a thinner formula (hence serum as opposed to cream), which I personally love. I was worried the lighter consistency wouldn't be enough hydration to last overnight, but trust me, this serum puts in the work. Better yet, I can tap it on my lids and brow bone, too, without fear of the formula weighing down the fragile skin.

"Personally, I like thinner eye products, but I know that some folks prefer dense creams," Engler adds. "Just know what you're getting into!"
Pigment: 0

Doesn't contain any color-correcting or brightening pigments.
Wearability: 5

Because of the thinner consistency, it layers like a dream underneath sunscreen and makeup.
Additional Benefits: 5

With its signature skin-plumping technology, it makes the eye area look smoother and brighter. Engler even notes her skin looks "shockingly smooth" after testing it daily. "I even apply it on my upper eyelid to help with sagging. I'd say this is a very well rounded eye product that checks all the boxes: hydration, lifting, fine lines, smoothing, and brightening," she says.
Ingredients

This silky eye serum contains an astonishing array of ingredients. Some of note:

A hyaluronic acid complex with low and medium molecular weights to plump and hydrate (using the brand's signature subtopical firming technology).
A poly-peptide blend that stimulates collagen and elastin production.
As if that wasn't enough, there's also vitamin C, niacinamide, and botanical extracts to brighten.
Pros & Cons

Pros: Increases elasticity and brightens skin, Innovative delivery system helps ingredients actually penetrate

Cons: Expensive
Best for Sensitive Skin
U Beauty Return Eye Concentrate
scroll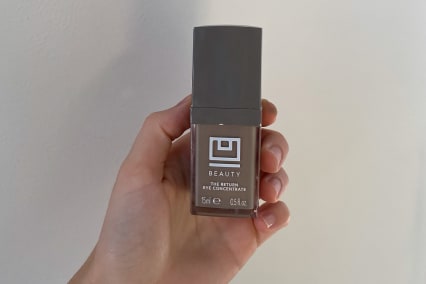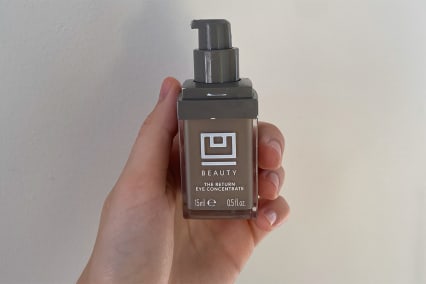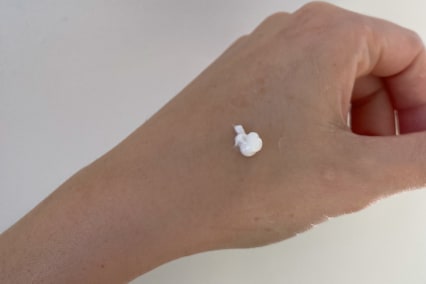 Assistant beauty editor Hannah Frye calls this her favorite eye cream d thus far. "My under-eye concerns are lengthy—I want my dark circles banished, my skin plump, a glowy finish, and fine lines eased… each was addressed with this product," she tells me. The price may give you pause, but know that the formula should last you a long while: "I just finished my first bottle and it lasted me much longer than the 4 to 6 weeks U Beauty suggests—I'd say closer to 8 weeks because the cream is rich, so you don't need much," she adds.
Texture: 5

"This cream melts into the skin with just a few swipes," Frye shares. "It's creamy, but not too rich."
Pigment: 0

Doesn't contain any color-correcting or brightening pigments. However, Frye notes she did use less concealer while testing this eye cream, so it does have some immediate effects.
Wearability: 5

It does have a heavier consistency, which may make it better suited for nighttime wear. Still, Frye says it pays nice with the rest of her skin and makeup routine, even in the a.m.

"I applied this eye cream morning and night. I never found it to interfere with the rest of my routine nor my makeup. It never pills either," she shares.
Additional Benefits: 4

"I noticed the crow's feet around my eyes softened when using it," Frye tells me. "My under eyes look significantly more hydrated post-application. I do wish the hydration lasted just a bit longer—that'd be my only note."
Ingredients

First thing's first: This eye cream is fragrance-free, which is great for those with sensitive skin. Some other noteworthy players include:

2 "sirens", as U Beauty calls them (essentially complexes), which feature a number of vitamins, and humectants, plus stevia extract for equal parts brightening, nourishing, and hydrating.
Plankton extract to keep the skin looking tight and awake
Peptides to plump and help smooth fine lines.
Pros & Cons

Pros: Little goes a long way, Fragrance-free & gentle

Cons: Pricey
Best De-puffing
Ilia Bright Start Activated Eye Cream
scroll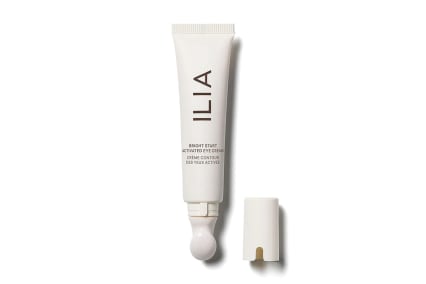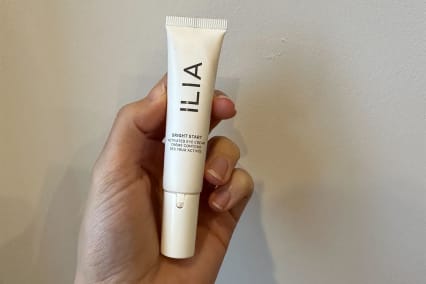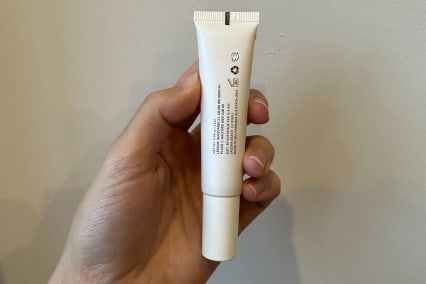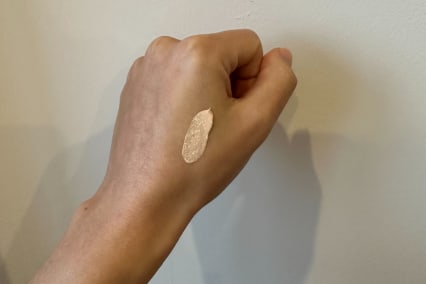 When ILIA launched this eye cream, there was a wait list so long even editors couldn't score a second sample—it's that good. It's equal parts brightening and de-puffing, which makes it perfect for morning use. I only wish it came in a bigger size!
Texture: 5

It has a lightweight, fluffy, almost whipped texture that feels oh-so soft on the skin. It practically melts upon application.
Pigment: 4

It does contain light-reflecting pearl pigments to help brighten the eye area, but these pigments have pink undertones as opposed to yellow. That might be great for some cool-toned individuals, but I need a slightly warmer hue to neutralize my shadows.
Wearability: 5

It wears exceptionally well under makeup—would you expect anything less from the clean makeup brand?
Additional Benefits: 5

Caffeine and peptides wake up the eyes and diminish dark circles, but this eye cream also includes sea fennel (which some swear has similar benefits to retinol) to form and smooth the area, too. As if that wasn't enough, it features a ceramic tip that doubles as a cooling massage tool—glide it across your skin and watch any lingering puffiness subside.
Ingredients:

As the name suggests, the formula features sea fennel extract, which many swear works similarly to retinol—minus the irritating side effects. You'll also find upcycled avocado extract for nourishing fatty acids and vitamins, plus caffeine to brighten (some call it the antidote to dark circles) and peptides to plump.
Pros & Cons:

Pros: Contains a retinol alternative to smooth fine lines, Cooling ceramic tip feels great on puffy eyes

Cons: Smaller size
Best for Daytime
Ole Henriksen Banana Bright+ Eye Créme
scroll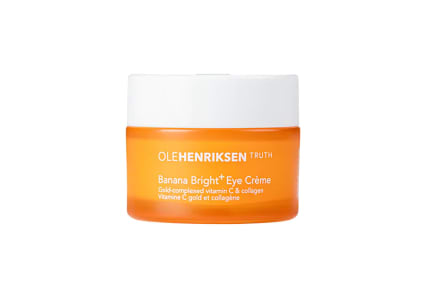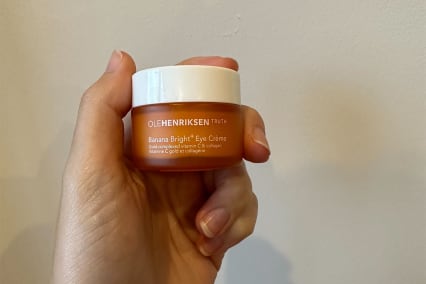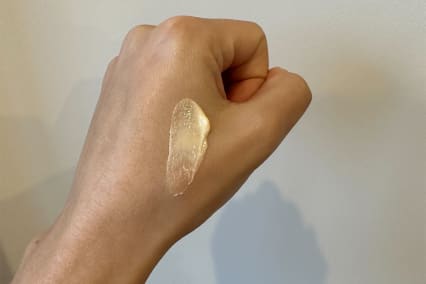 Anytime someone asks me to recommend a brightening eye cream, I suggest Banana Bright. Not only does it contain top notch ingredients to brighten dark circles over time, but it also contains light-reflecting mineral pigments (inspired by banana powder—hence its name) to instantly neutralize discoloration. Not to mention, this new-and-improved version is fragrance-free. A winning daytime eye cream, if you ask me.
Texture: 5

Creamy yet not too thick; spreadable but delivers all-day hydration. The texture is unmatched, IMO.
Pigment: 5

The peachy pigment instantly neutralizes discoloration—it's a bit more yellow-toned than most, which folks with warmer undertones will appreciate.
Wearability: 5

I find it dries down quickly (while staying hydrating) and wears well underneath makeup. In fact, I would even use it as a color corrector pro-concealer.
Additional Benefits: 3

I'd say brightening is the main benefit here. Vitamin C is great for promoting collagen and smoothing fine lines, but if you're looking to reduce puffiness, I might go with another option instead.
Ingredients:

No, there are no bananas in this formula. (Surprising, I know!) Rather, the "banana" refers to the yellow hue that helps cancel out blue shadows—similar to banana powder, a staple for many pro makeup artists.

In terms of brightening actives, vitamin C pulls most of the weight here. Namely, a vitamin C complex comprising ascorbic acid and glutathione combined with real gold; 3-O-ethyl ascorbic acid; and tetrahexyldecyl (THD) ascorbate. Talk about an antioxidant-packed INCI list.
Pros & Cons:

Pros: Fragrance-free, Works immediately

Cons: Doesn't come with a spoon or spatula
Best with Vitamin C
Paula's Choice C5 Super Boost Eye Cream
scroll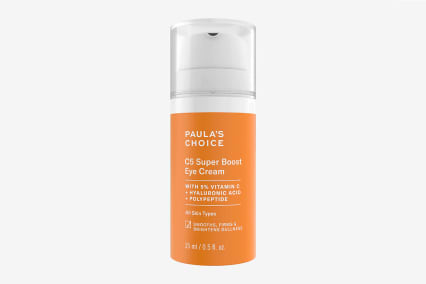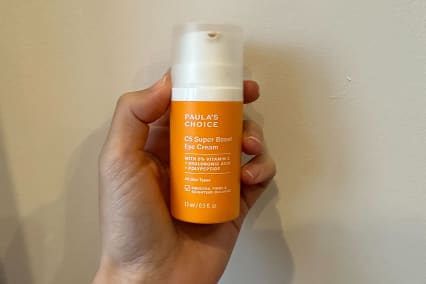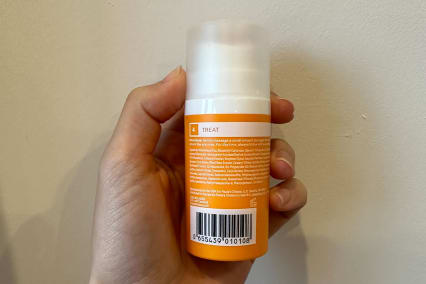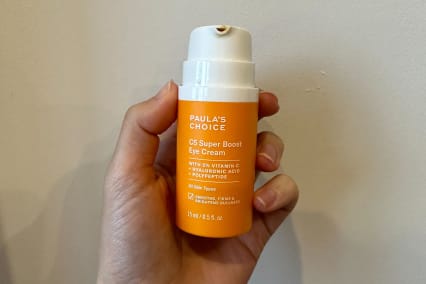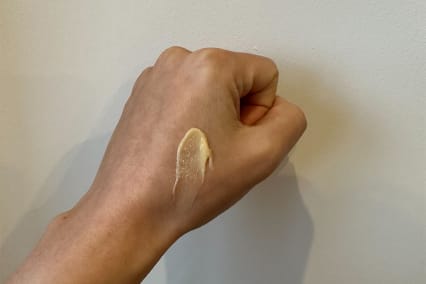 Allow me to introduce you to my go-to daytime eye cream! The gel-cream texture is A+ for pre-makeup application, and it keeps my eye area supple and hydrated all day long. Paula's Choice has a stellar range of vitamin C-infused formulas, but if I had to choose a winner, their eye cream is my all-time favorite.
Texture: 5

The gel-cream lotion effortlessly glides over skin and absorbs quickly. I personally prefer a thicker confection to wear overnight, but this one is sublime for the daytime.
Pigment: 3

It does have an orange hue out of the bottle, but the pigment doesn't totally deposit on the skin (it dries down clear). Still, I suspect the orange tones put in some work to mask my dark shadows.
Wearability: 4

The gel-like, slightly tacky texture makes this feel like a primer you can apply pre-makeup. It helps my concealer last longer without ever flaking off midday. Some people might not want their eye cream to feel at all sticky, so I'll dock a point for those who prefer strictly creamy confections.
Additional Benefits: 5

With peptides and hyaluronic acid, this lotion helps plump the eye area and smooth fine lines. I may come for the brightening benefits, but I stay for the noticeably supple skin.
Ingredients:

Fragrance-free and fabulous. It contains zerumbone, a concentrated ginger extract that helps diminish dark circles. Some other noteworthy players include:

Stabilized 5% vitamin C (duh) to fight free radicals, promote collagen production, and brighten
Peptides to plump and firm the skin
Hyaluronic acid to hydrate & awaken tired under-eyes
Pros & Cons:

Pros: Stabilized vitamin C is great for sensitive skin

Cons: Some might want a creamier texture
Best Color Correcting
Naturium Vitamin Bright Illuminating Eye Cream
scroll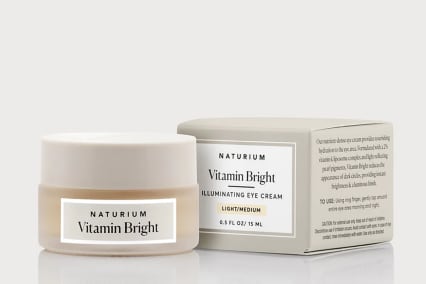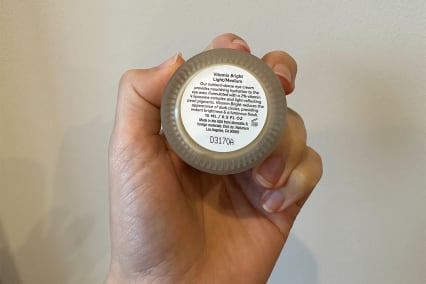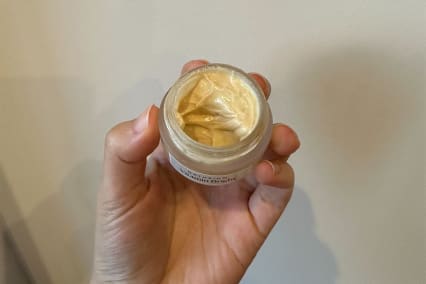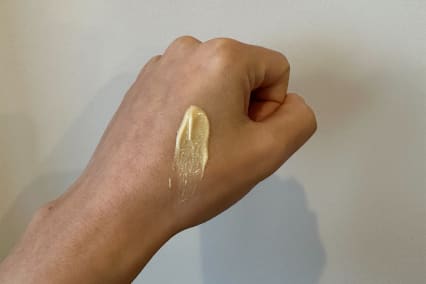 This is a creamy, pigment-neutralizing eye cream that feels like a joy to apply. I've been testing it every morning for the past few weeks, and I totally feel comfortable skipping concealer.
Engler agrees: "Truth be told, my under eye circles are probably my biggest aesthetic insecurity at this point in my life. No matter how much I sleep or how good I eat, they're still there. I almost always have on a bit of concealer to cover them up," she notes. "But during times when I really don't want to wear makeup, this eye cream is what I use to help ease the appearance of discoloration.
It comes in two flexible shades infused with light-reflecting mineral pigments to instantly brighten the eye area​—I use light/medium, and the immediate difference is astonishing.
Texture: 4

It definitely has a creamier texture, which is great for super-dry under-eyes like mine. However, I do have to wait a beat before layering on makeup (if I even wear it; the formula neutralizes discoloration, so I find myself skipping concealer, anyway!).
Pigment: 5

Naturally-derived, light-reflecting mineral pigments provide immediate brightness by neutralizing discoloration. It also has yellow undertones, which are perfect for canceling out the blue hues underneath and around the eyes.

"This is where the product really shines (pun intended)," gushes Engler. "It really camouflages my deep purple discoloration with just a few taps."
Wearability: 4

I prefer this eye cream for the daytime (the mineral pigments would have little use overnight), but the formula is totally thick enough to use before bed, if you choose. That said, I do have to wait a minute or two before embarking on the rest of my routine, as it does take a beat to dry down.
Additional Benefits: 2

As Engler notes, its main selling point is the brightening. "Sure it feels hydrating and soothing, but I wouldn't say it's particularly notable for them," she says.
Ingredients:

"I really love vitamin K, which is an underrated dark circle correcting ingredient. Some studies have shown it can help reduce discoloration in the area, and has anticoagulation benefits as well," Engler shares. Other key players include:

Shea butter: to provide a creamy texture, plus fatty acids and moisture.

Glycerin: to plump the under-eyes with hydration

Turmeric, basil & rosemary extracts: to fend off free radicals and brighten up the area

Not to mention, this is a fragrance-free formula.
Pros & Cons:

Pros: Budget-friendly, Incredible under makeup

Cons: Doesn't come with a spoon or spatula
Best for fine lines
Skin Ceuticals A.G.E. Advanced Eye For Dark Circles
scroll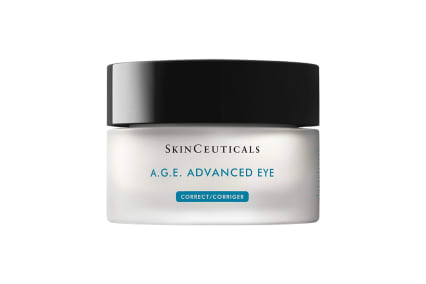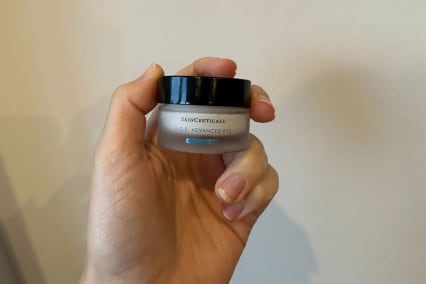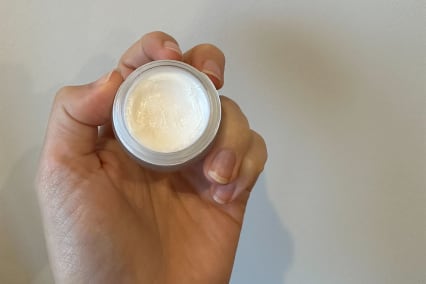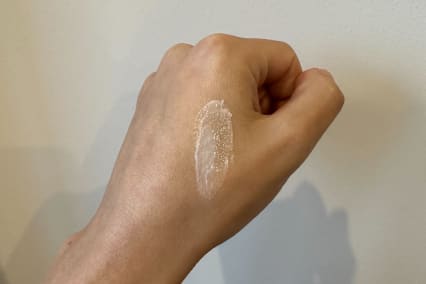 I was pleasantly surprised by how well this eye cream temporarily disguised my stubborn shadows—without any color-correcting pigments! It does have "optical effects" that disperse light to instantly improve radiance and minimize dark circles. I suspect that's what makes this eye cream so brightening, and the ingredients that defend against glycation (a process that causes collagen to become weak and brittle) make it truly special.
Texture: 4

It has a satin-like texture that spreads easily across the skin. I'm giving it a 4 because I really have to swirl my finger in the jar to get enough product; I wish it came with a spatula or spoon for a more hygienic application.
Pigment: 2

No mineral pigments, but as I mentioned, it does contain "optical effects" that disperse light.
Wearability: 5

This eye cream feels super hydrating and stays that way throughout the day. Despite the thinner consistency and satin finish, I do notice less crow's feet and dehydration than before.
Additional Benefits: 5

This eye cream tackles every byproduct associated with glycation and collagen decline: crow's feet, puffiness, and, yes, dark circles. It's not merely a brightening formula—it addresses the whole picture of skin aging.
Ingredients:

This eye cream includes a mix of classic and innovative players to brighten dark circles. A few notable ones to highlight:

Proxylane: a moisturizing synthetic ingredient derived from beech wood that helps increase skin elasticity by restoring water content.
Fruit flavonoids: powerful antioxidants that fend off oxidative stress and keep the area bright
Peptides: to plump and firm the under-eyes
Caffeine: to constrict blood vessels and provide immediate brightening
Pros & Cons

Pros: Very spreadable, Layers well underneath makeup

Cons: Smaller jar, Doesn't come with a spoon or spatula
What causes dark circles?
As always, it's a good idea to discover the root of the issue before diving into treatments. And there are multiple factors to consider when it comes to dark circles—find a few culprits down below:
Lack of sleep: As family medicine physician Bindiya Gandhi, M.D., previously writes for mbg, "When your body doesn't get precious sleeping time, skin looks more sallow, tired, and the blood vessels underneath peak through, causing the mauve, purple or brown color synonymous with dark circles." All the more reason to focus on beauty sleep.
Allergies: "​​Seasonal allergies and allergic conjunctivitis causing you to rub your eyes can drive more inflammation and fluid accumulation under the eyes, which worsens the appearance of dark circles," says board-certified dermatologist Andrea Suarez, M.D., FAAD.
Genetics: Some people (self very much included) are just more prone to dark circles as a result of the anatomy around the eye socket.
Skin tone: More melanin production can cause skin in the area to become darker naturally. This is more common with people with darker skin tones.
Age: "With age, collagen and elastin loss1 leads to thinner skin, making shadows more obvious," Suarez says. Those blood vessels become more visible, as there's no longer a buffering layer of tissue.
Can an eye cream really help?
Well, it depends on which cause you're dealing with. Sorry to say, there's not much you can do for genetic shadows aside from in-office treatments. The same goes for fat loss as you age—you can't really do anything about this with topical creams.
However! You can look for eye creams with ingredients like hyaluronic acid, peptides, ceramides, and so on to provide a temporary plumping effect—which, in turn, may make dark circles look less apparent.
And for dark circles caused by dilated blood vessels (from lack of sleep or allergies), eye creams can totally help. You'll just want to look for brightening agents, like antioxidants, or caffeine, which will help constrict the dilated blood vessels. Similarly, those dealing with hyperpigmentation can find success with skin brighteners, namely vitamin C, arbutin, kojic acid, or niacinamide.
Still, consistency is key. You can't expect an eye cream to completely transform the look of dark circles—unless it also features color-correcting pigments (many do!) to immediately neutralize the discoloration.
Ingredients to look for
As I alluded to above, different causes may call for different brightening ingredients. Many of the eye creams listed here have robust formulations that contain multiple of these targeted actives—but as a baseline of what to look for, these are a great place to start:
Vitamin C: A beloved antioxidant for a reason: It supports collagen production, fights free radicals, and can brighten dull skin.
Caffeine: Caffeine is a vasoconstrictor (meaning, it compresses blood vessels in the skin). This can reduce the appearance of shadows, as they are caused by pooling blood in the area. The most common sources of caffeine used in eye creams are from teas or coffee. Additionally, it has antioxidant properties.
Hyaluronic acid & glycerin: These star humectants pull in and hold water in the skin, providing a plumping and dewy effect. This can help with hydration, easing the appearance of fine lines, and provides a luminescent finish. Look for hyaluronic acids with lower molecular weights for deeper penetration.
Niacinamide: A trendy antioxidant, this multitasker addresses fine lines, dullness, pigmentation, and irritation.
Antioxidants: While several options on this list are also antioxidants, there are many more to choose from. Antioxidants can help fight free radicals and brighten the complexion, making them amazing additions to eye creams.
Peptides: Peptides are chains of amino acids, or the building blocks of proteins. While more research needs to be done on the use of peptides in topicals, what is out there now looks very promising: including one report that notes they can help improve collagen production.
The takeaway
While dark circles can be caused by various genetic or lifestyle factors, you can treat them with an eye cream filled with a targeted selection of actives. And these formulas, in my opinion, are the crème de la crème. Craving more under-eye care tips? Here's our full guide to caring for the area.
Watch Next
Enjoy some of our favorite clips from classes
Watch Next
Enjoy some of our favorite clips from classes
What Is Meditation?
Mindfulness/Spirituality | Light Watkins
Box Breathing
Mindfulness/Spirituality | Gwen Dittmar
What Breathwork Can Address
Mindfulness/Spirituality | Gwen Dittmar
The 8 Limbs of Yoga - What is Asana?
Two Standing Postures to Open Up Tight Hips
How Plants Can Optimize Athletic Performance
What to Eat Before a Workout
How Ayurveda Helps Us Navigate Modern Life
Messages About Love & Relationships
Love & Relationships | Esther Perel
Love Languages
Love & Relationships | Esther Perel
Related Videos (10)
What Is Meditation?
Box Breathing
What Breathwork Can Address
The 8 Limbs of Yoga - What is Asana?
Two Standing Postures to Open Up Tight Hips
How Plants Can Optimize Athletic Performance
What to Eat Before a Workout
How Ayurveda Helps Us Navigate Modern Life
Messages About Love & Relationships
Love Languages
Advertisement
This ad is displayed using third party content and we do not control its accessibility features.
More On This Topic
more Lifestyle
Advertisement
This ad is displayed using third party content and we do not control its accessibility features.
Advertisement
This ad is displayed using third party content and we do not control its accessibility features.