This Antioxidant Was Just Named The No. 1 Skin Care Ingredient Of 2022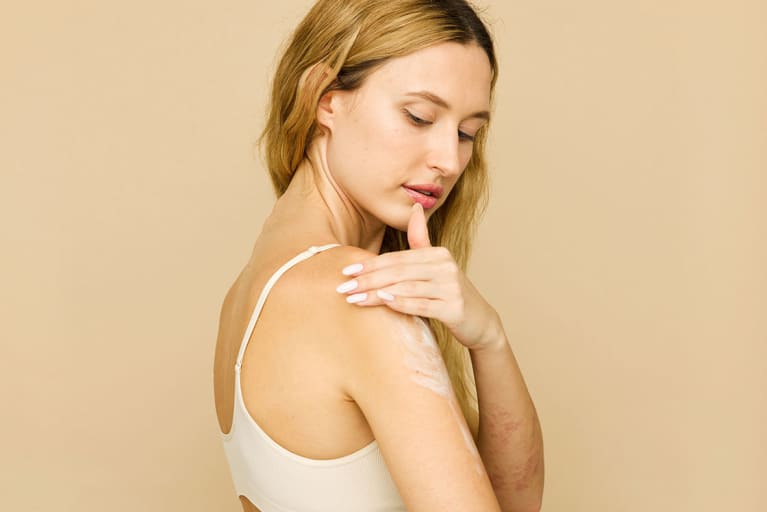 Our editors have independently chosen the products listed on this page. If you purchase something mentioned in this article, we may
earn a small commission
.
In the beauty world, it's common for age-old ingredients to cycle through their time in the spotlight. Think glycerin, niacinamide, and astaxanthin, to name a few.
Well, consider coenzyme Q10 (CoQ10) the latest ingredient on the revival tour: According to a recent market report published by Spate, the buzzy antioxidant is the No. 1 top skin care trend by growth. Given its plethora of beauty benefits, both internally and topically, it's not difficult to see why beauty fans can't get enough of this superstar compound.* If you're unfamiliar with CoQ10 (or if you just need an excuse to sing its praises), here's a super-quick explainer on the ingredient so you're all caught up.
CoQ10 is a fat-soluble compound that doubles as a powerful antioxidant. It's naturally occurring in the body and actually necessary for all your cells to produce energy—yes, including your skin cells.* The reason it's called a "coenzyme" is because it's needed for other enzymes to function properly, too. What's more, CoQ10 is the only fat-soluble antioxidant naturally made by the human body.
How CoQ10 benefits the skin inside & out.
OK, so we just mentioned how CoQ10 is found in the body—but it does decline as you age. And while you can find CoQ10 in some foods—like fish, peanuts, and broccoli—only 25% of your CoQ10 levels come from food intake. For this reason, it's beneficial to supplement with CoQ10 to support your natural levels.*
One reason you want to have adequate levels of CoQ10 in the body is because this compound (like other antioxidants) neutralizes free radicals.* Oxidative stress happens when the cells in your body are dealing with too many free radicals. Over a prolonged period of time, this accelerates the aging process.
Oxidative stress is an especially huge driver of skin aging, which is what makes antioxidant-rich beauty supplements so beloved.* And CoQ10 has some impressive power in particular: "The protective antioxidant effects of CoQ10 have been demonstrated in human keratinocytes and fibroblasts, major types of cells essential for skin health,"* explains Ashley Jordan Ferira, Ph.D., RDN, mbg's vice president of scientific affairs. "Furthermore, CoQ10 supplementation has been clinically shown to improve skin elasticity and smoothness while reducing wrinkles and fine lines."*
But the benefits don't have to stop at supplementation, as applying CoQ10 topically can benefit the skin as well. In fact, research shows that applying CoQ10 as part of a topical formulation significantly improved CoQ10 levels found in skin cells—while also boosting the skin's free-radical-fighting abilities. So suffice it to say, we love CoQ10—even before it became Spate's antioxidant to watch. And because it has science-backed benefits for oral and topical use, we decided to include it in both our cellular beauty+ supplement and our postbiotic body lotion.*
Before you scour your skin care staples for this powerful antioxidant, you should know that there are different forms of CoQ10. Here's a quick way to distinguish between the two so you understand what to look for on ingredient lists:
Ubiquinol: This is considered the "active" form of CoQ10, as it is the bioactive form utilized in the body. It quickly influences CoQ10 status and oxidative stress biomarkers, so it is often used in supplements in order to reach peak efficacy.* This is the form present inside our beauty supplement (cellular beauty+) capsules.
Ubiquinone: Ubiquinone must be converted to ubiquinol in the body before it can perform its functions. However, it's also the much more stable form of CoQ10 for topical applications, which is why it's found in certain skin care topicals (including our body lotion). Because topicals contain multiple ingredients and preservative systems for aqueous formulas, they need stabilized activities; otherwise, the ingredient's efficacy will be reduced—or nonexistent—when it comes in contact with other ingredients and water.
If you've heard CoQ10 popping up in conversation lately, you're certainly not alone. This compound has been documented as the top trending ingredient, and it's not hard to see why: CoQ10 has powerful benefits for the skin both when applied topically and taken as a supplement.* Just remember that ubiquinol is the form you should look for in ingestible supplements, while ubiquinone is the only form for topical applications. If you're curious about learning more (other than this quick overview), check out our full guide on CoQ10's skin care benefits.