The 15 Best Lotions For Crepey Skin That Hydrate, Tighten & Tone

mbg Beauty & Wellness Editor
By Jamie Schneider
mbg Beauty & Wellness Editor
Jamie Schneider is the Beauty & Wellness Editor at mindbodygreen. She has a B.A. in Organizational Studies and English from the University of Michigan, and her work has appeared in Coveteur, The Chill Times, and Wyld Skincare.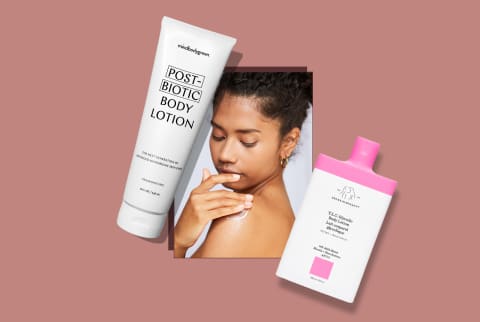 Last updated on May 8, 2023
Our editors have independently chosen the products listed on this page. If you purchase something mentioned in this article, we may
earn a small commission
.
Crepey skin (or when your skin resembles a fragile sheet of crepe paper) happens for a few reasons: Most notably, the thin appearance is exacerbated by a lack of hydration, loss of collagen, and diminished cell turnover—processes that are affected by the natural course of aging as well as environmental influences, like sun exposure, smoking, and pollution.
As a result, those larger sun-exposed areas tend to turn crepey most quickly: think upper arms, neck, legs, etc.
While the best remedy for the tissue-like skin is to delay it in the first place, it is possible to tighten the skin and prevent any more sagging.
"Moisturize, moisturize, moisturize—this can improve the appearance," board-certified dermatologist Hadley King, M.D., told us about how to treat crepey skin. And according to board-certified dermatologist Amy Ross, M.D., exfoliating and promoting cell turnover are also key: "Using an exfoliant (whether chemical or physical) will improve the appearance of crepey skin quickly," she says.
Given the derms' top tips, might we suggest a lotion that can do both? Below, find the best moisturizing players that also slough the skin smooth.
The best lotions for crepey skin:
The best lotions for crepey skin:
How we picked
Hydrating ingredients
First and foremost, your body lotion should be hydrating. We picked the most moisturizing products that easily sink into the skin.
Potent actives
All of these lotions contain actives known for easing the appearance of crepey skin. Think: exfoliants, retinols, and postbiotics, and antioxidants.
Sensitive skin-approved formulas
Crepey, mature skin tends to run more sensitive, so we made sure to pick gentle, soothing formulas. If there's an active that may cause potential irritation, we made sure to call it out.
Testing & testimonials
Every product here was tested by me, an mbg beauty editor, or staffer. We also utilized user reviewers to inform our choices.
Meet the expert
Ife J. Rodney, M.D., is a board-certified dermatologist and the founding director of
Eternal Dermatology
in Fulton, MD. She has been practicing in the Washington DC area since 2007, and she is an expert in all aspects of cosmetic, surgical, and medical dermatology for all skin types.
Here, Rodney rates each of these lotions on a scale of 1 to 5. We should note, her 5-star picks all contain retinol or AHAs, as those are more potent ingredients to help tighten and smooth crepey skin. We know some folks can't tolerate those ingredients for daily use, so it might be worth alternating with more hydrating formulas.(look for those with a rating of 4)
Our picks for the best lotions for crepey skin of 2023
Advertisement
This ad is displayed using third party content and we do not control its accessibility features.
Advertisement
This ad is displayed using third party content and we do not control its accessibility features.
Advertisement
This ad is displayed using third party content and we do not control its accessibility features.
Advertisement
This ad is displayed using third party content and we do not control its accessibility features.
Advertisement
This ad is displayed using third party content and we do not control its accessibility features.
What to look for
Here, find some specific callouts in formulas that benefit crepey skin.
"Most importantly, [your lotion] should be hydrating," says board-certified dermatologist Jeremy Fenton, M.D., of Schweiger Dermatology Group in New York City. After all, hydrated skin appears more plump, tight, and firm.
"Common ingredients to moisturize include hyaluronic acid and ceramides, among others," he adds. Look for rich butters and nourishing oils, like shea butter, oat oil, and squalane, too, for a healthy dose of fatty acids.
Since stimulating cell turnover is also key to improving crepey skin, you also may want to look for more potent, collagen-promoting actives. "Alpha- and beta-hydroxy acids, such as glycolic acid, can be helpful and not too harsh," Fenton says. Glycolic acid, for instance, has been shown to promote a 27% increase in epidermal thickness1 after six months of regular use.
"Retinols are also good but can be a bit more drying," he adds. However, they are very effective—one human study showed that retinol treatment stimulated collagen production2 in mature skin, helping decrease the appearance of wrinkling—which is why retinol-infused body lotions often come with a bevy of hydrators to buffer the potential drying effects. But still, you should patch test before slathering all over.
Antioxidants can help protect your skin from free radical damage, and free radicals also contribute to collagen loss. It's important to find options loaded with antioxidants to protect your collagen layer. Bonus points if you find antioxidants known to support collagen production, like vitamin C and E.
How to choose
When deciding which lotion is best for you, consider the below factors.
Cost: High-quality skin care often comes at a higher price, but our list includes options to meet a range of budgets. While perhaps more expensive than drugstore lotions, these picks contain firming ingredients that will benefit crepey skin. Consider the longevity and quality of the product when deciding how much you want to spend.
Ingredients: Reference our expert's advice above to learn more about which ingredients to look for when searching for a lotion for crepey skin. At mindbodygreen, we always prioritize lotions with natural, organic ingredients.
Skin concerns: Consider any additional skin concerns when deciding which formula is best for you. Our list has options for sensitive skin, sagging skin, dark spots, and other concerns. We've also included lotions with SPF, unscented options, and lotions for wrinkles. Prone to dryness? Check out our favorite clean and natural lotions for dry skin.
How the best lotions can help with longevity
With the right ingredients, lotion can help boost your skin's longevity.
Remember: Always apply sunscreen.
"You must also think of prevention as well," says Fenton. "Sunscreen, sunscreen, sunscreen is your best preventive measure and ingredient to look for." If you're exposing your skin to the sun, you should always protect it with SPF. Check out our favorite sunscreens here.To keep your skin aging gracefully, look for ingredients such as olive squalane (which prevents UV damage3 and promotes cell growth), lecithin to protect from free radicals, hyaluronic acid for hydration, peptides to improve firmness, and retinoids to reduce lines and wrinkles and improve the appearance of dark spots.
FAQ
Can crepey skin be reversed?

To some extent. "Although people should not expect a return to skin quality from decades prior, there are some treatments that can turn back the clock," says Fenton. "For example, some topical lotions and creams that contain ingredients that help rebuild collagen may slightly improve the appearance of the skin. These ingredients include glycolic acid, retinol, and prescription strength retinoids."

"Even just moisturizing to hydrate the skin can temporarily improve the appearance of crepey skin," he adds. "The most effective options for skin rejuvenation, however, are in-office lasers and other energy or microneedling treatments."
Does any lotion really help crepey skin?

"Yes, some lotions help either just from temporarily hydrating the skin or from helping the skin maintain and rebuild collagen. Of course, the results don't tend to be dramatic, so appropriate expectations should be set," says Fenton.
What do dermatologists recommend for crepey skin?

"Dermatologists generally recommend the skin-tightening procedures I mentioned above. For example: laser resurfacing, microneedling, and energy devices such as radiofrequency and ultrasound devices," notes Fenton. "We also will sometimes prescribe retinoids, although they can also be drying and often older, crepey skin cannot tolerate a strong retinoid."
mbg's review process
At mbg, high standards are earned—and there are no shortcuts. Our beauty editors stay up to date on the latest ingredient research and innovation. It's a dynamic, continuously evolving space, and it's important we look into the science so we can make informed choices about which formulas earn our stamp of approval (figuratively speaking).
Our high standards also come from testing products—many, many products. Our editors and writers rigorously test and research the products featured in our roundups to offer you the best, most informed recommendations. When we write reviews, you can trust we spend quality time with the formulas: We don't simply rave about products we've slathered on the back of our hand. We endorse products we've tried and loved.
Learn more about our testing process and clean beauty standards here.
What we changed. 
3/20: ​​Our team added original photography, along with tester quotes and takeaways, to better help readers find the right lotion for their individual needs. We also added information about the key ingredients in each formula, as well as subcategories to help readers streamline their search. Finally, we added additional information about what to look for in a body lotion for crepey skin to help shoppers navigate the category at large.
3/31: We added a section dedicated to the importance of sunscreen and got the story medically reviewed by a board-certified dermatologist.
4/14: We asked a board-certified dermatologist to rate each product on a scale of 1 to 5.
The takeaway. 
While you can't transform crepey skin entirely, certain lotions can ease the appearance and promote firmness. If you're looking for an innovative hydrator with gentle, science-backed ingredients for aging skin, you must give the mindbodygreen postbiotic lotion a try (and please, tell us your thoughts!). If you prefer to start with a potent exfoliating formula, I personally love Drunk Elephant's glycolic acid-infused solution. Or if you love a subtle scent, I say you can't go wrong with OSEA's Anti-Aging Body Balm.
Of course, a hydrating body lotion is just one piece of the puzzle. To learn more about treating crepey skin, check out our full guide here.
Meet The Experts
Jamie Schneider
is the Beauty & Wellness Editor at mindbodygreen. She has a B.A. in Organizational Studies and English from the University of Michigan, and her work has appeared in Coveteur, The Chill Times, and Wyld Skincare.
Ruth Jobarteh-Williams is a board-certified dermatologist.