The 12 Best Lotions For Crepey Skin That Hydrate, Tighten & Tone

mbg Beauty & Wellness Editor
By Jamie Schneider
mbg Beauty & Wellness Editor
Jamie Schneider is the Beauty & Wellness Editor at mindbodygreen, covering beauty and wellness. She has a B.A. in Organizational Studies and English from the University of Michigan, and her work has appeared in Coveteur, The Chill Times, and Wyld Skincare.
Last updated on March 18, 2022
Our editors have independently chosen the products listed on this page. If you purchase something mentioned in this article, we may
earn a small commission
.
Crepey skin (or when your skin resembles a fragile sheet of crepe paper) happens for a few reasons: Most notably, the thin appearance is exacerbated by a lack of hydration, loss of collagen, and diminished cell turnover—processes that are affected by the natural course of aging as well as environmental influences, like sun exposure, smoking, and pollution.
As a result, those larger sun-exposed areas tend to turn crepey most quickly: think upper arms, neck, legs, etc.
Advertisement
This ad is displayed using third party content and we do not control its accessibility features.
While the best remedy for the tissue-like skin is to delay it in the first place, it is possible to tighten the skin and prevent any more sagging.
"Moisturize, moisturize, moisturize—this can improve the appearance," board-certified dermatologist Hadley King, M.D., told us about how to treat crepey skin. And according to board-certified dermatologist Amy Ross, M.D., exfoliating and promoting cell turnover are also key: "Using an exfoliant (whether chemical or physical) will improve the appearance of crepey skin quickly," she says.
Given the derms' top tips, might we suggest a lotion that can do both? Below, find the best moisturizing players that also slough the skin smooth.
Best lotions for crepey skin.
mindbodygreen postbiotic body lotion
If you have sensitive skin, you might find ingredients that promote cell turnover (like retinol and AHAs) a little difficult to tolerate. Not to fret: Plenty of other healthy aging ingredients on the market can help your skin look soft and supple—like coenzyme Q10 (which helps skin cells literally act younger), aloe vera, botanical oils, and targeted-biotic ingredients, all of which are included in mbg's star body lotion. With shea butter, moringa seed oil, oat oil, and squalene, the formula also deeply hydrates—and keeping your skin ultra-moisturized is key to prevent any more sagging.
postbiotic body lotion, mindbodygreen ($30)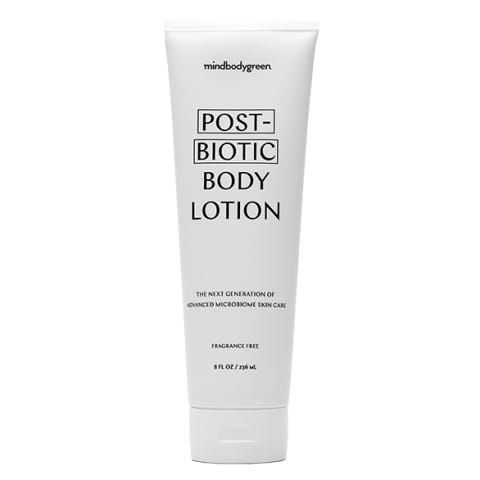 mindbodygreen
OSEA Anti-Aging Body Balm
This silky serum-lotion hybrid contains Alaria seaweed, a powerful humectant loaded with antioxidants to help improve skin appearance. In fact, when used topically, algae has been found to be a better humectant1 than hyaluronic acid! For even more moisture, the formula calls on coconut oil and safflower seed oil, and it exudes an invigorating jasmine and geranium scent.
Anti-Aging Body Balm, OSEA ($48)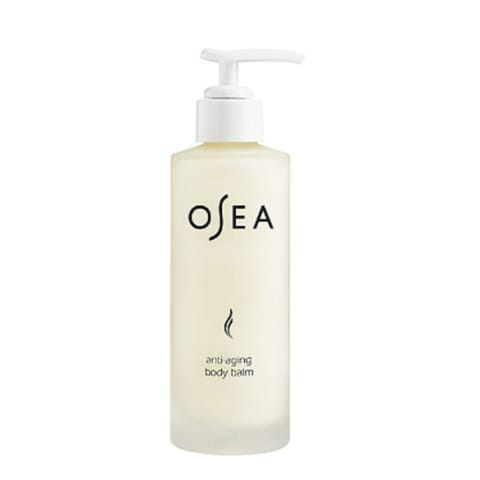 OSEA
Juice Beauty Green Apple Firming Body Moisturizer
With an apple, grape, and aloe juice base, this lotion is quite literally a cool beverage for your skin. It has a nice and thick texture, too, so you know it's packed with moisturizing players—shea butter, jojoba oil, and sunflower oil, to be exact—but it absorbs easily and feels super lightweight.
Green Apple Firming Body Moisturizer, Juice Beauty ($20)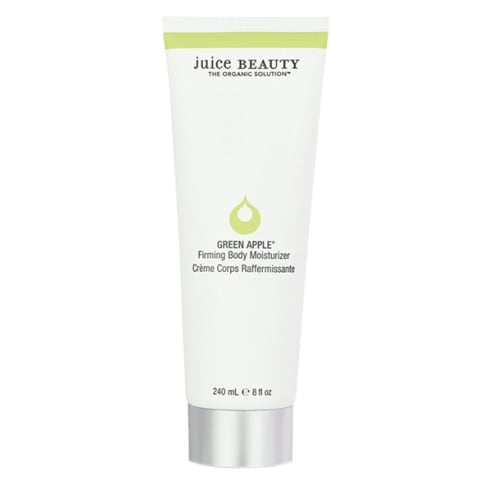 Juice Beauty
African Botanics Svelte Cream
A few rich botanicals make this firming cream a star for crepey skin: There's milk thistle, which has antioxidant abilities that can help protect against free-radical damage; there's caffeine, which constricts blood vessels and can lead to a brighter, "tighter" appearance; there's willow bark extract, a natural cousin of the BHA salicylic acid, that can exfoliate and promote turnover; and, finally, there's niacinamide to even tone.
Svelte Cream, African Botanics ($160)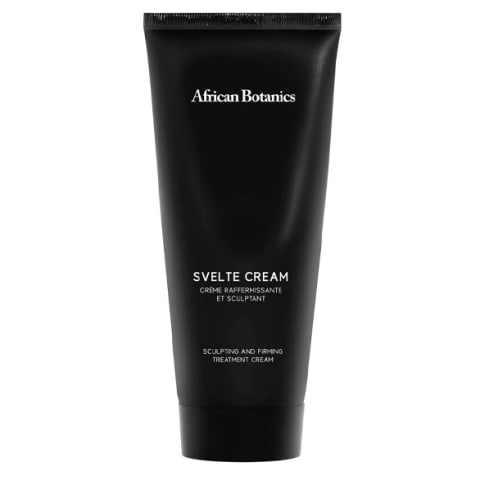 African Botanics
Drunk Elephant T.L.C. Glycolic Body Lotion
This body lotion features glycolic acid plus tartaric, lactic, and citric acids (that's why it's called T.L.C.), which quickly resurface uneven skin texture—for me, it even leaves a slight tingle upon application. Glycolic acid is especially helpful for skin elasticity, as research has shown that six months of topical glycolic acid stimulated a 27% increase in epidermal thickness2. It's not all about the AHAs, though: This formula also calls on shea and marula butters to nourish dry, flaky skin.
T.L.C. Glycolic Body Lotion, Drunk Elephant ($25)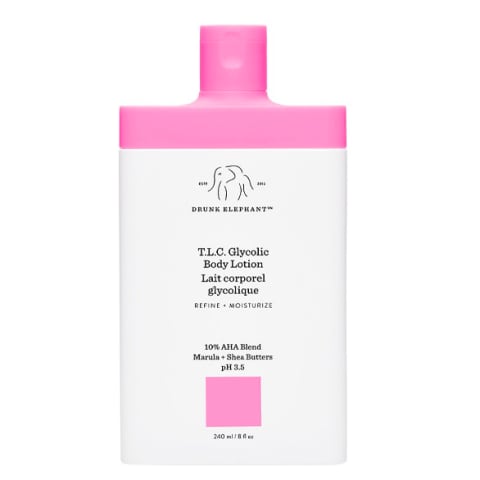 Drunk Elephant
Augustinus Bader The Body Cream
There's a reason this cult-favorite product has so many rave reviews: It all boils down to the brand's signature Trigger Factor Complex (TFC8), composed of amino acids, vitamins, and synthesized molecules naturally found in the skin. It then delivers those nutrients directly to the skin cells, which aids in cellular regeneration. Translation: It gives the skin cells exactly what they love so they can focus on repair. To wrap it all up, the cream also contains shea butter and bisabolol for even more antioxidants and moisture.
The Body Cream, Augustinus Bader ($180)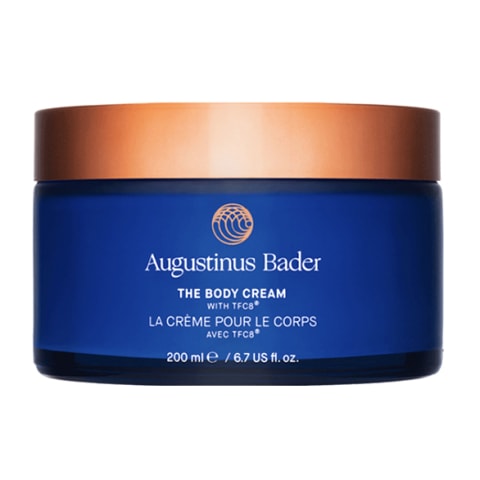 Augustinus Bader
Clarins Extra-Firming Body Lotion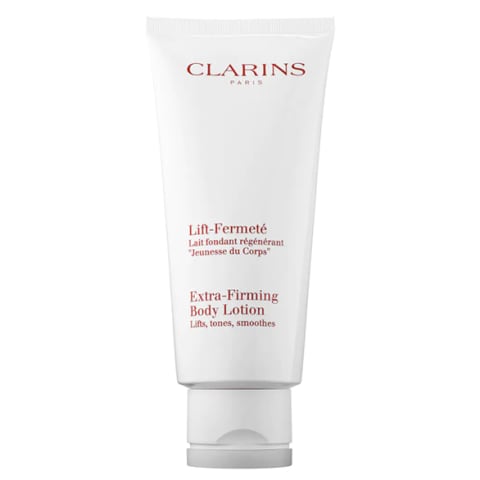 Clarins
Skinfix Resurface+ AHA Renewing Body Cream
A blend of AHAs and willow bark extract (again, that's the natural version of salicylic acid), this lotion gently buffs the skin while coating it with comforting shea butter, aloe, and grapeseed oil. The lime extract also offers a fresh, crisp scent, if you're one for some subtle fragrance.
Resurface+ AHA Renewing Body Cream, Skinfix ($48)
Skinfix
Josie Maran Whipped Argan Pro-Retinol Body Butter
Retinoids are beloved for stimulating cell turnover and collagen production, so, of course, we had to include a retinol-infused cream in this list. This body butter includes algae extract, a natural vitamin A ingredient that has similar cell turnover benefits and nourishes the skin with nutrients. Not to mention, it has quercetin, a powerful antioxidant, and 100% pure argan oil for a smooth, satin-like finish.
Whipped Argan Pro-Retinol Body Butter, Josie Maran ($46)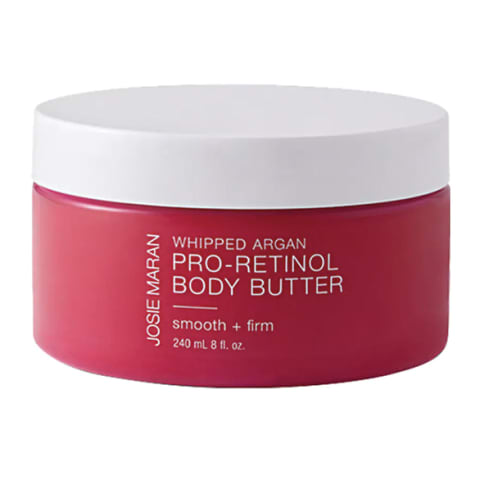 Josie Maran
Dr. Barbara Sturm Anti-Aging Body Cream
Most of the lotions on this list skew toward thick butter creams—if you're looking for an airy hydrator, this lightweight lotion is your best bet. It contains potent botanicals to target rejuvenation, like Indian almond and purslane extract, as well as lactic acid to lift dead skin and shea butter for moisture.
Anti-Aging Body Cream, Dr. Barbara Sturm ($95)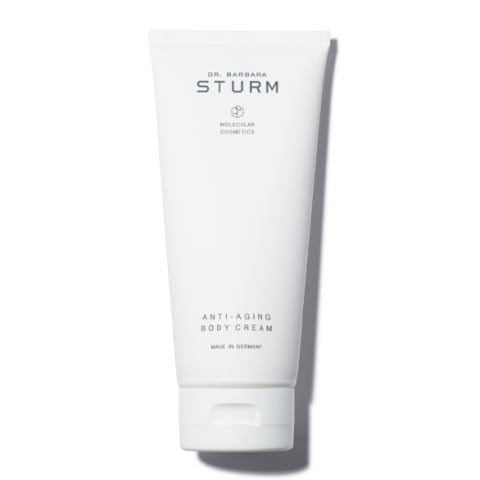 Dr. Barbara Sturm
Klairs Supple Preparation All-Over Lotion
Another lightweight number, this velvety lotion comes laced with shea butter, ceramides, and jojoba oil to leave your skin—you guessed it!—oh-so supple. Bonus: Use it as a conditioner, too, for silky strands.
Supple Preparation All-Over Lotion, Klairs ($34.50)
Klairs
Glow Recipe Watermelon Glow AHA Pink Dream Body Cream
Yes, watermelon seed butter is a thing, made from ground white watermelon seeds (similar to tahini). It has a creamy texture that's the perfect antioxidant-rich base for this pink goop, and it's infused with natural hibiscus AHAs and hyaluronic acid to plump the skin with hydration.
Watermelon Glow AHA Pink Dream Body Cream, Glow Recipe ($28)
Glow Recipe
mbg's review process
At mbg, high standards are earned—and there are no shortcuts. Our beauty editors stay up to date on the latest ingredient research and innovation. It's a dynamic, continuously evolving space, and it's important we look into the science so we can make informed choices about which formulas earn our stamp of approval (figuratively speaking).
Our high standards also come from testing products—many, many products. Our editors and writers rigorously test and research the products featured in our roundups to offer you the best, most informed recommendations. When we write reviews, you can trust we spend quality time with the formulas: We don't simply rave about products we've slathered on the back of our hand. We endorse products we've tried and loved.
Learn more about our testing process and clean beauty standards here.
Advertisement
This ad is displayed using third party content and we do not control its accessibility features.