The Difference Between Wet & Dry Skin Oils, Explained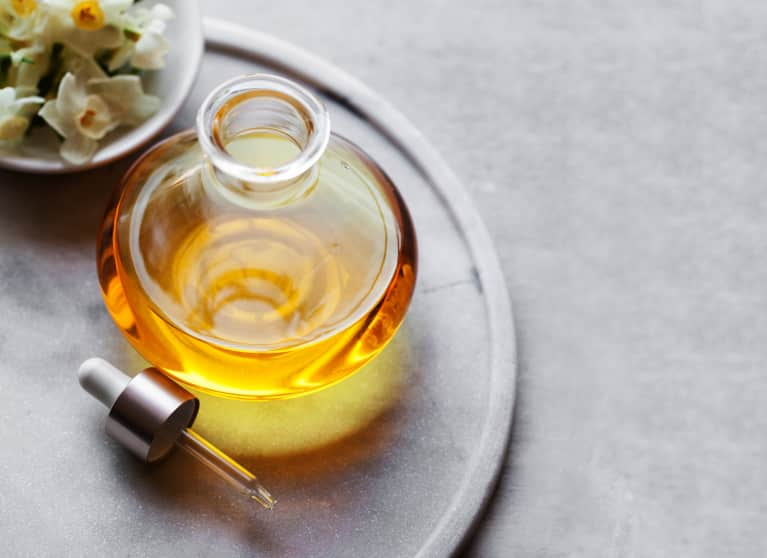 It may seem like a strange concept today, but using oil in daily skin regimens was once considered a faux-pas! Now, oil reigns as one of the greenest beauty ingredients. Oil cleansing, face oils, and of course essential oils are trending. As more clean beauty products hit the market, you might notice some oils that are marketed as "dry," particularly for body oils. Here's what that really means.
Have you recently seen a luxe product labeled "dry oil"? Dry oils have been popping up everywhere, and if you need some clarification about this oxymoron, you're not alone. How could something liquid, wet, and moisturizing also be dry? What's the difference between wet and dry oils? And most importantly, are wet and dry oils meaningful distinctions that prove to be more than just a passing fad?
For the sake of transparency, let's begin by stating that dry oil is somewhat of a misnomer because the term refers to the rate at which oil absorbs into the skin. While the term is rather new, the concept has been around for ages. Many herbalists, aromatherapists, and product formulators refer to dry oils as lightweight and quick-absorbing oils used in skin and hair care. Unfortunately, there is no hard-and-fast classification for which oils are defined as dry. But there's general consensus among beauty experts that they are high in polyunsaturated fatty acids, namely linoleic, and encompass vegetable, seed, and herbal oils.
Some of the most popular dry oils are avocado, borage, rosehip seed, squalene, evening primrose, sesame, grapeseed, safflower, camelina, and sunflower. You might be thinking—all of these oils are foreign to me! How can I layer them into my skin care routine? Dry oils are great go-to's for regular facial skin care, body moisturizing, cuticle and nail TLC, and taming frizz and pesky flyaway hairs. While these dry oils are still classified as traditional carrier oils, they won't leave a sticky feeling on the surface of your skin. In fact, after a few minutes of applying dry oil on damp skin, you won't even realize that you applied an oil—it sinks in.
How are dry oils different from wet oils?
When you think of oil, it's likely that you picture wet oils. Wet oils are heavy on the skin and are slow to absorb. They are occlusive and often linger on top of the skin, like massage oil. A major benefit of wet oils is their role in reducing transepidermal water loss, which makes them perfect for cracked, dehydrated skin (hello, winter!) that's generally prone to dryness. Some common wet oils are neem, coconut, castor, jojoba, tamanu, baobab, sweet almond, hemp seed oil, and apricot kernel. Conventionally, these heavier oils have been the base of many body oil and water-based product formulations. Due to their thicker, emollient nature, these dependable wet oils often boast a longer, more stable shelf life.
Wet oils take their time penetrating the dermis, which classifies them as wonderful humectants that are great for relieving itchiness and chronic dryness. Unsurprisingly, that makes them great candidates for treating eczema and inflamed skin conditions, like psoriasis and more general manifestations of atopic dermatitis. Because wet oils take a longer time to absorb into skin, I recommend including them in DIY formulations for those who shower or bathe in the evening and are looking for better moisture retention throughout the night. And while you may find yourself identifying with one camp of oils more than the other, the truth is that many products on the market (even those labeled "dry oil") include a combination of both wet and dry oils for maximum therapeutic benefit.
Here's exactly how to use dry and wet oils effectively.
If you're interested in bringing more oils into your life, experiment with what works for you. There is not one oil protocol that's effective for all skin types and goals. For example, I know some people who swear by a dry oil instead of traditional moisturizer and body lotion. For me, I prefer some wet, occlusive oils in the winter months, especially around my knees and elbows and on days when I'm slacking on drinking enough water.
Love using face oils? Here's how to make your makeup stay when you use face oils.