The Future Of Clean Beauty: Here Are The 6 Biggest Trends For 2021
mbg Beauty Director
By Alexandra Engler
mbg Beauty Director
Alexandra Engler is the beauty director at mindbodygreen and host of the beauty podcast Clean Beauty School. Previously, she's held beauty roles at Harper's Bazaar, Marie Claire, SELF, and Cosmopolitan; her byline has appeared in Esquire, Sports Illustrated, and Allure.com.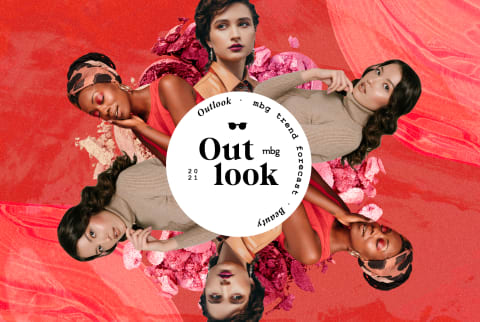 Graphic by mbg creative / Contributor
December 15, 2020
We carefully vet all products and services featured on mindbodygreen using our
commerce guidelines.
Our selections are never influenced by the commissions earned from our links.
Here at mindbodygreen, we've never thought that haircare, skin care, body care, or makeup was superficial. We always believed that we are drawn to our routines and rituals because they help sustain us, they help us care for our bodies as a whole, and they provide us an emotional release (be it the frivolity of a playful makeup look, the means of control over a nighttime routine, or a moment of pampering during times of stress). That never felt more relevant than this year.
In fact, this belief was strengthened, deepened, and widened. At a time when the trappings of beauty seemed worthless (Who's going to see me anyway? So many of us collectively wondered), the opposite happened: Our interest in the core principles of skin care, haircare, and makeup exploded. When I think about the content that particularly resonated with you, dear readers, it was the stories that allowed you to take beauty into your own hands.
At least for me, this year was the year that beauty became truly about what made me happy and healthy. And I suspect that's the case for so many of you, too: I see it when I chat with sources and experts, when I look at comments on our social media channels, when I see what stories garner "clicks," and when I take a step back and look at the market writ large.
So when I think about what lessons we'll carry with us into the new year? I'm exceedingly hopeful and inspired. Here's to a beautiful 2021.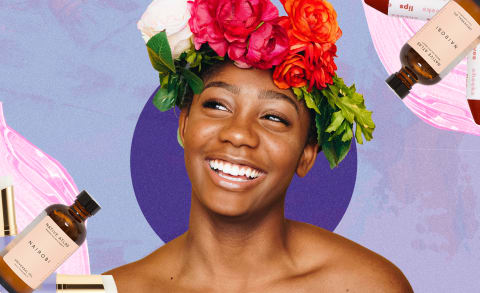 Graphic by mbg creative x Autumn Goodman / Unsplash
The end of more—how we got back to basics.
No longer do we care about beauty for the sake of beauty: Now, it's beauty for the sake of you. And while people may be spending more time on their beauty routines—given we're at home more—it's a different sort of time spent. It's time relishing in your body, learning it, playing with your DIY masks and tonics, and coming out with a better understanding of what works for you. And through this intimate reconnection with the skin, hopefully, we are all coming to understand just how powerful the organ really is.
"Getting back to basics means trusting the skin," says licensed esthetician Hayley Wood, founder of Therapeutic Skin Coaching. "When we overcomplicate our routines and practices, we stop believing in the skin's ability to self-heal and communicate with us because we are giving it too much to process all the time. Clients have long relied on consistent treatments and too many products to keep up with the pace of their lives. Having to be forced to slow down, the need for so much started to fade."
Pause and think about it: Before 2020, how often would you really take time to think and process your skin's unique needs? How often did you just do your routine because it's what you thought you should be doing?
"I think that more than anything, the pandemic has forced us all to slow way down; to take a step back from ourselves—and our 'self-centric' points of view—and made us seriously evaluate what's really important to us. At home and on lockdown, the pandemic has stripped us of our typical armor, be it heels, designer clothing, or so on, and made us really focus on our health," says board-certified dermatologist Raechele Cochran Gathers, M.D. "Also, we've begun to really grasp the idea that health is beauty. Beautiful skin and beautiful hair come from the health within."
But it's not that if you edit your skin care routine to under three steps, you're suddenly doing it right—or dare you go over and you've somehow passed the threshold into indulgence. It's about thinking critically about what your skin actually needs and being content with that.
"I think we each need to do what really works best for us. Some of us are minimalists, and a two-step routine is enough. But for others, it might be beneficial to have a lavish, multistep—almost ritualistic—kind of beauty routine, and that's OK, too," says Cochran Gathers. "As long as your routine is clean, benefits your skin and body, and does you no harm, I say go with what makes you happy."
Turbulence, uncertainty, and difficult milestones were the defining characteristics of 2020, so it should come as no surprise that the things we did decide to purchase or use were products that felt like the opposite. In fact, McKinsey & Company did a thorough deep of the beauty industry in the midst of the pandemic and found that while beauty sales overall were declining, categories and products that were seen as "self-care" (body care, certain skin care categories, and the like) ended up seeing a substantial market share increase.
It's also been a time for people to rethink the types of ingredients they are putting on their skin. As Cochran Gathers tells us, it's time to start asking hard questions of your formulas, if you haven't already: "Really look at your beauty routine: Is it clean? Are the products that you're putting on your skin and in your hair potentially harmful? Are your products adding to your overall health?"
And anecdotally, the launches, brands, and products people resonated with the most were those that were thoughtful, formulated with intention and integrity, and often multifunctional. Axiology's Lid-to-Lip Balmies were a ravenous hit upon launch: Consumers and beauty reports alike adored them for their three-in-one usage (lips, cheeks, and eyes) and rich colors. But they were so much more than that, too. The sticks are formulated with a nourishing blend of oils and antioxidants such as elderberry, hemp, and plum oil. And perhaps their biggest draw: They are a zero-waste product. It's a product that hits, truly, all the marks. Native Atlas' collection of oils are formulated so they can be used on your face, body, and hair—and are so sensorially pleasing there's no reason you wouldn't want to. Tatcha's The Serum Stick became this beauty editor's instant favorites when it launched earlier this year: The dense, pressed serum slicks on freshly washed skin, as a touch-up hydrator throughout the day, an under-eye balm, a subtle yet glossy highlighter, cuticle cream, oh how the list goes on.
So, sure, this is how we felt in 2020. But how does this play out in the new year and beyond? Well, here's the thing about self-knowledge: Once you are more in tune with yourself and aware of your unique needs, you simply don't want to go back. "If we go into a routine without asking ourselves if and how it's of service to us, we could be silencing some major signals our body is communicating to us through our skin," says Wood. "Treating the skin is not that different from just listening to our needs."
The best in beauty: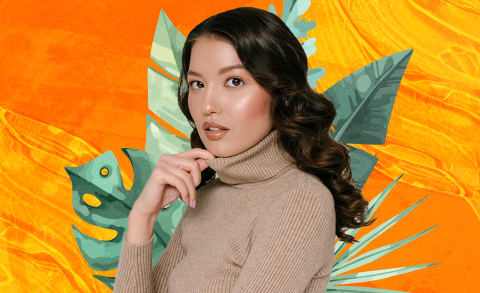 Graphic by mbg creative x JULIE MEME / Stocksy
Welcome to the age of recycling transparency.
Ready for an understatement? Recycling beauty products is quite the challenging affair. Many bottles have intricate parts that require stringent tossing guidelines or some that simply cannot be recycled at all—think metal springs in pumps, embedded mirrors, and the like.
And yet, for years, the beauty industry simply slapped on a recycling stamp and called it a day. (The less you knew about what happened after you tossed the bottle, the better.) As a result, products hurled in the recycling bin likely still end up in landfill, and we remain on a merry-go-round of "wish cycling"—discarding empties with the truest intentions but lacking the proper information to make long-lasting change.
This year, though, we've seen a major shift—namely, consumers are getting smarter about where their beauty bottles end up, hoping to bestow an afterlife on every empty, and brands are paying close attention.
So, why the shift? As clean beauty becomes even more widespread, consumers and brands begin to realize that "clean" doesn't stop inside the bottle. If sustainable, natural beauty wants to make the difference it says it does, it needs to pay attention to more than the formula.
It's something clean beauty retailer, Credo, is currently addressing head-on. While sustainability has always been part of the Credo Clean Standard, director of environmental and social responsibility Mia Davis says most of the conversation has sidled up to ingredients—the goop inside the bottle, if you will: "We knew we were going to move this 'clean' definition and system over to packaging. We were just tackling one thing at a time."
Ready to make the next leap, Credo launched its new Sustainable Packaging Guidelines for all their brand partners this summer. This four-phase system approaches much of what this new era of recycling transparency is all about—everything from eliminating single-use masks and wipes to introducing refillable formats and clear, robust disposal instructions. Of course, the retailer's in-house foundation line, Exa, follows Credo's strict sustainability criteria, as it's housed in recyclable glass and a 100% post-consumer waste box, with clear, easy instructions to dispose of etched on the label.
Like many trends bubbling out of 2020, this shift has also been colored by COVID-19. "Something as simple as forgoing the to-go cup of coffee on the morning commute to work has shown people that their daily choices do make a difference," Davis says. Research has even reported a decline in air pollution, due to extreme changes in human behavior amid the pandemic1. In this lull of air and light pollution, some people are able to stargaze for the first time since, well, their entire lives. In other words, as people changed their everyday patterns, they started to realize that, yes, they can make a difference at the individual level—it only makes sense consumers are more concerned where their own beauty bottles go once the final squelch of product leaves their palms.
In comes Kinship, the Gen-Z–inspired beauty brand that actually collects ocean waste plastics (OWP) and converts them into new, raw materials. On each candy-colored bottle, you'll see clearly identified ingredients, as well as the packaging's details—and on the website, they provide clear instructions on how to recycle. The brand also adds an interactive feature for consumers—you can scan the QR code on each jar with your phone, and it'll tell you the exact coordinates the plastic was sourced from. "We wanted to take it a step further from just using OWP—we also wanted to be able to tell a powerful story," Kinship co-founder and president Alison Haljun tells mbg at the time of launch.
Here's another chapter folded into the story: We're also seeing a greater shift away from traditional plastic packaging to biodegradable materials. BYBI, a London-based brand that launched stateside this year, uses sugar-cane scraps from the food industry and transforms them into their primary packaging. "Sugar cane is amazing at absorbing carbon from the atmosphere," Elsie Rutterford, co-founder of the brand, shares. "It has very strong absorbent powers, so the entire process of making that material is offset by the actual absorbing of the emissions." The brand is no stranger to upcycling (you'll find discarded strawberry and blueberry seeds from the juicing industry in their cult-favorite Boosters), but they apply that same system over to packaging as well. "The aim is for most of the range to be in sugar cane, as long as the product functionality suits it," she adds. True to the trend, you'll also find robust disposal instructions on their website, so you can correctly recycle the biodegradable plastics (because, no, you can't just pop it into your compost and expect it to disappear).
With this much-needed wave of transparent recycling instructions, brands are also upfront about the sticky challenges in the industry. Some companies simply don't have the funds or the crew to adopt cutting-edge, sustainable materials—but they're finding other ways to close the loop on consumption. Nordstrom, for example, introduced a partnership with TerraCycle this year to make it easier for beauty lovers to recycle any empty from any brand. With this new program (called BeautyCycle), consumers can drop off their bottles in a marked BeautyCycle bin, which will then be safely taken to an appropriate recycling brand via TerraCycle. Credo also has its own recycling program with the nonprofit: Recycle a full-size empty in-store and receive 10 points toward your next buy.
Brands will also tell you when recycling just won't work, despite your best intentions, in order to help save time and energy at the municipal level—Exa's foundation cap, for example, is too tiny to be recycled. "Discard in trash," the instructions read.
It's not a perfect science—the industry still has a ways to go—but for now, it's far better than chucking the entire contraption into the blue bin and hoping for the best. —Jamie Schneider
The best in beauty: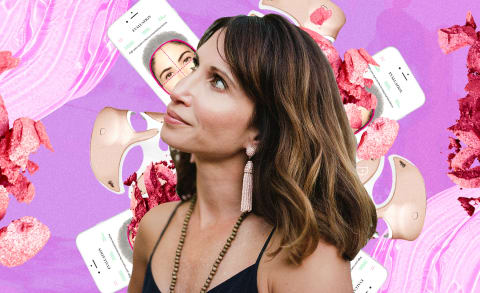 Graphic by mbg creative x Jakob Lagerstedt / Stocksy
High-tech at-home beauty: Technology at your service & on your terms.
When the world stopped, so much of our lives and habits changed overnight: We saw this in massive waves and tiny ripples. It was true of all areas of our lives, beauty included. Some changes were small—we stretched the time between shampoos and used less of our mascara—others felt larger—we became our own groomers, manicurists, facialists, colorists, and shopping consultants.
Quickly, brands understood that the way we connected with beauty had shifted—we had become more thoughtful, resourceful, and more engaged with what we were using. But we were also more isolated, missing our appointments with those who tend to our hair, skin, makeup, and nails. And with this overnight change, many beauty brands stepped up and made at-home beauty resources that are impressively high-tech and interactive.
Within just over one month of the start of the pandemic, "do-it-yourself beauty" saw a massive boom in market reports: While sales in other areas of beauty fell, these products saw a significant increase in year-over-year purchases. But it wasn't just that: the role of safe, yet effective, ways to shop became paramount as people no longer felt comfortable to go and test, swatch, or meet with their normal beauty experts. The same report noted above found that "direct-to-consumer e-commerce, such as brands' websites, shoppable social-media platforms, and marketplaces becoming more important. Across the globe, consumers indicate they are likely to increase their online engagement and spending." Unsurprisingly, too, those inclined to shop online were of the younger generations: Gen Zers were twice as likely to shop for makeup online versus their Boomer counterparts, and they were 2.3 times as likely to shop for skin care. (Clearly, at the very least, this aspect of the at-home beauty trend is here for good).
But that didn't mean the consumer was opting out of an interactive beauty experience. People still crave connection with their fellow enthusiasts—as well as guidance from others, be it from beauty-loving friends or bonafide experts. And brands quickly delivered methods that delivered both.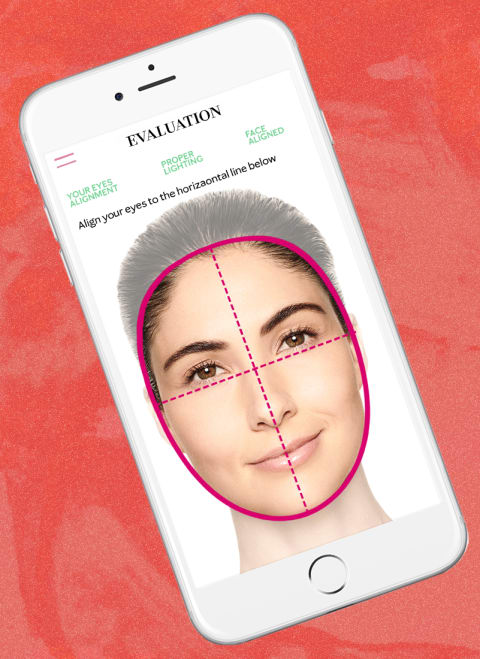 Graphic by Mary Kay / Contributor
Take, for example, Mary Kay's Skin Analyzer app. Simply download the app on your smartphone, scan your face, and send the results to your go-to Mary Kay Independent Beauty Consultant (if you don't have one already, they'll set you up with one in your area). Your consultant will guide you through your scan results and help create a curated skin care regimen. The app evaluates your skin based on a variety of characteristics, too, (skin type, texture, under eye color and appearance, and more), so your unique needs are thoroughly assessed—just like you might if you are having the session in person, if not more. Once your Independent Beauty Consultant helps design your personalized regimen, she will work with you to determine a safe delivery that meets your needs—whether that's contactless drop-off right at your front door, shipment, or coordinating a pick-up time that is best for you.
But at-home beauty rituals came in several other forms, too. Brand took our collective obsession with Zoom and video calls for a spin, hosting lessons and classes. In the midst of quarantine and shutdowns, brands experimented with interactive sessions—like, for example, New York–based nail care brand sundays, which hosted virtual nail art appointments, in which one of their artists would guide the class through fun designs. Currently, you can buy their full manicure kit—making it easier for us to tend to our tips on our own or between appointments. Content creators (ourselves included) conducted digital masterclasses with experts from around the world. This meant that people, who would otherwise never have access to these top specialists, could learn from the best. Technology, at its finest, means accessibility no matter your circumstances.
Then, there were the skin devices that simply took off: Dr. Dennis Gross DRx SpectraLite FaceWare Pro. It may have come with a hefty price tag, but many justified the cost, as it would be replacing spa appointments for at least the near future. In fact, pro-level facial tools of all kinds saw massive growth: Skin care fridges saw an uptick of over 200%, facial steamers saw a 70% increase in sales, and face sculptures saw 33% in sales growth.
All in all, one thing I notice time and again still holds true here: Beauty's core values don't shift, but how they present themselves do. That's fairly evident here: We still want the same things out of our beauty experiences, and technology has simply made some of those things more accessible (especially now): the things you love most about shared beauty rituals, right in your own home and in your hands.
The best in beauty: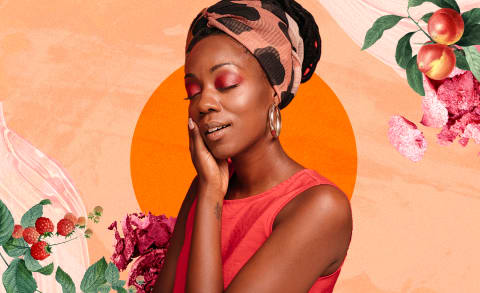 Graphic by mbg creative x Ani Dimi / Stocksy
The almighty dollar: Consumers care where their money goes.
Where and how you spend your money matters: It's a concept called "purchasing power," and it was certainly a buzzy phrase this year. Of course, this isn't new. Consumers have long understood—albeit, to varying degrees—that the businesses they buy from have some sort of a broader impact.
For example, what night cream you get and from whom affects more than just your skin: It's the difference between that money going back into the local community versus going to some unknown conglomerate; it can mean encouraging sustainability efforts over adding to our current waste and climate crisis; or it can mean fostering a robust beauty space, filled with brand founders that look like our diverse populous writ large.
With every dollar, a choice.
This year it became paramount that you use your dollars wisely. A pandemic-inflicted economy has meant so many of us had to cut back on what we buy, often down to only the essentials. Given this, businesses—particularly minority-owned, reports note—have taken a massive hit. And then, layered with this years' swell of collective social consciousness that helped ignite the conversation about diverse representation in beauty on all fronts (including what brands and founders typically get promoted and invested in), came a flurry of initiatives aimed to uplift businesses you can feel good about buying from.
"Being a conscientious consumer, in general, is really important. Every time I spend money, I'm deciding what I invest in. So if I say I believe in Black women entrepreneurs, if I say I believe in not supporting child labor, if I say I believe in making sure that things are ethically sourced, then the question is: Would the way I spend my money also reflect those same belief systems?" Kristian Henderson, DrPH, professor of public health at George Washington University and the founder of BLK+GRN, previously told us about conscious spending. "I also see that investment beyond the product I'm purchasing. Not only do you get the product, but you're investing in someone else's dreams. I bring our artisans to our events. Oftentimes, they'll bring their children, and it really puts a face on it. You see how it's building this family."
It's never been more vital to put money back into the community—especially when shopping online at big retailers is just so convenient. A recent report found that in the first COVID surge, small businesses lost a reported 40% of revenue—even more upsetting, 40% of small businesses closed nationwide. And these closures disproportionately affect minority-owned businesses: Another recent poll found that two in three (66%) minority small businesses are concerned about having to permanently close their business versus 57% for nonminority small businesses.
However, surveys conducted over the last year show that people want to and are willing to spend their money at places that align with their values. An impressive 82% of responders in one survey said they'd be willing to pay more when shopping at local businesses.
"Education and transparency are such important parts of this. Founders may be afraid to be honest about all the hard work that goes into their brands, but it's part of the story, part of 'the why,' and helps shoppers understand what's actually behind the price tag," says Lisa Nicole Rosado, founder of We Are Women Owned (WAWO), a sisterhood destination dedicated to creating opportunities for women-owned businesses through events, digital platforms, social media, and more. "When you dive into it, small businesses really stretch their dollar: So their product costs $50, it may be because the materials are the highest quality, sustainably sourced, manufactured ethically, and their employees are often paid fairly. And people are willing to pay for that when they know that their money is being put to good use."
And while platforms like BLK+GRN and WAWO are helping create visibility, Rosado notes she can't do it alone: We need big retailers to step up too. Because ultimately, consumers can't "spend wiser" if they don't have access to these smaller companies.
"Uplifting Black-owned and minority-owned businesses is important for so many reasons: It's the right thing to do on a human level, but it helps retail companies and platforms serve their customer base better. So these small businesses get a visibility boost, and the retailers get to home in on the needs of their consumers. It's a win-win and better for everyone in the long run," she says. "We shouldn't have had to make these changes, but I'm glad we're doing it, and I have faith we're moving in the right direction."
This is why the 15% Pledge—created by Aurora James, founder of Brother Vellies, a luxury accessories line handcrafted from global artisans—felt so much like a watershed moment in retail. It was a tangible, effective, and thoughtful way to hold Big Beauty accountable by asking this simple question: Would you commit to allocating 15% of your shelf space to Black-owned brands? First, there was retail giant Sephora, then Macy's, Bluemercury, Bloomingdale's, and more. From there, other retail platforms made it easier to shop for brands you align with, creating easy-to-navigate stickers (like Targets' Black-Owned & Founded stamp and WAWO's various callouts, such as "LGBTQ-owned") or sections (like Credo's highlighted BIPOC brands).
But if 2020 was characterized by playing catch-up—realizing just how short beauty fell in this regard—let 2021 be about fostering and encouraging growth.
Priscilla Jiminian, the founder of the new natural brand Skinergy Beauty, launched the skin care brand this year. Being Afro-Latina and a major skin care fan, she says she often struggled with finding beauty products that catered to her.
"Women of color over-index in the beauty category and spend considerably more. Retailers are much more aware that POC have significant buying power and how much value there is in that," says Jiminian. "It's easy to promise change, it's harder to put money into it. There are various ways to keep the momentum going by extending the opportunity to learn and shadow the experts in the beauty industry. By giving high-quality, smaller POC-owned brands the much-deserved shelf space in retail stores, they follow through with those pledges of inclusivity. Accountability goes far in the beauty industry, and it is vital in this day and age for larger companies to show continuous effort."
Ultimately, creating a flourishing beauty industry means encouraging brands created by, for, and in the service of all. In 2021 and beyond, let's foster a market that's as diverse and beautiful as its audience.
The best in beauty: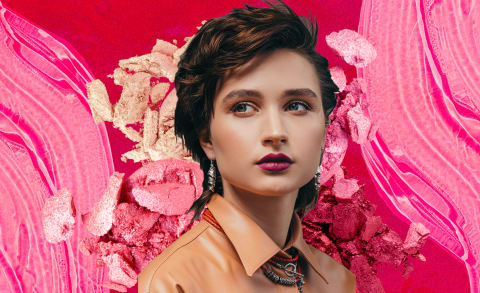 Graphic by mbg creative x LILIYA RODNIKOVA / Stocksy
In a time full of masks, it's all about the eyes.
When the pandemic hit, and we went into quarantine for an indefinite amount of time, so many of us wondered about the future of makeup. Some assumed we'd see a dramatic drop in interest—those who thought, Who wants to put on a full face of makeup for a room full of no one? Others pulled out their brushes and brightest palettes to turn their complexions into craft projects and means of inspiration—the people who thought, This isn't for you; this is for me.
No, makeup didn't fade away, not in the least, but the market did change. In 2021, it's all eyes on eye products.
"No doubt people are experimenting more with eye makeup looks," says Katey Denno, Credo lead makeup artist. And you can likely guess the reason why: masks. While vital for our health, and the health of those around us, masks do little in the way of showing off a bold lip. So for those who do love playing with makeup, the focus moved north a few inches.
Don't take our word for it, take the markets': Eye products saw a sales increase of 204% by the summer, with little indication that people's makeup interests will change going into the new year. This all comes in stark contrast to lipsticks and lip product sales: According to the NPD Group, lipstick sales "tanked over the last six months."
In fact, these sales upended a little market phenomenon called "The Lipstick Index." The theory—coined by Leonard Lauder after Sept. 11—notes that in times of financial uncertainty or social unrest, people cut back on big-ticket spending. They'll put off major money decisions like buying a car, moving, or going on a vacation. Or they'll even cut back on things like dining out, memberships, or entertainment like concerts or movies. Essentially, they'll trim, trim, trim away until they feel their budget is more stable.
However, there is an exception to this spending rule. Often, during financial crises, we actually see a small sales uptick in what Lauder called "affordable luxuries" like, you know, lipstick. These are safe, small financial expenditures that could make you feel as if things were normal, made you feel beautiful, or just gave you the briefest of escapes during otherwise turbulent times.
Well, we may have turned away from lipstick for practical reasons—but doesn't a thick new mascara, smooth liner, or extra velvety shadow sound oh-so-good? "Honestly, more than ever I'm looking to makeup to give me that boost," says celebrity makeup artist Gucci Westman, founder of Westman Atelier. "A good mascara or a set of eyeshadows feels like a really good little indulgence right now. Super-black, volumized lashes can really brighten up your whole face, too."
And just because focusing on eye makeup is practical in a broader sense, it doesn't mean the looks themselves need to be. "Eye looks are all the rage, and makeup lovers are using this time to experiment with the amazing looks: bold wings, blocks of color, soft shimmery washes with an unexpected intensely colored line drawn on," says Denno. "Anything goes, as long as it complements your mask."
And while we don't want to shame a bold lip, there are simply more variables with eye looks, from colors and textures to gradients and shapes. "It's good to switch things up and try out a new look. There's a lot more fun to be had with eye makeup too–you can do a little smudgy, un-done smoky eye, a soft wash of pretty metallics around the eye, a glossy eye," says Westman. "The options are limitless!"
The best in beauty: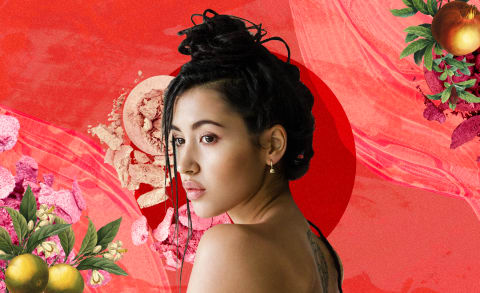 Graphic by mbg creative x Federica Giacomazzi / Stocksy
Scalp care becomes less clinical.
A few years ago, it seemed that overnight the beauty industry awoke to the science of the scalp. A true light-bulb moment: With a sudden jolt, we realized the scalp is part of the skin, and it needs to be treated as such. Just like that, brands and publications alike started declaring "scalp care as the new skin care" and started pushing increased focus on the area—think masks, serums, and scrubs gracing retail shelves, ready to baby the scalp before the first flake falls.
Fast-forward to 2020, and it seems we've reached the next iteration of this scalp-focused boom. Only this time, we're having fun with it: According to Mintel's 2020 Year of Innovation in Haircare report, 34% of U.S. haircare product users have tried or are interested in scalp care products—and they're not talking about the cold, clinical-looking items reserved for in-office visits. No, they want products just as playful, pretty, and fun as their hair- and skin care counterparts. Well past the point that "scalp care is skin care," consumers expect so much more from the products themselves.
In other words, we've got function down to a T. Now, we're focusing on form.
Take Sunday Riley, for example. The brand leaped into haircare this year with their Clean Rinse clarifying scalp serum, and just like their beloved skin care products, this serum is certainly easy on the eye—likened to a silky, "shimmering golden goo" and encased in a petal pink container (a nod to the formula's rose clay, which gently pulls impurities from the scalp). Drunk Elephant also made an official foray into haircare this year: Now, flakes and buildup aren't met with a pungent shampoo and a shudder—rather, a wealth of opportunity as you scan their scalp care offerings nestled among a lineup of neon-and-white bottles.
Playful aesthetics aside, this new scalp-care market seems to dance on all the senses. Innersense Organic Beauty, a haircare brand through and through, launched their very own scalp scrub this year; in addition to the dreamy packaging, brand founder Greg Starkman says the scrub invites consumers to create "an experience of self-love in and of itself." The entire scrubbing experience is tactile and invigorating, he tells mbg, "from the wide-open tub that invites you to 'scoop' the scrub with your fingertips to the soothing pink hue that comes from Hawaiian red salt and volcanic clay and minerals. A touch of peppermint oil ignites the senses, too. It's an incredibly self-connecting self-care experience." It still communicates the healthy scalp, healthy hair mantra, in an enjoyable, engaging manner that causes the consumer to look within. As Starkman follows, "It couldn't be a clinical conversation. It had to be an emotional one."
This idea of "sensorial self-care" perhaps has legs in the looming pandemic as well. In fact, a survey conducted by The Harris Poll on behalf of the Samueli Integrative Health Programs found that 80% of participants vowed to practice self-care regularly once the pandemic is over. Now, the definition of "self-care" can vary depending on the individual (we believe self-care is whatever helps you connect with yourself, and it doesn't require dropping any coin), but it seems many beauty fans are using scalp care to pamper their skin: Consumer trend analysts at Spate noted that U.S. interest for scalp scrubs grew 40.1% since last year. They presume that since many are spending ample time at home during COVID-19, consumers may also have more time to dive into their routines than they ever had before. So why not throw an extra step—say, a scalp scrub—into the rotation? "New routines provide an opportunity for brands to reinvent an experience as mundane as the shower," the report reads.
And with these new, spiffy launches, the shower is far from boring. —Jamie Schneider
Alexandra Engler
mbg Beauty Director
Alexandra Engler is the beauty director at mindbodygreen and host of the beauty podcast Clean Beauty School. Previously, she's held beauty roles at Harper's Bazaar, Marie Claire, SELF, and Cosmopolitan; her byline has appeared in Esquire, Sports Illustrated, and Allure.com. In her current role, she covers all the latest trends in the clean and natural beauty space, as well as lifestyle topics, such as travel. She received her journalism degree from Marquette University, graduating first in the department. She lives in Brooklyn, New York.