5 Ways To Ring In The New Year More Mindfully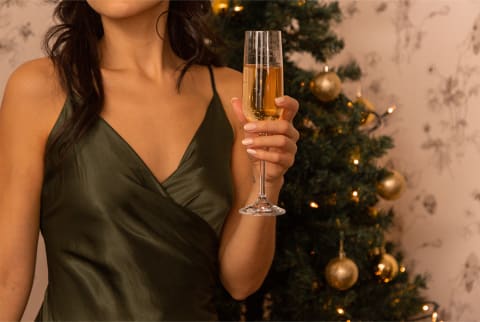 Image by Seedlip / Contributor
December 26, 2021
We carefully vet all products and services featured on mindbodygreen using our
commerce guidelines.
Our selections are never influenced by the commissions earned from our links.
With 2022 quickly approaching, it's a good time to start thinking about the changes you want to make in the year ahead. How you choose to spend the hours leading up to the strike of midnight can set the tone for the rest of the year. Whether your New Year's Eve plans involve comfy pajamas and a big bowl of popcorn or a party with all of your friends, taking actions to celebrate more mindfully can have a ripple effect for the months that follow.
Here are five ways to jump into 2022 feeling present, confident, and determined to make it your best and healthiest year yet:
Let go of the past.
For many of us, 2021 felt like an extension of 2020. But the beginning of a new year marks the opportunity to start fresh. That means letting go of the things that are holding you back. Performing a release ritual is a great way to rid yourself of the baggage you don't want to bring into 2022. This can be a physical ritual, or it can be done mentally as a visualization.
My personal favorite is the burning bowl ritual. You start by writing down all the things you want to release onto a piece of paper. Next, find a safe place to light a fire in a pot or bowl (this can also be done in a fireplace). As you toss your paper into the fire and watch your words turn to smoke, visualize your unwanted thoughts being released up into the universe.
Set goals for what you want to manifest in your life.
The law of attraction is a universal principle that suggests setting clear intentions can help to manifest your dreams into reality. While you may already have your goals for 2022 thought out, choosing a manifestation method to physically put your intentions out into the world will take the process to the next level.
Manifestation journals are great because they encourage writing as a way to guide and focus your energy. Putting your wishes down on paper is like creating a written record of what you want to attract in 2022. For the right-brained folk, vision boards can be a fun way to do the same exercise but by actually visualizing your goals using tangible imagery.
Wake up clearheaded.
While New Year's Eve may arguably be one of the booziest holidays of the year, New Year's Day can be one of the most miserable—hello headache, nausea, and hangxiety. But if you're looking to wake up on Jan. 1 feeling fresh, healthy, and ready to tackle the year ahead, you may want to rethink your alcohol intake the night before.
Try setting a drink limit ahead of time or plan on going the nonalcoholic route by enjoying cocktails with nonalcoholic spirits, such as Seedlip. There's no reason an alcohol-free or alcohol-light night has to mean going empty-handed. Check out the recipes below for some festive and delicious nonalcoholic inspo:
Prepare healthy snacks ahead of time. 
Even if you're not personally hosting the party, contributing food is always appreciated. Arriving with hors d'oeuvres or bites not only earns you Brownie points with the host, but it also gives you a healthy option to fall back on if the spread at the party makes your stomach lurch. Waking up with an IBS flare-up is no way to spend the first day of a new year.
While it doesn't hurt to indulge a little, it's important to listen to your body and do what you need to do to make it to 2022 feeling good. Here are some of our favorite snack recipes for a healthier NYE soiree:
Spend New Year's Eve doing something that brings you joy.
Entering January with a smile on your face sets the stage for a positive year ahead. Whether you spend the night breaking it down on the dance floor or huddled around a game with your BFFs, just make sure you're ringing in the new year with good vibes.
And if you find yourself at a party or gathering you're not particularly thrilled to be at, try to find the one person who makes you laugh. Research1 shows that laughing not only brings on feelings of joy and relaxation, but it can also increase psychological well-being2.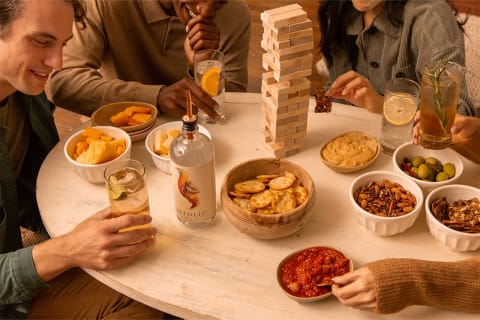 Image by Seedlip / Contributor
To health, wealth, and happiness!
While New Year's Eve can be a fun way to let loose, consider approaching the end of this year with a bit of intention. Making an effort to think through your final hours of 2021 can help to jump-start new habits in 2022. Ringing in the New Year with the awareness of how you want to live your life in the months to come is a great way to start the next chapter.

Ryan Brady
Ryan Brady is a Freelance Writer at mindbodygreen. She received her B.A. in Visual Arts from Yale University and her M.A. in Clinical Psychology with concentration in Spirituality and Mind-Body Practice, from Columbia University.
Ryan is passionate about holistic health, fitness, and spiritually-centered living. She loves using her knowledge and personal experience to help others improve their well-being. She brings this passion to her writing, as well as to her work at the wellness centers she owns in Atlanta, GA. When she's not working, Ryan can be found traveling, spoiling her dog, or experimenting with gluten free, dairy free baking.