These Bite-Size Vegan Cheesecakes Are Perfect For Entertaining (And They're Not Packed With Sugar)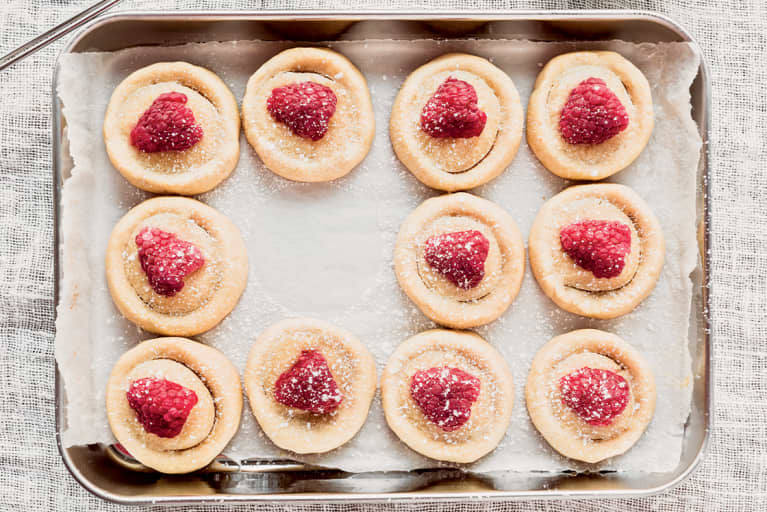 Our editors have independently chosen the products listed on this page. If you purchase something mentioned in this article, we may
earn a small commission
.
Looking for a better-for-you dessert for this festive season? This dessert pairs two classics—cookies and cheesecake—into a bite-size vegan sweet that's perfect for a party or just a cozy holiday at home.
From Fantastic Vegan Cookies by Tiina Strandberg, these treats use a combination of cashews, lemon juice, and maple syrup to create a filling that's reminiscent of a classic cheesecake. Then, they're topped with another popular flavor: raspberries. "This recipe was inspired by the first cheesecake I ate in New York over 10 years ago," writes Strandberg. "Before that I had never paired cheesecake with raspberries, although I knew it was a classic combination."
Naturally sweetening both the cookie and the filling with just a bit of maple syrup helps keep them healthier than other holiday cookie options, and means that the final product isn't overly sugary in taste. (If you want them to be a bit sweeter, Strandberg recommends dusting them with powdered sugar.)
"You can also enjoy these cookies with fresh strawberries or raspberry jam or strawberry jam if you don't have raspberries," she adds. Our suggestion: Make the simple cookie and filling, and then top them with a few different options—that way, there's something for everyone's tastes.
Raspberry Cheesecake Cookies 
½ cup (70 g) cashews
3 tbsp (45 ml) lemon juice
½ tsp lemon zest or the zest of 1 lemon
3 tbsp (45 ml) water
2 tbsp (30 ml) maple syrup
1 cup (125 g) all-purpose flour
¼ tsp salt
⅓ cup (75 g) vegan butter, softened
3 tbsp (45 ml) maple syrup
½ tsp vanilla extract
14 fresh raspberries
Soak the cashews in just-boiled water for 15 minutes. Drain and rinse them well.
Preheat the oven to 350°F (180°C). Line a baking sheet with parchment paper.
In a blender, blend the soaked cashews together with the lemon juice, lemon zest, water and maple syrup until you have a smooth and creamy mixture. You might need to scrape the mixture down from the edges when blending to get everything smooth.
To make the cookies, in a bowl, whisk together the flour and salt. Add the vegan butter, maple syrup and vanilla extract and combine either with a wooden spoon, a spatula or with your hands into a smooth dough.
Take 1 tablespoon (16 g) of the dough and roll it into a ball. Flatten it on the parchment paper and shape the cookie dough into a mini pie with edges. Fill the cookie with cashew cream, about 2 teaspoons (10 ml) per cookie.
Repeat until you have all the cookies on the parchment paper. Bake the cookies in the oven for 15 minutes, or until the cashew cream is solid.
Let the cookies cool on the parchment paper for 10 minutes before moving them onto a cooling rack.
Place a fresh raspberry on each cookie. Store the cookies in an airtight container in the refrigerator for up to 3 days.
Reprinted with permission from Fantastic Vegan Cookies by Tiina Strandberg, Page Street Publishing Co. © 2021. Photo credit: Tiina Strandberg.