Hosting A Holiday Dinner? Here Are The 7 RD-Approved Recipes You Need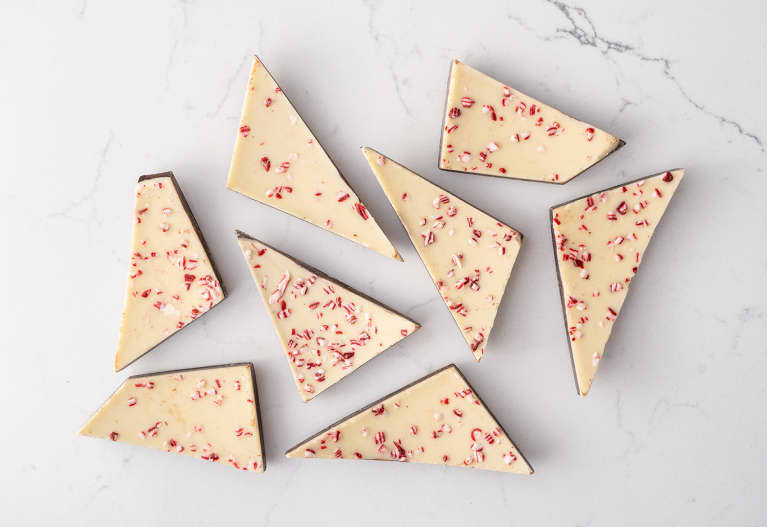 The holidays get a bad rap when it comes to food. Sure, they are filled with cookies and cocktails, but let's not forget the bonding, celebrating, and laughter that come out of these meals as well. As a registered dietitian, this time of year means I spend a lot of time coaching clients on how to navigate the holidays healthfully.
So, let's talk healthy holiday hosting. From apps to dessert, here's every recipe you need to serve up a delicious meal that keeps spirits bright, not bloated.
Appetizer: Bacon Brussels Sprout Skewers
Ingredients:
2 lbs. Brussel sprouts, halved
Sea salt and pepper
12 to 15 slices organic bacon
Method:
Preheat oven to 400°F.
On a medium wooden skewer, skewer four Brussels sprouts and season with black pepper.
Skewer the bottom of one bacon strip and wrap around each skewer.
Skewer the bacon at the top again.
Roast 20 to 25 minutes, until Brussels sprouts are tender and bacon is slightly charred. Serve immediately.
Main Dish: Roasted Chicken
I'm all for low-effort, high-flavor cooking when it comes to satisfying a crowd. That is why a whole roasted chicken is my go-to recipe and makes most people happy. And with this 30-minute hands-on hack, you can cook it and leave it, which means more time to gather gifts and set the table!
Ingredients:
One 5-pound chicken
1 lemon, halved
1 garlic clove, halved
Herbs (I use rosemary and sage)
Olive oil
Salt and pepper
Method:
Preheat oven to 450°F.
Stuff chicken with lemon, garlic, and herbs.
Brush the outside skin of the chicken with olive oil and sprinkle generously with salt and pepper.
Place in a cast-iron skillet and roast for 30 minutes.
Turn off the oven and leave the bird in for at least 30 more minutes and up to 2 hours.
Remove, cool, serve.
I am all about winter squash these days, more specifically the adorable and tiny honey nut squash found at most markets today. These cuties cook up real fast, and you can even eat the skin (let's hear it for added fiber!). I simply slice them in half, drizzle with coconut oil, and sprinkle with sea salt, cinnamon, and honey. Then bake at 350°F for about 20 to 25 minutes. Not only does this add a burst of color to your plate, but the vitamin A will support your eyes, skin, and immunity all winter long. A delicious side that makes everyone happy but leaves the starches to a minimum, which means more room for dessert!
I always serve a green, but when prepping for a party, I hate for my greens to get soggy. That's why I stick to broccoli, a hearty green veggie that most people love! I roast the florets and stems in avocado oil, sea salt, pepper, and red pepper flakes until brown and crispy. Just before serving, I squeeze some fresh lime over the top and serve fresh cilantro and sliced scallions. Take it to the next level and add dukkah for a grain-free crunch everyone can get into!
Ingredients:
¾ cup hazelnuts
¼ cup sesame seeds
2 tablespoons coriander seeds
2 tablespoons cumin seeds
1 teaspoon whole black peppercorns
1 teaspoon kosher salt
Method:
In a small skillet over medium heat, toast hazelnuts for 2 minutes.
Add sesame seeds, coriander seeds, and cumin seeds.
Continue to toast for 2 to 4 minutes, or until the seeds are fragrant.
Transfer the mixture to a mini food processor, along with the peppercorns and salt.
Pulse until coarsely chopped.
The dukkah can be used immediately or stored in an airtight container in a cool place for up to 1 week.
My favorite festive recommendation is to simply enjoy Champagne and to add some extra antioxidants via floating berries (I like blueberries and raspberries; garnish with mint); this comes in at under 100 calories per flute; you can't beat that.
If Champagne isn't your thing, then I recommend going a bit spicy. My favorite, shall we say, "harder" cocktail is vodka on the rocks with a dash of hot sauce and a toothpick of gourmet olives. Yes, you read that right, and don't knock it till you've tried it. Olives provide heart-healthy fat and keep your appetite in check and your heart healthy! Not to mention the colors here are totally on point!
Dessert: Mixed Chocolate Bark
Keep it simple for dessert and stick to a good old favorite: chocolate. Dark chocolate bark is delicious and contains fiber, minimal sugar, and just enough sweetness to help you close out the night without revisiting the dessert table more often than planned. As an added treat, I mix my dark chocolate with some white chocolate.
Ingredients:
2 cups dark chocolate chips
1 tablespoon refined coconut oil
8 oz. white chocolate bar
Maldon sea salt for sprinkling
Method:
Melt the dark chocolate in the microwave in 30-second intervals until fully melted.
Stir in 1 tablespoon of coconut oil.
Pour the dark chocolate onto a baking sheet lined with parchment paper and spread it out into a rectangle with a spatula until ⅛ inch thick.
Melt the white chocolate the same way as the dark (note it will take less time).
Transfer the white chocolate into a little baggie and cut off one corner.
Make spirals with the white chocolate on top of the dark chocolate. Small circles or large ones. Then, take a toothpick and draw lines from the top of the chocolate through the bottom to create a napoleon type design.
Sprinkle with sea salt and place in the fridge or freezer to chill for a few hours.
Remove, cut into squares or chunks, and enjoy! Store extras in the fridge to prevent melting.
Want to turn your passion for wellbeing into a fulfilling career? Become a Certified Health Coach! Learn more here.