Calling All Modern Mystics: These Decks Will Be Your New Best Friends
Our editors have independently chosen the products listed on this page. If you purchase something mentioned in this article, we may
earn a small commission
.
Last updated on February 10, 2020
With roots in European Renaissance, tarot cards have been celebrated for their potent insights on the past, present, and future over centuries. While originally used as lighthearted playing cards, they garnered a more occult following when popularized by French mystics in the 1800s.
Today, people around the world call on tarot and oracle cards, which are less traditional in structure, for everything from divine guidance to lighthearted forecasting of what's to come. While traditional decks like the World War II-era Raider-Waite collection and Doreen Virtue's mystical packs are still popular, new crops of cards are starting to appeal to the modern soul searcher. Here are a few that we're currently obsessing over.
Our favorite new tarot decks of the year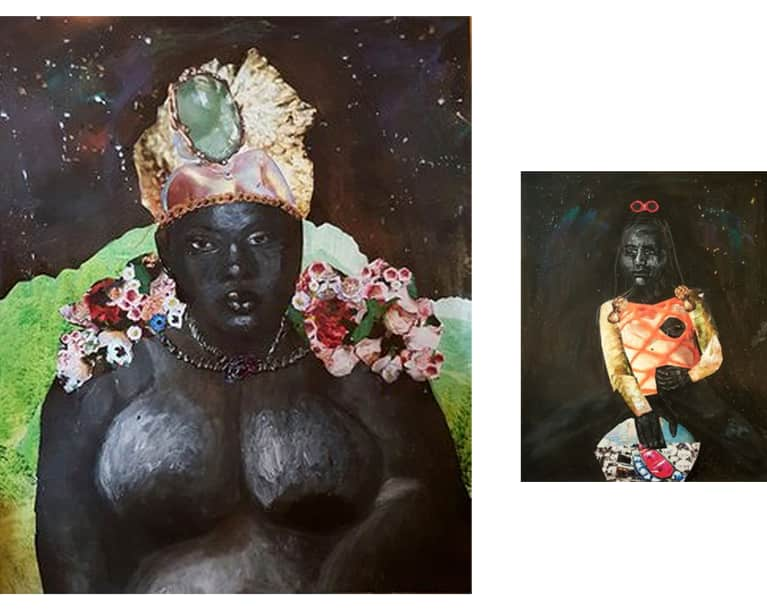 After struggling to fully connect with traditional decks, Courtney Alexander was inspired to create her own version that spoke to her as a woman of color. "Traditional Rider-Waite and Aquarian decks fell short for me when it came to the connections I wanted to make with spirit and ancestors," she explains. "It was difficult to do that seeing a spread of white faces." The resulting deck is truly a work of art, presenting rich portraits of figures exuding light thought clouds of darkness. Alexander describes it as deeply ancestral, powerful, and communal. She hopes that those who decide to work with them feel this sense of loving, protecting community within every card.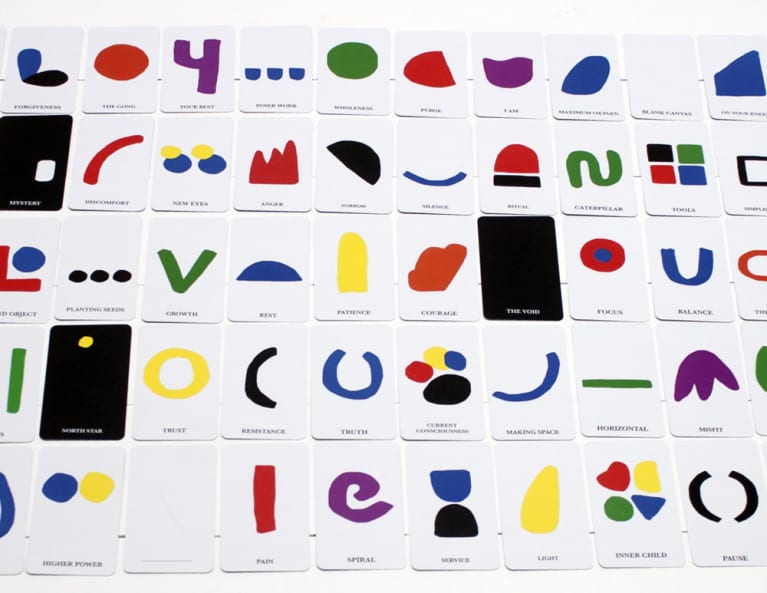 This playful deck is perfect for oracle newbies looking to dip their toes in a bit of magic. Its colorful, abstract visuals accompany simple words and phrases that will resonate with anyone. "It is a good deck for taking a few quiet moments every day to check in with yourself and your emotions, acknowledge where you are, and decide how you want to move forward and grow," says creator Rachel Lieberman. Pull the heart card with its bold red color block? Maybe you should carve out some time to catch up with friends and family that day. Get the geometric inner child card? What a perfect excuse to bust out that adult coloring book and scribble and scratch away.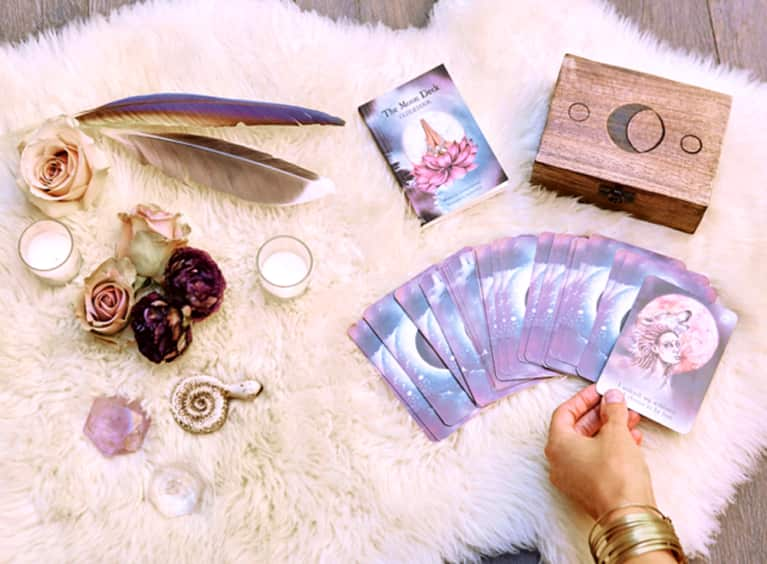 This gorgeous deck features powerful mantras and watercolor imagery that speaks to strength, femininity, and mysticism. Each card has a corresponding ritual that will help you unlock your inner strength and intuition. "It shares insights on growth, purpose, transformation, practice, and creativity—with freedom for personal exploration," explains creator Aarona Lea Pichinson. "The Moon Deck can be worked with in a similar format to tarot, as an oracle guide, or as a daily tool for reflection and meditation." Bonus: the entire set is eco-printed on recycled paper using plant-based ink.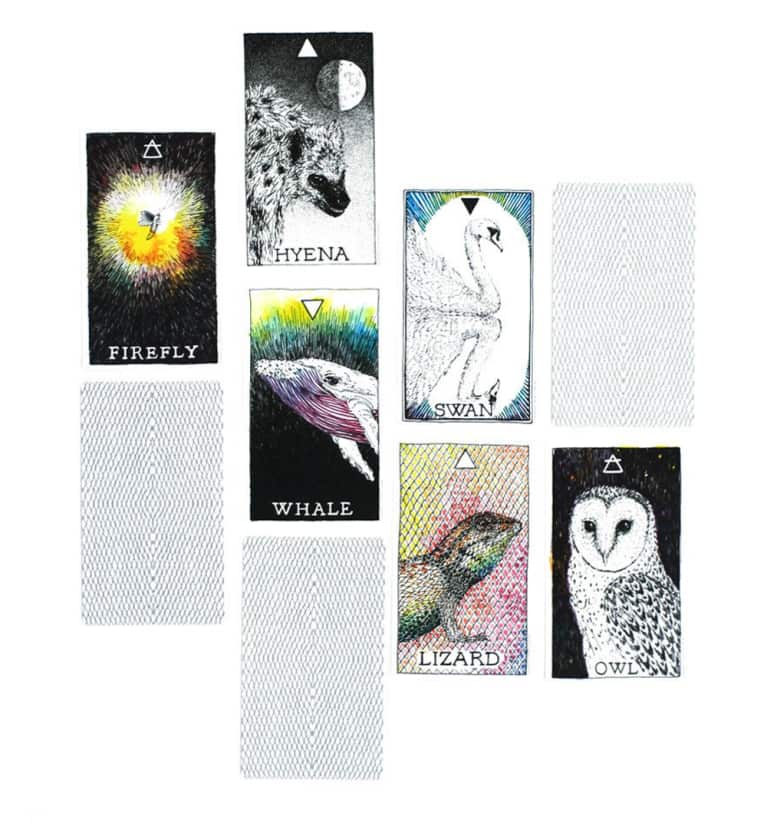 You may recognize this deck from walks through New Age shops, mystical stores, or your local urban outfitters. The piercing yellow eye on the box cover has become a ubiquitous symbol of modern mysticism. A follow-up to her first deck, The Wild Unknown, the Animal Spirit collection is Kim Krans' reflection of earth's ecosystem, with each card depicting a different animal. "Earth's creatures have been inspiring humans since the beginning of time. Animals make us think beyond ourselves and remember the greater mysteries of life," she says. "I wanted to create a deck that could honor and tap into this natural power."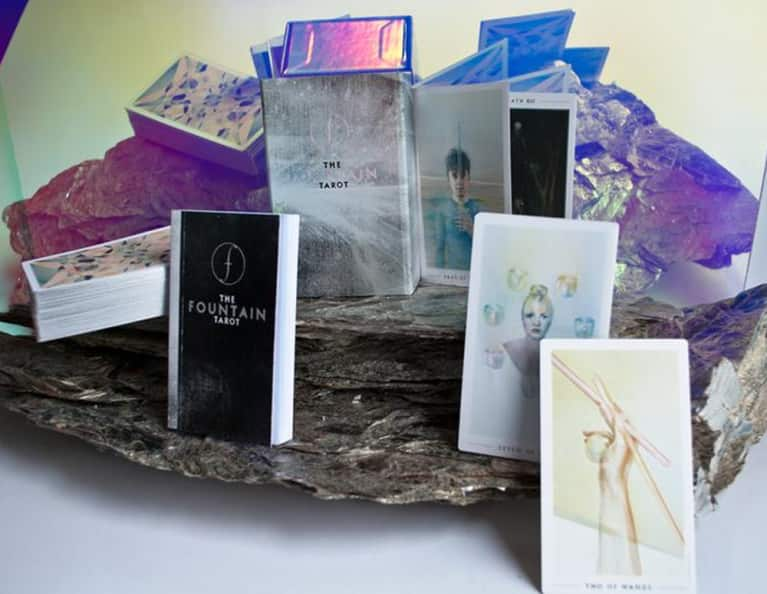 The team of artists behind Fountain Tarot set out to create a new, fresh approach to tarot that still pays homage to its traditional roots. The result is 79 cards of pure magic. They combine vibrant imagery, filters, and shapes into a tool for self-discovery.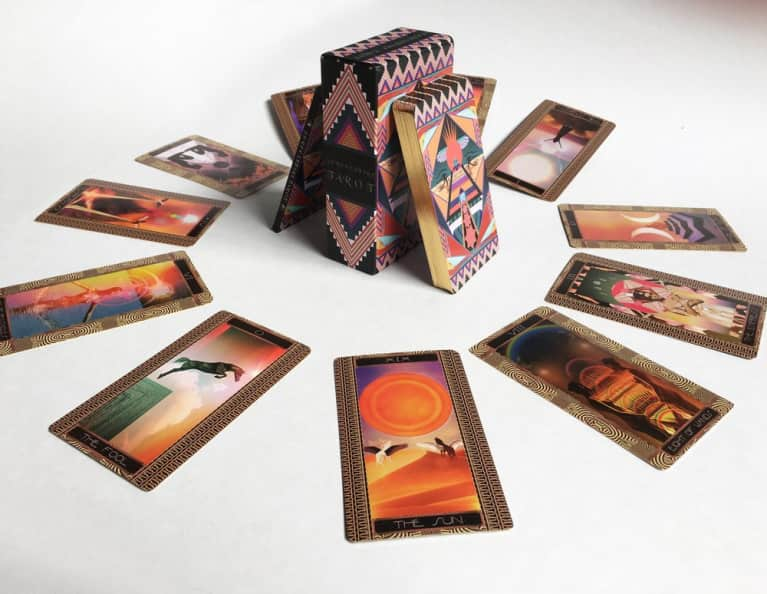 This tribal, Art Deco deck is unlike any other. Rooted in Ancient Egyptian folklore, its cards depict the divine feminine as she journeys through the desert toward enlightenment. Devany Wolfe's custom spreads encourage people to use her cards to interpret their dreams and dive deep into their past experiences.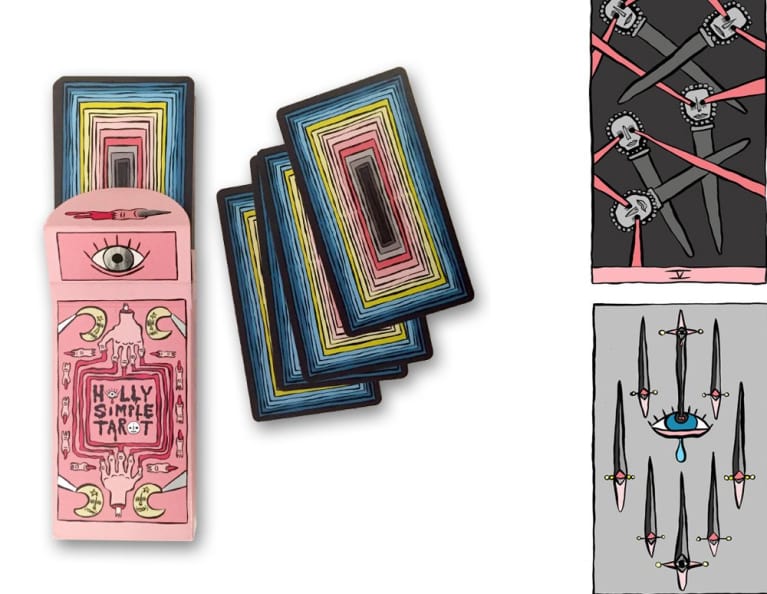 "The spark of inspiration happened immediately after my first tarot reading," explains Holly Simple, the Brooklyn-based artist behind this namesake deck. "I connected with the cards both visually and spiritually and was launched into the creation of my deck. I'm a cartoonist and illustrator, so it was important to me to combine my dark but playful zine-like style with traditional symbolism for each card." A beginner herself, Simple's deck is perfect for people who are just getting started, with its intuitive visuals and corresponding guidebook on the research and sketches that went into it.
Once you find a deck that resonates, you'll be able to use it in countless ways. It can be as basic as pulling a card that answers one of your questions about the day ahead or as intricate as pulling a multicard spread that speaks to your past, present, and future. We love this quick ritual from Courtney Alexander of Dust II Onyx that will help you extract the full power of your cards, however you opt to use them:
Start with a short meditation. Take a card, sit with it, then imagine being pulled into its world. Allow the messenger to guide you. Once you receive your message, set an intention with whoever has led you. Then, burn a candle or create a crystal grid to seal that intention. Most importantly, show your thanks by giving an offering of your choice. (I like to burn joss paper money, considered the currency of the afterlife, with a message written to them.)