Find The Perfect Natural Face Cleanser For Your Skin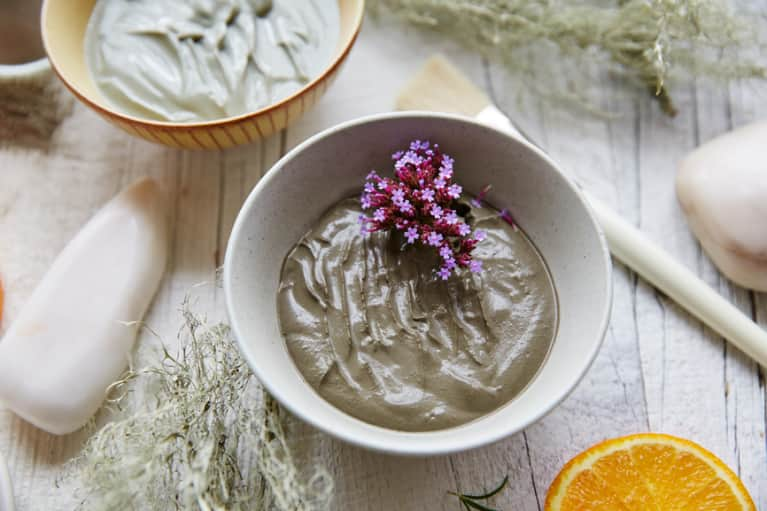 My name is Lola and I am a cleanser-holic.
This love I have for cleansers verges on obsession, and I view cleaning my face not just as a regular habit but a solemn duty. In fact, if I had to come up with a phrase for my beauty blogger tombstone, it would read, "She Always Washed Her Face."
Our faces, particularly for those of us who live in cities, are exposed to a daily assault of environmental toxins, free radicals, pollution, and sundry airborne nasties. Ick factor aside, these are the very things that cause inflammation, breakouts, and premature aging. Things get even more dire when you add in makeup, because even the cleanest, healthiest products aren't meant to be slept in. If you do sleep in them, it's like welcoming congested pores, lackluster skin, and, once again, premature aging with open arms.
All that can be fixed by washing your face. Doing it in the morning is nice to help get rid of the night's sweat, product residue, and dead skin cells with gentle cleansers that refresh (not strip) the skin. But if you have extra-sensitive skin, it may be overkill. That evening cleanse is more important, and it's imperative that you use the right product—and use it correctly. The world of green beauty is filled with a dizzying variety of cleanser types, so it's tough to know how to pick the right one. But fear not! I am here to help you find your cleanser soul mate.
When you first drank the green beauty Kool-Aid, you probably learned that foaming cleansers contain nasty ingredients like SLS that strip and dry the skin. Of course, things are quite different when you're talking about clean foaming cleansers. Brands like One Love Organics, Ursa Major, and Osmia Organics all have gentle foaming cleansers free of SLS and their derivatives and will leave your skin clean without stripping. If you have an exceptionally dry complexion, though, don't make these your go-tos since they tend to be more drying than oils, balms, and creams. All you other skin types, though, can use these babies as an excellent, convenient, and—bonus!—affordable option.
For many green beauty converts, cleansing with oil was the first earth-shattering aha moment in our skin care journey. The notion may seem absurd, especially for those with oily skin, but it's actually ideal for removing makeup, and many conventional brands have a mixture of water-based ingredients and lipid ones—aka oils. Because oils are similar in composition to sebum, they also do a great job of dissolving grease and can even help diminish blackheads.
Balms work similarly to oils but are thicker and contain additional ingredients like waxes and butters. The "grippier" texture makes them ideal for facial massage (If you're not yet massaging your face, get started with this facial massage primer), and they make quick work of dissolving the most stubborn makeup. Some of my favorites, like De Mamiel Restorative Cleansing Balm or Oskia Perfect Cleanser, contain so many skin-perfecting ingredients that I often leave them on for a few minutes as a mask before washing.
Unfortunately, it's not as simple as choosing between a cleansing oil or balm. Does the product emulsify? If so, then it'll turn into a milky liquid with the addition of water and can, at least ostensibly, simply be rinsed off, whereas traditional ones need to be wiped with a washcloth soaked in hot water. And if you're a beauty product purist, it's important to know that the only way to get oils and balms to emulsify is by adding surfactants, which means it won't be 100 percent free of synthetic chemicals.
Speaking of ingredients, some products contain coconut oil, too, which can cause breakouts for those with acne-prone skin. That said, though, plenty of people actually swear by pure coconut oil as an ideal cleanser and makeup remover—just be sure to use virgin and, ideally, cold-pressed oil, which can also reduce your risk of a breakout.
Cream cleansers are probably the most traditional of the bunch, as they instantly bring to mind images of classic movie stars—or our own grandmothers—using one to remove their makeup. I grew up with my French-bred mother applying a few pumps of a cream cleanser on a cotton ball and wiping her face, which she continues to do to this day. But now there are a number of green beauty cream cleansers with advanced formulas and good-for-you ingredients, like Treate by In Fiore or Miracle Cleanser by Aurelia, that are convenient to use, gentle on skin, and suitable for most complexions. But be warned: Cream cleansers may not be a match for those who wear extra-heavy makeup, so save it for a day when you're going lighter on the products or even makeup-free.
I'm never sure whether to include scrubs as a cleanser category—they seem more like a treatment than a true cleanser. But there are plenty of exfoliating scrubs out there and, while not crucial to a well-rounded skin care arsenal, they can be quite useful. It's worth noting that some experts dislike physical exfoliation (the kind done by the scrubby particles in scrubs), as they find it to be ultimately damaging by causing microscopic tearing and inflammation in the skin. There really isn't a consensus on this, though, so use your best judgment when deciding whether to move forward with one.
Natural scrub cleansers are usually sold as powders that need to be mixed with water or gels, creams, and balms that contain exfoliating particles. No matter how you buy it, though, they all operate on a similar principle: In addition to removing surface pollutants, they polish off dead skin cells, assist the skin renewal process, and help clear congestion. But scrubs are not meant to remove makeup, especially since you shouldn't be using them on or around your eyes. And unless your skin is especially resilient, thick and über-congested, don't use scrubs on a daily basis. Think of them more as a treatment to be used a few times a week or as a midweek cleanse to keep your skin looking all sorts of fab.
This category is a bit of an umbrella for all those cleansers that do not fit into the more conventional categories above. I'm talking about products like Yuli Halcyon Cleanser, Josh Rosebrook's Moisturizing Cleanser, and La Bella Figura's Gentle Enzyme Cleanser, just to name a couple. All of these can be rinsed off with water, although they do not foam, and most claim to provide a gentle exfoliation by using honey or plant enzymes (though I'm not convinced that the few seconds it takes me to wash my face is enough time for any proper chemical exfoliation to occur). Of course, there's some argument as to whether these kinds of cleansers adequately remove makeup (some think they can't handle much beyond a light tinted moisturizer), but it's important to remember that cleansing and makeup removal are not the same thing. Sometimes a girl just needs a light cleanser to refresh the skin and remove sweat without aggravating anything. And they're great for ladies with oily skin, as they remove grease without stripping, and the gentle exfoliation can help with congestion without exacerbating acne.
Full disclosure: I consider micellar waters more of a makeup remover than a cleanser, but it's hard to deny their extreme convenience. Basically, it's, well, water with a mixture of mild surfactants and tiny oil bubbles that gently sweep away dirt and makeup. Micellar water is my favorite way to remove makeup, and though I wouldn't suggest making it your daily cleanser (it's not super eco-conscious since you have to use it with cotton balls), its extreme ease of use makes it ideal for those nights when you just can't be bothered. There aren't a lot of truly clean micellar waters out there, but Absolution and Melvita both make lovely ones.
So, there you have it. I bet you never thought someone could go on for so long about cleansers. Told you I was obsessed. Whatever cleanser you end up using, make sure you consider your skin's condition and your lifestyle. And if you want more detailed product reviews for different cleansers, check out my blog at TheHermesHippie.com.
*As a final note, I acknowledge that a lot of the individual product recommendations I make here come from niche brands that focus on sophisticated ingredients, cosmetic innovation, and elegant packaging, which also means that they can be prohibitively expensive. Thankfully, there are plenty of affordable cleanser options, and you can always go the DIY route. Whether you buy your products at Barneys or the local health food store, however, the general principles still apply across the price spectrum. And at the end of the day, there's only one thing that truly matters (you know what I'm going to say, don't you?): Wash your face!