A Miracle Serum For Dewy, Glowing, Clear Skin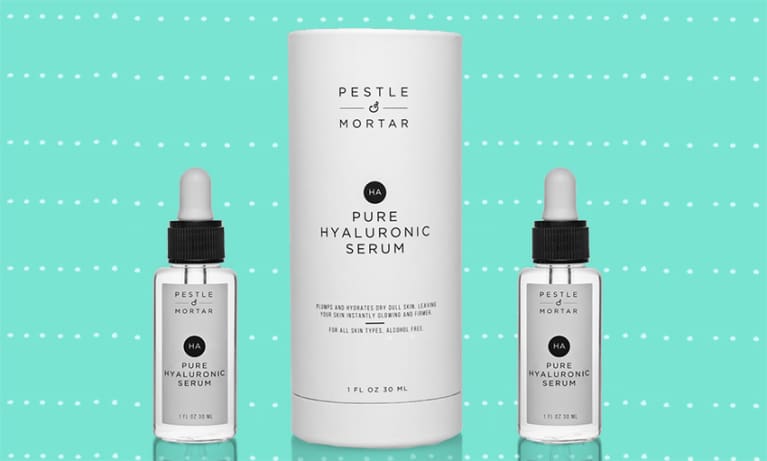 In this series, we'll spotlight one better-for-you-beauty-buy every week that not only does what it promises to do, but that also upholds the green, natural approach to beauty and skin care we value so much. Trust us when we say you can trust our beauty editor, Allie White — in her time here, she's tried upward of 400 different creams, sprays, serums, tonics, etc. These are her favorites.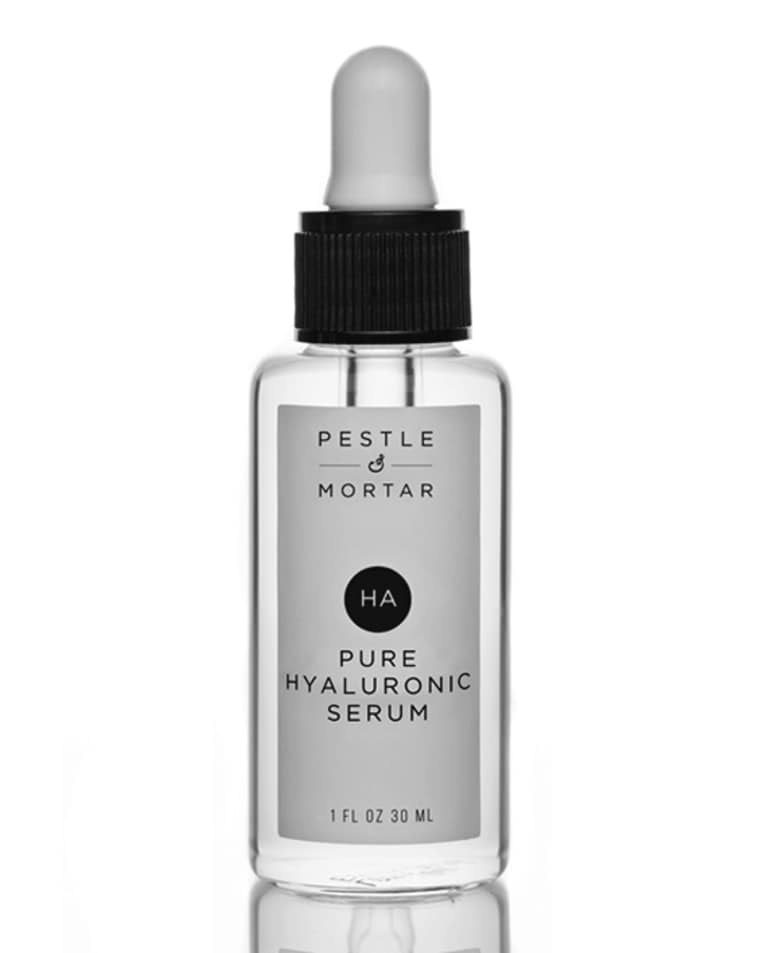 Despite the fact that we're only two weeks in, I'm going to go ahead and call it now: 2016 is the year of hyaluronic acid. Even the New York Times agrees, deeming this the "second coming" of the acid's popularity. (I don't remember the "first coming," but given that this stuff has been around for decades, I believe it happened.)
A product that's undoubtedly partly to thank for this resurgence in popularity? Pestle & Mortar's Pure Hyaluronic Serum, a light-as-air, paraben- and fragrance-free miracle serum that goes on easy, sinks in after about five seconds and leaves my skin softer, more hydrated and glowy-er than I've ever seen it.
In the grand scheme of beauty product life, this stuff is basically an infant, but it's already earned icon status in my book (and based on a quick Internet search, is fast approaching "cultish following" amongst my fellow beauty writers, green or not). People are obsessed, and I'm here to tell you that all the hype is well deserved.
Despite having been blessed with the oiliest of T-zones, the other, less-fortunate parts of my face suffer from dryness. No matter how well I section my face during mask time or the copious amounts of oil and moisturizer I ply my skin with, I've never been able to balance everything simultaneously, let alone with one product.
But then this little bottle of Irish magic showed up on my desk and my world (well, my face) was changed forever.
Part of my regular skin care routine now, two drops of this stuff on clean, toned skin (and under my oil/moisturizer combo) at night has cured me of the dreaded 2pm oil slick that used to take up residence on my face after lunch. Gone are the mornings I wake up to blotchiness on one side of my face and sallowness on the other. And now, the makeup that sometimes caked its way into undereye lines and smile lines stays put because my skin is so plumped up there are no crevices for it to fall into.
I don't know how it works, but by golly it does.
According to founder and former photographer Sonia Deasy, she wanted to create a product that would tackle dryness, aging and fine lines, and make skin look plump and luminous on camera and in real life. Combined with ingredients like vitamin E (which protects the skin's barrier), aloe (a moisturizing powerhouse) and cucumber extract (can you say "antioxidants"?), the hyaluronic acid is the greatest iteration of a skin care one-stop-shop I've ever experienced.
After faithfully using the serum every night for a month and seeing seriously amazing results, I accidentally skipped a night (I was really, really tired, ok?) and could absolutely see a negative difference in my skin the next day. If my newfound dewiness and smooth complexion weren't enough to convince me, this oversight certainly was and I can proudly say I haven't missed an application since.
And while some of you might balk at the $69 price tag, think about it in these terms: how much would you spend on several different products to achieve the same results as this single bottle? Makes a lot of sense, right?
Pestle & Mortar Pure Hyaluronic Serum, $69, pestleandmortarcosmetics.com
EWG Score: 2 - low hazard
Photo courtesy of Pestle and Mortar Cosmetics, Graphic by mbg creative.