This DIY Ice Pop Will Help Soothe Sunburns & Combat Inflammation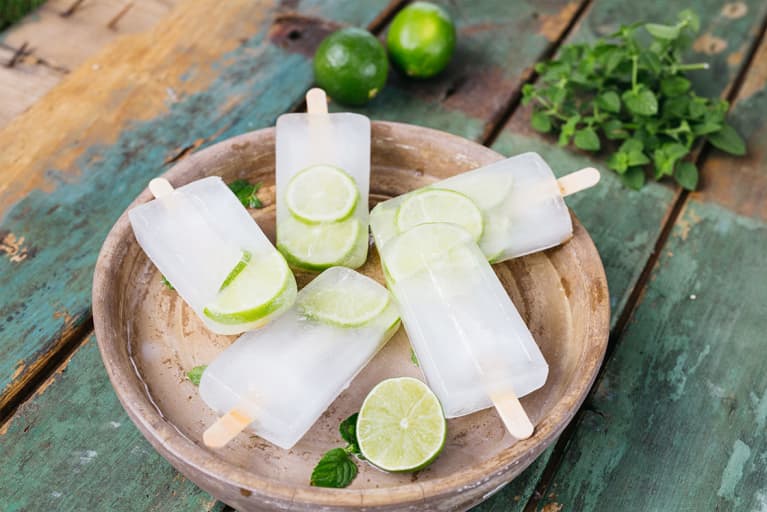 Our editors have independently chosen the products listed on this page. If you purchase something mentioned in this article, we may
earn a small commission
.
Aloe vera is a superstar ingredient when it comes to cooling the skin and soothing sunburns. You may have used aloe vera gel in the past, whether it be straight from the plant or from a prepackaged product. Many people rub this gel on their skin post-sun, and some even put their plant or gel product in the fridge to add a cooling effect.
Well, it's time to level up your aloe vera experience. Thanks to TikTok, we've come across a creative way to use aloe vera that makes the sensorial experience even better: aloe vera ice pops. Before jumping in, we should note these are for topical use, not for ingesting. With that caveat out of the way, here's exactly how to make these all-natural frozen pops so you can join the fun.
How to make Aloe Vera Pops.
If you have prepackaged aloe vera gel already on hand, you can skip steps 1 through 4. Just be sure to find a 100% pure gel without any artificial fragrance if you do opt to go the prepackaged route. This one from Sky Organics is a safe option, if you're on the hunt.
If you're using an aloe plant, however, you'll want to begin right at step No. 1. (Also, if you need more information on aloe vera prep and storage, we have guides for that!)
Makes 1 aloe vera pop.
First, cut off the tip of the leaf and the white section at the base.
Next, cut your aloe vera leaf in half horizontally so you have two shorter halves.
Then cut off the spiky edges on the sides of the leaf.
Finally, cut off both sides of the plant skin so your gel is isolated. (Here's a quick TikTok demonstration for a visual aid.)
Add your gel to the blender and blend.
Pour your liquid aloe into the ice pop molds and freeze.
And voilà! You have a chilled aloe vera treatment waiting for you anytime you want to cool your skin or soothe a sunburn. Research has shown that aloe vera has the power to aid in healing first- and second-degree burns on the skin, thanks to its ultra-hydrating properties, and the cool sensation can help further dial down inflammation.
Not to mention, the chilling effect will feel superb on the skin. Think of it as an ice roller with added benefits. A final note: You'll want to rub the ice pop on clean skin to ensure you're not picking up bacteria or dirt and spreading it around.
Benefits of aloe vera ice pops:
Although, aloe vera's benefits don't stop at soothing sunburns. Here, a quick list of perks:
Aloe vera ice pops are a great way to cool the skin post-sunburn and a creative way to add aloe to your routine overall. You can make these pops with aloe vera gel straight from the plant or a clean, prepackaged gel. And if you're curious about the many benefits of aloe vera (yes, there are even more than listed above), check out our full guide here.