Close Banner
Advertisement
This ad is displayed using third party content and we do not control its accessibility features.
If It's Taking You More Than 20 Minutes To Fall Asleep, Try These 5 Things
mbg Spirituality & Relationships Editor
By Sarah Regan
mbg Spirituality & Relationships Editor
Sarah Regan is a Spirituality & Relationships Editor, and a registered yoga instructor. She received her bachelor's in broadcasting and mass communication from SUNY Oswego, and lives in Buffalo, New York.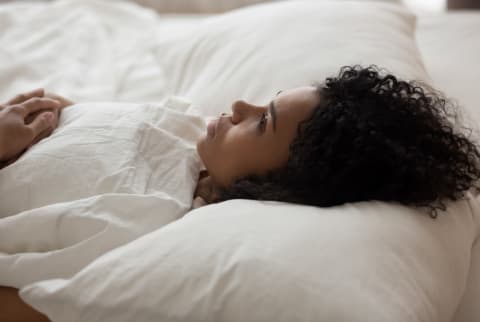 We carefully vet all products and services featured on mindbodygreen using our
commerce guidelines.
Our selections are never influenced by the commissions earned from our links.
Every so often (and for some more than others), we struggle to fall asleep. And because nothing is more frustrating than tossing and turning, we did some digging into how long it should actually take to doze off, plus expert-backed tips for falling asleep fast the next time you need 'em.
How long does it actually take to fall asleep?
And if that 20- to 30-minute threshold has been out of reach recently, here's what to do, according to experts.
How to fall asleep faster tonight & every night:
1.
Give yourself plenty of time to wind down.
One of the most important keys to a great night's sleep is setting yourself up for it—giving yourself at least an hour, and maybe even more, to wind down. That means ditching the electronics, opting for relaxing activities like meditation or reading instead, turning down the lights, and keeping your bedroom nice and cool. (The optimal temperature for sleep is around 65 degrees Fahrenheit, btw.)
2.
Try a sleep supplement.
It can also enhance sleep quality, support a healthy circadian rhythm, and promote a steady state of relaxation, by helping your mind relax and modulating your stress response.*
As Willeumier previously explained to mbg, "Most of the time, people aren't sleeping because their mind is still spinning. So we have to find ways to calm that down, which is why I love magnesium."*
And as one happy reviewer writes of sleep support+, "I have had problems sleeping for years. So many sleep aids did not work for me or left me groggy in the morning. Finally found this product that relaxes my mind so I can drift off and sleep peacefully most of the night."*
3.
Journal about tomorrow.
Even if you're not the journaling type, taking a few minutes to jot down your to-do list for the following day before you go to bed is research-backed to help you fall asleep faster. As the researchers of one 2018 study1 explain, participants who wrote a to-do list before bed fell asleep significantly faster than those who didn't. "The more specifically participants wrote their to-do list, the faster they subsequently fell asleep, whereas the opposite trend was observed when participants wrote about completed activities," they add.
4.
Don't eat or drink certain things too close to bedtime.
There's nothing wrong with a good magnesium-rich bedtime snack or chamomile tea, for example, but outside of sleep-conducive snacks and drinks, you'll want to avoid big meals, alcohol, and of course, caffeine. Eating too much before bed leaves your body to digest well into when you should be sleeping, caffeine is obviously stimulating, and alcohol has been found in research to inhibit REM sleep.
5.
Have a consistent sleep schedule.
And last but not least, one of the best ways to ensure you fall asleep quickly is to go to bed at the same time every night (and wake up at the same time every morning). As double-board-certified integrative medicine doctor Amy Shah, M.D., previously explained to mbg, "When you alter a sleep schedule more than an hour difference, your body feels tired because your circadian rhythm has not been synced."
The takeaway.
Quality sleep is essential to ensure we wake up in the morning feeling our best. If you're struggling to fall asleep consistently, give these tips a try—they might be just what your sleep routine is missing.
If you are pregnant, breastfeeding, or taking medications, consult with your doctor before starting a supplement routine. It is always optimal to consult with a health care provider when considering what supplements are right for you.
Sarah Regan
mbg Spirituality & Relationships Editor
Sarah Regan is a Spirituality & Relationships Editor, a registered yoga instructor, and an avid astrologer and tarot reader. She received her bachelor's in broadcasting and mass communication from State University of New York at Oswego, and lives in Buffalo, New York.