What Exactly Is Hydrolyzed Collagen? We Explain + 4 Benefits
mbg Health Contributor
By Gretchen Lidicker, M.S.
mbg Health Contributor
Gretchen Lidicker earned her master's degree in physiology with a focus on alternative medicine from Georgetown University. She is the author of "CBD Oil Everyday Secrets" and "Magnesium Everyday Secrets."
Expert review by
Megan Fahey, M.S., R.D., C.D.N.
Megan Fahey, MS, RD, CDN is a Registered Dietitian, Functional Medicine Nutritionist and Registered Yoga Teacher. She holds her Masters of Science in Nutrition and Dietetics from Bastyr University, where she was trained to artfully blend eastern and western healing modalities.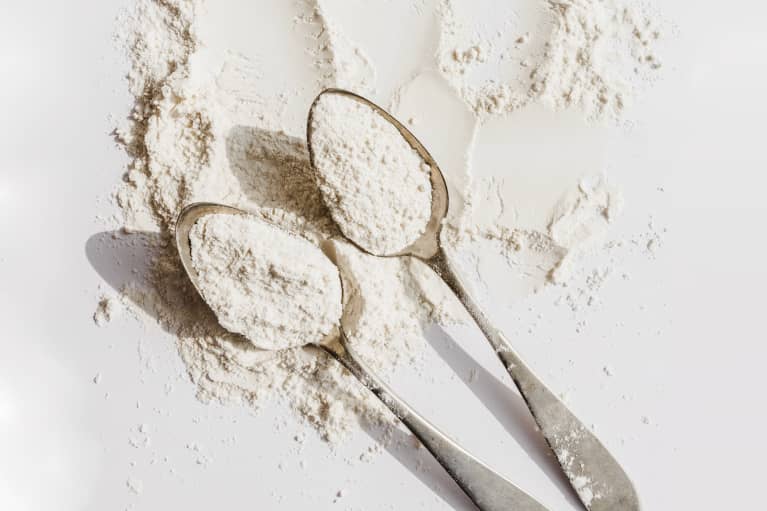 Last updated on September 17, 2019
Collagen is everywhere—largely thanks to the supplement's purported skin and hair benefits. And with it comes a horde of less-than-clear terminology. One of the places this gets particularly confusing is "hydrolyzed collagen," "hydrolysis," and "collagen hydrolysate." Here's everything you need to know.
What is hydrolyzed collagen?
Collagen is a family of fibrous proteins that are actually the most abundant proteins in our body. So why does collagen need to be hydrolyzed when taken as a supplement? Basically, collagen in its original state isn't very useful—or palatable—to humans, so we have to break it down first. You create hydrolyzed collagen via a process called hydrolysis, which is a chemical process involving water. When collagen is completely hydrolyzed, it's easy to use because it dissolves completely in liquids—even water. It's also essentially tasteless and odorless, which is why it's so convenient and fun to add to a ton of different recipes. You might also see hydrolyzed collagen peptides referred to as "collagen hydrolysate." Rest assured that's just another way of saying the collagen in that supplement has been broken down into convenient and easy-to-digest peptides by way of hydrolysis.
As Nour Zibdeh, M.S., RDN, CLT, explains, "Collagen is a complex protein made of three chains of amino acids, whereas hydrolyzed collagen is collagen that is broken down into small protein chains, called collagen peptides, that are made of a few amino acids."
Are all collagen supplements hydrolyzed?
At this point you might be wondering: Does that mean all collagen is hydrolyzed? Essentially, yes. "To be 100% accurate, all commercial collagen powders are hydrolyzed to some degree because we can't really chew or eat ligaments or tendons," explains Zibdeh.
That said, it's not just a fancy marketing ploy as much as it is an accurate way of describing the contents of a product. For example, you might see an herbal tincture with "ethanol extracted" on the label or a glutathione supplement bottle that contains liposomal glutathione. In all these cases, the company is just being extra-specific about what, exactly, is inside the bottle and how it came to be.
Why should you choose hydrolyzed collagen over gelatin?
Here's where things get a bit more complicated: Not all collagen is completely hydrolyzed. The good news is you don't really need to worry about buying this type of collagen by mistake because if collagen is only partially hydrolyzed, it's called gelatin.
Because it's not completely broken down, gelatin is more likely to cause upset stomach and bloating because of the larger units of proteins. It also doesn't dissolve as easily in liquids, but it does cause them to gel, which makes gelatin the perfect ingredient to make healthy gummies and custards or to thicken up soups and sauces.
What are the benefits of hydrolyzed collagen supplements?
If you're picking up a collagen supplement powder, it's been hydrolyzed to make it more easily digestible for humans, regardless of whether that's on the label or not. The more you know!