This Collagen-Packed Overnight Oats Recipe Is Perfect For Breakfast On The Go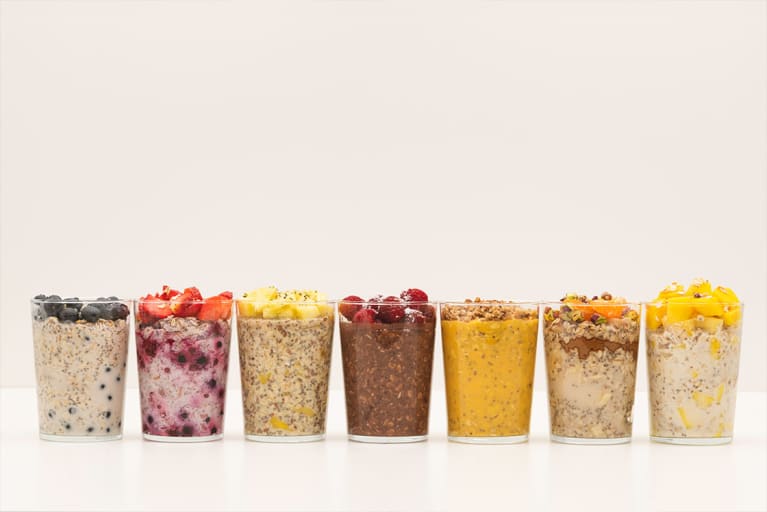 If running late is one of your personality traits, we have the perfect breakfast recipe for you. This one is on-the-go-friendly and only takes a few minutes to prepare the night before. You've guessed it: We're talking about overnight oats. As simple as this breakfast may seem, overnight oats have the potential to boast tons of antioxidants, protein, healthy fats, and even skin-supporting nutrients. How so? Read on to find our elevated tweaks.
How to make Collagen Overnight Oats:
Like we said, this process will only take a minute or two. Simply pour your collagen powder into a cup with your milk of choice and stir. Then pour the mixture into a travel-friendly container (a small jar works great), and stir it up again. Finally, top with berries and any other toppings you'd like. Need some inspiration? Here are a few add-ins to make your overnight oats even better:
1 tablespoon almond or peanut butter
2 tablespoons chia seeds
A dash of cinnamon
1 teaspoon honey
½ banana sliced
1 tablespoon maple syrup
A sprinkle of coconut flakes
Even if you don't have much time to craft up a fancy breakfast, you can still get all of the nutrients you need in one easy dish. Overnight oats are a perfect way to do so, and the flavor options are endless. Who doesn't love a healthy, balanced meal that only takes a few minutes to whip up? Plus, it's an easy way to incorporate a collagen supplement into your daily routine. If you want to learn more about the importance of taking collagen every day, you can read through our benefits guide here.