5 Recipes To Use Gut-Healing, Blood-Sugar-Balancing Collagen Beyond Boring Smoothies

Certified Holistic Nutritionist
By Sara McGlothlin
Certified Holistic Nutritionist
Sara McGlothlin is a certified holistic nutrition and wellness coach based in Richmond, Virginia. She graduated from the University of Virginia with a B.A. in economics, and received her master's in elementary education from Mary Baldwin College.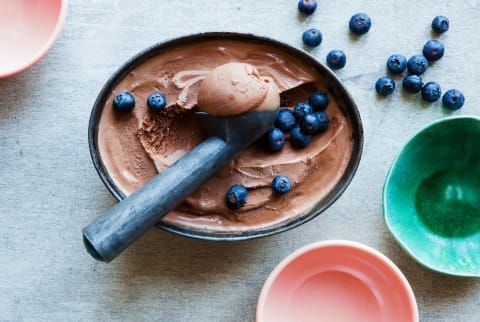 July 23, 2018
Since the foundation of my nutritional work with clients is blood sugar balance, I make sure to tell people about collagen peptides, especially when it comes to adding protein in the morning. Two of my favorite ways to consume collagen is either in a smoothie or bulletproof coffee, but given that this protein-packed powder is tasteless, it is very versatile.
As a nutritional supplement, collagen comes in two forms: gelatin and peptides. While both have similar amino acid profiles (and therefore health benefits), those found in peptide form have been further broken down during processing, not only making them more bioavailable but creating a difference in how you add it to your diet. Unlike gelatin, collagen peptides completely dissolve in both hot and cold liquid (will never gel), so their soluble nature allows them to be easily stirred into a variety of recipes. Additionally, collagen peptides are great to cook and bake with given their ability to withstand high heat5. Here are five ways to reap the abundant benefits of this superfood.
Collagen Coconut Crepes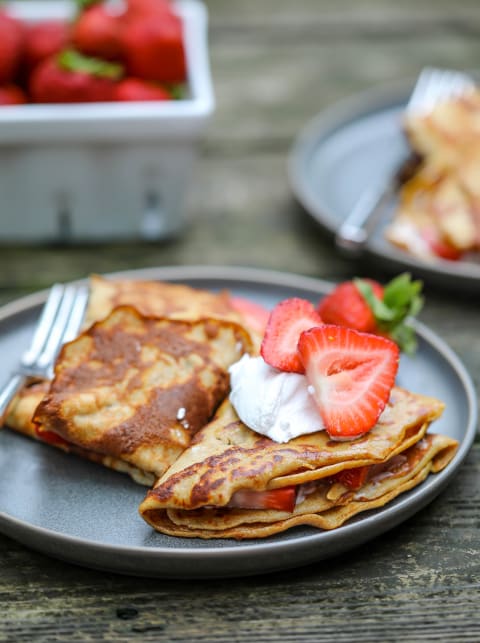 A protein-packed option when you are craving some morning comfort without the carbs. These crepes won't spike your blood sugar as the traditional recipe tends to do. By using collagen peptides, eggs, and a hint of coconut flour as the base, this version provides you with both protein and healthy fat first thing, keeping you energized and satiated for hours. This dish can also be made for dessert!
Makes approximately 6 crepes
ghee or coconut oil, for cooking
4 eggs, beaten
¼ cup collagen peptides
¼ cup almond milk (or dairy-free milk of choice)
1 teaspoon vanilla extract
1 tablespoon coconut flour
¼ teaspoon sea salt
1 teaspoon cinnamon
Heat ghee or coconut oil in a large skillet over medium heat.
Place the eggs, collagen, almond milk, vanilla, coconut flour, sea salt, and cinnamon in a high-speed blender and process until smooth. Pour about ⅓ cup of the batter into the skillet, moving the skillet to spread out the mixture until it's thin. Cook 3 to 4 minutes, or until golden brown on the bottom.
Using a rubber spatula, quickly flip and cook 1 to 2 more minutes until golden brown on the other side. Fill with coconut yogurt and berries, and drizzle with maple syrup if desired.
Superfood Blended Chia Pudding
Soak your chia overnight as usual, and then blend with collagen peptides and a few of your other favorite superfoods (suggestions below) for a nutrient-dense meal or snack. This second step creates a puddinglike consistency that is creamy and delicious.
3 cups almond milk
⅓ cup chia seeds
¼ cup goji berries
¼ cup collagen peptides
2 teaspoons vanilla extract
1 teaspoon maca powder
⅓ cup frozen blueberries
Add almond milk, chia seeds, and goji berries to a large bowl and whisk. Stir occasionally for 10 minutes to avoid clumping. Allow to soak overnight in the refrigerator.
The next day, transfer chia and goji berry mixture to a high-speed blender. Add the vanilla, maca, and blueberries and process on medium speed to start, using the tamper as you need to get it moving. Gradually increase the speed to high until smooth. Divide the pudding among individual bowls or Mason jars and top with more goji berries and coconut flakes if desired.
Almond Cacao Butter Cups
Here is a high-energy, small but mighty, snack that comes in a little package. The base of these (primarily raw) cups is cocoa butter, which has its own long list of benefits. It contains a high-concentration of plant-based polyphenols, a powerful family of antioxidants known to fight disease, protect against aging, and boost immunity. By combining cocoa butter with collagen peptides, you get more bang for your nutritional buck.
Makes approximately 6 to 8 cups
½ cup cocoa butter
½ cup coconut butter, softened
2 tablespoons almond butter
3 tablespoons collagen peptides
1 tablespoon coconut nectar or maple syrup
Fill a medium saucepan ¾ of the way with water. Bring to a boil. Prepare a double boiler by placing a medium Pyrex bowl over the saucepan. Add cocoa butter and coconut butter to the bowl until the ingredients start to melt. Add almond butter and stir until combined and everything is melted together. Remove from heat. Allow to cool about 5 minutes.
Meanwhile, line a muffin tin with liners. Add collagen peptides and liquid sweetener to the bowl and whisk until blended. Pour mixture into liners about halfway. Transfer muffin tin to the freezer to set. Store in the freezer.
Protein Peanut Butter Chocolate Ice Cream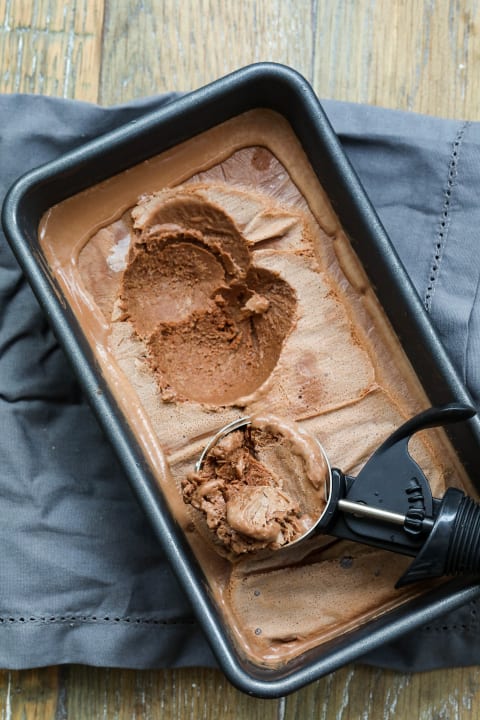 A nutritious ice cream option? Yes, please! Not only does this ice cream recipe contain healthy fat from coconut milk and peanut butter, but it (of course) incorporates collagen peptides for a healthy dose of high-quality protein.
2 cans full-fat coconut milk
½ cup raw cacao powder
1 tablespoon tapioca starch
¼ cup collagen peptides
½ cup maple syrup
½ tablespoon vanilla extract
⅓ cup + 1 tablespoon creamy peanut butter
Before turning on your burner, add coconut milk, raw cacao powder, and tapioca starch to a medium saucepan and whisk to blend. Start cooking over medium heat, stirring frequently. Add collagen peptides and whisk, continuing to cook until mixture starts to bubble. Remove from heat.
Stir in peanut butter, maple syrup, and vanilla extract. Whisk until everything is combined. Allow to sit and come to room temperature, about 30 minutes.
Pour into a 9-by-5-inch loaf pan. Cover with parchment paper or aluminum foil and place in the freezer for at least 8 hours, or ideally overnight. Before serving, allow to soften 10 to 15 minutes. Scoop and enjoy!
Energizing Grain-Free Granola Squares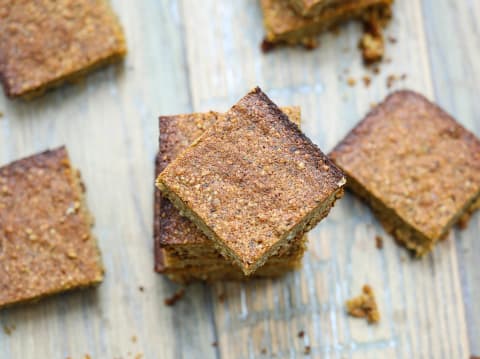 I love having these on hand for a quick breakfast, and they travel well too.
½ cup pumpkin seeds
½ cup sunflower seeds
½ cup hemp hearts
½ cup coconut flakes
2 teaspoons cinnamon
2 tablespoons collagen peptides
½ teaspoon sea salt
½ cup almond butter
1 egg, beaten
⅓ cup coconut nectar or honey
1 teaspoon vanilla
½ cup melted coconut oil
Preheat oven to 350°F. Line an 8-by-8-inch baking dish with parchment paper.
Place pumpkin seeds, sunflower seeds, hemp hearts, and coconut flakes in a food processor. Blend until the consistency of coarse sand. Transfer mixture to a large bowl and add cinnamon, collagen peptides, and sea salt. Stir until combined.
In a separate medium bowl, add egg, almond butter, liquid sweetener, and vanilla. Whisk to blend. Add coconut oil and whisk again. Incorporate wet mixture into dry mixture and stir until sticky batter is formed. Transfer to the baking dish and bake 27 to 30 minutes until edges are golden brown. Allow to completely cool before removing from pan. I even suggest cooling in the refrigerator at least an hour before slicing.
And do you want to turn your passion for wellbeing into a fulfilling career? Become a Certified Health Coach! Learn more here.

Sara McGlothlin
Certified Holistic Nutritionist
Sara McGlothlin is a certified holistic nutrition and wellness coach based in Richmond, Virginia. She graduated from the University of Virginia with a B.A. in economics, and received her master's in elementary education from Mary Baldwin College. Her practice is inspired by her passion for educating others on how to live healthier lives. McGlothlin primarily focuses on areas such as weight loss, emotional eating, food intolerances, digestive issues, and increasing feelings of energy and overall well-being. She is also an instructor at barReVA, a local barre studio in Richmond.