14 Small Ways You Can Support Detoxification Every Day (Yes, Really!)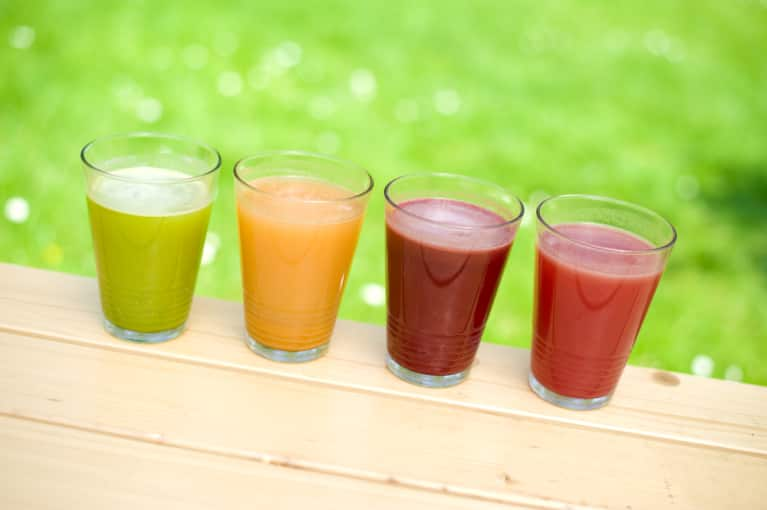 Last updated on March 30, 2020
We're all human. We partake in the occasional (or more frequent) indulgences life has to offer. The good news is, our bodies have a natural detoxification process, where each organ works to eliminate excess waste. And there are certain things we can do to help support this detoxification process and counteract the less healthy items we put in our body, as well as the environmental factors for which we have little control.
Begin incorporating these small steps to support detoxification—no short-lived "detox diet" required.
1.
Drink hot lemon water.
Kick-start the detoxification process first thing in the morning by drinking a cup of warm water with lemon and cayenne (for an extra kick).
2.
Have a fresh cold-pressed juice.
These tea blends can help support detoxification throughout the day. Look for ingredients such as dandelion root, ginger, burdock and licorice root.
4.
Add apple cider vinegar to meals.
Along with a host of other benefits, apple cider vinegar can help support liver detoxification. Just be sure to buy the raw, unfiltered, and organic variety.
5.
Eat foods that support detoxification.
The liver and kidneys serve as the body's filtration system, and thus are integral to cleansing of waste and overall health. Incorporate the following to aid in continual kidney and liver detoxification: parsley, cilantro, dandelion root, licorice root, cayenne, turmeric, red pepper, garlic, lemon, lime, grapefruit, sea vegetables (seaweed salad, nori, dulse), artichokes, beets, cruciferous vegetables, wheatgrass, spirulina, chlorella and milk thistle. You might also want to incorporate fiber into your diet to keep the elimination process flowing.
6.
Avoid high-mercury fish and refined sugar.
You might also want to limit or avoid high-mercury fish such as swordfish, tuna, mackerel, shark, marlin, and grouper. As a general rule to follow: larger fish typically have higher levels of mercury. Avoid refined sugars, processed foods, alcohol, caffeine, and non-organic fruits and veggies.
Sweating is crucial for eliminating harmful compounds that may build up in our bodies. To promote sweat, you can use an infrared sauna, take a hot yoga class, or exercise with extra layers to help increase body temperature and perspiration.
Scientifically shown to help the cardiovascular, lymphatic, endocrine and nervous systems, inversions can reverse the flow of gravity and stimulate the lymphatic system. Traditional inversions include:
Headstand or handstand
Legs propped up against a wall
Rebounding is also great for stimulating the lymphatic system and increasing circulation. Small, portable trampolines are a quick and easy way to build jumping into your daily routine.
Before showering, dry brush your body head-to-toe, using long strides toward the heart. While there are little clinical trials or hard data around dry brushing, it's a long-held tradition in some cultures and is perfectly safe. It can activate the lymphatic system, stimulate blood circulation, and enhance elimination through our body's largest organ—the skin!
Yes, it sounds funny, but this quickly cleans the tongue of accumulated bacteria and debris from the night before. Think of it as giving your body an extra assist in the detoxification process, while also achieving better breath!
Hydrotherapy encompasses a large range of approaches and methods. An easy way to incorporate hydrotherapy daily is by alternating between hot and cold water every 30 seconds in the shower. Cold water stimulates, causing blood vessels to constrict, while hot water relaxes and causes blood vessels to dilate. This alternation of hot and cold water can improve elimination, decrease inflammation, remove wastes from tissues, and stimulate circulation.
This deserves two exclamation points. Massages can increase circulation, stimulate the lymphatic system and remove build-up. They also feel pretty great!
14.
Make your home healthy.
To limit your exposure to harmful environmental agents, you might want to change A/C filters regularly, avoid harsh household chemicals, install chlorine filters, introduce an air purifier, and consider a reverse-osmosis water system.
Good luck and enjoy—your body will thank you!