This Calming Supplement Is Like A Yoga Class In A Gelcap, Reviewers Say*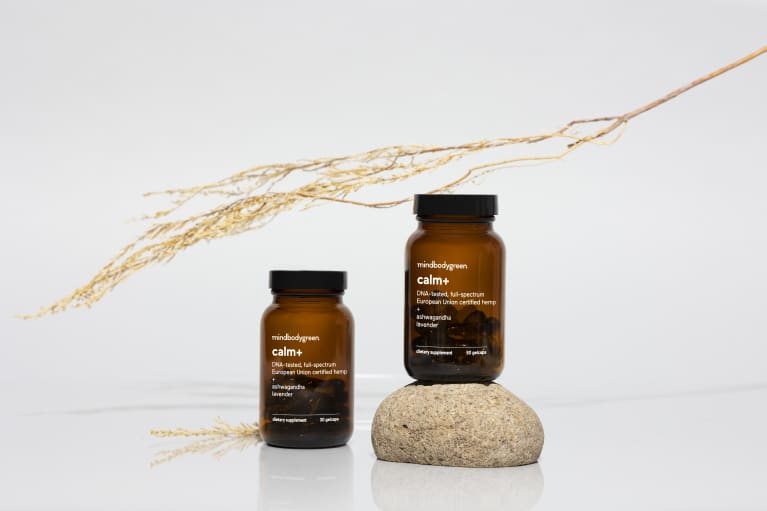 To put it plainly, there is a lot to be stressed about these days. But thankfully, there are also tons of ways to relieve the everyday stress we all feel, such as meditation, breathwork, exercise, and a new tool for in-the-moment stress relief that we're really excited about, calm+.*
A new release in mindbodygreen's suite of supplements, calm+ dropped this summer. This is not your average stress supplement: For starters, it contains premium, high-potency ingredients at levels that are scientifically shown to support a brighter mood.*
Its headliner is USDA and E.U.-certified organic, full-spectrum hemp oil that's been DNA-tested and delivers 20 mg of hemp-derived CBD per serving—an amount that's been shown to improve stress resilience in clinical trials.* The hemp oil is complemented by another potent plant compound, ashwagandha. Our ashwagandha root and leaf extract contains an impressive 35% glycowithanolides, the active compounds that give the plant its stress-relieving effects, making it the most bioactive ashwagandha on the market.* Non-GMO lavender oil from Bulgarian lavender flowers rounds out the calming botanical trio.*
We formulated calm+ so that one gelcap, taken any time of day or night, is enough to deliver calm, relaxation, and well-being.* Consider it your juicy yoga flow or deep meditation in a bottle. Here, well-being experts and everyday people share how calm+ has helped them achieve a brighter mood and less stress.*
calm+ has a palpable calming effect on my body and mind that lasts all day long.*
"I've been prone to anxiousness a lot of my adult life, and the past year-plus has dished some novel stressors. I have tried everything from medication to meditation to help usher in a state of calm, but it's been elusive. Taking calm+ daily helps me get through stressful situations—a screaming toddler, a stressful meeting, or a turbulent flight—with a little bit more ease. calm+ has a palpable calming effect on my body and mind that lasts all day long."*
"I really enjoy this product. It has been a good tool to help bring ease and live a less stressful life."*
—Sarah P.
Plant-based ingredients to take me out of "fight or flight" and into calm.*
"I have battled with sleep issues for a long time. I am always on the lookout for plant-based ingredients in high-quality supplements to take me out of ''fight or flight'' and into calm and restful sleep. After three weeks of consistently using calm+ in the early evenings, I felt less stressed around bedtime, and it's easier for me to shut my brain down. This product has a unique profile of botanicals and phytocannabinoids that can systematically improve your response to stress and offer relief. I'm excited to continue to use calm+ as part of my daily routine!"*
"Helps with sleep, mood...everything you would want! Way cheaper than the hemp supplement I was taking from the chiropractor."*
—Samantha L.
calm+ serves up botanical calm rooted in clinical science.*
"This unique trifecta of plant ingredients (organic hemp, ashwagandha, and lavender) in calm+ were specifically curated to promote relaxation, and they deliver. The premium calm+ formula serves up botanical calm rooted in clinical science. From botanical ID-confirmed lavender flowers and ashwagandha with the highest potency of glycowithanolides available to full-spectrum European organic hemp, I know exactly what I'm taking to stress less."*
"This has been helping me a great deal through menopause."*
—Heidi K.
Since calm+, I'm much less stressed and able to handle chaos with two kids better.*
"As a mother of two kids, stress management is something I have learned to deal with. Sometimes, you need a little help when your life with a newborn and toddler is chaotic. Since taking mindbodygreen's calm+, I am not as stressed as I used to be, and I am able to handle chaos with two kids better, all while getting good-quality sleep (interrupted as it may be). I highly recommend calm+ to anyone who needs to manage stress and target stress biomarkers like cortisol. A must for moms everywhere!"*
Since taking calm+, I'm much less reactive and my mood doesn't take a turn for the worse when dealing with stressful situations.* 
"Being an entrepreneur means my day is often unpredictable and filled with ups and downs. Since taking calm+, I've noticed I'm much less reactive and my mood doesn't take a turn for the worse when dealing with stressful situations. I've noticed an overall calmness, which I would only typically achieve by mindfulness, meditation, or yoga. I tend to hold stress in my jaw, and I now feel it loosen instead of tightening. This is the safe and effective solution to stress that I didn't know I needed."*