HigherDose Red Light Mask Review: My Skin Has Never Looked So Good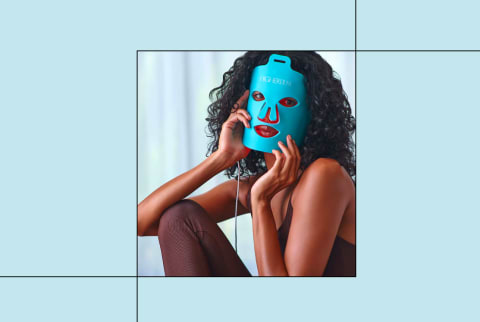 March 25, 2023
Our editors have independently chosen the products listed on this page. If you purchase something mentioned in this article, we may
earn a small commission
.
Confession: I can't stop testing skin care devices. I began collecting these at-home tools long before it was my job, and I've since studied the ins and outs of ice rollers, vibrating wands, gua shas, facial cups, and, of course, red light therapy devices and LED face masks. Sure, this may sound like an expensive and time consuming habit, but I take pride in my ability to separate the most effective skin care tools from those that simply aren't worth my time or money.
Like any beauty-enthusiast, I've had my heart (and wallet) broken by SkinTok persuasion and brand promises a few too many times. So when I find a device that truly stands up to its claims, I can't help but scream about it from the rooftops. Enter: HigherDose's Red Light Therapy Mask, the not-so-well-kept secret to my newfound dewy glow.
Advertisement
This ad is displayed using third party content and we do not control its accessibility features.
Intrigued? Read on to learn how this mask earned a starring role in my skin care (and self-care) lineup. Plus, score an exclusive discount on your own purchase with code MBG15.
What is the HigherDose Red Light Therapy Mask?
I'm no stranger to the HigherDose fan club. You might recognize the brand for its cult-favorite sauna blanket, which we've tested extensively, selecting it as one of the best infrared sauna blankets. Personally, I've been using the brand's PEMF mat as a non-negotiable part of my marathon recovery and sleep optimization routine for the past several months (doctors and wellness enthusiasts swear by this technology, too!).
Needless to say, when I heard the team behind these two standout products also offered a red light therapy mask, I knew I had to get my hands on it. The medical-grade silicone mask covers your entire face, with holes for your eyes and mouth and slits around the nose. An adjustable velcro strap wraps around the sides and top of your head to adhere the mask—and the fit is surprisingly comfortable, all things considered.
Of course, it's what's on the inside that counts. In this case, it's 62 bulbs containing red and near-infrared LED technologies. These gentle, low-level wavelengths mimic those found in natural sunlight, and are meant to warm your skin, boost your mood, and enhance your natural glow, according to the brand.
Advertisement
This ad is displayed using third party content and we do not control its accessibility features.
The benefits of red light therapy
Advertisement
This ad is displayed using third party content and we do not control its accessibility features.
How the HigherDose Mask fits into my skin care routine
As much as I love testing every new skin care product and device under the sun, I'll admit I'm a bit lazy when it comes to developing a lasting routine. Again, if something doesn't prove to be worth my time, it's likely collecting dust in my beauty basket. Even when I see visible results, I don't want to go out of my way to incorporate a product into my daily routine.
The HigherDose mask wins huge bonus points for how easy it is to integrate into my day. When testing other red light therapy masks, I had to carve out time to use their corded designs, forced to sit by an outlet (and stressed about the things that I should be doing instead). Luckily, this mask is wireless, making it a great option for multitaskers who need to knock out a report for work or prep for dinner. What's more, the battery lasts for a surprisingly long time; I use the mask four times per week and rarely have to charge it.
And if you're intimidated by skin care tools, this red light mask is perfect for newbies and pros alike. You simply use the included remote to pick the length of your session—10 or 20 minutes—and put on the mask. Typically, I'll use the mask for the shorter treatment time at least four times a week while reading or watching TV. Occasionally, I'll even go into full-on relaxation mode, which includes laying on my PEMF mat or using my Hyperice Normatec boots.
Why I love the HigherDose Red Light Mask
The HigherDose Red Light Therapy Mask has been part of my routine three months, and I've seen a massive improvement in my skin's texture, tone, and complexion. My absolute favorite benefit, though, is the reduction in the appearance of fine lines and the natural glow it gives me.
I wouldn't say I was totally unhappy with my skin before using the mask. Although I have the occasional breakout, I don't struggle with acne or oily skin. Instead, my primary skin care concerns are redness and an uneven skin tone, with a general dullness to my complexion that arrives like clockwork every winter. Above that, I've never felt fully comfortable going out in the wild without makeup. Whether I'm running to the grocery store or simply heading out for a walk, I always put something on. I've even caught myself applying tinted moisturizer or light foundation before a workout class.
Skip ahead to just a few days of using this red light mask, and I was going out fresh-faced without thinking twice. Now, I rock my makeup-free skin in confidence more days than not (which means I'm saving money on makeup, too!). Friends and family have noticed the difference in my complexion, and I find myself marveling at my dewy skin each morning after I use the mask.
Advertisement
This ad is displayed using third party content and we do not control its accessibility features.
The results are instant
While I noticed the biggest changes in my skin after using the HigherDose mask for an extended period of time, I would be remiss not to mention its immediate impact. The LED lights have a warming effect, which provides an almost instant relaxation. Red light is also a mood-booster4, and I can attest to the natural high it provides.
Of course, it helps that my skin looks brighter after every single use. In fact, I use the mask before a night out just to capitalize on that instant glow. (It's also great for the morning after a big night, too, when my skin needs some extra love.)
And I'm not alone: The brand's website hosts pages of reviews with customers raving about the results they've seen and felt after just one use.
The takeaway
I'll never stop wanting to test new products, but I can confidently say that the HigherDose red light therapy mask now owns a permanent place in my skin care routine. With regular use, I've gained a massive confidence boost, saved a ton of money on professional facials, and found it much easier to carve out time for self-care. The best part? We've got an exclusive discount for the mindbodygreen community. Use code MBG15 to save 15% on your purchase—and, yes, this also works on the brand's best-selling sauna blanket and my beloved PEMF mat.
Advertisement
This ad is displayed using third party content and we do not control its accessibility features.

Carleigh Ferrante
mbg Commerce Editor
Carleigh Ferrante is the Commerce Editor at mindbodygreen. She is a certified Health & Nutrition Coach and a born and raised New Yorker with a B.A. in Creative Writing and Psychology. Her work has appeared in Bustle, The Zoe Report, PureWow, The Everygirl, and more, covering topics such as fitness, travel, home, fashion, beauty, and dating, sex, and relationships. When she's not testing and reviewing products and services, you can find Carleigh training for her next World Major marathon, planning her next vacation, or interviewing experts on her dating podcast, Mostly Balanced.