I'm A Health Coach & These Are My 4 Favorite Healthy Breakfast Recipes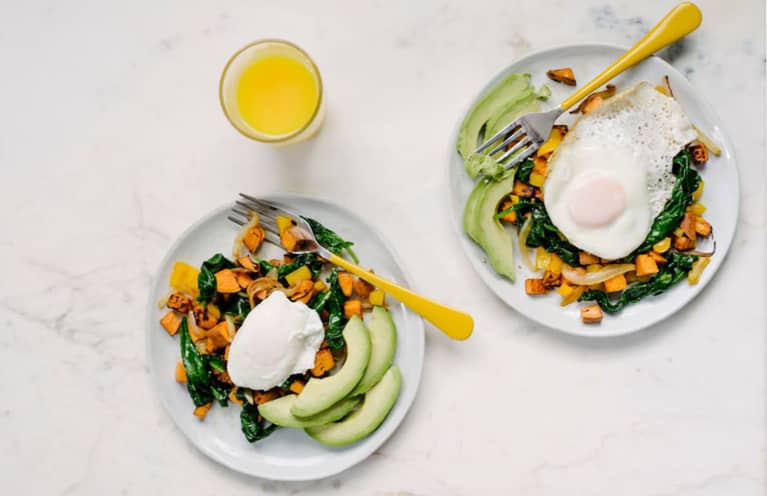 Small daily practices can make a tremendous difference in overall health and well-being. Even as life ebbs and flows, taking proactive actions to support our bodies (and others!) is more vital than ever. In my training as a health coach, I learned that making a conscious effort to nourish my body-mind-soul connection daily is essential. From giving myself bits of grace and serenity to eating nourishing foods, these little actions significantly contribute to my habits and behaviors—and ultimately, how I show up to the world around me.
For me, one lifestyle practice that offers an immediate boost of self-TLC is breakfast, which I eagerly wake up to every morning because, yes, it's my favorite meal of the day. As a health coach, I genuinely believe in food's healing properties and ability to enhance our bodies' inherent intelligence—and that begins with our first meal of the day.
To start the day off right and keep my intentions in check, I whip up one of my go-to healthy breakfasts for sustained energy, better focus, and overall vitality:
Toast is one of those dishes that can come together quickly, with ample room for healthy culinary improvisation. And while having a loaf of sourdough at home is nonnegotiable, I also diversify my bread intake with different types of delicious whole-grain options.
My go-to morning toast is topped with dark chocolate (yes, chocolate), a tried-and-true combo packed with cocoa's antioxidants, fiber, vitamins, and essential minerals, like zinc and magnesium.
To prepare, pop a slice of your favorite bread in the toaster oven and top it off with a couple of squares of dark chocolate (I recommend reaching for a high-quality, ethical chocolate option with 70% cocoa or higher). Make sure to keep an eye on your toast—you want the chocolate to melt, not burn. Once it's out of the oven, finish off your toast with any creative toppings of choice. My favorite ones include sea salt, sliced almonds, chopped dried apricots, or fresh berries.
Protein-Rich Quinoa Porridge
There's nothing like a warm bowl of quinoa, with its Andean-supercharged goodness. This ancient grain is easy to make ahead, cook, and diversify depending on your mealtime needs.
For a morning porridge, I like to make my quinoa on the stove with a mix of equal parts almond milk and water, plus a bit of stevia. Once the mixture boils, I cover it and reduce it to simmer for 12 to 15 minutes (depending on the altitude).
When it's ready to serve, I top my porridge with sliced fruit; anti-inflammatory spices such as cinnamon, ginger, and cardamom; berry jam; and chopped nuts or seeds for an extra crunch. Have fun playing around with different toppings—I recommend opting for healthy fiber-loaded ingredients to keep you fueled and invigorated all day long.
Costa Rican–Style Huevos Rancheros
I'm sure you're familiar with the well-renowned Mexican huevos rancheros—that perfectly prepared egg dish served on flour or corn tortillas and usually garnished with herbs, queso fresco, and sliced avocado.
Being from Costa Rica, I like to put my own spin on the classic dish—I use a similar setup but slightly different ingredients. In my version, I use Costa Rican–style tortillas, basil-infused tomato sauce (a lovely make-ahead staple), and a naturally lactose-free cheese option to sprinkle on top. Yum!
Make-Ahead Healthy Banana Bread
What's not to love about a moist, lightly sweetened, delightful breakfast option? Although banana bread is one of my baking favorites, I like experimenting with different fruits and veggies in my breakfast bread, depending on the season.
Pumpkin or applesauce makes for an iconic treat in the fall months. But, if I'm visiting Costa Rica, almost any local fruit or veggie will do for a lovely, quick bread I can freeze and enjoy anytime. I love to top my slice with a drizzle of honey or a spoonful of Greek yogurt for a protein boost.
It's important to feed your body healthy, filling meals to kick-start your day, and if you're bored with the classic eggs and toast, these recipes are the perfect jumping-off point to add some creativity to your morning. Looking for more nutritious meal inspiration to fuel you up? Check out these delicious healthy breakfast ideas!