What Exactly Is A Health Coach & What Makes A Good One?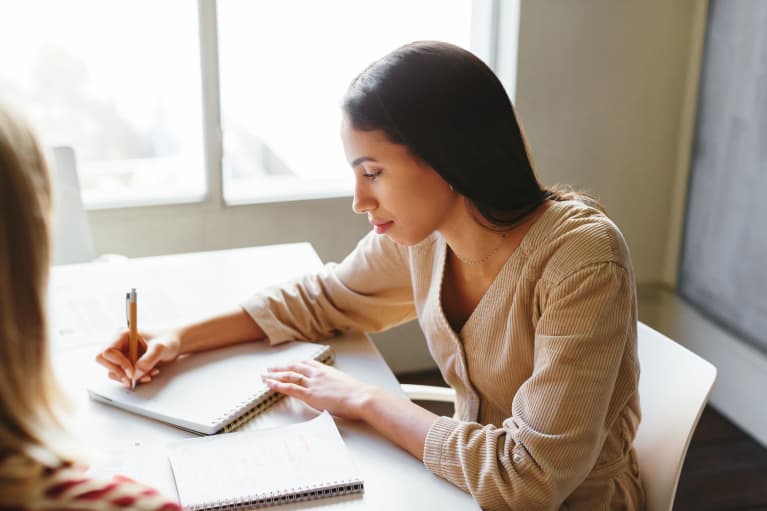 Last updated on September 24, 2020
If the idea of furthering your personal well-being education, then helping others do the same sounds super appealing—have you considered becoming a health coach?
Health coaches can often be mistaken for nutritionists or fitness instructors. While they have similar goals, a health coach follows a more holistic and all-encompassing approach to both exercise and food. If you're interested in learning more about what a health coach does and whether or not it's right for you, read on. We spoke with experts in the field for insight.
These trained wellness professionals help guide individuals on their health and lifestyle journeys, meditation instructor and certified health coach Pilin Anice, tells mbg. "Health coaches help you to discover and implement practices that can sustain long-lasting improvement to your overall health and well-being."
Generally they work in one-on-one settings and use an individualized approach to diet, lifestyle, and fitness plans.
How do you train to be a health coach?
Health coaches go through training programs, which typically last about one year, according to Anice. Not all training programs will advise on turning the skills and certificate into a business. If this is something that matters to you, be sure to do your research and find a program that will.
Also, "if you intend to make health coaching your business, get clear on what your specific goals are," registered dietitian Jess Cording, M.S., R.D., CDN previously told mbg. "Who's your target audience? What do you help them with?" For example, if nutrition is a top priority, find a program that highlights this area of health coaching.
These programs are generally offered through nutritional schools or other health and wellness organizations. To become certified, health coaches must pass a final examination following their training program.
Here's a more step-by-step guide, but it may vary by program:
To apply, generally, you should have an associates degree or higher, but that's not always necessary.
Some people receive registered dietitian certifications in undergrad, but those who have not can seek out nutrition-focused training programs.
Complete an approved training program, which includes a designated coursework plan and lessons from functional nutritionists, integrative doctors, and others within the health field.
Submit a log of your required number of health and wellness coaching sessions.
After completing or qualifying for the above, you'll take a final exam.
If you're ready, turn these skills into a business (or simply, a personal passion).
What's the difference between a health coach and nutritionist?
Both health coaches and nutritionists use action plans and motivations to achieve results, Pilin says, but they differ in their education and overall approach. "For starters, a nutritionist is someone who typically has studied nutrition through a four-year degree program and offers advice specifically around nutrition," she explains. "On the other hand, a certified health coach is more holistic and offers a much wider range of support."
If a client is looking to lose weight to reduce their risk of metabolic and cardiovascular diseases, a nutritionist would provide a meal plan based on calories and micronutrients. A health coach, Pilin says, would look beyond the plate.
Though food does play a role, health coaches also consider lifestyle factors, such as movement and stress management. Ultimately, they help clients make small, sustainable shifts in their daily routines that both achieve the desired result and help them feel their best, Pilin says.
What makes a good health coach?
Good health coaches keep the individual needs of a client in mind. "They understand there's no 'one-size-fit-all' and can encourage accountability and motivation through their depth of knowledge," Pilin says.
They also never stop learning. "It's important that a health coach continues to educate themselves and stay on top of the science in their field," Cording says. In order to extend helpful advice and energy to their clients, Cording says health coaches should continue prioritizing their own health and self-care as well.
How do I know if it's right for me?
"To determine whether health coaching is a good fit for you, think about what you really want to do and how well that training can prepare you for that," Cording says.
Consider which aspects of the job appeal to you and which don't. Write down your responses, and weigh the various pros and cons. Reaching out to other health coaches and gaining insight into their day-to-day responsibilities could also be helpful.
If you do decide to take the leap, here's some helpful advice about becoming a health coach.