I've Owned The Hamilton Beach Food Processor For 3 Years & Still Swear By It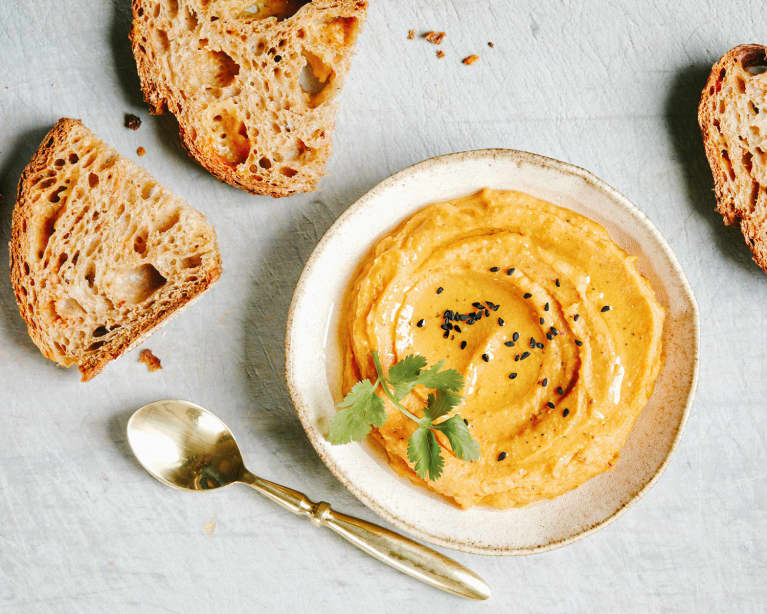 Our editors have independently chosen the products listed on this page. If you purchase something mentioned in this article, we may
earn a small commission
.
Right after I graduated college, I decided I was going to treat myself to one big purchase to celebrate my accomplishment. While most people opt for a new pair of shoes or a pricey bag, I had my sights set on something a little different: a food processor.
I had always been interested in cooking and baking, but I didn't have all the right tools in my kitchen for most recipes. After trying to make vegan cookie dough in a blender (big fail), I knew it was time to bite the bullet and invest in a tool that could actually help me make all the recipes I had carefully curated on Pinterest—and the Hamilton Beach Food Stack & Snap Processor was my final pick.
Why I chose the Hamilton Beach Stack & Snap Food Processor and Vegetable Chopper.
Even though I was ready to invest in an expensive food processor, I still wanted to feel like I was getting the most bang for my buck. I wanted an option that was efficient yet relatively affordable, and my research led me to the Hamilton Beach Stack and Snap Food Processor. I was sold by more than 20,000 positive ratings for the $60 appliance, and haven't looked back since.
Not only does this food processor do the difficult job of puréeing larger foods that the typical blender cannot—thanks to sharp stainless steel blades—but it's also fitted for interchangeable blade discs. These inserts allow me to slice, shred, cube, and chop vegetables for the fastest meal prep of my life. Whenever I'm feeling too lazy to deal with a bunch of unprepped produce, this feature is a lifesaver for me.
Of course, the processor itself still packs plenty of power. Pulverizing frozen bananas is one of the most difficult tests for an appliance, yet this one delivers creamy vegan nice cream every single time. (I recommend this chocolate collagen recipe.) In fact, it's the only tool I trust with the task of blending giant frozen bananas without the 450-watt motor burning out, aka emitting an awful burning rubber scent.
My only complaint about the food processor? Like any multi-piece device, it takes a while to scrub clean. I already hate washing dishes, but I'll submit myself to a few extra minutes of scrubbing each day for the creamy hummus, delicious vegan sauces, and thick smoothies this appliance churns out. (Besides, all that dishwashing might be supporting my brain health, according to neurologists.)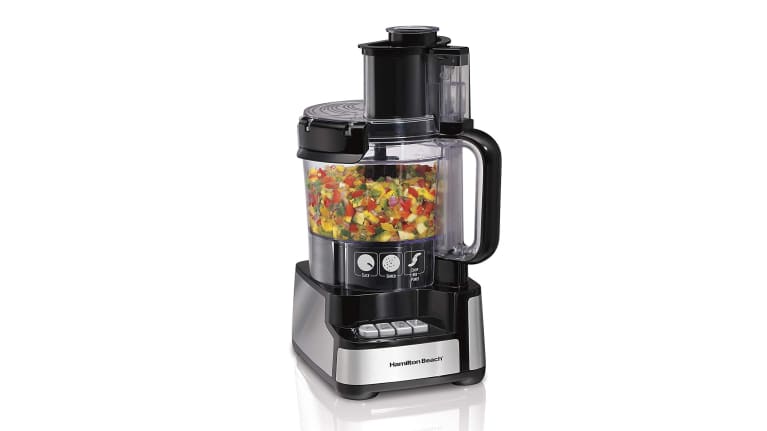 Hamilton Beach Food Stack & Snap Processor
$NaN
Using the Hamilton Beach Stack & Snap design is a fairly straightforward process. You choose the blade based on what you're trying to achieve from the blender—chop, mix, or purée—and insert into the machine. Then you select the button that correlates with the desired outcome to start the device. (Don't worry; it's all printed directly on the food processor, too.)
Depending on the recipe, you can start with your ingredients in the 12-cup bowl or feed them through the large chute on the side—including liquids. The blending bowl is sealed, which means there aren't any cracks between the blade and bowl. This ensures liquids won't leak onto the countertops like they would with traditional food processors.
Plus, the appliance is even equipped with suction cups attached to the base so you don't have to worry about your machine going rogue as it slices through frozen fruit and whatever else you may throw its way. Just remember to snap on the lid before turning it on, unless you want to end up with a ceiling splattered in blended food.
Recipes to try with this food processor:
It can be tricky to parse through thousands of products on the internet that claim to be the best, but alongside 22,000 people I can declare that the Hamilton Beach Stack & Snap Food Processor and Vegetable Chopper is in a league of its own. If you're looking for a high-quality, multifunctional kitchen appliance that will stand the test of time without breaking the bank, you've officially found your match. I've been using it for three years now, and I don't see that changing anytime soon.