A Plant-Based Ground "Beef" Recipe Filled With Gut-Healthy Fiber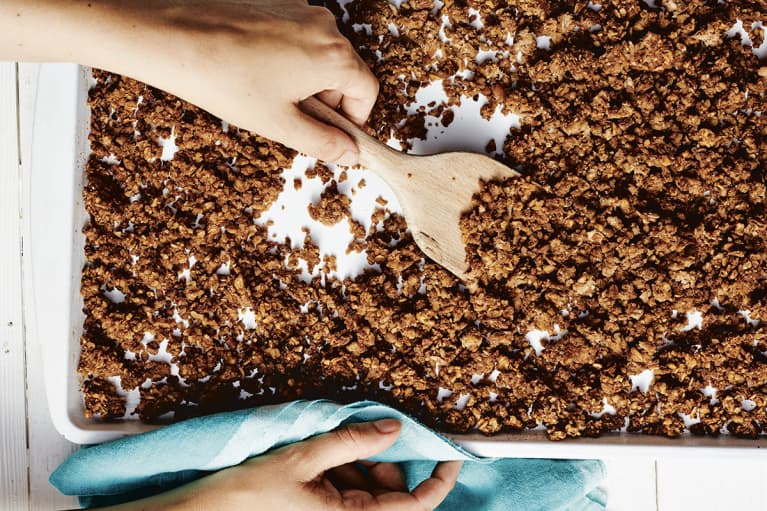 Our editors have independently chosen the products listed on this page. If you purchase something mentioned in this article, we may
earn a small commission
.
While there are a number of vegan meat substitutes on the market these days, we're all for finding recipes that use whole foods (like mushrooms or jackfruit), to make the swap.
That's exactly why this recipe for gluten-free, homemade meatless "ground beef" caught our eye in The Vegan Meat Cookbook by Miyoko Schinner. Made with a mix of a few vegan pantry staples—mushrooms, walnuts, chickpeas, and oats—it's meant to mimic the feel of ground meat, specifically beef. The texture is largely thanks to using a food processor to chop up—but not puree—the ingredients.
All these component parts add up to a mixture that's packed with fiber: Oats offer a whopping 8 to 16 grams per cup, and mushrooms, walnuts, and chickpeas are all modestly good sources, as well. And all that fiber can help promote better gut health and digestion. What's more, king trumpet mushrooms have a number of health-supporting antioxidants. Plus, with so many different plant-based foods coming together to make the basic mix, there's a good range of vitamins and nutrients, too.
One of the best things about this mix, other than the fact that it's largely made up of things you're likely to have on hand, is that it keeps in the fridge for up to a week. So after prepping the crumbles, you can have them ready for everything from tacos to a vegan Bolognese sauce.
Olive oil for oiling the sheet pan
10 ounces king trumpet mushrooms
1 cup raw walnuts
1 cup cooked chickpeas, rinsed
½ cup rolled oats or steel-cut oats
2 tablespoons soy sauce, tamari, or Bragg Liquid Aminos
1 tablespoon vegan beef base, such as Better Than Bouillon
1 teaspoon garlic powder
Pulse the mushrooms in a food processor until chopped into little bits, but do not process too long or it will turn to a puree. Transfer to a large bowl and set aside.
Next, put the walnuts into the food processor and pulse until they are finely chopped. Transfer them to the bowl with the mushrooms.
Next, pulse the chickpeas in the food processor until they are finely chopped but not completely puréed, and add them to the bowl with the mushrooms and walnuts.
Finally, pulse the oats to break them down and add them to the bowl. Add the soy sauce, vegan beef base, and garlic powder to the bowl and mix everything well.
Spread out on the prepared sheet pan and bake for 20 minutes. Take the pan out of the oven and break up the mixture with a wooden spoon or spatula into crumbles. Put it back in the oven and bake for another 20 minutes or until chewy but not dry. You can use it right away, refrigerate for up to one week, or freeze for up to 3 months (thaw before using).
Want to turn your passion for wellbeing into a fulfilling career? Become a Certified Health Coach! Learn more here.