This Mushroom & Garlic Pot Roast Is The Perfect Plant-Based Family Meal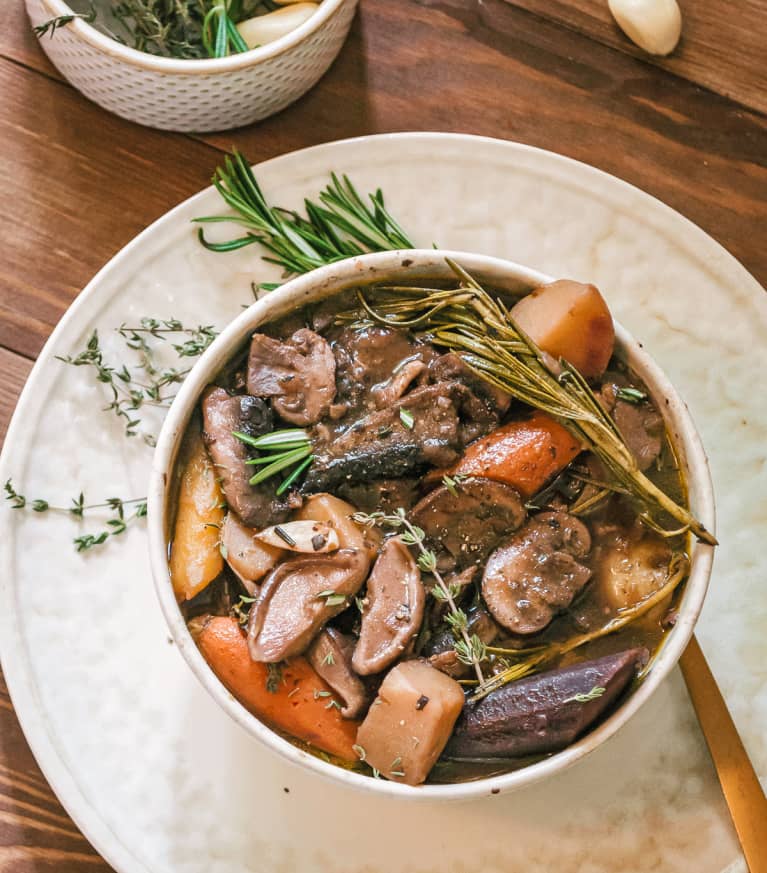 Our editors have independently chosen the products listed on this page. If you purchase something mentioned in this article, we may
earn a small commission
.
For Lauren Hartmann, the personality behind the vegan comfort food blog Rabbit and Wolves, there was one dish she knew she'd miss when she went vegan: a classic pot roast. So in her new cookbook Southern Vegan, out today, she made sure to do something about it. Cue her coming up with this perfect plant-based take on the classic pot roast, which uses wild mushrooms to replace the meat the traditional dish relies on.
A mix of cremini, portobello, shiitake, and oyster mushrooms are cooked with classic flavor bases like onion, carrot, garlic, and even a little red wine to round out the dish. And some of those mushrooms may even help support your immune system, according to allergist and immunologist Heather Moday, M.D. "Mushrooms themselves need antibacterial and antiviral compounds to survive in the wild, so they naturally harbor a lot of these substances," she wrote.
It's everything you may love (or have once loved) about a pot roast while keeping things meatless—good for vegans and carnivores alike.
Garlic & Wild Mushroom Pot Roast
3 tbsp. olive oil
6 cloves garlic, coarsely chopped
1 lb. (450 g) Yukon Gold potatoes, diced
4 large carrots, coarsely chopped
½ medium sweet onion, coarsely chopped
Salt, to taste
Black pepper, to taste
10 oz. (300 g) cremini mushrooms, coarsely chopped
6 oz. (180 g) portobello mushrooms, coarsely chopped
4 oz. (120 g) shiitake mushrooms, coarsely chopped
4 oz. (120 g) oyster mushrooms, coarsely chopped
1 cup (240 ml) vegan sweet red wine
2 cups (480 ml) vegetable broth
3 sprigs fresh rosemary
2 sprigs fresh thyme
In a large, oven-safe pot, heat the oil over medium-high heat.
Add the garlic, potatoes, carrots, and onion. Sauté, reducing the heat as needed to prevent burning, for 8 to 10 minutes, or until the potatoes and carrots are beginning to soften and the onion is translucent. Season the vegetables with a pinch of salt and black pepper.
Preheat the oven to 350°F (177°C).
Add the cremini mushrooms, portobello mushrooms, shiitake mushrooms, and oyster mushrooms to the pot. Toss to combine everything, season the mixture with a pinch of salt and black pepper and sauté until the mushrooms have released their liquid and are beginning to brown, 5 to 10 minutes.
Add the wine, stir and scrape the bottom of the pot to loosen any bits that are stuck to the bottom. Add the broth, rosemary, and thyme. Stir to combine. Season with a pinch of salt and black pepper. Bring the mixture to a simmer over medium-high heat then reduce to medium-low.
Cover the pot and roast the vegetables for 20 to 25 minutes, or until the potatoes and carrots are soft.
Remove the pot from the oven. Remove and discard the rosemary and thyme sprigs. Serve the pot roast with mashed potatoes, noodles, grits, cauliflower mash, or any starch you want.