5 Days Of Smoothie Recipes For The Sunny Weather Ahead (Thank Us Later)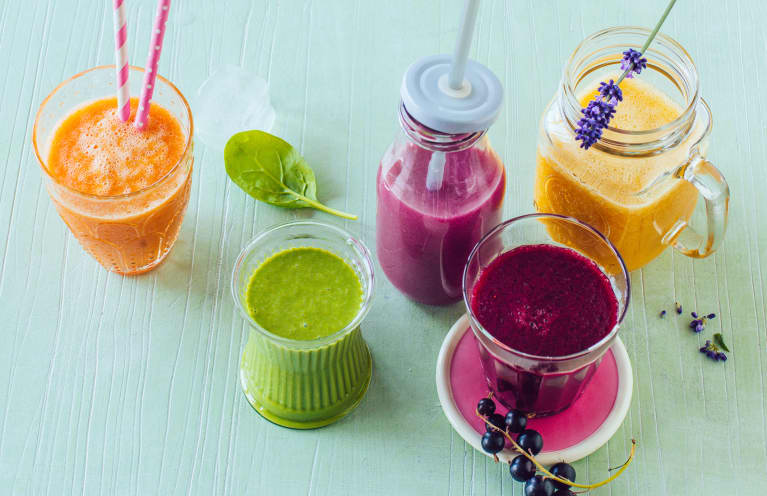 Our editors have independently chosen the products listed on this page. If you purchase something mentioned in this article, we may
earn a small commission
.
If you're looking to shake up your smoothie pattern, you've come to the right place. Smoothies are a fabulous way to pack in a bunch of nutrients, but once you have your favorite formula down to a science, it's easy to fall into a rut. That's why we picked five completely different (but equally tasty!) smoothie recipes, so you can switch it up as warm weather approaches.
When it comes to recipes like these, it's all up to personal preference. Feel free to tweak the ingredient list as you see fit! These measurements are pretty general, so play around with them to find the perfect size and flavor for your concoction. Without further ado, here are five days of summer smoothie recipes:
1.
A classic berry smoothie
½ cup frozen blueberries
½ cup frozen strawberries
¼ cup frozen banana
1 cup apple juice
½ cup almond milk
2.
Chocolate nutty smoothie
2 frozen bananas
3 dates
2 tablespoons nut butter of choice
1 scoop cacao powder
1 tbsp coconut butter
A dash of cinnamon
1½ cups almond milk
Pro tip: Place your dates in room-temperature water to soak overnight to make blending easier.
3.
Ginger & citrus smoothie
2 cups frozen strawberries
½ a peeled lemon
1 thumb of ginger
1 tbsp maple syrup
A dash of cayenne
2 cups apple juice
Pro tip: Blend your greens with your liquid before adding frozen fruit to avoid leafy chunks.
½ cup frozen mango
½ cup frozen pineapple chunks
½ frozen banana
1 tbsp coconut butter OR coconut flakes
2 cups orange juice
How to elevate your smoothies even further. 
Now that you have five tasty smoothie recipes to try, it's time to talk about enhancing your daily beverage to reap even more benefits. Our favorite addition? A scoop of collagen powder. Adding just one scoop of mbg's beauty & gut collagen+ to your smoothies can have so many benefits for the body, some of which include promoting the skin's natural elastin production, supporting skin hydration, encouraging healthy nail growth, and nurturing joint health.*
Not to mention, the powder comes with an unflavored option, so it won't interrupt the flavor profile in your blend. That said, feel free to chuck it into each of these five recipes; many of the ingredients you're using are great for the skin and gut anyway, so why not add some extra support?*
There's nothing worse than facing a cooking rut, smoothies very much included. Now, you have five unique smoothie recipes that are packed with antioxidants and plant-based goodness. As always, feel free to alter these recipes to fit your needs and preferences. And don't forget: Adding a scoop of collagen is an easy way to boost the benefits of your daily blend. If you want to learn even more about collagen benefits, you can check out our full guide here.