A Hair Care Expert Shares 3 Nonnegotiable Tips For Healthy, Thriving Strands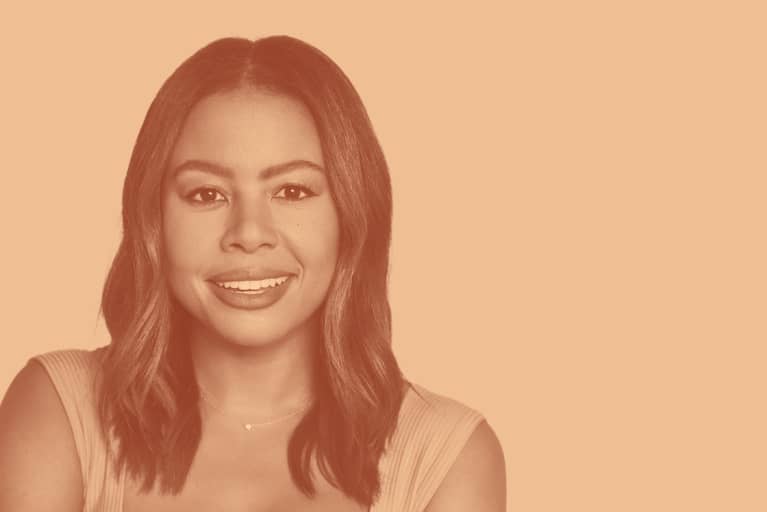 Our editors have independently chosen the products listed on this page. If you purchase something mentioned in this article, we may
earn a small commission
.
Beauty starts with making choices that align with your values, and Conscious Beauty at Ulta Beauty™ is here to guide the way. Visit
ulta.com/conscious-beauty
to reinspire your beauty routine with products that benefit you and our world.​
Healthy, full, thriving hair—we'll go ahead and assume it's on your list of beauty goals. And, look, you can find tons of tricks out there for a thicker mane—but sometimes it helps to head back to the basics. So when we spoke to Nancy Twine, founder and CEO of Briogeo and member of the Conscious Beauty at Ulta Beauty Advisory Council, on this episode of the mindbodygreen podcast, we made sure to tap the hair care expert for her essential tips.
Here, Twine shares how to get hair so healthy, it shines:
1.
Treat your strands from the inside out.
We've said it before, and we'll say it again: Healthy hair starts from within. Twine wholeheartedly agrees: "So much of feeling beautiful really comes from the inside," she says. "It's how we talk to ourselves, how we eat, how we prioritize our self-care."
We likely don't have to tell you that stress is not good for the body, and the link between stress and hair loss is well understood. (Just know that there is much you can do to support the regrowth process.) And on the subject of food, plenty of nutrients have been linked to faster hair growth—just check out our running list. Twine reflects on her personal diet, specifically how focusing on her gut health helped transform her skin and hair. "I noticed profound changes both mentally and physically," she notes, thanks to the gut, skin, and brain connections.
The bottom line? A holistic approach is necessary for healthy, thriving hair. "While I do love my beauty products, so much of it is about really investing in yourself," Twine adds.
If you want healthy hair, you've got to clean and stimulate the scalp. Too much scalp buildup (excess oil, products, bacteria, and overall gunk) can suffocate the follicle root, which is literally the source of hair growth. Too much inflammation up there can limit growth and eventually lead to shedding.
That's why Twine emphasizes regularly clearing the scalp. "Your scalp is, in a lot of ways, more susceptible to buildup than your face," she explains. "Typically, you wash your face once or twice a day, but a lot of people don't wash their scalp or hair every day." So when you continuously pile on products, it's easy to accumulate grime. She recommends looking for products with charcoal, as the ingredient can draw dirt and oil from the hair follicles—Briogeo's Scalp Revival Charcoal + Coconut Oil Micro-Exfoliating Scrub Shampoo is a great option, or you can browse our other favorite clarifying shampoos here.
3.
Find your protein-moisture balance.
"One of the foundations for healthy, strong hair is making sure that you have the right protein and moisture balance," says Twine. Finding moisturizers is perhaps an easier venture: Simply pick your favorite oil or hydrating conditioner. "A lot of people don't know how to solve the protein part of it," she says. "And protein is the building block for creating resiliency within your hair, which is the ability to resist breakage from pulling or tugging."
You can read more about protein treatments for hair here, but generally, you'll want to look for products with buzzwords like keratin, biotin, hydrolyzed quinoa, amino acids, bond-building, or silk protein. Or, you can create Twine's favorite DIY rice water rinse: "Growing up, one of the remedies we used at home was a rice water repair treatment. Basically, take rice and soak it in water overnight, then strain out that water, put it in a spray bottle, and spray down your hair." We have another tutorial here, if you'd like a full how-to, or you can leverage the power of rice protein with Briogeo's Don't Despair Repair Rice Water Protein + Moisture Strengthening Treatment.
Rice water contains antioxidants, minerals, and amino acids (there's the protein component!), as well as an active called inositol, which studies have shown helps mend and repair hair. You just don't want to overdo it—as Twine mentioned, hair needs a balance of protein and moisture. "Too much protein is not a good thing, and too much moisture is not a good thing. Making sure you have that right combination is key," she says.
Healthy, full hair is a journey, but with Twine's tips, you'll be on your way to a luscious mane. To review: Make sure to regularly cleanse the scalp, find a stable balance of protein and moisture, and don't forget about nutrients for hair growth. From there, if you want to throw in a scalp massage or dabble in essential oils, be our guest.
Enjoy this episode sponsored by Ulta Beauty! Whether it's an article or podcast, we want to know what we can do to help here at mindbodygreen. Let us know at: podcast@mindbodygreen.com.