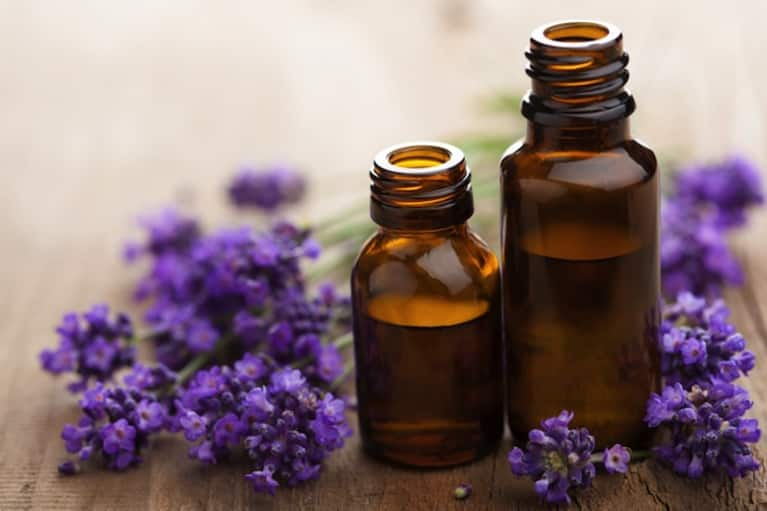 While teaching at the NYC Yoga Journal Conference in 2009, I had an experience that changed my life. Donna Karan had just launched her Urban Zen Integrative Therapy program to revolutionize healthcare by bringing five holistic modalities (yoga, mindfulness, essential oils, reiki, and nutrition) into hospitals and palliative care facilities. 
An essential oil team from Young Living was on hand to educate attendees about the medicinal and therapeutic use of oils. Their booth became a hub, lighting up the marketplace. You could almost see the iridescent wafts of enticing scents rising like plumes, saturating the stale, piped-in hotel air.
I had always been curious about essential oils, but never studied them. For 10 years, the inside of my medicine cabinet has been lined with laminated, color-coordinated charts of plants, their medicinal properties, origins and uses …but I had only haphazardly bought oils, splashed them on, or randomly added them to my bath.
That brisk weekend, I was enchanted. The quality of my life and yoga practice have radically shifted and vastly improved with the use of therapeutic-grade essential oils. I co-authored Aroma Yoga: A Guide to Using Essential Oils in Yoga Life and use oils every day for common maladies, hormonal, mental, physical and emotional support or to shift my mood immediately.
I decided to start a weekly blog here on MindBodyGreen (thank you, Jason!) to help educate and spread the word about the immense power and pleasure of this natural pharmacy.
What are essential oils?
Essential oils are aromatic liquids found in shrubs, flowers, trees, roots, bushes and seeds. We think of them most frequently for their strong aromatic properties, but they are complex substances made from many different chemicals (as many as 300 ingredients in one essential oil!) with many beneficial properties.
It is important to purchase pure, therapeutic-grade essential oils that are concentrated naturally through steam distillation as the use of synthetic materials to extract oils will alter their properties and affect their therapeutic value. Many less expensive oils on the market are cut with alcohol, preservatives or diluted. Be sure to ask before you buy.
How are they used?
Aromatherapy
The aromatic properties of essential oils stimulate our sense of smell and positively affect our bodies, moods and minds simply through inhalation. More on the neuroscience behind aromatherapy in next week's blog. Oils may be inhaled directly from the bottle, your hands, bath or diffused in your home or work space.
Topical application
Essential oils may also be applied directly to the skin. Be sure to check the label on any oil you are using as there are slightly different recommendations for topical application for individual oils. Some oils may be applied undiluted, in which case place 2 to 3 drops directly in the palm of your hand or directly on the desired part of your body.
Others may need to be combined with a carrier oil such as a vegetable or nut oil. Carrier oils are most frequently used when essential oils are used for massage or to cover a large part of your body.
Internal uses
While there are some essential oils that should not be ingested, many can be safely used in an empty capsule or combined in a favorite recipe or with liquids (Therapeutic-grade only, as lesser quality oils are often cut with preservatives and not safe for ingesting). Safety is key, so always check the label or with a health care professional first to ensure an oil is meant to be used internally.
*Please Note: Never use therapeutic–grade oils in plastic bottles – only use in glass or stainless steel. Therapeutic–grade oils are so potent, that they begin to break down the petro-chemicals and leech plastic particles into the water.
3 Key Essential Oils to Have in Your Home
Lavender
One of the most versatile oils, lavender is well known for its aromatic properties and ability to calm and relax the body and mind. It can also be used to relieve skin irritation (perfect for cold winter months) – and soothes cuts and burns. I always carry lavender and just used it this week to relieve a minor burn suffered at Starbucks, when my hot tea spilled. No redness, sting or inflammation occurred.
Lavender may also be added to favorite recipes and beverages to enhance flavor! Lavender water, tea and chocolate are my favorites (only in glass or stainless steel).
Peppermint
Naturally refreshing, peppermint is a great way to achieve mentally clarity, reduce fatigue and increase energy before a workout. It aids digestion and can be added to tea, water or food. I always carry peppermint when I travel to relieve motion sickness (especially in India or NYC cabs!), energize after a long flight and relieve nasal congestion.
Lemon
Also a very versatile oil, lemon can be used to clean and disinfect surfaces and packs a double punch as an incredibly uplifting and energizing scent for body and mind. The powerful antioxidant d-limonene supports healthy immune system function. Add to a variety of foods and beverages to create flavor. Lemon oil acts to alkalize the digestive tract and is a great substitute for lemon water when you don't have real lemons to squeeze.
Please leave a comment below with your essential oil questions for next week and tell us what your FAVORITE uses for Essential Oils are!
Here's to a feast for the senses!