Eucalyptus Oil: This Pain-Relieving, Air-Purifying Remedy May Help Your Cold
Medical review by
Keira Barr, M.D.
Board-certified dermatologist
Keira Barr is a dual board-certified dermatologist and founder of the Resilient Health Institute.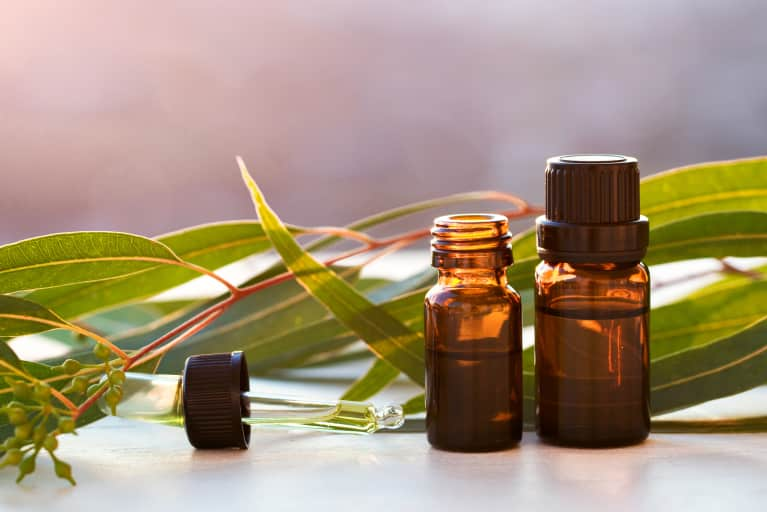 Our editors have independently chosen the products listed on this page. If you purchase something mentioned in this article, we may
earn a small commission
.
Last updated on November 26, 2019
If you've ever taken a whiff of eucalyptus essential oil, you know this stuff is strong! This intense aroma, it turns out, is a result of a potent antimicrobial and anti-inflammatory compound called 1,8-cineole (or eucalyptol)—and it is largely why eucalyptus oil has been used medicinally throughout history (and up to the present day) to treat everything from asthma and the common cold, to plaque and gingivitis, to head lice and toenail fungus, and much more.
"It's my favorite essential oil for cold season, to inhale it or to use in a diffuser," says Bindiya Gandhi, M.D., an American Board Family Medicine–certified physician.
Here, learn everything you need to know about this popular essential oil, its potential health benefits and side effects, and how to use it properly.
Eucalyptus oil is produced in the glands of many species of eucalyptus trees (there are more than 400 in total), which are native to Australia, Tasmania, and other nearby islands. Eucalyptus globulus, which is more commonly known as "Blue Gum," is the main source of eucalyptus oil used around the world today. The aromatic oil, which has been used medicinally for hundreds of years, is currently used as an active ingredient in some expectorants (i.e., something that helps loosen mucus so you can cough it up). There are a wide range of health benefits attributed to eucalyptus oil, with varying degrees of research backing up their claims.
Eucalyptus oil's history of medicinal use dates back to the days of Indigenous Australians, who used both the leaves and the roots of the plant as medicines. When English colonists began to arrive in Australia in the late 1700s, they quickly adopted eucalyptus oil as a medicinal treatment themselves. In fact, when Surgeon-General John White arrived in 1788, he took an interest in eucalyptus almost immediately, according to entries in his diary. By 1790, he had distilled a quart of eucalyptus oil and sent it back to England for testing, where it eventually came to be used as a disinfectant to clean wounds and aid in healing after surgery.
Health benefits of eucalyptus oil.
1.
It may help relieve joint and muscle pain.
This powerful oil holds promise as a topical pain reliever, particularly after workouts. In one study, researchers wrote that a eucalyptus-based treatment "produced significant physiologic responses that may be beneficial for pain relief and useful...as a passive form of warm-up." Research has also found that patients with arthritis reported less pain and improved mood after topical application of lavender, marjoram, eucalyptus, rosemary, and peppermint essential oils, which were diluted with a carrier oil. The anti-inflammatory properties of eucalyptus oil may be to thank for these pain-relieving properties. A 2010 study found that eucalyptus oil reduced the expression of the inflammatory COX-2 enzyme by at least 25 percent.
2.
It may be a useful antifungal treatment.
In a 2016 study, researchers found that eucalyptus oil possessed a "wide spectrum of biological activity" that included antimicrobial and fungicidal properties. And in a 2012 study, eucalyptus oil was found to be effective in fighting against Trichosporon ovoides, the fungus behind Piedra, a fungal infection occurring in the hair shafts on both head and body hair. This suggests eucalyptus oil may hold promise as a natural treatment for other fungal infections as well such as athlete's foot.
3.
It may improve air quality.
Due to eucalyptus oil's antifungal properties, it can also be used as an air purifier. One 2017 study found that antifungal essential oils were able to help combat the fungus and mold present in indoor air, which can make their way into your home after building up in air vents. Using a eucalyptus oil in an essential oil diffuser may be particularly beneficial for this purpose.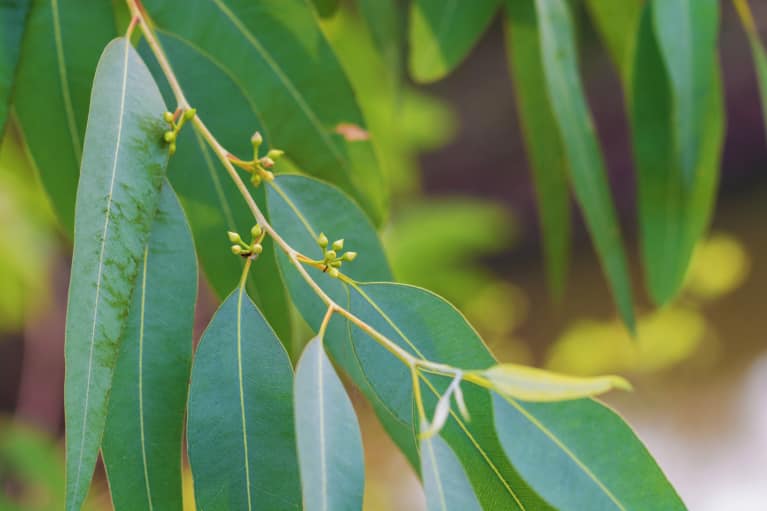 4.
It may help treat dandruff and lice.
Not only is there evidence that eucalyptus promotes hair growth, but there's also evidence for eucalyptus oil as a treatment for dandruff. According to a 2012 report, eucalyptus oil's antifungal and antiseptic properties suggest that it would be a viable anti-dandruff treatment when incorporated into products like shampoos. Eucalyptus oil may also be an effective natural treatment for head lice. One 2017 study from Australia, for example, found that using eucalyptus oil in a solution with lemon tea tree oil was twice as effective as the common chemical pesticide treatment piperonyl butoxide. Another previous study found that eucalyptus oil could actually protect human hair for at least 7 hours from the invasion of head lice.
5.
It may ease cold symptoms.
Thanks to its antiviral and antimicrobial properties, inhaling eucalyptus oil (e.g., via an essential oil diffuser) might be a worthy treatment, or at least preventive measure, for the common cold. In fact, one study found that eucalyptus oil may have antibacterial effects on pathogenic bacteria in the upper respiratory tract.
It has also been used for relieving cold symptoms like coughing and sore throat. According to the National Association for Holistic Aromatherapy, eucalyptus oil's active compound 1,8-cineole can help clear mucus from airways and act as a natural cough suppressant, which is probably why eucalyptus oil is a key ingredient in Vicks VapoRub.
6.
It may help fight gum disease.
Another area with some research supporting eucalyptus oil's benefits is dentistry. Thanks to its antimicrobial properties, the oil seems to help fight off the bacteria responsible for tooth decay and periodontitis. One study published in the Journal of Periodontology even found that adding eucalyptus extract to gum could help promote good dental health. Some dentists even recommend adding a drop of eucalyptus oil to your toothpaste before brushing to promote gum health or diluting a drop of eucalyptus oil with olive or coconut oil and swishing as a mouth rinse.
What's the best way to use eucalyptus oil?
Eucalyptus oil can be inhaled or used topically to reap its varied benefits. Here are few suggestions and tips for each:
One of the most popular ways to use eucalyptus oil is via inhalation. You can inhale eucalyptus oil by taking a whiff directly from the bottle or by adding one to three drops to a cotton ball or towel and then breathing them in. Even easier, add a few drops to an essential oil diffuser to reap the aromatic benefits of eucalyptus all day long.
You can also add eucalyptus essential oil to your bathwater for a steamy, sauna-like experience. Try this: Add about 1 to 2 cups of Epsom salts along with 1 tablespoon of a carrier oil (you can use coconut, jojoba, or sweet almond, among others) to a tub of warm water before adding no more than 3 to 6 drops of eucalyptus essential oil and swirling the bathwater before you jump in.
If you're using the eucalyptus oil for pain relief of fungal infections of the skin, first blend it with a carrier oil, then massage it into the problem area. When you're first starting out, a good ratio of essential oil to carrier oil is about 2 to 3 drops essential oil to 1 teaspoon of carrier oil (for a 2% dilution).
If you want to treat dandruff, you can add a couple of drops of eucalyptus oil to your shampoo, or combine two to three drops of eucalyptus oil with a carrier oil and massage directly into your scalp (allow this to sit about 30 minutes before shampooing). Here's more information on how to use essential oils for lice.
As mentioned above, you can also add 1 drop of eucalyptus oil to your toothpaste before brushing to promote gum health, or create a mouth rinse by diluting 1 drop of eucalyptus oil with olive or coconut oil. However, you should never swallow eucalyptus oil.
Are there any side effects of eucalyptus oil?
If you plan to use eucalyptus oil to treat any particular condition, you should always consult your doctor first. There are some groups of people who should avoid eucalyptus oil altogether, including young children and pregnant women. The U.S. National Library of Medicine deems the oil likely unsafe for children, as it may impair or slow breathing. While the oil may be safe for pregnant women, it's still not recommended until more research looks into the potential side effects and impacts on the health of the fetus.
Most essential oils, including eucalyptus oil, are far too caustic to be applied directly to the skin. If you do so, you will likely experience significant irritation. To avoid this, always combine eucalyptus oil with a carrier oil such as coconut oil, jojoba oil, or sweet almond oil before applying it topically.
Finally, there's always the potential for allergic reactions to eucalyptus oil, especially with topical use. If you're allergic to tea tree oil, you will likely be allergic to eucalyptus oil, since they contain many of the same compounds.
Where can you buy eucalyptus oil?
Eucalyptus oil can be found anywhere essential oils are sold (Whole Foods Market, health food stores, pharmacies, etc.), as well as online. Amazon offers several brands with customer reviews and ratings to help you find the right option for you.